Thanks so much to Kroger and Barilla for sponsoring today's ranch chicken spaghetti recipe that I just know you'll love. It comes together in about 30 minutes and only needs one skillet! #OnePanPronto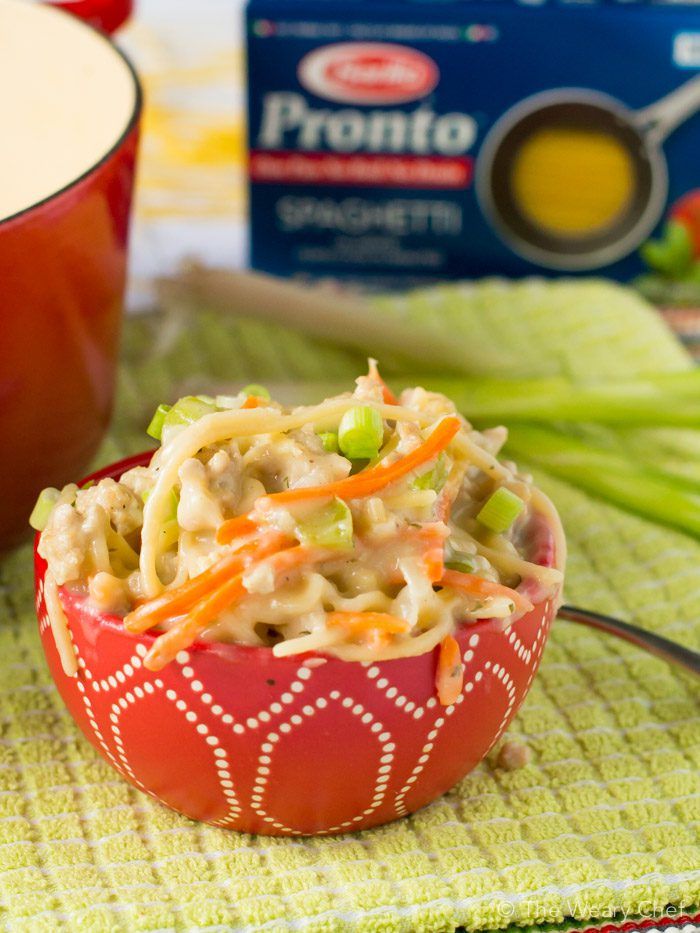 You know how much I love skillet dinners, don't you? Cooking a full meal on one pan just makes me happy, and it makes my husband happy too since he does the dishes! This skillet chicken spaghetti covers all your bases with vegetables, protein, and grains, but you can make it all in one pan. Plus it's ready in about 30 minutes, so it's just right for busy nights.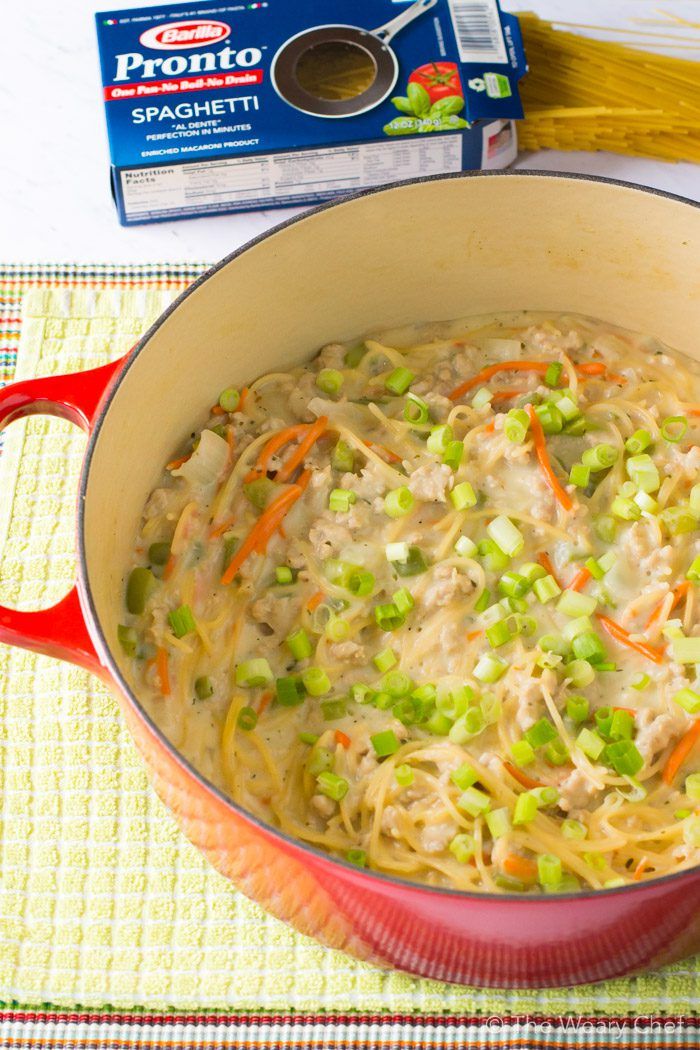 Have you seen Barilla®Pronto™ pasta yet? (You should say yes because I told you about it a couple months ago, but it's OK if you forgot.) You can find it at your local Kroger (or their other stores like Ralph's and Food Co.) with all the other pastas. It's fabulous because you can cook it right in a skillet in 10-15 minutes with no draining. No draining, people! That is so perfect for skillet dinners! I will say that I've tried a couple times to make chicken spaghetti with all the ingredients right in the skillet, and the spaghetti just doesn't cook evenly because the longer noodles are harder to get situated in the pan. That's why there's one teensy extra step in here of cooking the meat and veggies first, but it's still a 30-minute, one-pan meal, so I hope you won't mind too much. It results in a better texture and less stirring, so I promise it's worth dirtying one extra bowl.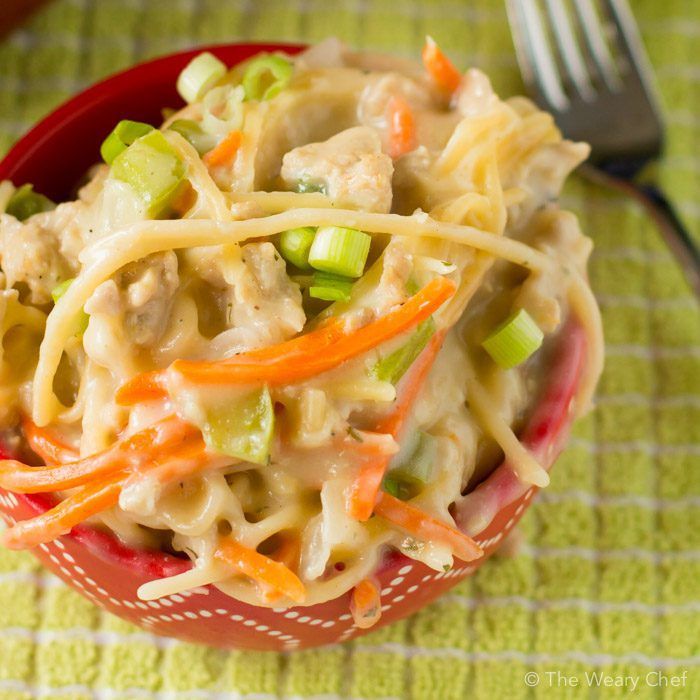 I'm crazy about ranch flavor, as you may know, and I'm excited because now my youngest kid is into it too! I'm so happy to have at least one other person in the family who knows something about what tastes good. My older son and husband claim that they don't like ranch dressing or seasoning, but when I don't tell them it's in there, like with this pasta, they don't complain. I'm tricky like that. The yogurt (or sour cream if you prefer) in this dish gives it a bit of a stroganoff flavor, which is A-OK with me. If you love pasta, ranch, stroganoff, creamy sauces, or hopefully all of the above, this one is right up your alley!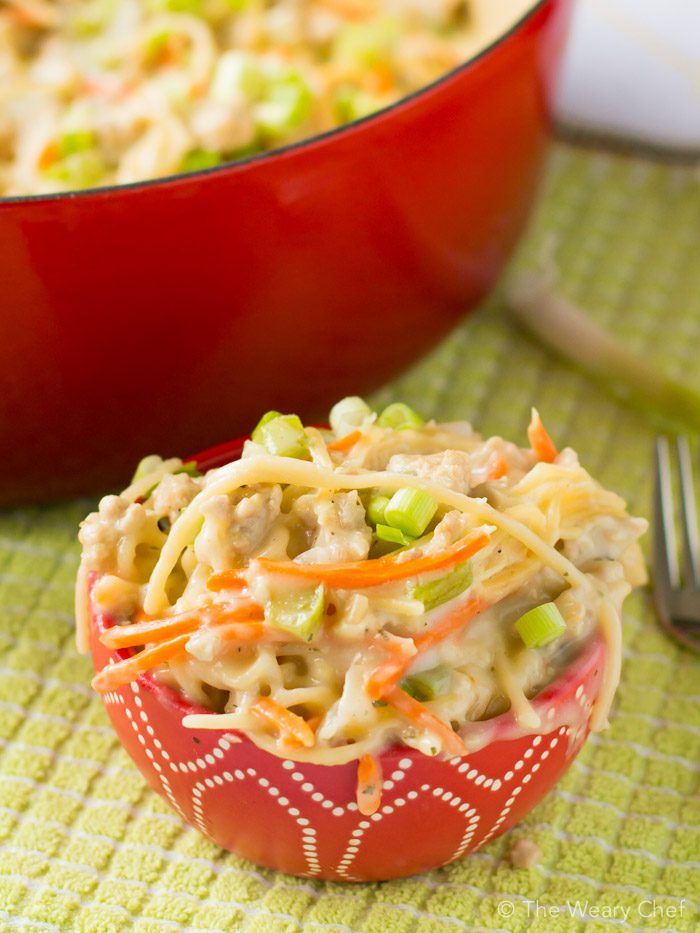 Print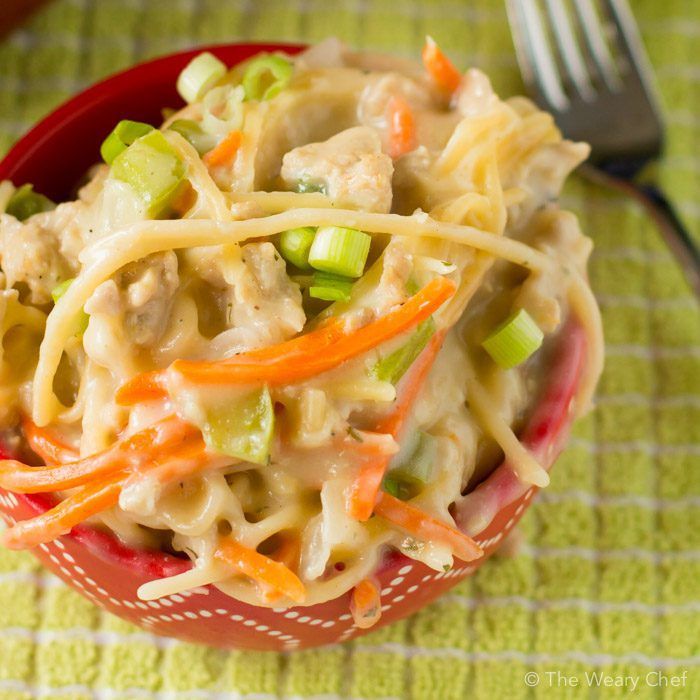 Quick Skillet Ranch Chicken Spaghetti Recipe
Total Time:

25 minutes

Yield:

4

1

x
Instructions
Heat olive oil in a deep 12″ skillet over medium-high heat. Add chicken, bell pepper, onions, and carrots, and saute, crumbling meat as it cooks. When meat is cooked through and vegetables are tender, transfer mixture to a clean bowl.

Break spaghetti in half, and add to skillet. Pour chicken broth and water over the pasta, and stir pasta around to be covered completely with the liquid. Bring to a boil, and cook, stirring often, for approximately 10 minutes or until most of liquid is absorbed and pasta is as tender as you would like.

Reduce heat to low. Return chicken and vegetables to pot with cooked spaghetti, and stir in with ranch seasoning and yogurt. If sauce is too thick, add up to 1/2 cup of water to get your desired consistency. Simmer until heated through, then serve.
Notes
This dish is best prepared and served immediately. The sauce thickens up quite a bit when stored in the refrigerator, and the noodles get soft.
Author:

Prep Time:

5

Cook Time:

20
Look for Barilla®Pronto™ pastas at Kroger in elbows, rotini, penne, spaghetti and linguine. Click here for coupons! Here are some more recipes ideas to use it!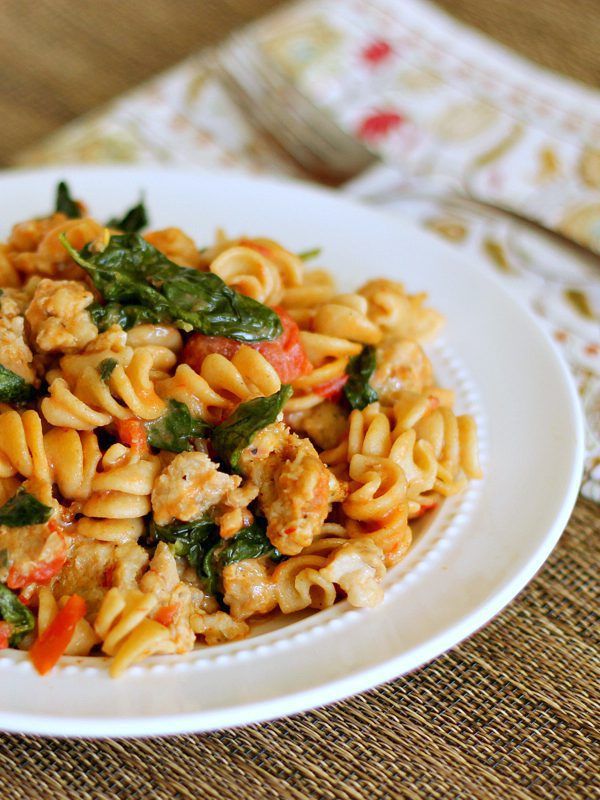 This is a sponsored conversation written by me on behalf of Barillo. The opinions and text are all mine.