This simple and flavorful stuffed grilled pork loin recipe was sponsored by Smithfield, producer of quality fresh pork products since 1936! I was compensated for my time, but the content and opinions are all my own.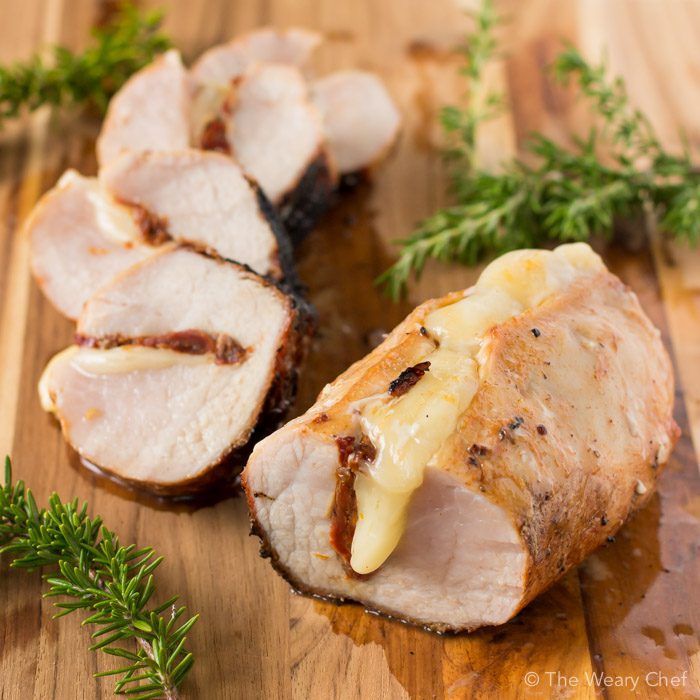 August might mean Summer is winding down for some, but it's just getting started in San Francisco! Our hottest months are usually September and October, and even November is still pretty warm. That means there's still a lot of grill season left at our house. I love hosting BBQs on warm days, but you know I like to keep things simple when it comes to cooking. Today I want to show you a really easy way to make a stuffed pork loin that will wow your guests!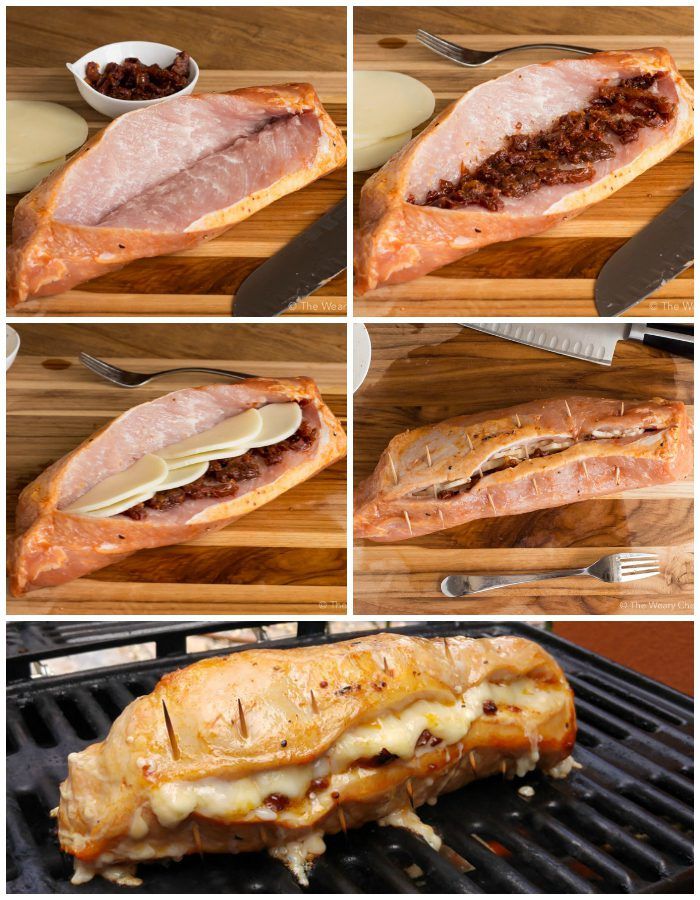 The trick to making this dish so simply is choosing flavorful ingredients. The Smithfield pork loin filet is already marinated with mesquite seasoning, and sun-dried tomatoes are packed with rich flavor. With those two recipe stars plus melted provolone cheese, you don't need to add anything else!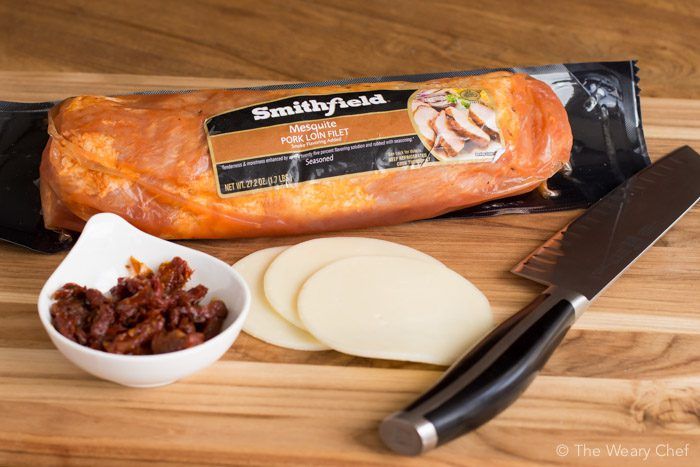 My secret for easy entertaining is to choose no-fuss recipes that everyone will love. You don't need to spend all day in the kitchen to create something delicious! Think of flavorful ingredients that pack a punch without adding a lot of extra work. Use marinated artichokes and feta cheese in your dips, or top a simple cake with berries soaked in brandy for a flavor boost. Your guests will think you slaved away in the kitchen making all these wonderful foods, but you'll know you just cooked smart!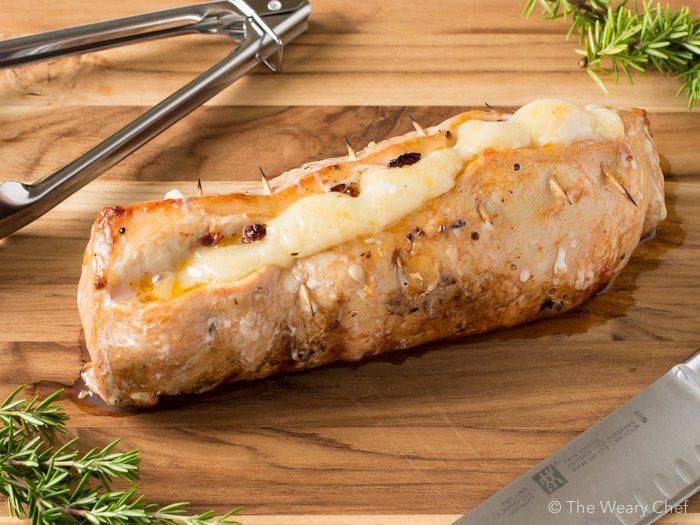 Smithfield's seasoned pork loins and sirloins aren't just for grilling and entertaining. They are perfect for weeknight dinners too! You can pop them in the oven whole and roast them for a little more than half an hour, or slice them and brown the pork medallions on the stovetop for a really quick dinner. You can choose between flavors like teriyaki, rosemary and olive oil, garlic and herb, and more. Click here to see all the Smithfield marinated pork flavors. Which ones have you tried so far, and which is your favorite?
Print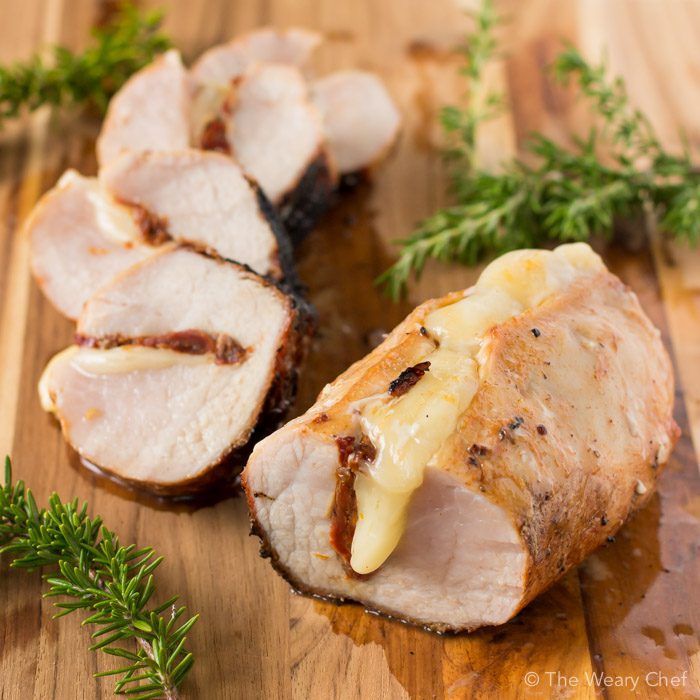 Stuffed Grilled Pork Loin
This beautiful stuffed pork loin will wow your family in friends, but it only takes a few minutes to prep!
Total Time:

35 minutes

Yield:

6

1

x
Instructions
1. Preheat grill to medium. (Around 450 degrees if you have a thermometer to check.) Place 6 or 8 toothpicks in water to soak. (This will keep them from burning on the grill.)
2. While the grill heats, carefully slice a deep pocket in the loin filet lengthwise. You want to keep the knife flat (away from your hand!) and cut the length of the meat, leaving the ends and back side uncut.
3. Spread tomatoes evenly inside the pocket, and arrange cheese over the tomatoes so it fits mostly inside when the pork is pulled closed. Use the toothpicks to hold the sides of the pork together and contain the filling.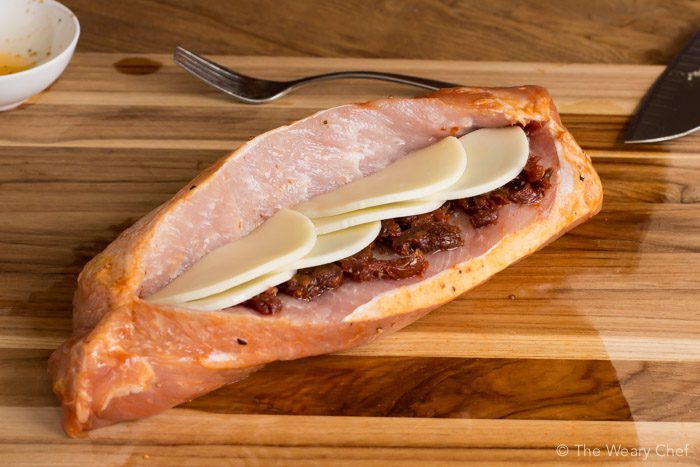 4. Place the stuffed pork onto the hot grill with the stuffed side up. Close the lid, and cook for 15 minutes.
5. Open the lid, tilt the pork loin onto one side, but don't flip over completely. You do not want the filling directly on the grill. Some juices will drip out, which is OK. Close lid again, and cook five minutes. Open, and repeat on other side.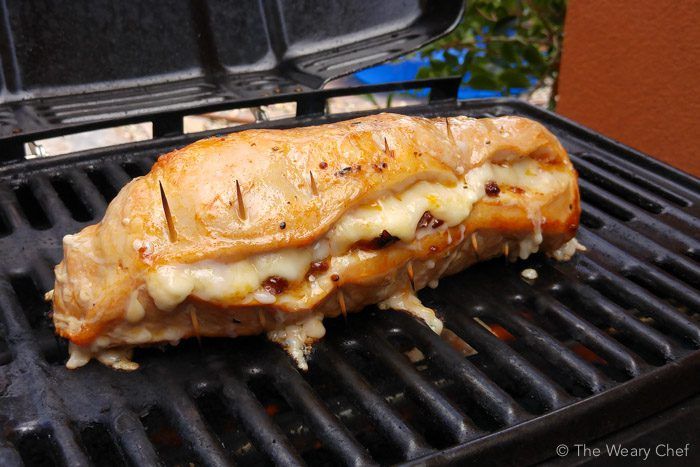 6. At this point, the pork should be fully cooked, but check the temperature deep inside and near the top of the pork to make sure it's over 145 degrees F. Remove from heat, and allow to stand for a few minutes before slicing and serving.
Notes
All grills are different, so check your pork every few minutes. If your grill is hotter or cooler than mine, your cooking times may vary.
This recipe can also be prepared in the oven. Just bake it at 425 degrees for 30-40 minutes or until internal temperature reaches 145 degrees F and cheese is melted.
Author:

Prep Time:

10

Cook Time:

25
Thanks so much to Smithfield for sponsoring this post. Be sure to like them on Facebook for fun recipes, deals, contests, and more!