Check out this spicy, tangy, creamy Buffalo Chicken Pasta recipe! It all comes together in one pan in under 30 minutes. You'll love this easy dinner!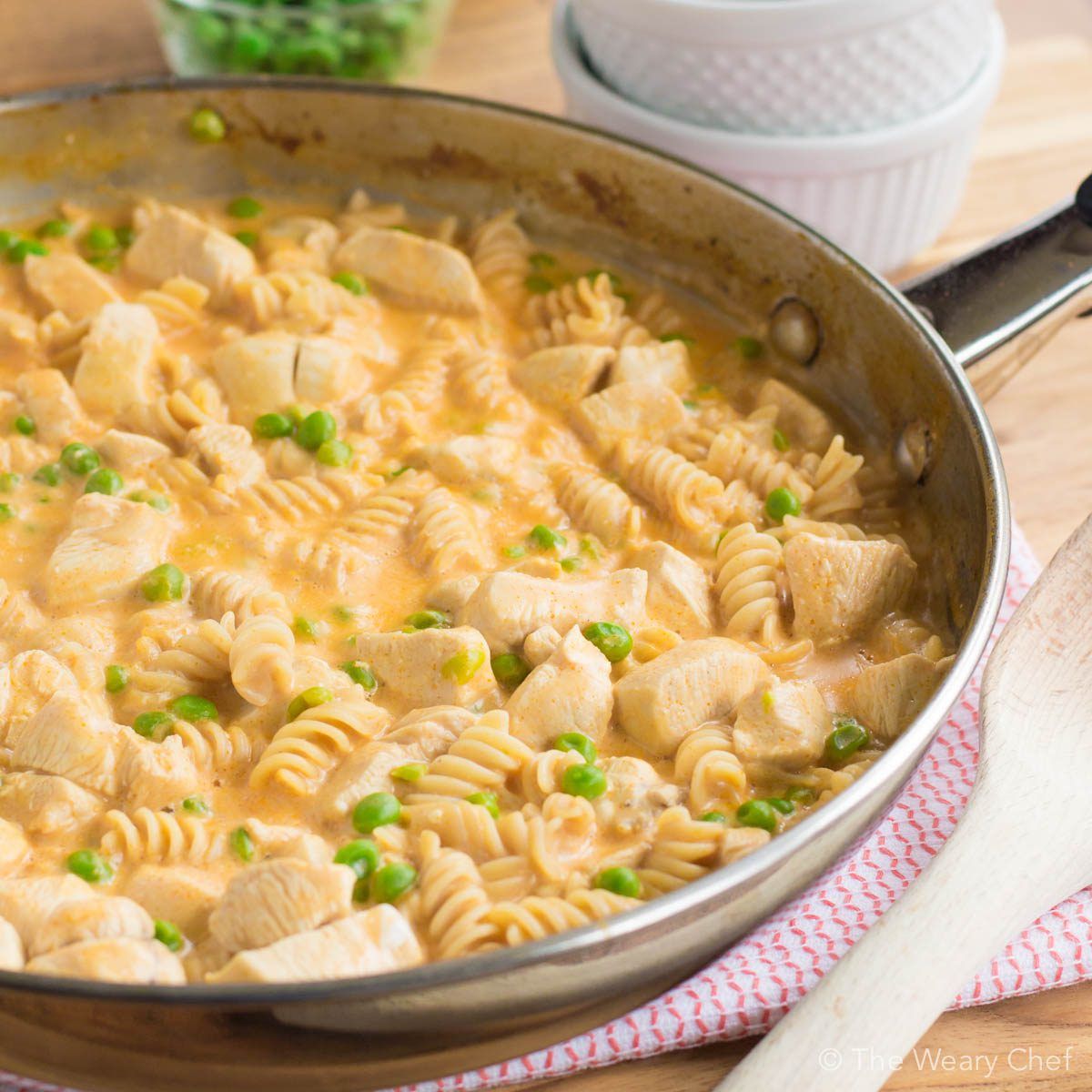 Do I need to tell you again how much I love skillet dinners? I know I'm kind of a broken record about it. One pan. Thirty minutes. So great. Blah, blah, blah. I think we can all agree that skillet pasta dishes are awesome, especially when buffalo chicken is involved! Let's just talk about something else.
Have you ever had someone approach you in a parking lot about fixing a scratch on your car? I hadn't until I got a really big white scrape on the fender of our red car a couple months ago. I'm not even sure how it happened. I have to back out of a very narrow spot every time I leave my house. I should take a photo and show you. I have to steer around the neighbors car and all of our trashcans, then down a narrow driveway between a fence and another neighbor's house. It is ridiculous. (I've been doing it for going on sixteen years, and I'm beyond tired of it!)
Anyway, I think maybe I botched the backout and scraped the fender one of those times. It looks pretty bad I guess, but I've got more important things to do and worry about and spend money on than a superficial scrape on the car, so I just left it. One day I pulled into a parking spot at the grocery store, and someone pulled up next to me gesturing for me to roll down my window. A man without all his front teeth proceeded to tell me how he works at a body shop and has a special solution he could use to get that scrape right off. He said he could do a little demo to show me how it works and give me a price, but I declined as politely as I could. I have a general policy against hiring random people in parking lots.
So I thought that was funny and random, and I moved on with my life. Then, a couple weeks later in a different parking lot, someone else drove by as I was backing out of a spot flagging me to stop. It was someone else offering to fix the scratch on my car! What the heck?? Do people just drive around parking lots looking for people getting in/out of their vehicles who may need impromptu body work? I said no (again) and carried on.
A couple weeks later, a dude was walking around a different parking lot looking for people in their cars. He motioned for me to stop, and he asked if I had any scratches that needed to be repaired. This time, I knew he was actually looking for work and didn't just happen to see the scratch on my car while he was going about his business. This is weird! I'm dying to know if anyone else has had this experience? Is auto body work solicitation in parking lots a thing now?
Back to the Buffalo Chicken Pasta!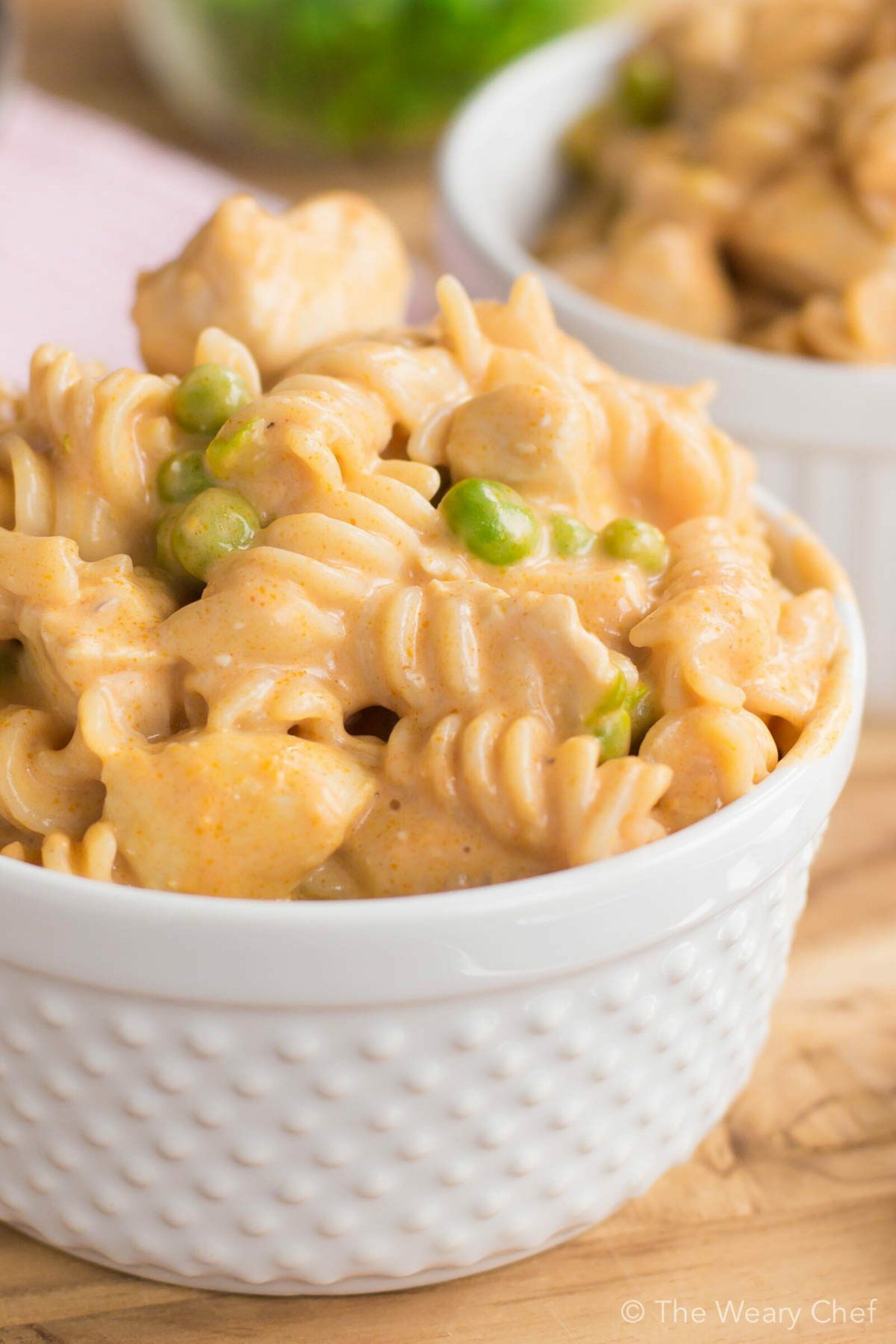 How was that for talking about something besides the virtues of skillet dinners? I have actually been wanting to tell you that story for some time, and this seemed like the perfect occasion. Now, I can tell you that this pasta dish is inspired by buffalo chicken dip, but it's pasta so you can eat it for dinner without guilt. I'm no stranger to eating dip for dinner, but it's even better when the dip transforms into a real live meal. Let me know how you like this easy dinner recipe when you try it!
Print
Buffalo Chicken Pasta Skillet
Try this quick and easy buffalo chicken pasta for a perfect weeknight meal!
Total Time:

25 minutes

Yield:

4

1

x
Instructions
Heat olive oil in a 12″ skillet over medium-high heat. Add chicken to hot skillet, and pour buffalo sauce over the chicken. Stir to coat, and cook, stirring often, for about 5 minutes.

Add pasta and water to skillet. Stir well, and bring to a boil. Cook the minimum time recommended on your pasta instructions. (Check the package.) Stir often during cooking.

Stir in frozen peas and cream cheese until cheese is evenly melted and the sauce is hot and bubbly. Stir in salad dressing and cook 1-2 minutes more to heat through. Serve!
Author:

Prep Time:

5

Cook Time:

20
Here are some more easy buffalo recipes just for you!