Loaded potatoes smothered with ranch chicken recipe and vegetables in a creamy sauce are a hearty, easy dinner!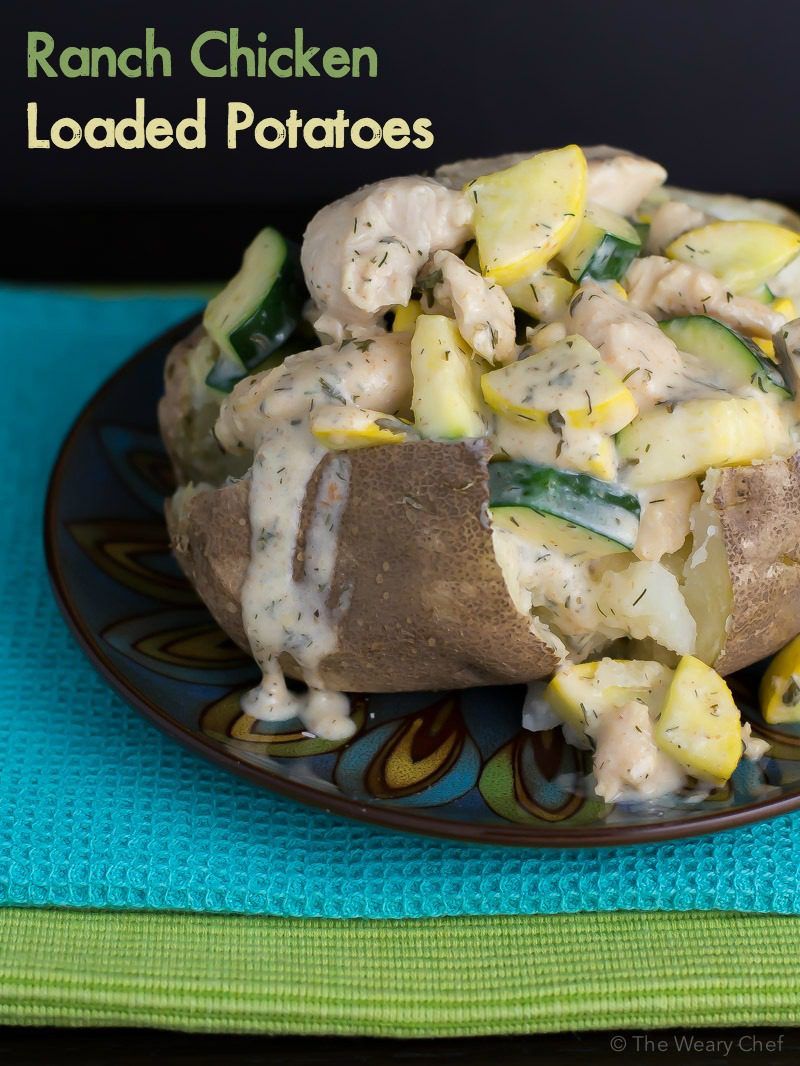 I should tell you right now that this is not a completely new recipe. I thought it was when it popped into my head, but then as I started to figure out the details, I realized it sounded an awful lot like my Creamy Ranch Chicken Pasta recipe. You can see if you compare the two that they aren't exactly the same, but if you like one you'll surely enjoy the other.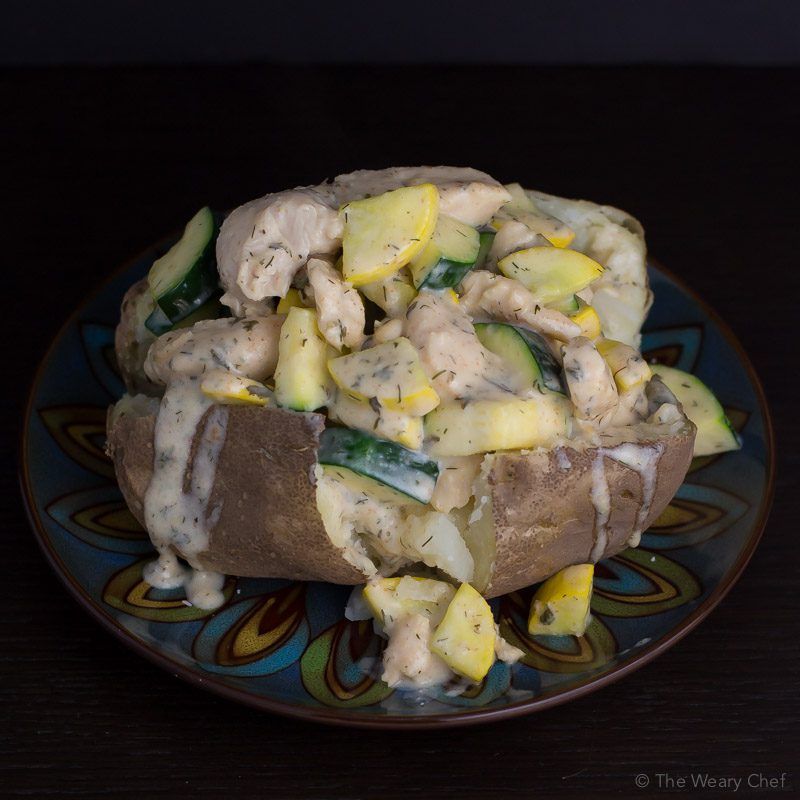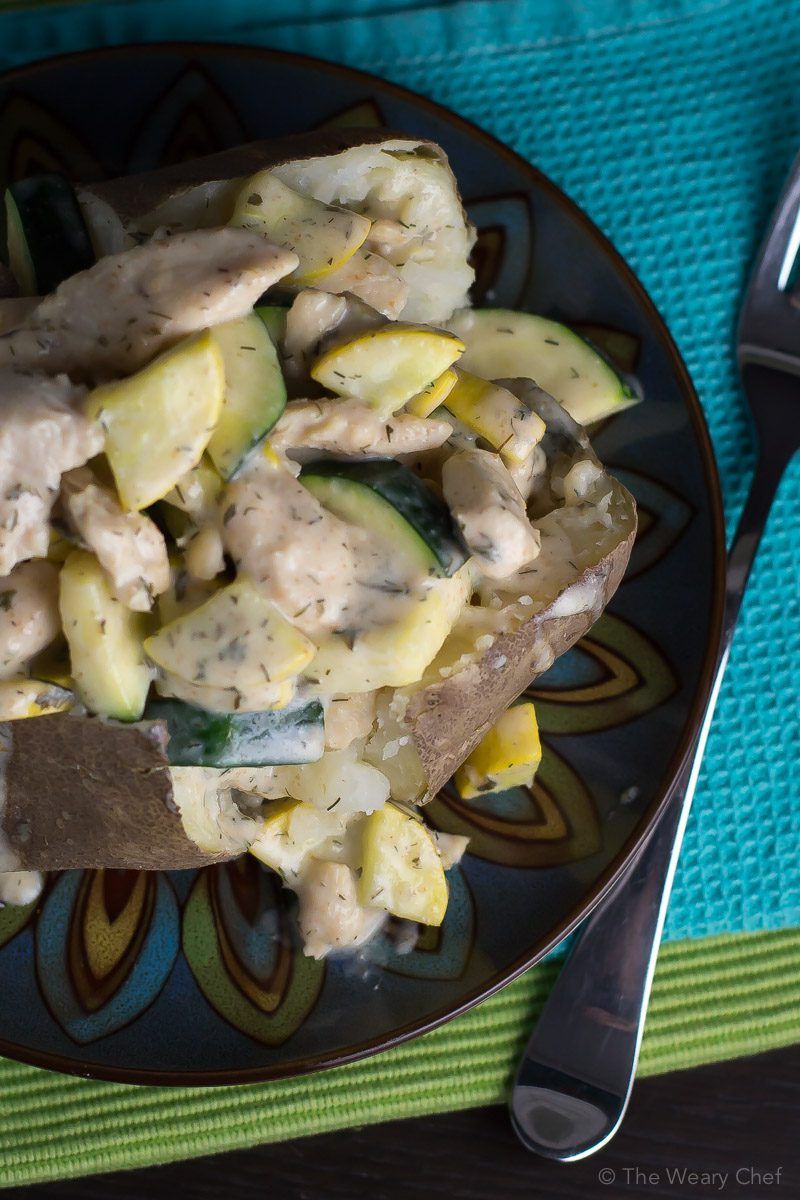 This dinner only takes about 20 minutes start to finish. You might look at the instructions and think it looks a little long or that a cream sauce sounds fussy, but I promise it's easy. The day I made these, I had back-to-back appointments in the morning, then hurried to pick up my little one and take him to a museum with a friend, then rushed from there to pick up my older son. By the time we all got home, it was almost 5:00.
After feeding the kids and getting them bathed and to bed, I did NOT feel like cooking anything that took much mental or physical effort. If I can manage to get this hearty ranch chicken over potatoes on the table at my weariest, I know you can too! Can't find or don't like squash? No worries. You could substitute broccoli, cauliflower, peas, steamed carrots, or whatever other vegetable suits your fancy. Make it your own, and enjoy!
Print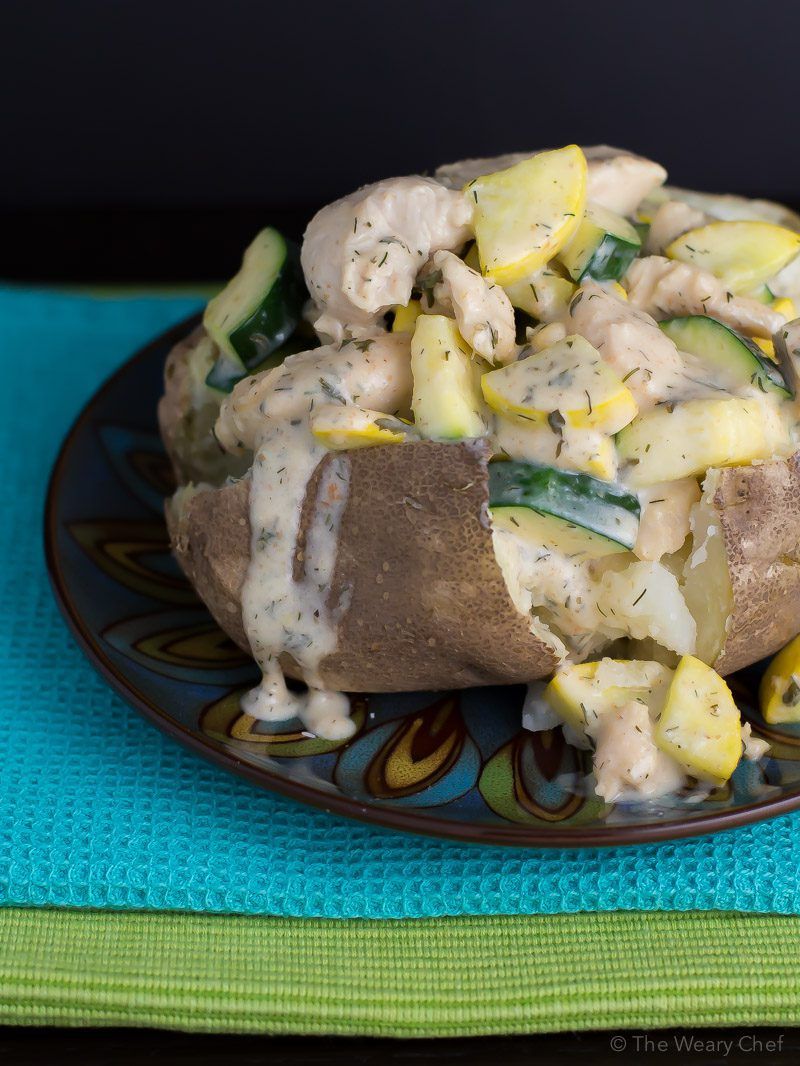 Ranch Chicken and Vegetable Loaded Baked Potatoes
Total Time:

20 minutes

Yield:

4

1

x
4

good-sized baking potatoes

1

pound

boneless, skinless chicken breasts cut into bite-sized pieces

1

large zucchini cut into bite-sized pieces

1

large yellow squash cut into bite-sized pieces
seasoned salt about 1/2 teaspoon

1 tablespoon

olive oil

1 tablespoon

flour gluten-free flour works fine

1

cup

chicken broth

2 tablespoons

Ranch seasoning mix

2 tablespoons

milk

2 tablespoons

cream cheese
kosher salt to taste
Instructions
Wash potatoes, scrubbing them well, and prick them all over with a fork. Place them on a microwave-safe plate, cover with a damp paper towel, and microwave for 8-12 minutes, turning once. Potatoes are done when a knife or fork glides easily to the center when poked.
While potatoes cook, spray a large skillet with cooking spray and heat over medium-high heat. Add chicken, and sprinkle lightly with seasoned salt. Stir fry until chicken is mostly cooked, and add chopped vegetables. Sprinkle a little more seasoned salt over the vegetables, and stir fry for about two minutes longer. Transfer chicken and veggies to a clean bowl and set aside.
In the same skillet over the same heat, whisk together olive oil and flour until smooth. Stir in chicken broth about 1/4 cup at a time, whisking constantly until smooth before adding more.
Reduce heat to medium, and whisk in ranch mix and milk until ranch powder is completely dissolved. Add cream cheese, and continue stirring until cheese is melted. Stir vegetables and chicken into sauce, and cook for 3-5 minutes until heated through.
Meanwhile, cut a "+" in the top of each potato, and press the corners inward to open up the potato. Fluff the interior of the cooked potato with a fork, and sprinkle with a little salt. Spoon ranch chicken and vegetables over each potato, and serve.
Notes
If you would like to substitute chicken bouillon paste or a bouillon cube for prepared broth, make the sauce with water, and then whisk in the bouillon until dissolved before adding the ranch seasoning and milk.
Author:

Prep Time:

5

Cook Time:

15

Category:

Dinner, Poultry

Cuisine:

International
If you love ranch like I love ranch, you won't want to miss these recipes!