This week's menu of easy dinners features Baked Taquitos, Cheesy Spaghetti, Rice Noodles with Shrimp, and lots more!
Hello! I'm writing to you from our very hot and sunny state capital, Sacramento! I'm here for the International Food Blogger Conference, where I'm meeting up with lots of other bloggers to learn, eat, and drink. I really miss my family this weekend, but it's so great to be with other bloggers in person instead of just talking online!
The best talk I attended was about Snapchat. Do you use it? If so, find me on there: @wearychef! I was reminded how fun Snapchat can be for keeping in touch through quick videos and photos, and I'm going to try to share more there starting this week!
Speaking of this week, let's talk about what we're going to eat (my favorite subject)! I've got seven meals for you to try, and of course they are all pretty quick and easy to make in case you are weary like me. Don't forget you can add all the recipes to your weekly meal plan at the end of the post and build your custom grocery list from there. Let's get to the food!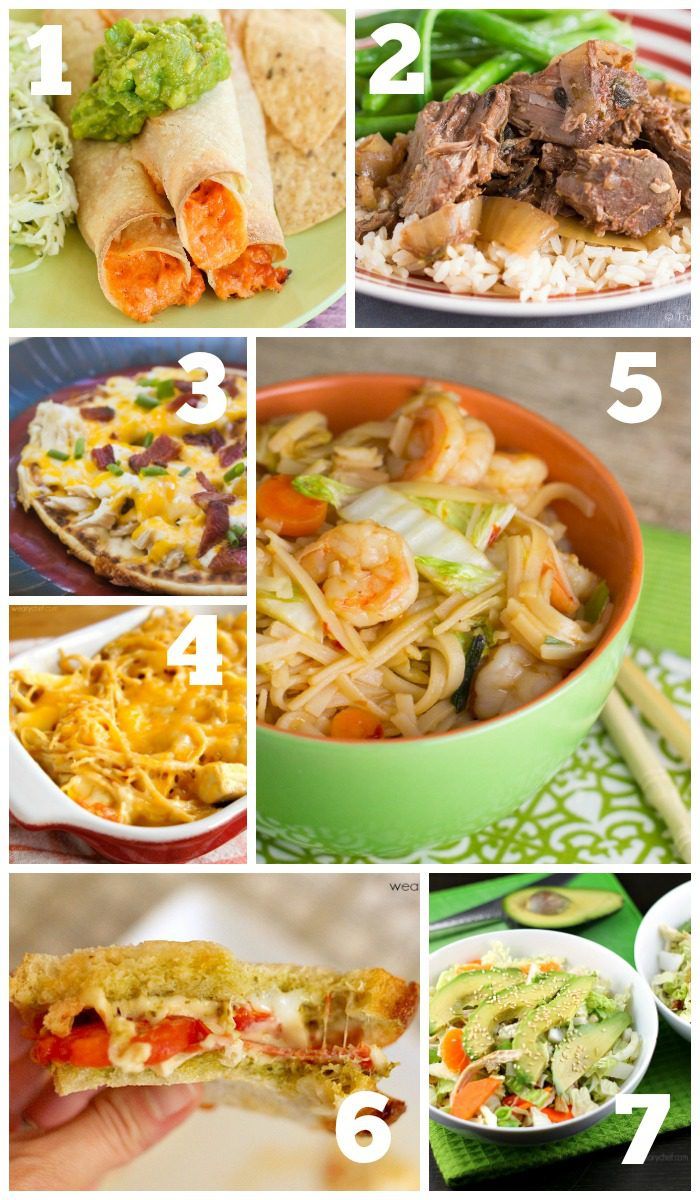 Click the recipe name to see the full post!
January 1SaturdayDay 1
January 2SundayDay 2
January 3MondayDay 3
January 4TuesdayDay 4
January 5WednesdayDay 5

Breakfast

Dinner

Oven Taquitos with Sriracha Salmon

(2)

Mexican Coleslaw in 5 Minutes

(3)

Dragon Breath Slow Cooker Pot Roast Loaded With Garlic and Onions

(6)

Chicken Bacon Ranch Flatbread Pizza

(4)

Easy Cheesy Chicken Spaghetti

(4)

Spicy Rice Noodle Recipe with Shrimp and Cabbage

(3)

Dessert

Oatmeal Chocolate Banana Bread

(8)

Strawberry Cheesecake Blondies

(12)

Click on a recipe for more details

Selected Recipe:

Selected Recipes:
Save to Meal Planner Add Course Print Recipes Print Plan Generate Shopping List
Add GroupAdd Ingredient Save Print
Click here to go to the meal planner to customize your recipes and grocery list!