This is a sponsored post written by me on behalf of Newman's Own for IZEA. All opinions are 100% mine.
Look no further than your freezer for a family pizza night with these 10 tasty pizza topping ideas!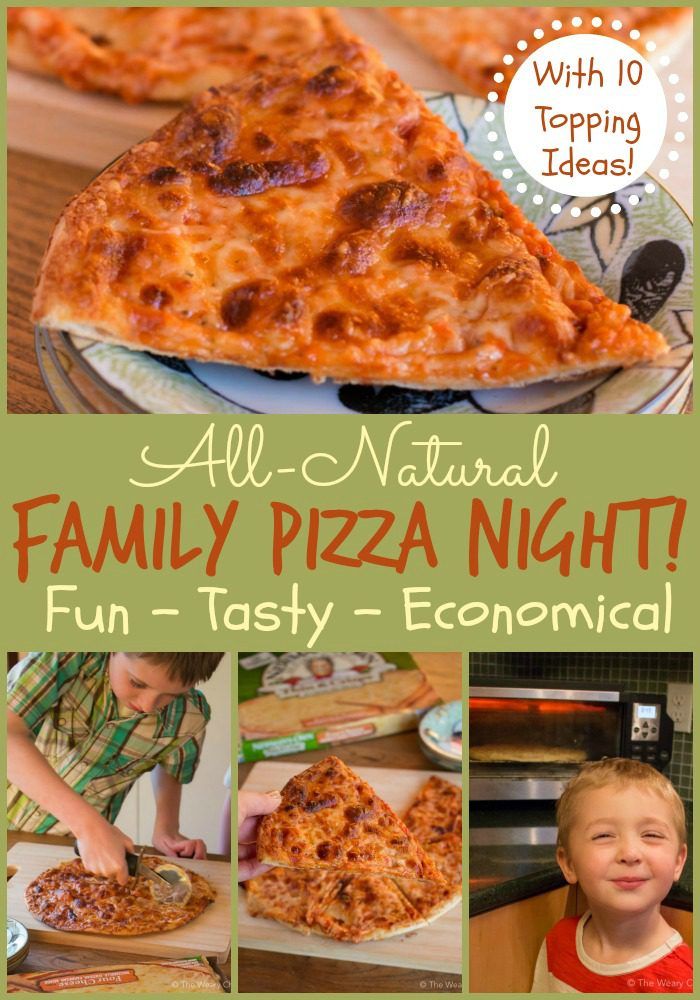 Does your family love pizza as much as mine does? Pizza is one of the few foods we all like, so pizza night is a regular occurrence at our house. There are three ways we can have pizza night: Homemade, Delivery, or Frozen. Of course I like the idea of always making homemade pizza, but even easy recipes are more time consuming and messy than the other two options. Delivery is good for when the cupboards (and freezer) are bare, but it's definitely the most expensive way to eat pizza. Also, you don't have control over the quality of ingredients, and getting an all-natural pizza delivered to your door is next to impossible (or it will be really expensive).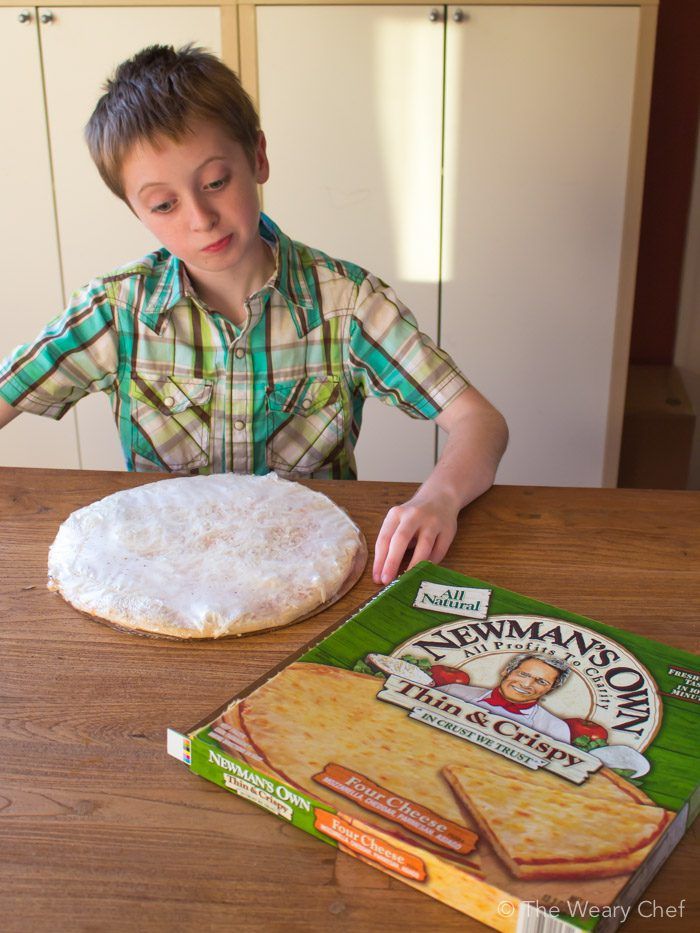 This leaves us with frozen pizza, which is a perfect middle ground between ordering out and making it yourself. Of course, not all frozen pizzas are created equal. That's why I look for Newman's Own Thin & Crispy pizzas in my grocery store's freezer section. They are high quality pizzas made with all-natural ingredients, and their simple flavor choices (Uncured Pepperoni, Four Cheese, or Margherita) satisfy everyone in the family. We all like thin, crispy crusts, and my kids like that the pizzas have a modest amount of sauce.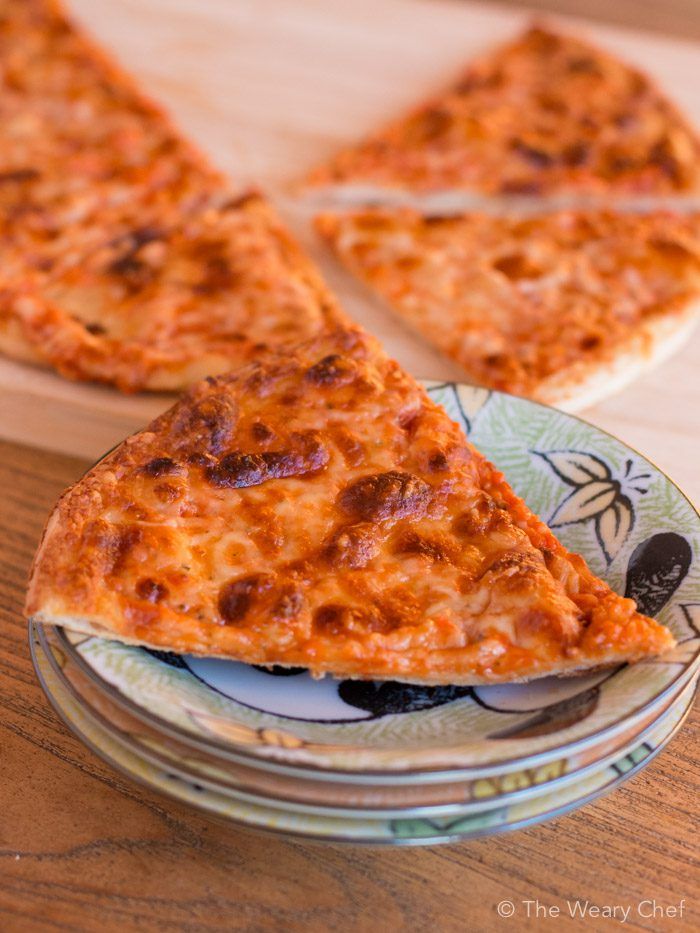 Not only are Newman's Own pizzas good for you, they are good for others too! It is so admirable and remarkable to me that this company donates all their profits to charity. EVERY DOLLAR! They have given over $400 million dollars to worthy causes since 1982, and their generosity continues today. I can't think of a better brand to support. You get to enjoy delicious, top quality food while supporting charities!
Friday nights my boys often have pizza night, and it's a treat for them to eat pizza in the living room while they watch a movie. Last week they had a Newman's Own four-cheese pizza and gobbled up the whole thing in no time. I'm lucky enough to have a toaster oven that fits a whole pizza, so it's easy for me to keep the pizza train rolling. I can pop the next pizza in, and it's done in ten minutes. My oldest can even make his pizza himself with a little supervision.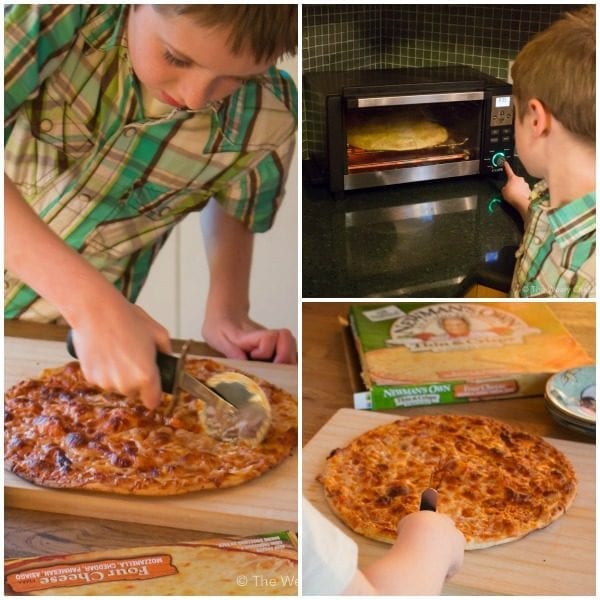 You can't go wrong with cheese, pepperoni or tomato pizza, but you can also get creative and set up a topping bar to customize your Newman's Own pizza before sticking it in the oven. Here are 10 of my favorite pizza topping ideas. What do you like to add to yours?
Margherita:
Margherita Overload: Add slices of fresh mozzarella and fresh basil to make the flavor pop.
Veggie Lovers: Why stop at tomatoes? Pick up a few of your favorite organic vegetables, and pile on peppers, onions, baby spinach, zucchini, and more! (Sprinkle a little more mozzarella on top to hold it all together.)
Greek Goddess: Add sliced kalamata olives, sliced pepperoncinis, and a sprinkle of feta cheese.
Sunburned: Add sundried tomatoes for a strong, rich tomato flavor.
Four Cheese:
Ultimate Hawaiian: Add uncured ham, pineapple chunks, red onion, and mandarin orange slices for a sweet, salty, sour taste explosion!
Chicken Pesto: Add diced leftover cooked chicken breast, and drizzle a little pesto on top. (You can heat refrigerated pesto in the microwave for a few seconds to make it pourable.)
Fancy Pants: Add artichoke hearts, sliced portabella mushrooms, and roasted red peppers for an upscale pizza night.
Uncured Pepperoni:
Spice it Up: Add sliced pickled jalapeños if you want your pizza to make you sweat. (This is my favorite!)
Classic Supreme: Add sliced bell peppers, onions, mushrooms, and black olives for pizzeria style supreme.
Meat Lovers: Add diced uncured ham and bacon pieces to satisfy the most carnivorous pizza eaters!
Thank you again to Newman's Own for sponsoring this post. You can find out more about their products and the charities they support by visiting Newman's Own Facebook and Newman's Own BuzzFeed Page.