This easy candy cane bark should be a Christmas staple in every house that celebrates the holiday. It's one of those must-have recipes this time of year, and it makes a perfect edible gift!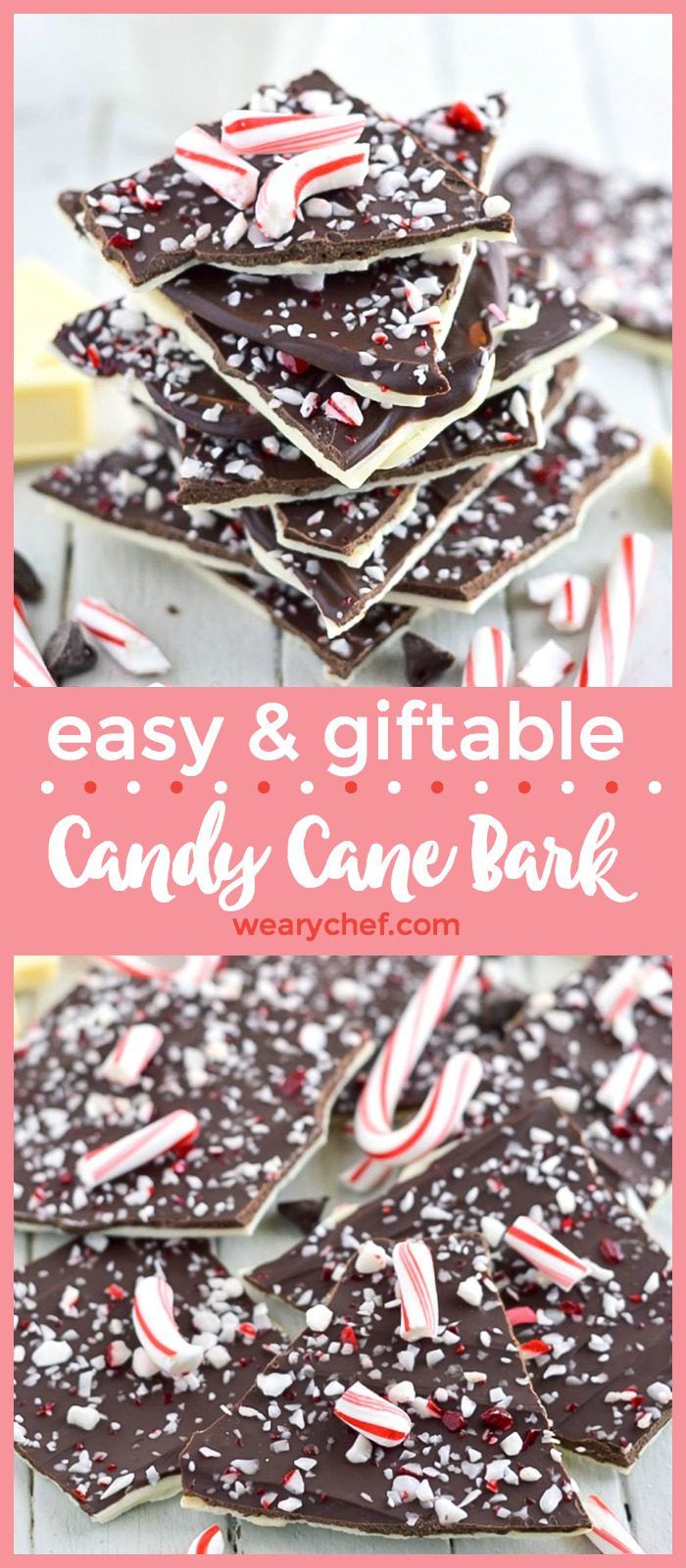 Hi, Weary Friends! It's Sharon from What the Fork Food Blog bringing you my last recipe as a contributor here. We don't have to say goodbye though because you can still keep up with me and my recipes over at my blog!
Today I'm bringing you an awesome holiday treat. You might call it peppermint bark, but I call it candy cane bark because I like to use nice big pieces of candy canes in mine. FYI, this dark and white chocolate peppermint bark is a great way to use up all candy canes you take off your tree after Christmas ;-)
You can buy your candy cane pieces already broken up which makes it very convenient if you don't feel like crushing your own. But who doesn't like to take a rolling pin and whack the heck out of a couple of candy canes?! It's a great way to get a little stress of the season off!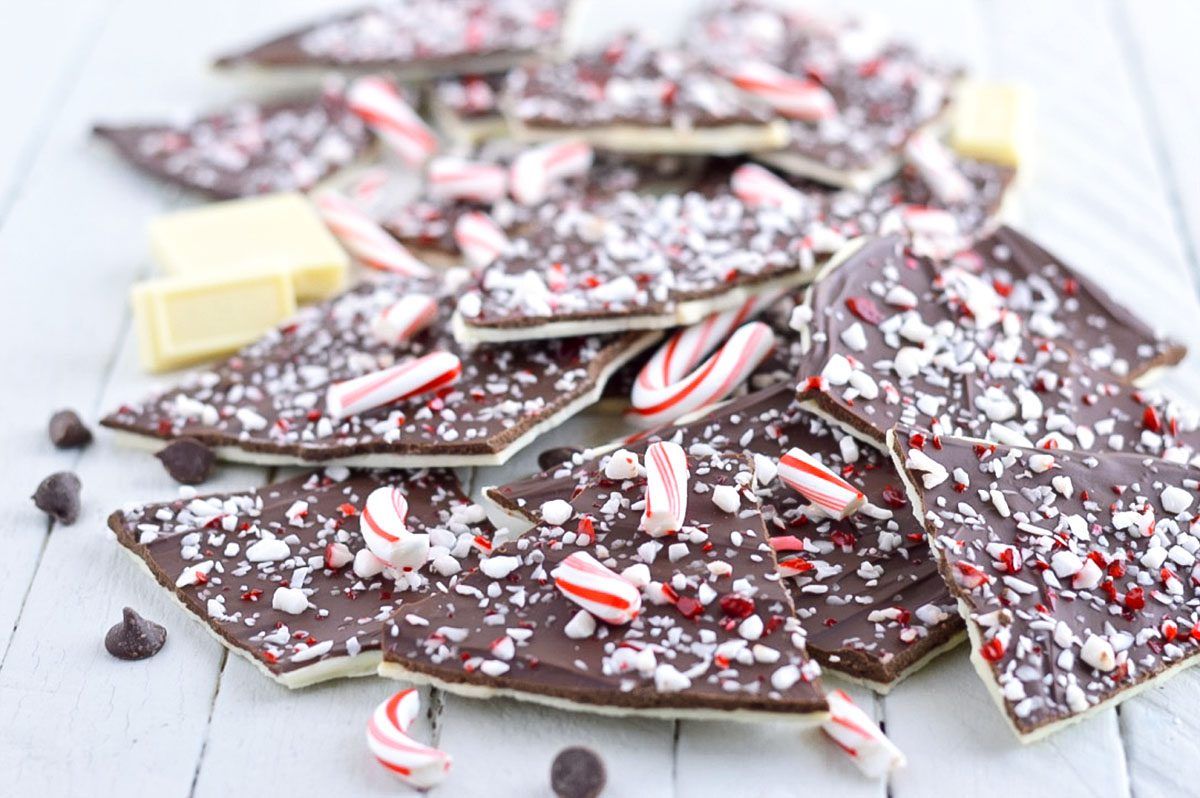 I used a combination of candy canes here – the pieces which I just shook on right after I spread out the semi-sweet chocolate and then I added some of the larger chunks of candy cane afterwards. It's a nice little combo that ensures even distribution of the candy canes and makes it look so pretty.
This chooclate mint bark makes an incredibly easy no-bake, homemade treat for gifting. If you want to make a larger batch, you could double the recipe. I wouldn't do any more than that so you can ensure the chocolate melts evenly.
If you MUST do more than that at once, I would recommend melting the chocolate by using a double boiler and NOT in the microwave. Chocolate has the tendency to overheat really easily in the microwave if you're not careful. If you try and melt too much at once, some of the chocolate will get too hot before all the chocolate melts. You'll end up with a messy clump of chocolate that won't spread evenly or easily.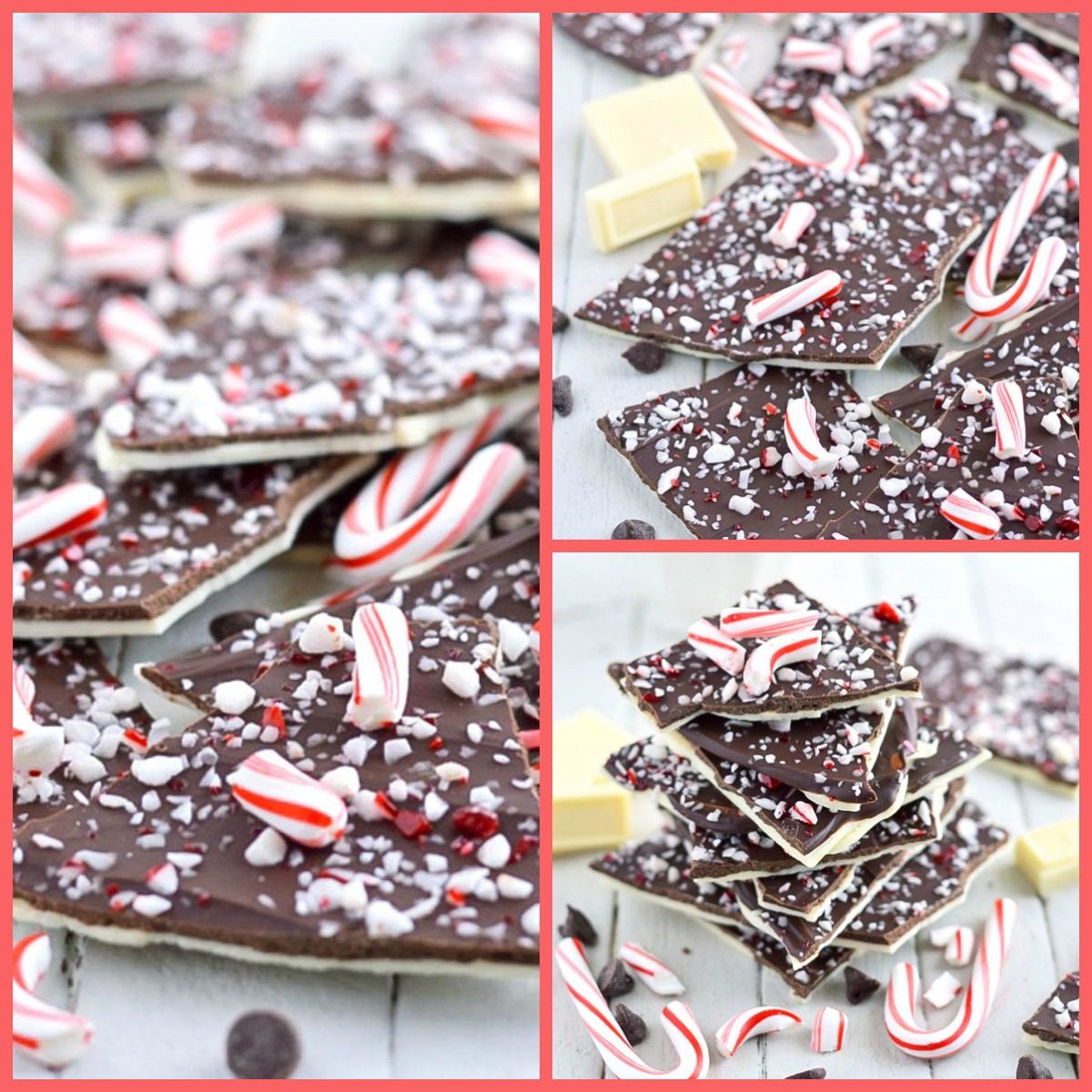 Once you make this bark, you'll want to make it again and again. It's super addicting! If you're looking for more peppermint inspiration, try my Peppermint Macarons or Peppermint Mocha Donuts! Enjoy!
| | |
| --- | --- |
| | |
Line a baking sheet with parchment paper or a silicon mat.

Add the white chocolate chips and 1 teaspoon of the vegetable oil to a microwave safe bowl. Heat at 50% power for one minute then stir well. Continue to heat at 50% power for 20 second intervals, stirring after each heating until the chocolate is melted. Stir in the peppermint extract then spread evenly in a thin rectangle on the prepared parchment paper.

In another clean microwave safe bowl, add the semi-sweet chocolate and the remaining 1 teaspoon of vegetable oil. Heat at 50% power for one minute then stir well. Continue to heat at 50% power for 20 second intervals, stirring after each heating, until completely melted.

Pour the semi-sweet chocolate over the white chocolate and use an offset spatula to spread evenly to cover. Immediately sprinkle with the candy cane pieces.

Freeze or refrigerate until completely hardened, about 20 min, then break in to pieces as large or as small as you'd like them.

Store in an airtight container in the refrigerator for up to a month. Can be kept at room temperature if your house is not too hot or humid.
Want another candy cane recipe? Try making peppermint vodka to use in these candy cane martinis!