We all love maple syrup on our pancakes, waffles, or ice cream. Not to mention the flavor it gives to the milk teas, frappes, or smoothies. However, not every time we have or afford maple syrup. So, why wouldn't we learn how to prepare brown sugar syrup instead?!
Brown sugar simple syrup works just fine as a substitute for maple syrup and is certainly more affordable. With this in mind, let's learn more about this easy, 2-ingredient recipe!
Brown Sugar Syrup FAQ
1. What Is Brown Sugar Simple Syrup Made Of?
The brown sugar syrup recipe became popular during the past years due to its use in Starbucks drinks. You know the Starbucks' lattes and frappes we all love? These all use brown sugar syrup as a sweetener. However, this simple syrup can be easily made with only brown sugar and water.
So, the brown sugar simple syrup is a variation on simple syrup: it's a liquid sweetener made with equal parts brown sugar and water.
2. How Do You Thicken Homemade Sugar Syrup?
When you want to prepare thick brown sugar syrup for desserts, you'll need to use some extra corn syrup. So, the ingredients you'll use are 2 cups of brown sugar, 1/4 cup of light corn syrup, and 2 cups of water.
In a medium saucepan, bring the sugars, corn syrup, and water to a boil. After that, reduce the heat and simmer vigorously for 10, 15 minutes, until thickened to a syrup consistency.
3. Do You Need to Refrigerate Homemade Sugar Simple Syrup?
The homemade simple syrup should be stored in the refrigerator. When stored properly, it has a shelf life of up to one month.
4. How Do You Keep Sugar Syrup from Crystallizing?
If not cooked carefully, sugar syrup (liquid sugar) can thicken and re-crystallize, ruining the recipe. To prevent sugar from crystallizing as it is cooked, follow a few basic tips:
Use a clean pot or pan when melting sugar. Sugar granules in the syrup will latch onto any particles left on a pan and crystallize to form a solid mass. Make sure the pan is free of any dust or particulates.
Add a little acid (such as a touch of lemon juice) or corn syrup to the sugar-water mixture before cooking. They help stop the crystallization process.
Do not stir the sugar when it comes to a simmer. Sugar is temperamental and can treat a spoon or spatula as particulate, something to latch onto to crystallize.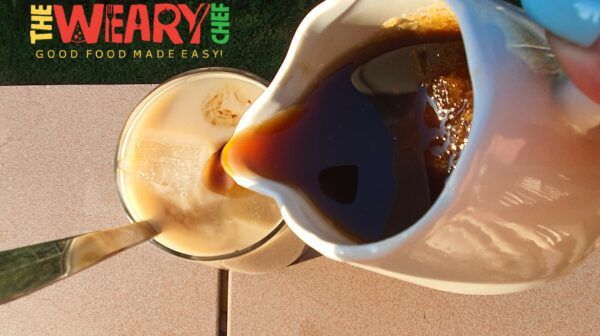 5. How to Use Brown Sugar Simple Syrup in Drinks and Desserts?
You can choose whether you want a thin, runny syrup, or a thicker syrup regarding how you want to use it. Here are my favorite ways of servings this sugar syrup at home:
Cocktails: the brown sugar syrup can be used in any type of cocktail, but works particularly well in bourbon or whiskey-based drinks because of its toffee flavor.
Coffee: replace your regular sugar from the coffee with this syrup instead. Also, if you add some vanilla or cinnamon sticks when melting your sugar, you can make flavored syrup for your coffee too.
Bubble tea: this simple syrup is perfect for every sweet milk tea with boba recipe.
Pancakes, waffles & ice cream: if you make a thicker syrup, you can use it to top your sweet breakfast or dessert.
Homemade Brown Sugar Syrup Recipe
Now, that you know a little more about preparing brown sugar simple syrup at home, it is time to learn how to make it yourself. You don't have to worry about anything: the ingredients are basically only water and sugar, and the steps are too simple.
If you want to go a little extra and make a thick brown sugar syrup for desserts, just follow the tips and tricks from the FAQ section above.
How to Make Brown Sugar Syrup at Home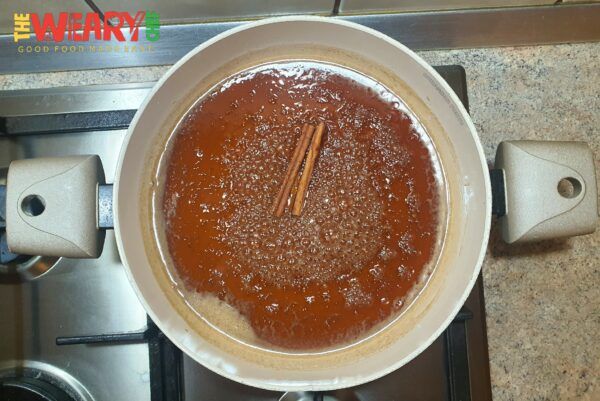 How Long Does Homemade Sugar Syrup Last?
You can safely store homemade syrup for up to 1 month in the refrigerator. As for the container, the most suitable is a glass bottle or a glass mason jar. The flavor stays pretty constant over time if it's kept in a glass container, and it may last for even longer.
How Do You Preserve Homemade Syrup?
Choose an airtight container. Store your homemade simple syrup in a sealed glass container such as a mason jar. However, you can use any type of airtight container, even though I prefer glass since it won't leach other flavors into your syrup.
Clean the container thoroughly before using it. No matter what container you choose, make sure to scrub it with hot water and dish soap to ensure it's a sterile container. After that, let it dry before pouring the syrup into it.
Place your syrup into the refrigerator. The standard one-to-one sugar-to-water ratio will produce a simple syrup that lasts about one month in the fridge. However, the shelf life of your homemade syrup depends on how well you clean and close the container.
Print
Homemade Brown Sugar Simple Syrup
Brown sugar syrup is great for sweetening desserts and drinks. This brown sugar syrup recipe is quick and uses only 2 ingredients: water and sugar.
Total Time:

12 minutes

Yield:

2

1

x
2

cups

brown sugar Use your regular brand of brown sugar.

2

cups

boiling water

2

sticks cinnamon If you prefer flavored sugar syrup. However, the cinnamon is not necessary.
Instructions
Heat the brown sugar and water (and the cinnamon sticks if you use some) on a pan over low to medium heat. Don't forget to stir occasionally.
To make a thin brown sugar simple syrup for sweetening drinks, heat the mixture only until the brown sugar has fully dissolved in the water.
To make a thick brown sugar syrup for pancakes, waffles, and other desserts, follow the next steps. Once the sugar has dissolved on low heat, slightly increase the temperature to reach a gentle simmer. Then, adjust the temperature to maintain a gentle simmer for 5 to 10 minutes.
Remove the pan from the heat and let the syrup cool to room temperature before using.
Author:

Prep Time:

12

Category:

Dessert, Drinks, Sauces
Enjoy Your Sweet Drinks and Desserts!
Finally, it's your time to share your experience with this simple sugar syrup recipe and all your thoughts on it. So, tell me everything in the comments section: What do you think about the black sugar syrup recipe? Did you experience any problems when melting the sugar? Did your kids enjoy this toping over their pancakes and ice cream? Additionally, did you go for the main recipe or did you flavor it? If you went extra, let us all know how that went!
Also, please, do not hesitate to ask any further questions about the homemade black sugar syrup recipe in the comments too. I will make sure to answer you as soon as possible! Last but not least, let me know how did you use the syrup: drinks, desserts, or both. If you haven't decided yet where to add the syrup, try one of these recipes: