Hot Dog Kebabs, Salmon Teriyaki, and Artichoke Dip Grilled Cheese Sandwiches are just a few of the easy dinners in this week's menu!
Hi! I'm feeling chipper this morning because a long-term problem in our neighborhood seems to be solved, at least temporarily. We have had a man living in a broken down RV on our block for about six months. SIX MONTHS! Other neighbors and I have reported him to the police and city parking department numerous times, but somehow he kept getting away with it. This morning I called the police when he was hanging around outside the stinkmobile, and they finally got to talk to him. I'm not sure what they said, but after about a half-hour conversation, he finally moved… somewhere. I have a feeling he's not far away, but I can't see him from my window at least. Hopefully he'll move along permanently.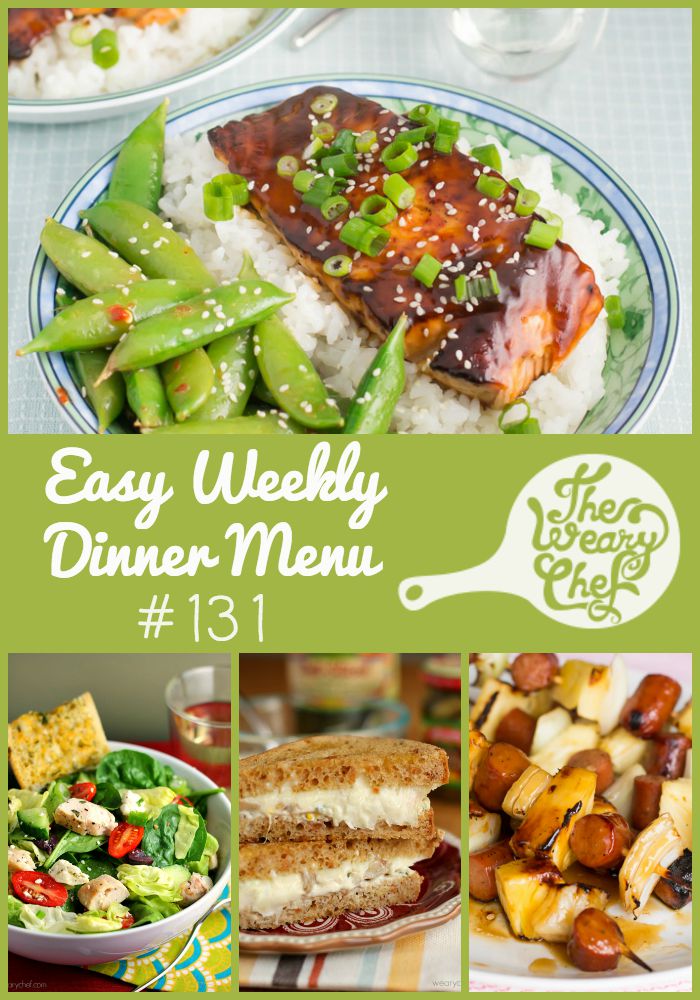 Let's celebrate this neighborhood victory with some easy dinner recipes, shall we? Both of my new recipes this week involve teriyaki sauce, but they taste completely different. You don't mind, do you? I also have some sandwich, slow cooker, and salad recipes in there for you. Which ones do you think you'll try? Let me know in the comments!
What are you going to have for breakfast this week? Here are a couple ideas that won't heat up your kitchen!