Easy Cream Corn Pancakes paired with freshly grilled pork chops are a delicious breakfast or dinner! Thanks so much to Smithfield for sponsoring this 30-minute recipe.
If you enjoy salty bacon with pancakes or savory chicken with waffles, this meal is right up your alley. Imagine fluffy pancakes loaded with summer corn flavor, smothered in butter and maple syrup, and paired with a sweet and savory grilled pork chop. This meal can be your breakfast or dinner in only about a half hour!
The corn in these easy pancakes adds a deliciously sweet taste and texture, but the pancakes are still light and fluffy. The pork chops are nearly effortless to prepare because they are already marinated with sweet, smoky flavor! I can't wait for you to taste Smithfield's new Hickory Smoked Brown Sugar Pork Chops.
All you have to do is open the package and cook the chops on a hot grill or skillet. Smithfield did the rest of the work for you! You can find them in the meat section at your grocery store. The package looks like this: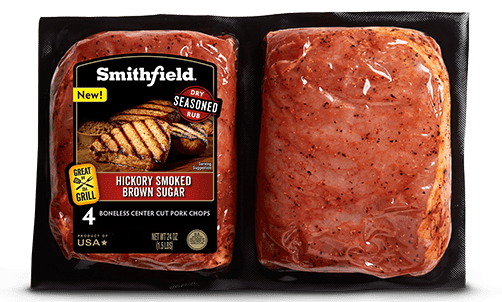 As always, this Smithfield marinated fresh pork is tender, juicy, and bursting with flavor. I love the convenience of these marinated pork chops because they are individually sealed. That makes it so easy to freeze them and just thaw as many as you need. The brown sugar flavor pairs perfectly with pancakes and syrup, and I can't wait to try the garlic and herb flavor too. Those will be delicious with mashed potatoes and a salad!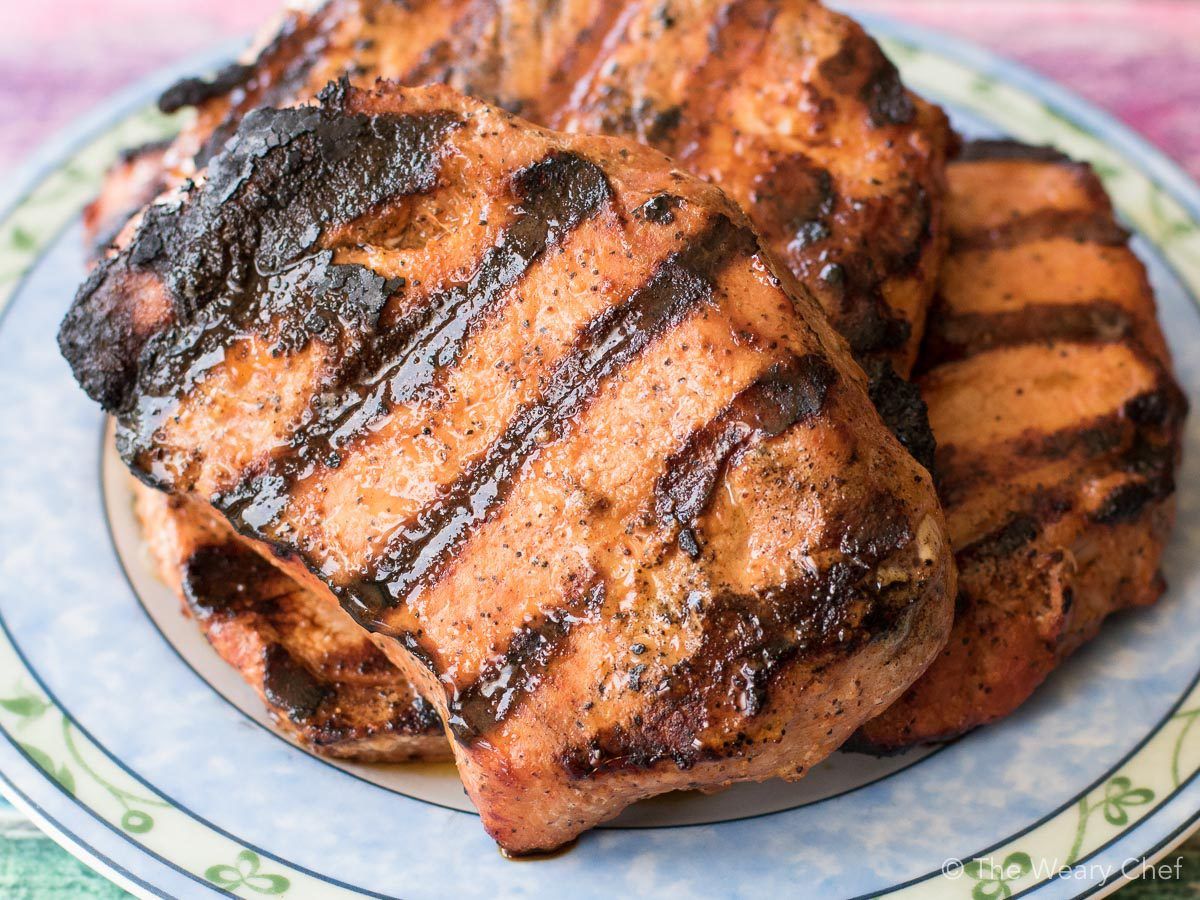 In an effort to keep this recipe quick and easy, I used baking mix for this corn pancake recipe. In my case, I used gluten free baking mix, but you can use the regular kind too of course. You only need four other ingredients for these tasty corncakes. How simple is that??
Believe me when I tell you that my kids were highly skeptical about corn in pancakes. I told them it was sort of a cross between cornbread and pancakes (both foods they love), but that didn't really convince them. After their reluctant first bites, they both cleaned their plates and had seconds!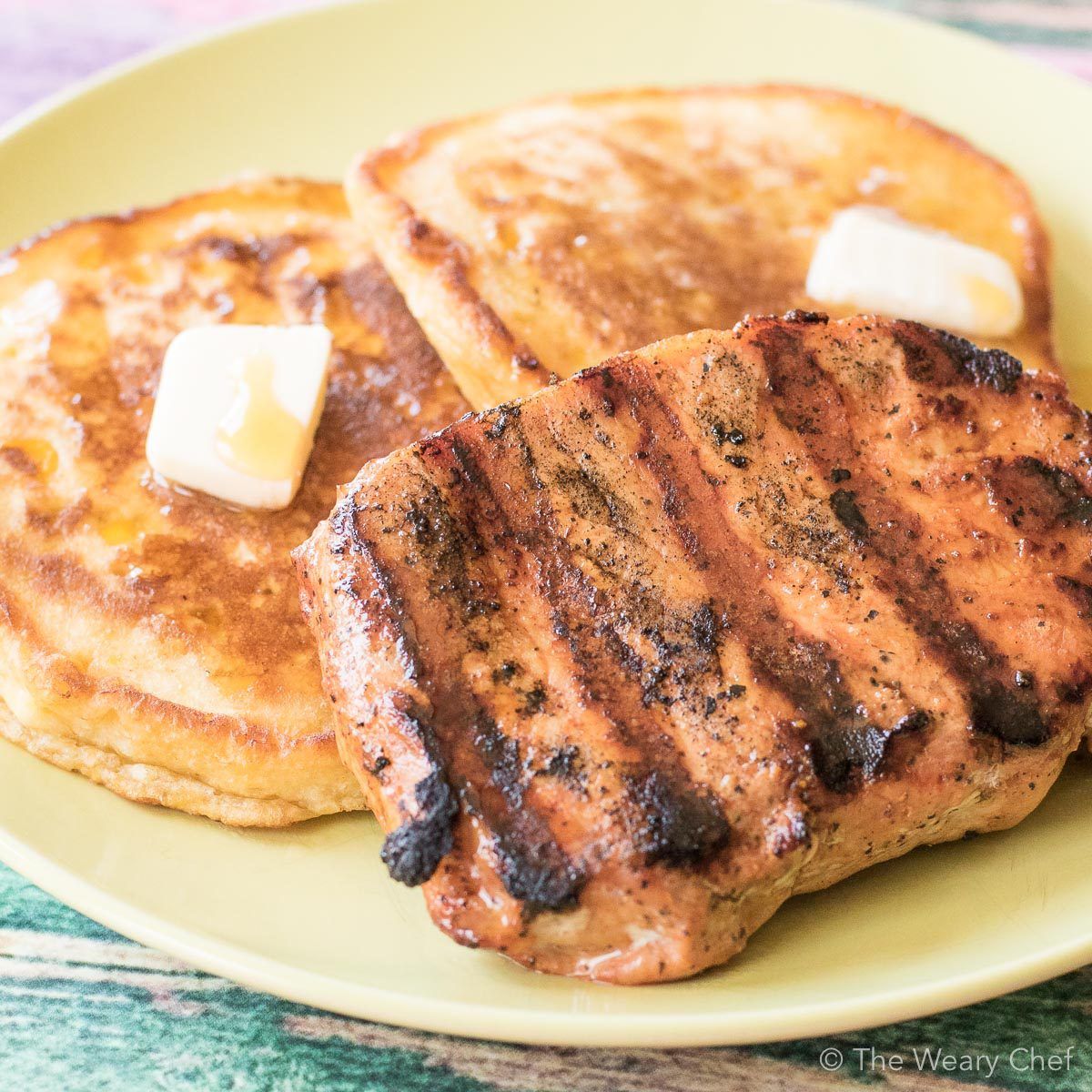 I feel sure that this quick and easy pork chop and pancakes meal will be a hit at your house too. Let me know how you like it!
Do you have your own tips for getting dinner on the table in a hurry? Smithfield wants to hear them! You can submit your original tip for a chance to win great prizes here: www.SmithfieldRealFlavorRealFast.com.
Print
Quick Cream Corn Pancakes with Brown Sugar Pork Chops
Easy Cream Corn Pancakes paired with freshly grilled pork chops a delicious breakfast or dinner thats ready in 30 minutes!
Total Time:

25 minutes

Yield:

4

1

x
4

Smithfield Hickory Smoked Brown Sugar Pork Chops

14

ounces

canned creamed corn

2

eggs

1/2

cup

milk

2

cups

baking mix (like Bisquick or Jiffy – gluten free OK)

1/3

cup

cornmeal

1/4

cup

butter (approximate measure)
maple syrup
Instructions
Preheat your grill. Cook pork chops for about 5 minutes per side or until the internal temperature reaches at least 145 degrees F. Remove to clean plate and cover with foil to keep warm.
Meanwhile, whisk together corn, eggs, and milk in a medium bowl. Whisk in baking mix and cornmeal until smooth.
In a large skillet or griddle, melt a pat of butter over medium-high heat. Drop circles of pancake batter onto the hot griddle. (I use 1/3 cup measuring cup for this to keep the pancakes uniform in size.)
Cook pancakes for 2-3 minutes or until edges are done, and then carefully flip. Cook 2-3 minutes longer before removing to plate. (Cover cooked pancakes with foil to keep them warm while you cook the rest.)
Add a little more butter to the skillet or griddle, and then repeat step 4 until all pancakes are done.
Serve hot pancakes with butter, syrup, and pork chops. Enjoy!
Author:

Prep Time:

5

Cook Time:

20
Here's another sweet and savory recipe made with Smithfield marinated fresh pork!

Thanks again to Smithfield for sponsoring this recipe!