This shrimp taco dip might not look like much, but I dare you to try to stop eating it.
Do you have any memories of places or events where one thing stands out, but you can't remember any other details. This happens to me a lot. I'll remember being at a party with a trampoline or at a summer camp doing a particular art project, but I can't remember where on Earth I was or who else was there. It's just a little memory fragment that somehow made an impression. One of those was being at a party somewhere, and a dip was served that I couldn't stop eating. I was immediately addicted to the stuff! I asked for the recipe and was told it was cottage cheese, Ranch seasoning mix, and canned shrimp. I was kind of shocked that I could like it so much once I knew what was in it.
I'm not someone who eats cottage cheese, or so I thought. I have tried it in a couple recipes like mac and cheese of all things, but I never eat it on its own. I love cheese, but for some reason the texture of his one just looks… gross. Is it even cheese? It looks more like chunky sour cream, which sounds like a bad thing.
Still, once I fell in love with that dip, I couldn't deny that I loved cottage cheese at least that way. I have made that original dip a few times over the years, always served with Fritos, and it's still a hit. Since it wasn't my recipe (although I can't remember who told it to me at that party some 20-ish years ago), I thought I would come up with my own spin on the idea to share with you. I don't know if I can say this version is necessarily better than the Ranch recipe, but it is pretty dang good! I grazed on it throughout the day for two days because I couldn't stop myself. I have no will power when it comes to dips!
This dip takes approximately three minutes to make if that. You are basically just stirring four ingredients together, then done! I found Garlic Shrimp Taco seasoning by McCormick that I used in the recipe, but if you can't find that just try chicken taco or plain old taco seasoning. Put this out with some Fritos or tortilla chips, and watch it disappear!
Print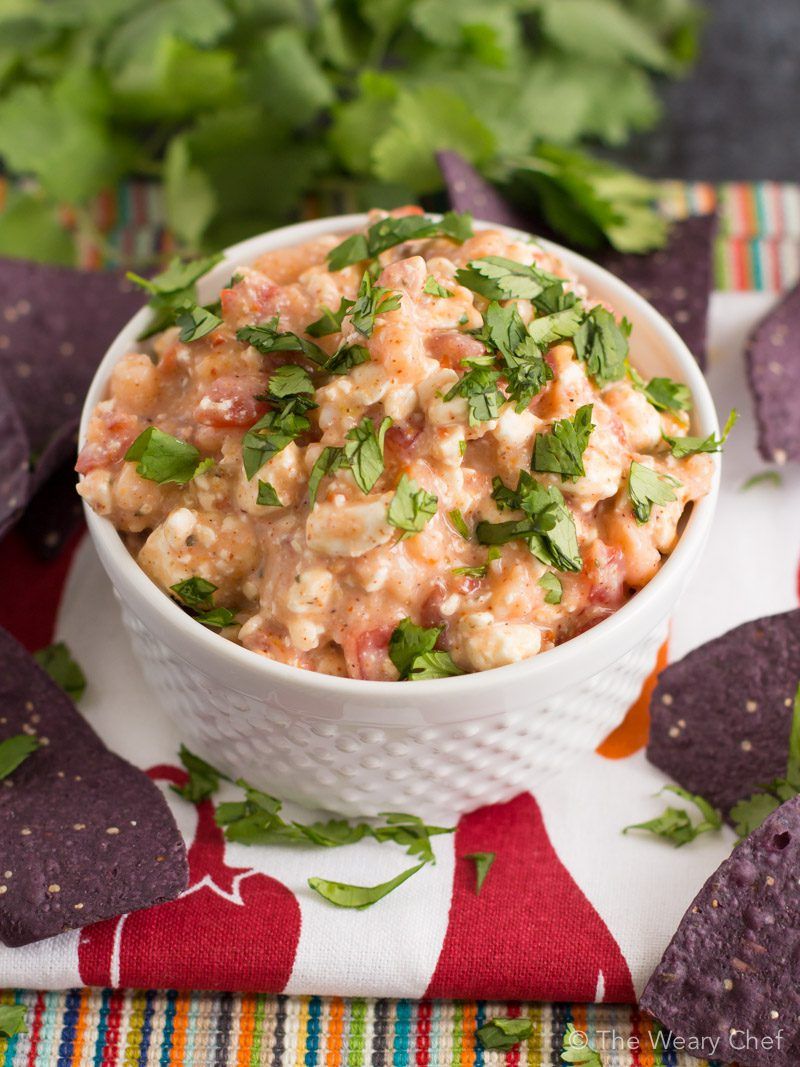 Addictive Shrimp Taco Dip
Four ingredients and five minutes is all you need for this tasty dip!
Total Time:

5 minutes

Yield:

8

1

x
16

ounces

cottage cheese 2% milk, small curd

1

packet garlic shrimp taco seasoning (or substitute chicken taco seasoning)

4

ounces

canned tiny shrimp

10

ounces

canned diced tomatoes with chiles drained
Instructions
Stir all ingredients together. Store in refrigerator if not serving immediately.
Serve with tortilla chips or Fritos. Garnish with diced fresh cilantro if desired.
You'll also enjoy these quick and easy dips recipes: