These one-pan pork chops are very simple to make. The easy milk gravy does not even require making a roux! Serve this 30-minute dinner over rice with a vegetable on the side.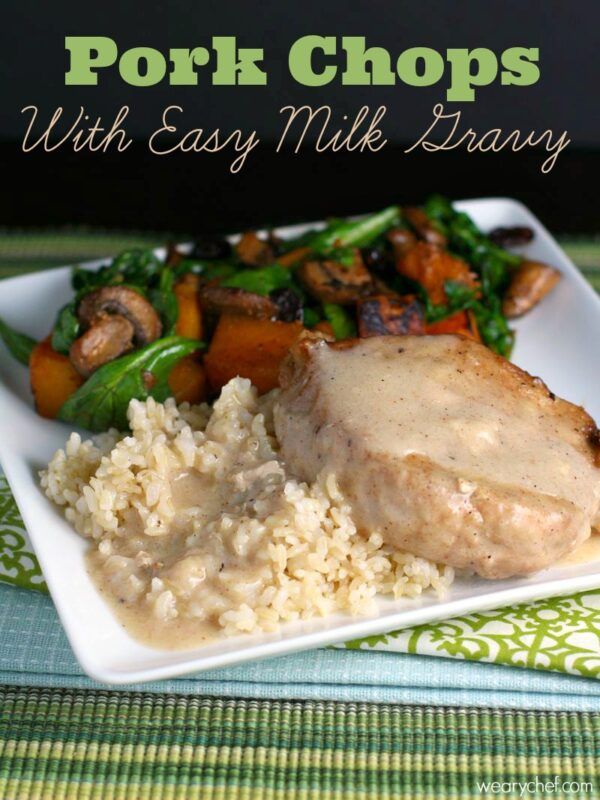 This past weekend I asked my husband what he wanted for dinner, and he said, "Something with gravy." You can see why I love him. He's not too picky AND he loves gravy! I remembered that I had this recipe that desperately needed new photos, so I decided to make it again.
If you aren't impressed with these new photos, well, neither am I really. Since I don't have a story to go with this recipe, why don't I just whine about food photography instead?
First of all, meat with gravy sounds delicious and is delicious, but it looks kind of plain and brown. It's hard to make it look as good as it tastes. Also, I took these photos at night with my photography lights
, which sometimes works great and sometimes not so much.
Finally, why did I put this food on a square plate?? I rarely use this plate because I think it looks terrible in pictures every time, but after a few months I think I must be remembering wrong and use it again. I have nothing against squares as a shape, but I think square plates make photos difficult because you are limited on how you can angle the them. I should donate this one so I'm never tempted to use it again!
The thing is, the original photo was so horribly terrible that any new photos would be an improvement. I'm not going to put the old photo in this post because I don't want you to lose your appetite, but you can click here if you want a good laugh. It just goes to show that we all had to start somewhere! I started The Weary Chef with bad iPhone photos, most of which I have replaced, but this recipe was a winner then and still is! I hope these new (mediocre) pictures will convince you to try it. You won't be sorry!
Print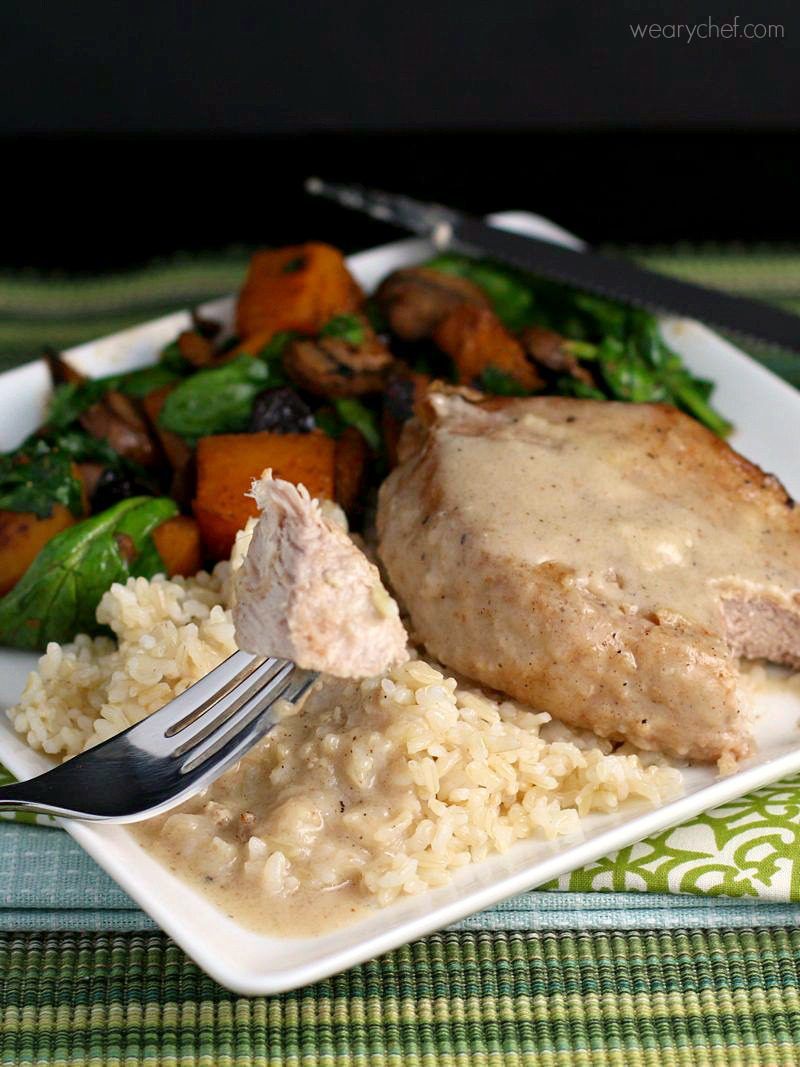 Pork Chops with Easy Milk Gravy
Pork chops are dredged in flour and browned, then simmered with an easy milk gravy. Quick and hearty 30-minute meal!
Total Time:

25 minutes

Yield:

4

1

x
Instructions
in a medium bowl, stir together flour and 1 tsp. Cajun seasoning.

In a medium skillet (preferably an iron skillet), melt butter over medium-high heat. While butter melts, dredge each pork chop in flour mixture, shaking off excess flour. Place all chops in skillet, and cook about 5 minutes, until brown. Flip meat over, and cook 5-7 minutes longer.

Add cornstarch and remaining 1 tsp. Cajun seasoning to chicken broth, and whisk very well until combined. Pour mixture into skillet.

Add milk, and bring to a simmer. Reduce heat to medium, simmer for about 3 minutes, and then flip pork chops over once more. Simmer another 3-5 minutes until gravy is thickened. Enjoy!
Author:

Cook Time:

25

Category:

Main

Cuisine:

Southern
Want more rice and gravy in your life? Be sure to try these recipes too!