Looking for the perfect tailgating food? Try these fun and easy BBQ Chicken Bombs! Mini cornbread muffins are stuffed with a creamy BBQ chicken filling and topped with shredded cheese. Thanks so much to Stubb's for sponsoring this recipe!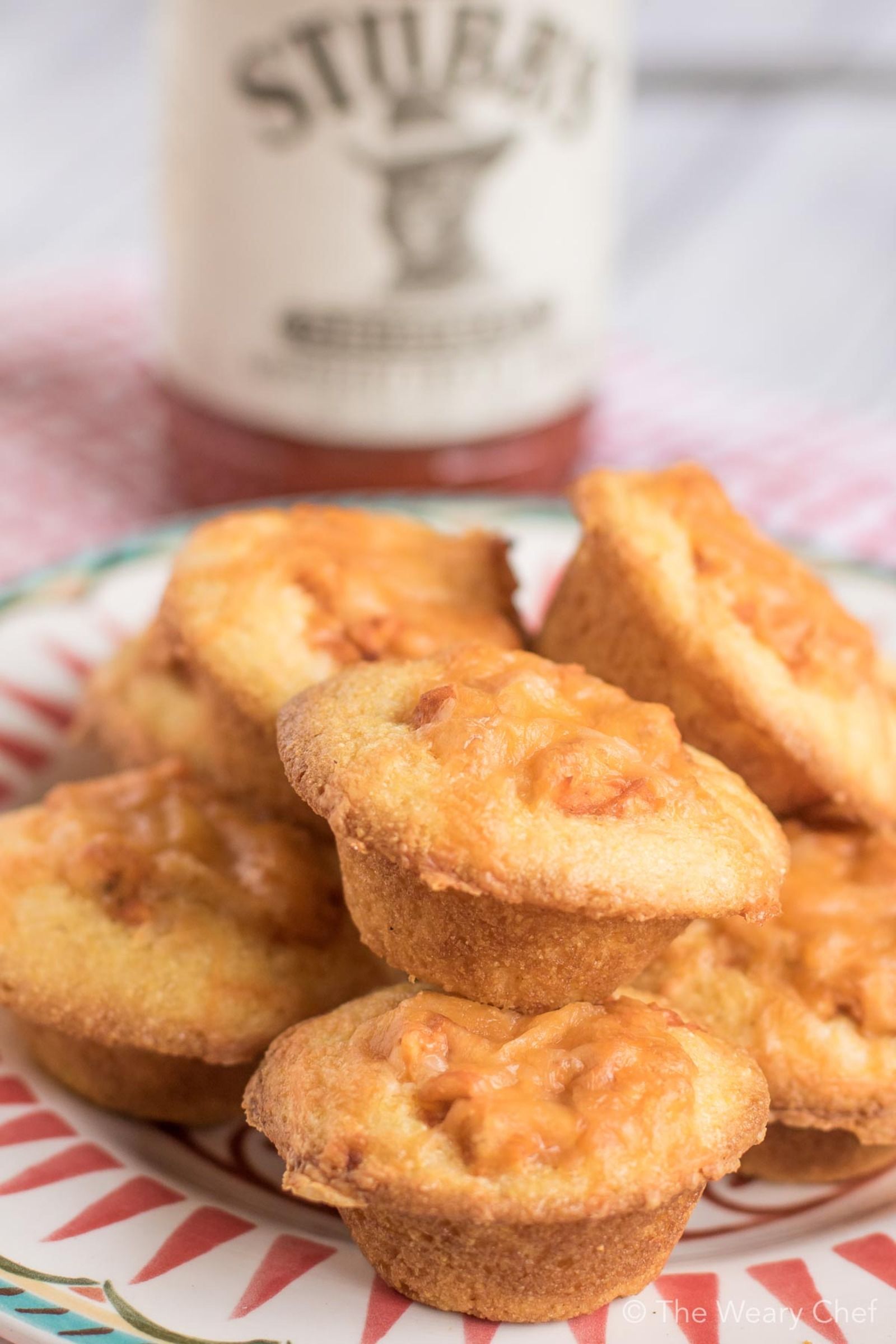 I've never been much of a sports fan, but we live in Texas now. Football is big time here! Even my kid's middle school has two football teams for 7th and 8th grades, each with games every week. I need to get with the program and start liking football. It won't be too hard since I LOVE football food!
When I was a student in the marching band, I attended every football game. I don't think I ever watched a single play on the field. I just chatted with my friends until it was time to play a song or do the halftime show. I loved going to the games even though I didn't actually watch football.
Now as an adult, I can turn my attention to tailgating as the main attraction! Who needs to pay attention to the game when there's good food and drink to enjoy?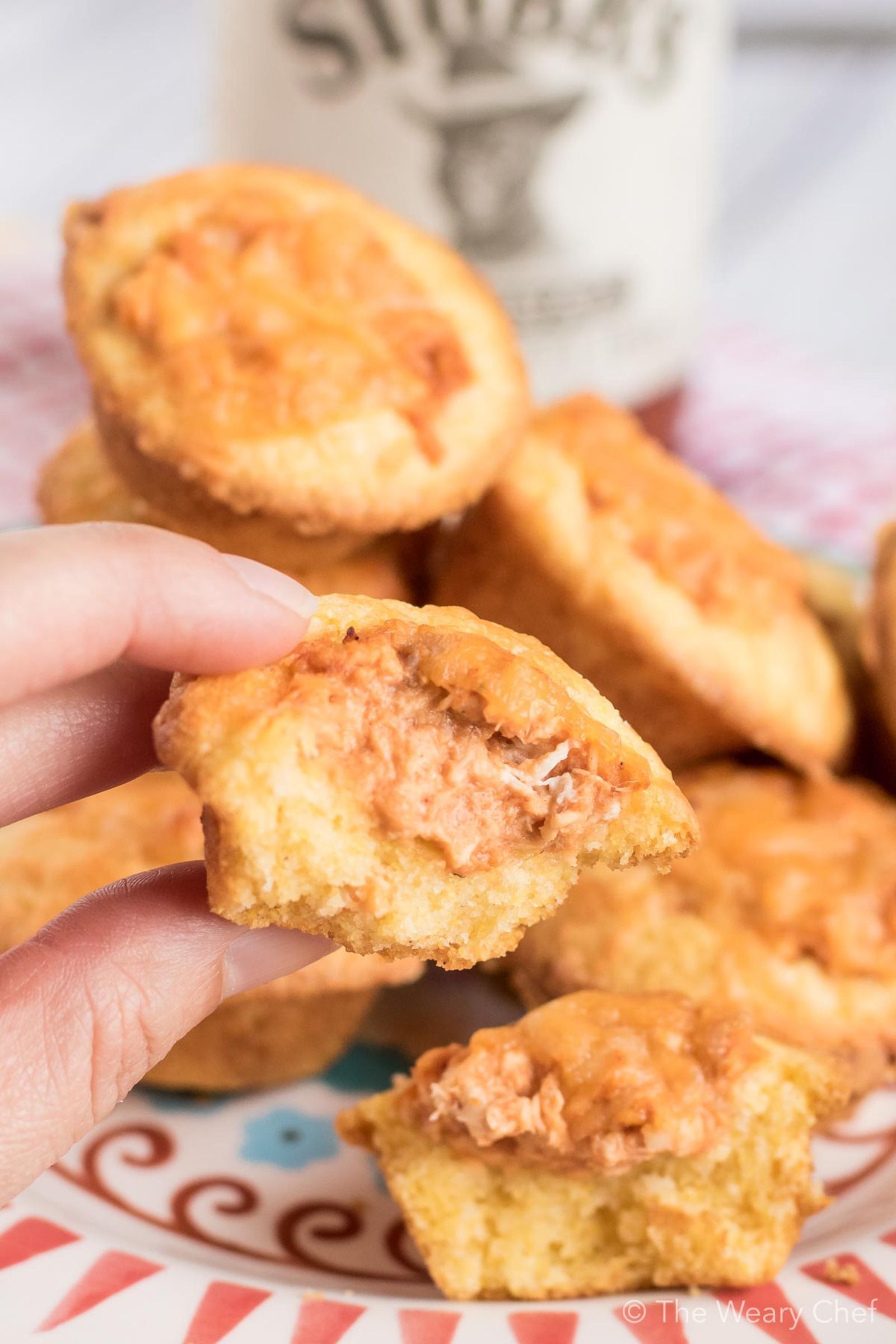 You know who else was way into tailgating? Stubb's Bar-B-Q founder, C.B. "Stubb" Stubblefield! As a Mess Sergeant in Korea, Stubb was known for cooking chili for his men on the hot tailpipe of an army tank! Now, I might not go THAT far to make the perfect football food, but I do appreciate his creativity and determination.
Today I'm bringing you a make-ahead tailgating recipe for your snacking pleasure. These little BBQ Chicken Bombs are fun and easy to make and are oh so portable! You'll want to make them again and again for game days, potlucks, parties, and even lunch boxes.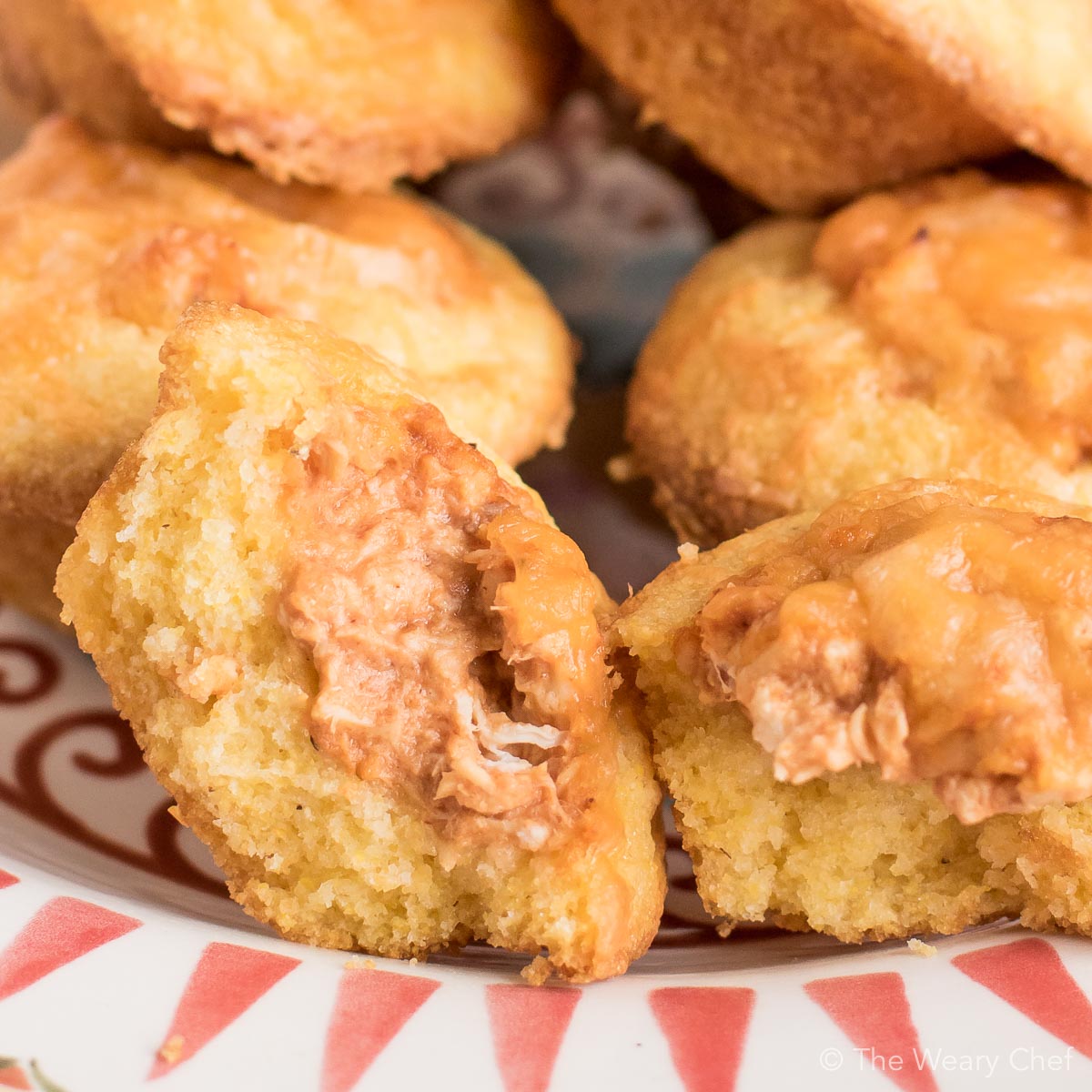 Watch how easy it is to build these BBQ Chicken Bombs!
All you need for the 3-ingredient filling is: Cooked chicken, cream cheese, and Stubb's Original Bar-B-Q Sauce. I used rotisserie chicken, which was really simple. These BBQ chicken bites are also great to make with leftover grilled chicken, or in a pinch you could even use canned chicken!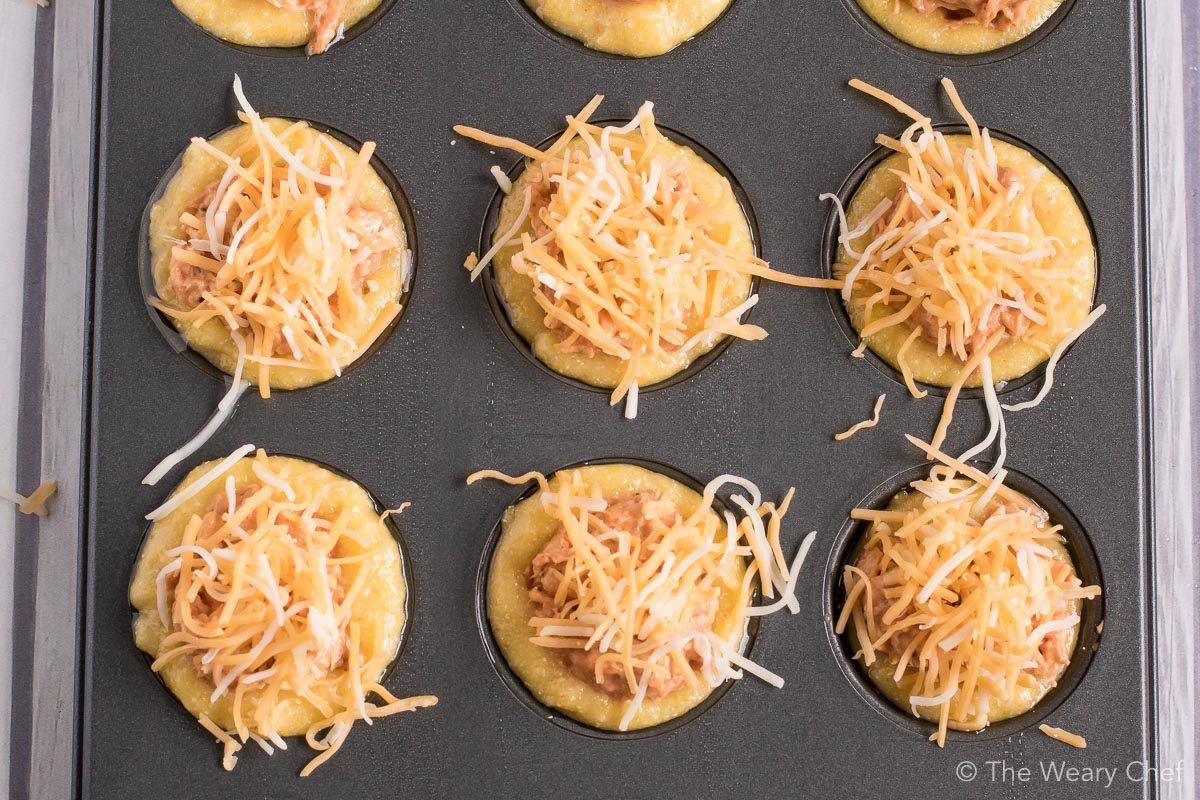 The Stubb's signature sauce really makes this dish. I used the Original, which has a perfect balance of sweet, smokey, and tangy flavors. If you want to turn up the heat, try Stubb's Spicy Bar-B-Q Sauce. For a real taste of Texas, you could stir in the Dr Pepper Bar-B-Q Sauce! No matter which sauce you choose, you can feel good knowing there's no high fructose corn syrup in the mix.
Wondering if you can make this recipe gluten-free? You betcha! I actually used a gluten-free cornbread mix in this recipe, and Stubb's sauces are all certified gluten-free. If you prefer to make your own cornbread from scratch, you can absolutely use your favorite recipe instead. I chose a sweet cornbread to pair with the BBQ flavor, but you could also try a savory southern cornbread if you prefer.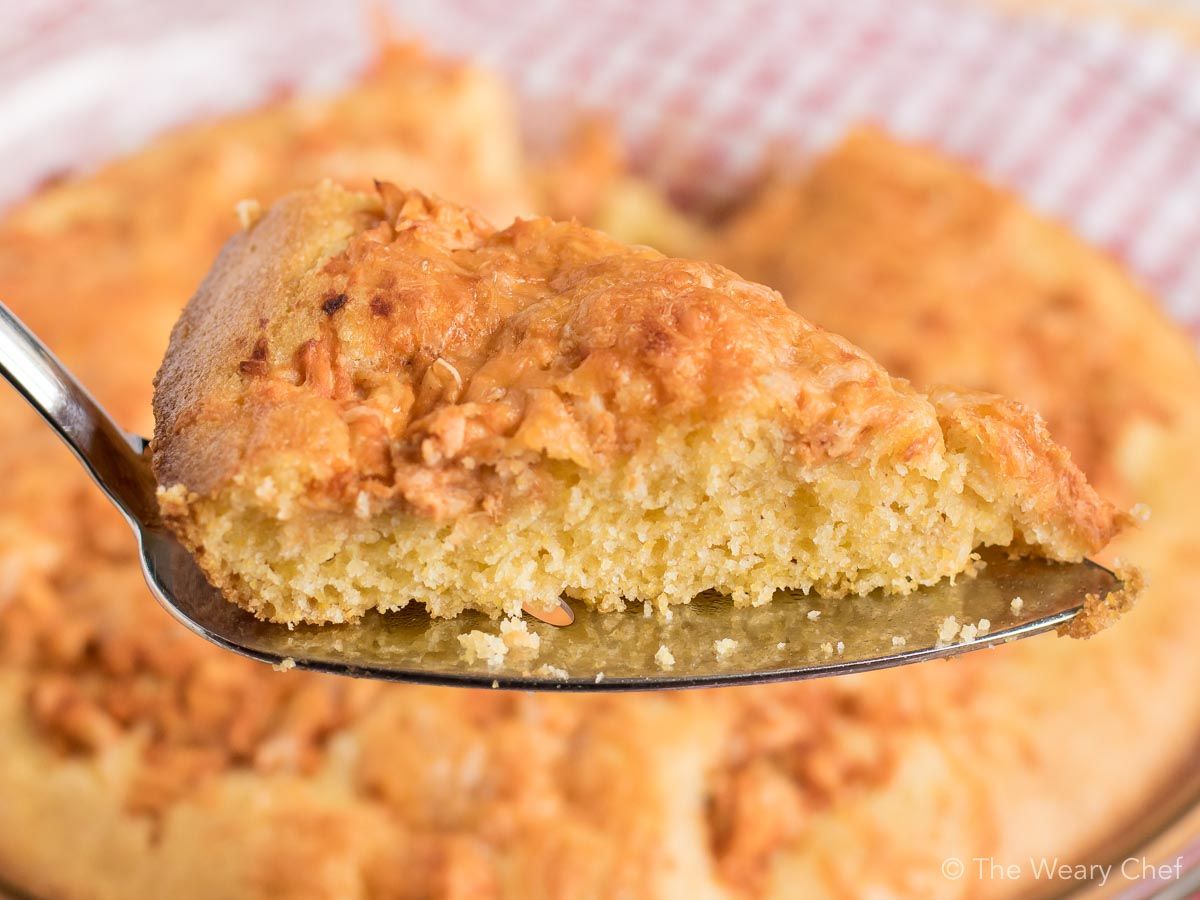 If you want to take a recipe shortcut, you can make this as a BBQ Chicken Cornbread Pie instead! Just spread the cornbread batter in a greased pie pan, spread the chicken mixture over the top, and sprinkle the whole thing with cheese. Bake it for a little longer, 15-20 minutes, and slice it up into wedges.
However you decide to make it, I know your crew will love this recipe as much as mine did!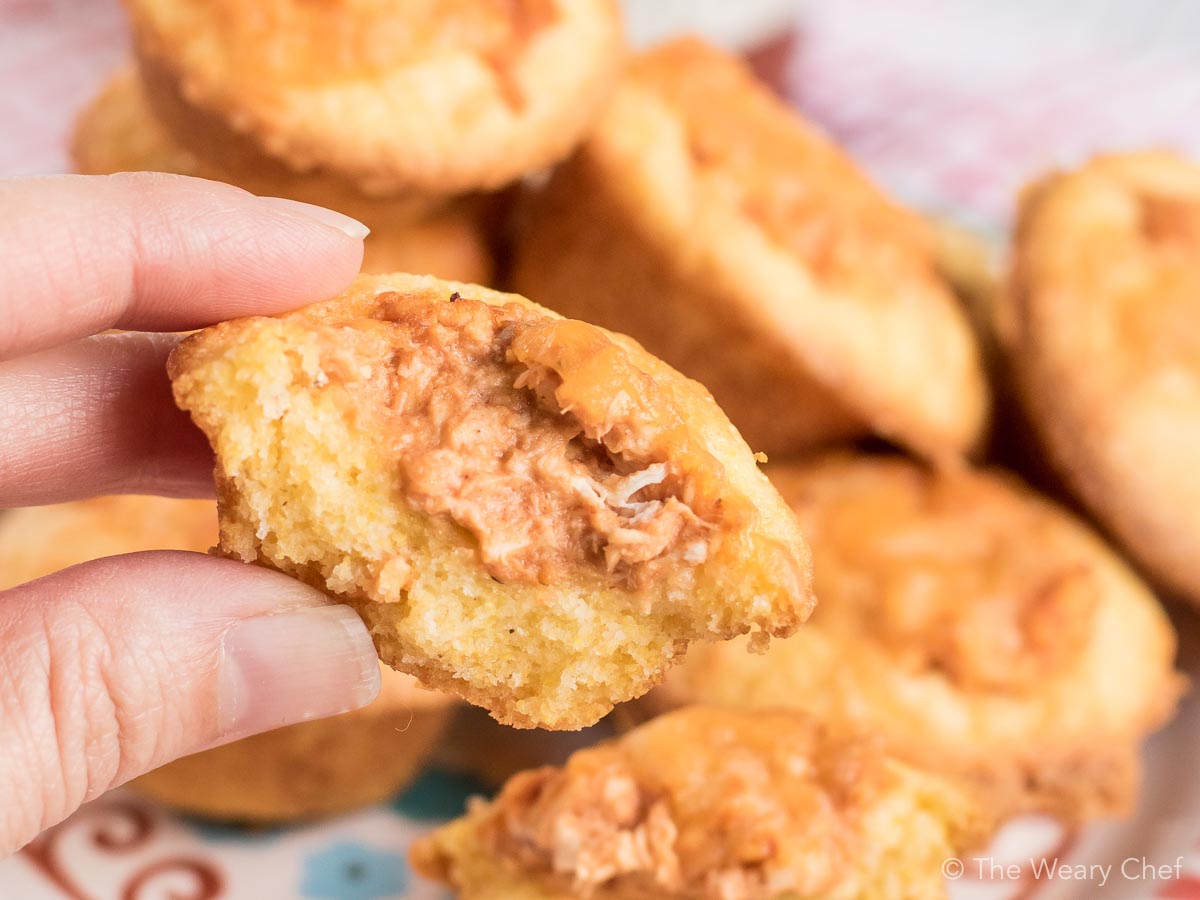 Print
Chicken Cornbread BBQ Bombs
Mini cornbread muffins are stuffed with a creamy BBQ chicken mixture and topped with shredded cheese. Perfect easy recipe for tailgating, parties, and potlucks!
1

box cornbread muffin mix (plus ingredients called for on box instructions)

1

cup

cooked chicken finely chopped

1/4

cup

Stubb's Original Bar-B-Q Sauce

2 tablespoons

cream cheese softened

1

cup

shredded cheddar cheese
Instructions
Preheat oven to 400 degrees F. Spray a mini muffin pan with cooking spray or grease with butter.
Prepare cornbread batter according to package instructions.
Use a medium cookie scoop or a tablespoon to fill muffin tin cups about 2/3 full with cornbread batter.
Use a small cookie scoop or a teaspoon to drop chicken filling in the center of each scoop of cornbread.
Sprinkle shredded cheese on top of each muffin. Bake in preheated oven for 10-12 minutes, or until cheese is melted and cornbread is golden brown. Allow to cool slightly before removing from pan and serving.
What else will you do with your Stubb's? Try these recipes on for size!
Thanks again to Stubb's Bar-B-Q for sponsoring these BBQ Chicken Bombs!