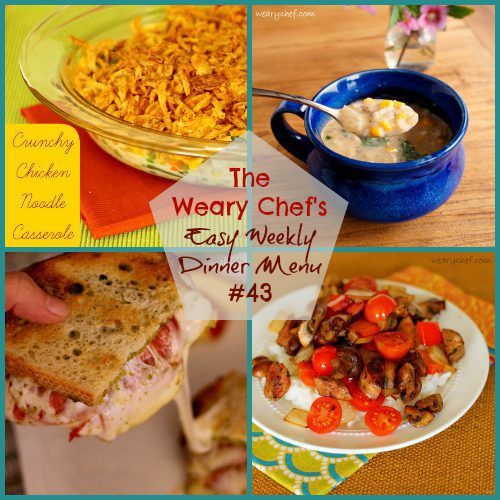 Whew boy. Friday was quite a day! I stayed up too late, and the boys got up at 6:00, which is pretty much business as usual. I'm going to blame my lack of sleep and coffee for dropping my phone on the kitchen floor and shattering the screen before 7 am! I spent the better part of the day going from mall to mall trying to figure out what to do about that, and before I knew it, I was staying up too late again to start it all over this morning (hopefully minus the phone shattering part). If you get to sleep in on the weekends, it would be best to keep that information to yourself ;)
I'm not here to complain though, especially about silly first world problems. I'm here to talk to you about good food to eat, specifically what to eat for dinner! Here's a brand new easy weekly dinner menu I cooked up just for you!
If you are thinking about dessert, did you see this 3-Ingredient Pumpkin Cake I shared earlier this week? It just takes a few minutes to stir it together, and it's so moist and delicious (especially with ice cream and caramel sauce on top)!