Healthy Creamed Spinach: Less cream, more spinach, just as good! You're going to love this addition to your dinner plate!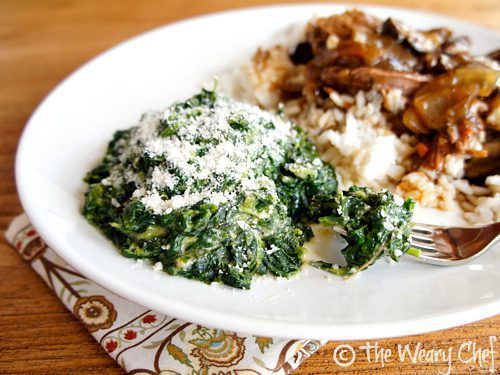 Do you ever suddenly get the idea to make something you've never even had before? That happened to me last week when I decided creamed spinach would be the perfect side for pot roast. Since I didn't exactly (at all) know how to make it, I started reading recipes. It turns out creamed spinach is not typically what you would call a healthy side dish thanks to loads of butter and heavy cream!
How to Make Healthy Creamed Spinach?
Do you cook with heavy cream very often? I almost never do. It makes me feel really guilty! If you saw my figure (especially after a year or so of medication that causes weight gain), you might not think I'm the most diet conscious. I really do try to make (mostly) healthy choices though. I could use some work on portion sizes, but I try not to eat foods that are absolutely loaded with fat and calories. If you ask me, any recipe involving more than a couple of tablespoons of heavy cream generally falls into that category.
Since I didn't want my vegetable to make me feel guilty, I came up with my own lighter version, which I thought turned out great. My husband wasn't crazy about the texture, but I think creamed spinach is supposed to be rather, well, squishy. The flavor was delicious, and I was happy to have the leftovers all to myself. It's like spinach dip that you can eat for dinner. That sounds good to me! Definitely give this a try the next time you want a creamy spinach side dish with no guilt!
Print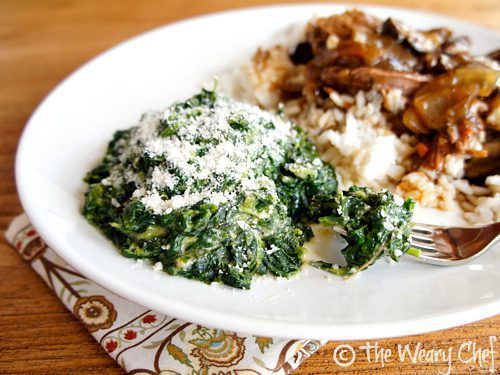 Healthy and Easy Creamed Spinach Recipe
This flavorful creamed spinach recipe contains only a little butter and no cream!
Total Time:

20 minutes

Yield:

4

1

x
Instructions
Melt butter in a skillet over medium heat. Add garlic, and saute until white and fragrant, about one minute. Stir in flour.

Slowly stir in milk about 1/4 c. at at time, whisking constantly to create a smooth sauce. Add salt and pepper.
Stir in spinach and cottage cheese. Continue to cook, stirring occasionally, for 8-10 minutes. Taste and add additional salt to taste.
Serve sprinkled with parmesan cheese if desired.
Author:

Prep Time:

5

Cook Time:

15

Category:

Side Dish
Wondering what to do with the rest of the cottage cheese? Try this Creamy Easy Mac and Cheese!