These turkey dogs in a blanket are a fun crescent roll recipe that your kids will adore!
What do my kids eat for dinner, you ask? They eat everything on my weekly menus with smiling faces, of course. Then they say thank you and tell me what a great cook I am. And they say I'm pretty. Yep, that's what it's like.
OK, that part about eating what's on the menu and smiling and telling me nice things is actually a lie. Sometimes they do eat what Matt and I have for dinner, but they are picky and often refuse to try more than one bite. I'm sure that is all my fault, but there's no reason to start pointing fingers. For example, I tried to feed them leftover chicken and dumplings for dinner a few days ago. The oldest took one bite and said "It tastes like peas," and wouldn't eat more. The little one refused to even taste it. I don't know where these kids came from.
What typically happens at kid dinner time is I make them their own dinner, and they usually eat it. Sometimes they still complain, but they have to eat (or not) whatever is offered. I already make two dinners per night, so I'm not going to replace rejected meals with yet another choice. Last night's dinner was something new: Turkeys in Sleeping Bags. It's much like pigs in blankets except I used all-natural turkey dogs, and the puffy rolls looked cozier than blankets to me.
The oldest said he didn't just like it, he loved it. The little one took one bite and spit it out on his plate in a disgusting manner, then ate two apple slices and drank milk for dinner. Ask me again why I'm weary…
Print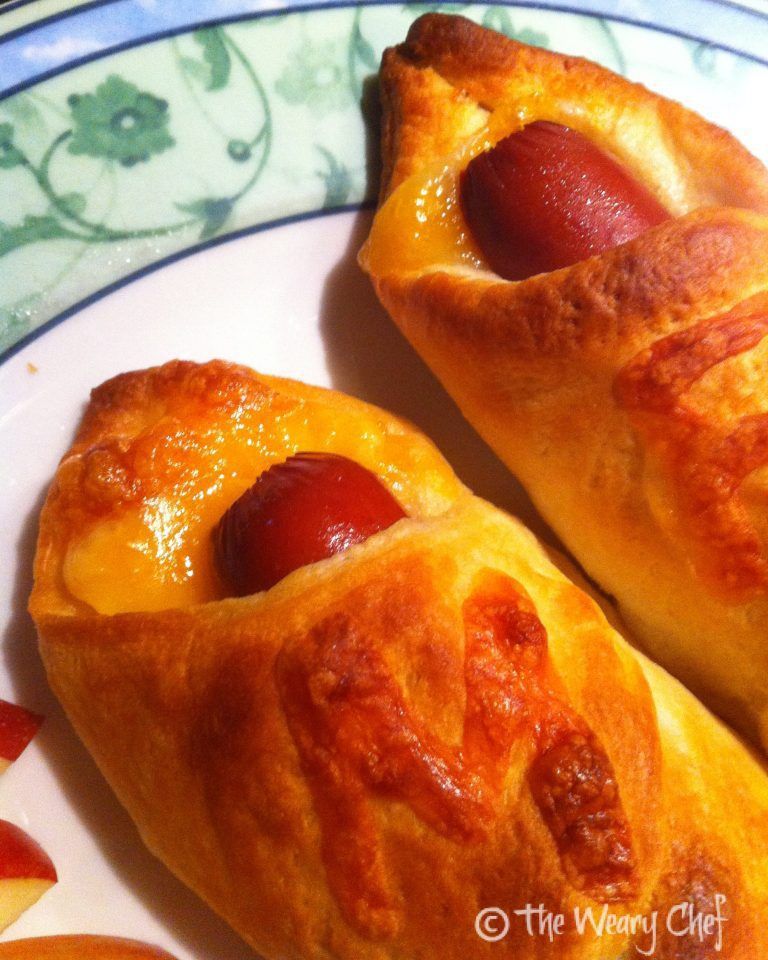 Turkeys in Sleeping Bags: A Crescent Roll Recipe
Here's a fun version of pigs in a blanket that your kids will love!
Total Time:

25 minutes

Yield:

4

1

x
Instructions
Preheat oven (or toaster oven) to 375 degrees F.

Use two triangles of dough for each Turkey, pinching together the seams to make a rectangle. Make sure you really pinch the seams well or else the cheese falls out in a later step (not that that happened to me because I'm a professional).

Sprinkle a layer of grated cheese down middle of dough, and lay the turkey dog on top of the cheese.

Roll the corners of the dough around the dog. Squeeze edges to seal. (Monograms made out of cheese are completely optional, but why would you want to skip that level of cuteness?)

Now, bake in preheated oven for about 15 minutes, or until golden brown. Serve and impress your kids.
Author:

Prep Time:

10

Cook Time:

15

Category:

Main