Pair your irresistible Dill Pickle Potato Salad with perfectly grilled sausages! You can easily cook them indoors with the Johnsonville Sizzling Sausage Grill. Thanks so much to Johnsonville for sponsoring today's recipe :)
Father's Day is coming up! Are you thinking about gift ideas for the dads in your life? My husband is SO hard to shop for. He doesn't really want anything, which is nice because it means he is content what he has. I like to give him gifts though, so I'm always trying to think of things he didn't know he wanted.
If you are in the same boat for your Father's Day shopping, I've got just the thing: A Johnsonville Sizzling Sausage Grill! Almost all dads love sausages, right? Fresh pork sausages taste great grilled, but sometimes it's raining or winter or 100 degrees outside. Who wants to face bad weather just to bite into a perfectly cooked sausage?
That's where this handy little grill comes in. It's made just for cooking up sizzling sausages indoors in 10-15 minutes. Let's take a look at this fun kitchen gadget!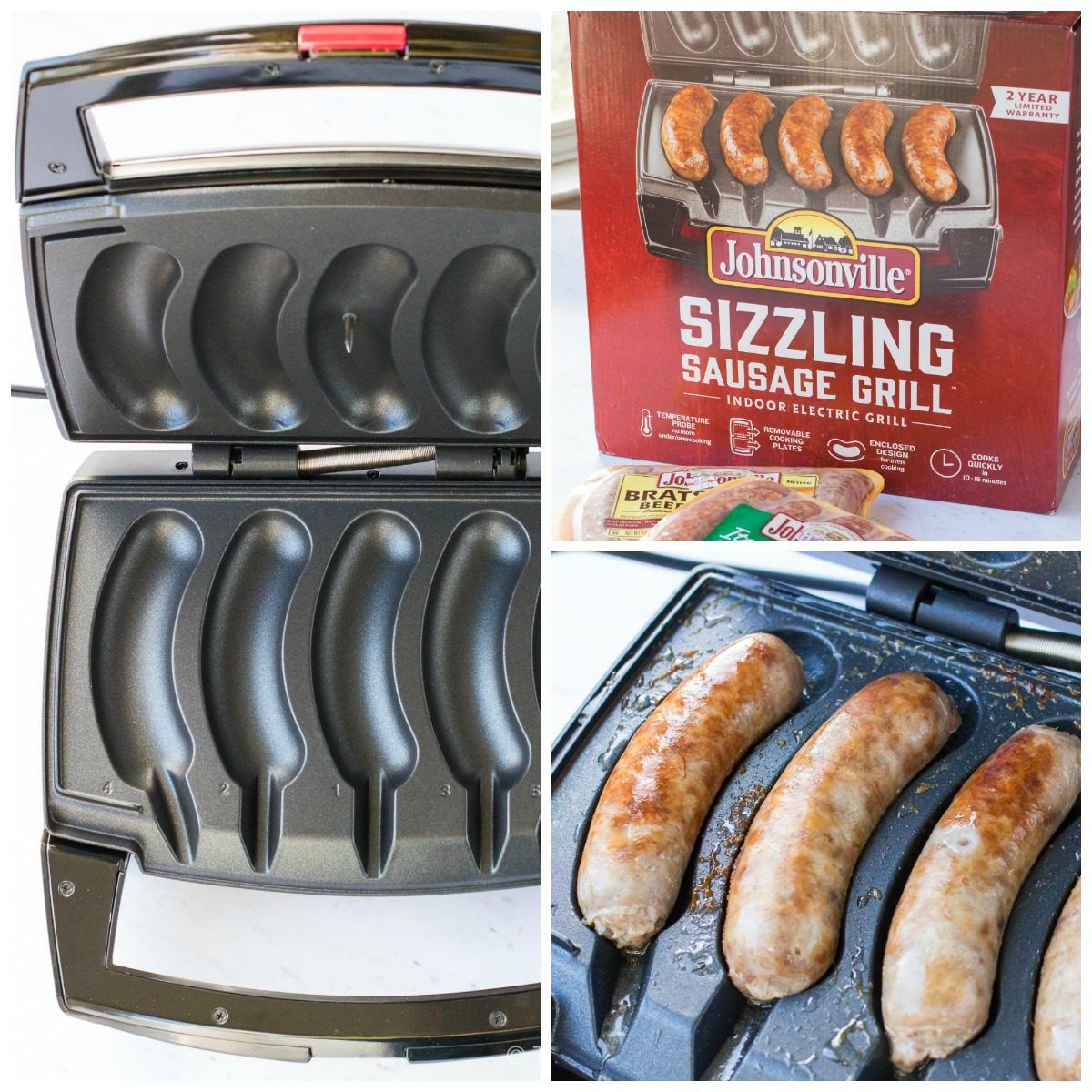 The Sizzling Sausage Grill has five indentations sized just right for fresh pork sausages, but you can even cook just one at a time if you want. The sausage spots are numbered to show the order to place your pork, and the first spot has a handy probe thermometer built in.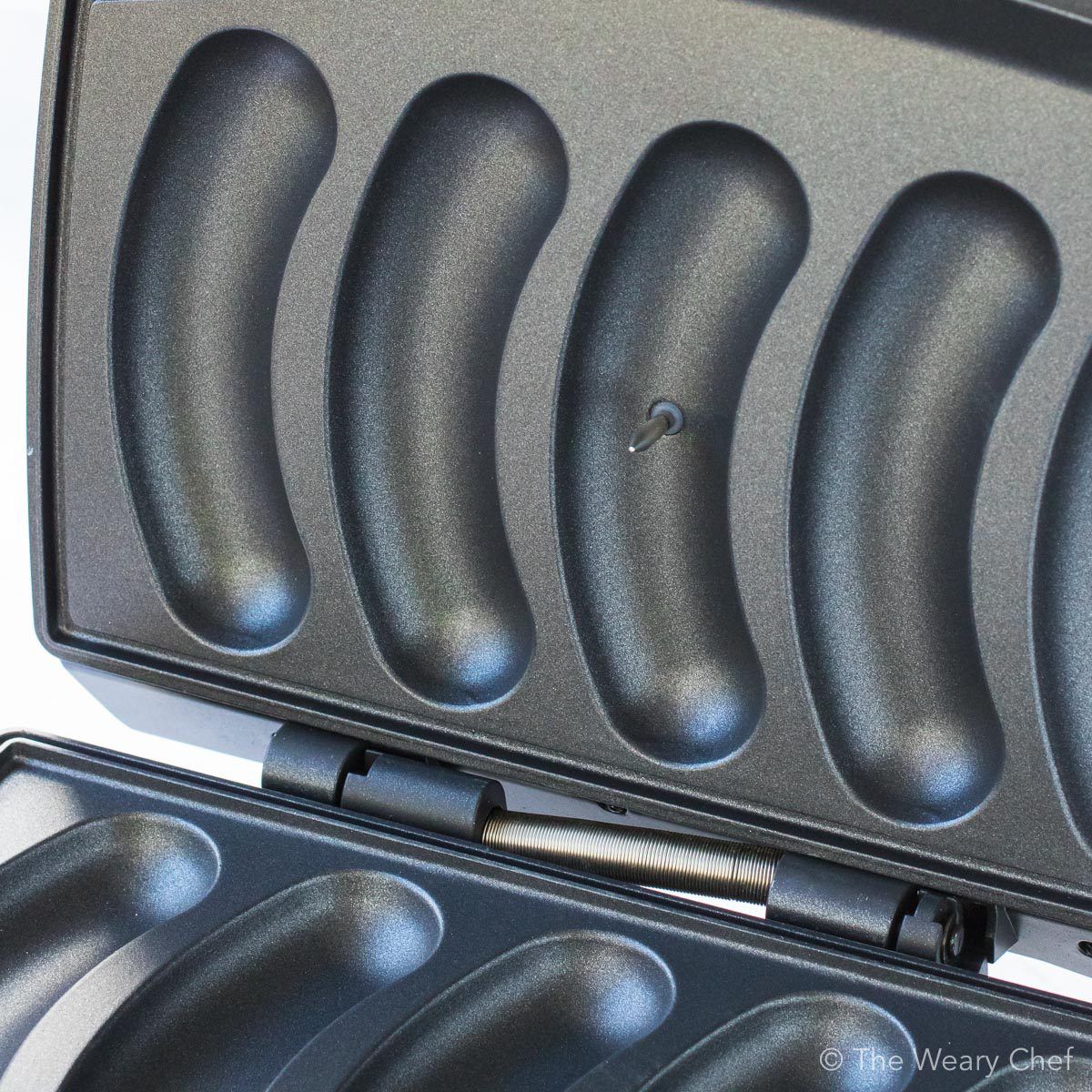 That thermometer ensures that you get a perfect result every time! All you do is place your sausages in the slots, close and latch the lid, and press the on button. (Don't forget the drip tray like I did!) You don't have to set a timer or anything. When the proper internal temperature of the sausages has been reached, the grill beeps and turns itself off.
Not only is this sausage grill easy to use, it's simple to clean too! I've had countertop grills like this before that had to be wiped clean with a sponge, and it was always cumbersome and messy. Not this one! The grill plates pop right out and are dishwasher safe, so it's no trouble at all to wash it and get it ready for next time.
You know who is even more excited about this sausage grill than my husband is my 10-year-old son. He is interested in cooking and loves that he can do this all by himself. Letting your kids cook for their dad is a nice gift too :)
Of course you can put your sausages on buns with all your favorite toppings, but since I'm gluten free, I prefer to eat mine with a fork and knife. You know what goes great with grilled sausages is this Dill Pickle Potato Salad!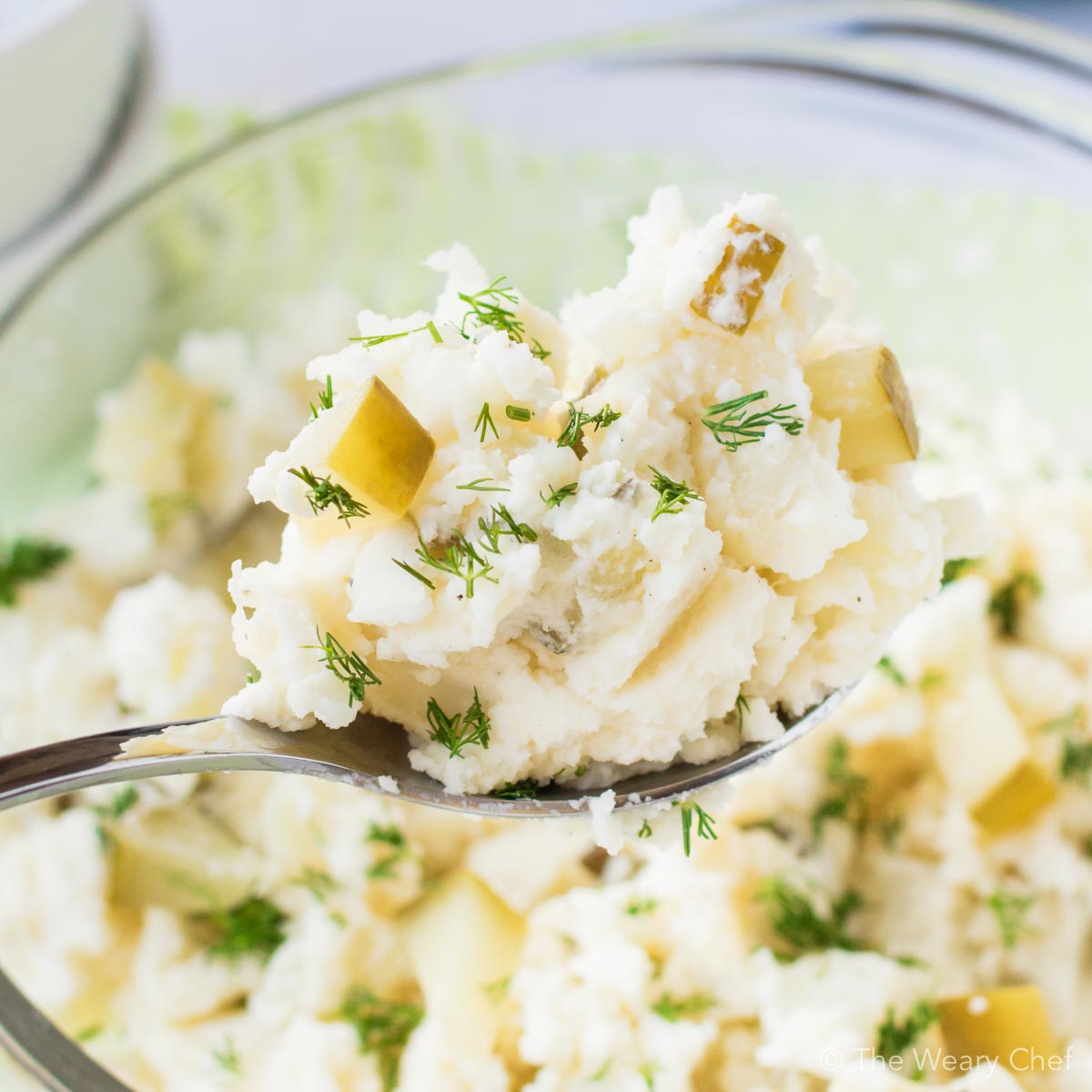 Our 6-year-old could not get enough of this potato salad. He said "I love it!" and I think had three helpings. This recipe is quick and easy to make, so it doesn't take much longer than the sausages take to cook.
I think people's taste in potato salad texture varies a lot. Maybe you like very firm potato cubes or want to leave the skin on your potatoes. You might like your potato salad extra creamy, or maybe you like to keep the mayo on the down low like my husband. Personally, I like my potatoes very soft so they get a bit mashed when I stir them into the potato salad dressing. You can adjust the recipe instructions to make it just the way you like.
The star of this potato salad show is the dill pickle flavor. We love dill pickles at our house, so it's no surprise that this recipe was a hit. You can add more or less diced pickles to suit your taste.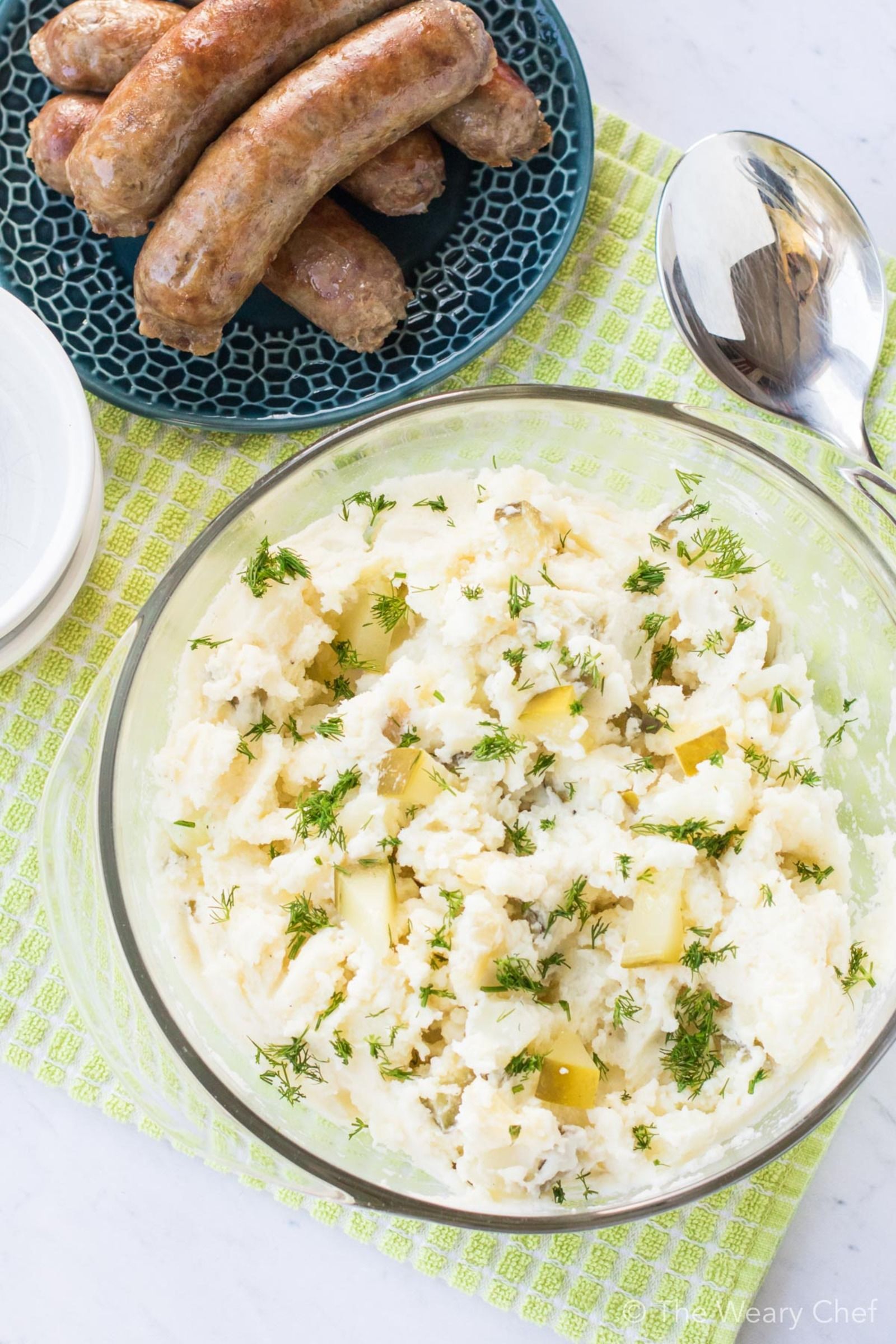 I like to use a mixture of plain yogurt and mayonnaise in my creamy salad recipes to lighten up the recipe a bit. I think you'll like the resulting lighter flavor and texture, but if you're a mayo lover, feel free to use all mayo.
This Dill Pickle Potato Salad paired with Johnsonville Italian Sausages and a green salad was my favorite dinner of the week. I know it will be a hit at your house too!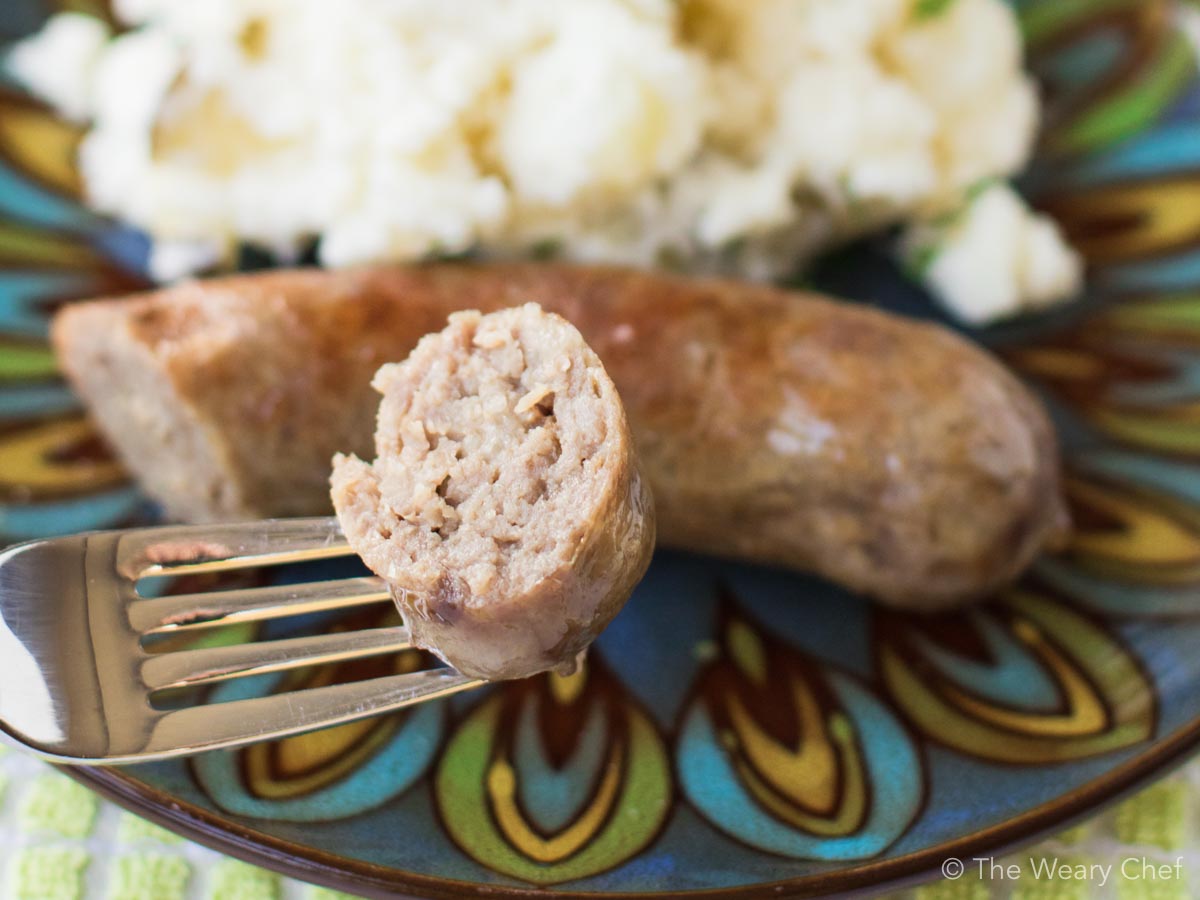 To order your own Sizzling Sausage Grill, just click right here. The grills are priced at $79, and you can pay in installments if that works best for you. To receive it in time for the holiday, place your order until June 12th. I'm sure this grill will give any sausage-loving dad a very Happy Father's Day! :)
Print
Dill Pickle Potato Salad with Grilled Sausages
2

large baking potatoes peeled and diced

1/4

cup

plain yogurt I used 2% milk Greek yogurt

1/4

cup

mayonnaise

2 teaspoons

dill pickle juice (or more to taste)

1/2 teaspoon

kosher salt plus more for boiling potatoes

1/2 teaspoon

onion powder

3

dill pickle spears diced
Instructions
Add potatoes to a pot, and cover with about two inches of water. Add about a teaspoon of salt. Bring potatoes to a boil over medium-high heat. Boil about 8-12 minutes, until potatoes are your desired level of tenderness. (Cook time will vary depending on the size of your cubes and how soft you want them.)
Meanwhile, in a large bowl, stir together remaining ingredients.
When potatoes are done, drain them and rinse them gently with cool water.
Gently stir potatoes into mayonnaise mixture. Add salt and pepper to taste. (If you want your salad a little creamier, you can add a couple tablespoons of additional mayo at the end.)
Serve right away or store in fridge for a few days.
This is a sponsored conversation written by me on behalf of Johnsonville. The opinions and text are all mine.