This Chinese Rice Noodle Soup is perfect for soothing a sore throat, but you don't need to be sick to enjoy it!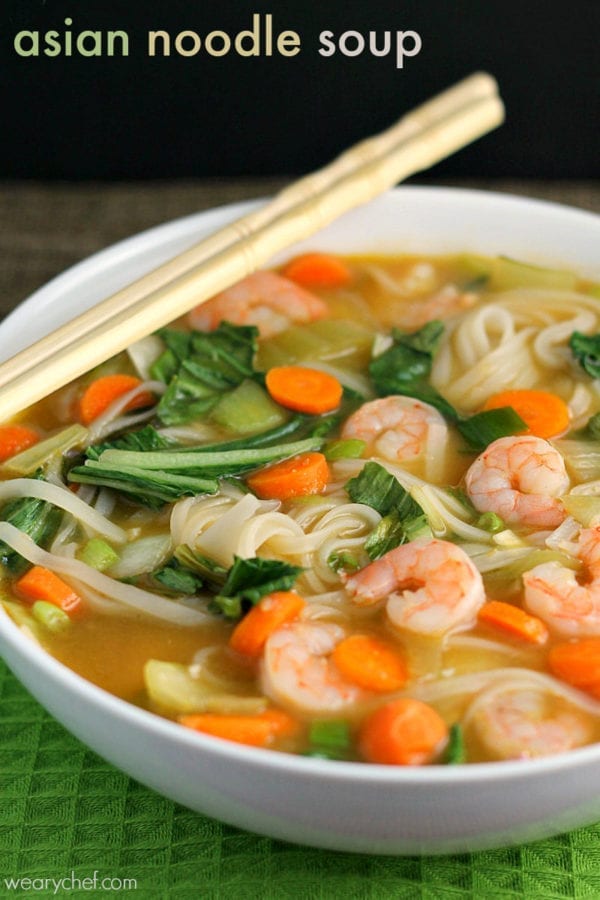 Why Chinese Noodle Soup?

Toddlers and preschoolers are always sick. I remember when my oldest was two and three years old, I couldn't tell when one cold ended and the next one began. Now we're in the same situation with my youngest.
I do think there's truth to the whole "they're building up their immune system" thing because my oldest rarely gets sick now that he's seven. It's like he got every cold bug possible early on, and now he's the man of steel.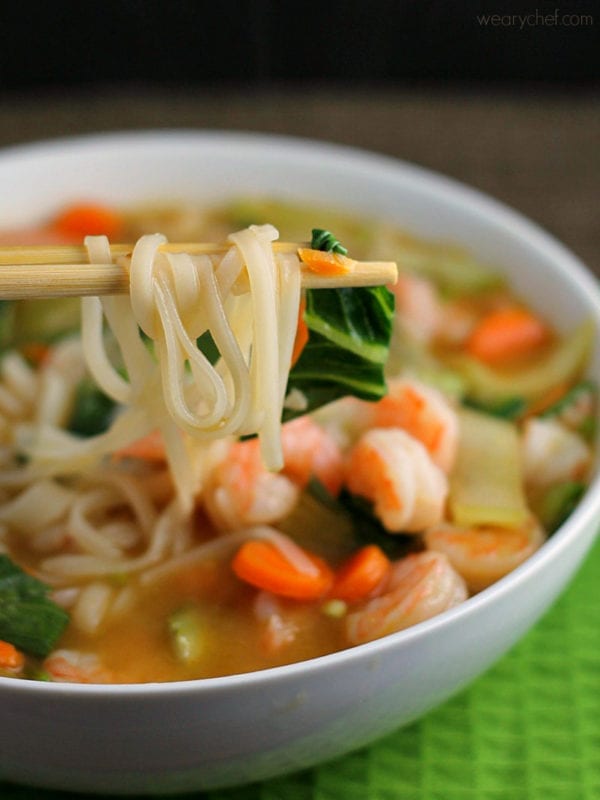 I usually manage to dodge the colds too, which is a good thing since moms don't have time to be sick. My husband, on the other hand, pretty much catches everything our preschooler brings home. (I don't know what happened to his immune-system-building preschool years…)
When you're not feeling well, this Chinese rice noodle soup is a perfect dinner. The savory broth with ginger is great for soothing sore throats or warming up on cool nights. If you prefer, you can make it with chicken instead of shrimp. I'm sure this noodle soup recipe will become a favorite in your house too!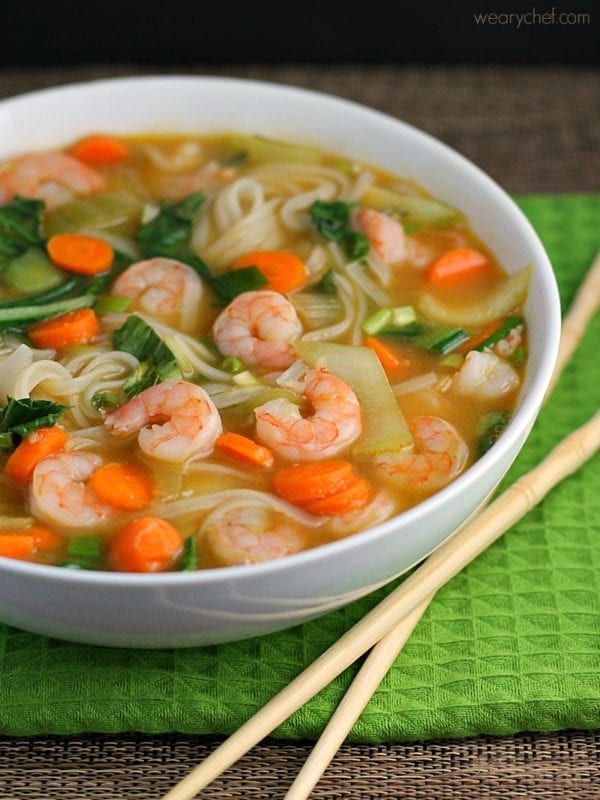 How to Make Easy Chinese Rice Noodle Soup Recipe
Heat sesame oil in a dutch oven over medium-high heat. Add white pieces of bok choy and carrots, saute for 5 minutes. Add garlic and ginger, and saute one minute longer.

Add broth, water, soy sauce, and fish sauce. Bring to a boil.

Add uncooked noodles, and cook 2 minutes, separating noodles as they cook. Stir in shrimp, green onions, and green pieces of bok choy. Cook 2-3 minutes longer.

Turn off heat, stir in rice vinegar, and serve immediately.
If you prefer chicken instead of shrimp, add boneless, skinless chicken breasts with the broth. Simmer until chicken is heated through, remove to shred meat, and return to pot with noodles.
Adapted from Asian Chicken Noodle Soup at Eat, Live, Run.
Finally, tell us what you think about this easy Chinese rice noodle soup recipe. I already know how easy-to-make can be for almost everybody, as I first recommended it to some friends. So, share your opinion in taste and flavors. What will you change about the noodle soup recipe and how will you adapt it, in the future, for your family? How did your children react to it? Tell us everything in the comments section and ask your further question in the same place.
 Last but not least, if you want more easy-to-make Chinese recipes, give these a try!