This easy rice bowl recipe with fish and bok choy has been one of my very favorite meals to cook for years! You can use salmon or mahi mahi for a delicious meal that's ready in a half hour.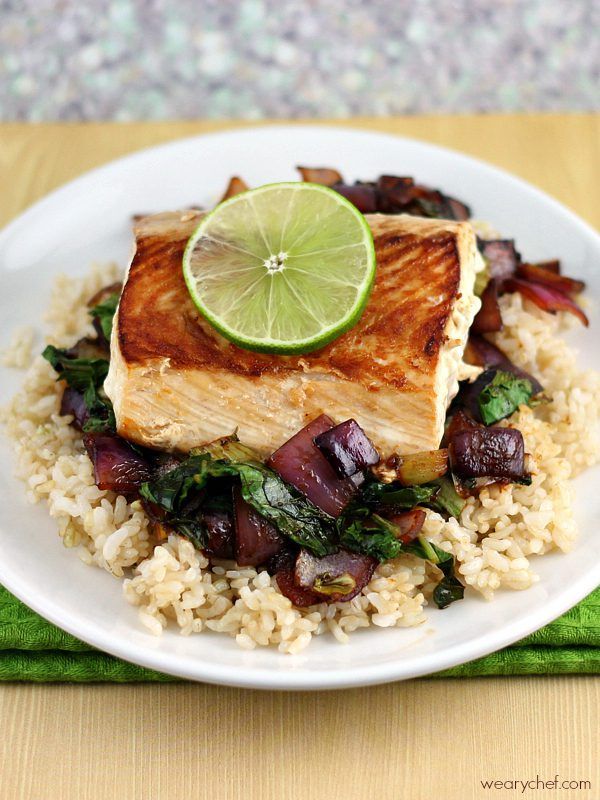 Do you ever run into the grocery store to pick up ingredients for dinner without knowing what to make? What's your go-to recipe? Burgers, spaghetti, or tacos are always good standbys, but this fish rice bowl is even better! I have made it so many times that I know the ingredients by heart. Most of them are in my kitchen already, so I really just need to buy fish, bok choy, and a red onion. I usually make this Chinese fish recipe with salmon, but on this particular occasion I used mahi mahi. It worked great too!
To get this healthy dinner on the table in about 25 minutes, start the rice cooking first. I strongly prefer medium grain rice for this dish, but you can substitute your favorite kind or quinoa. Chop the vegetables while the salmon cooks, then stir fry the vegetables. Doing different tasks at the same time will make your cooking go way faster than doing the prep first.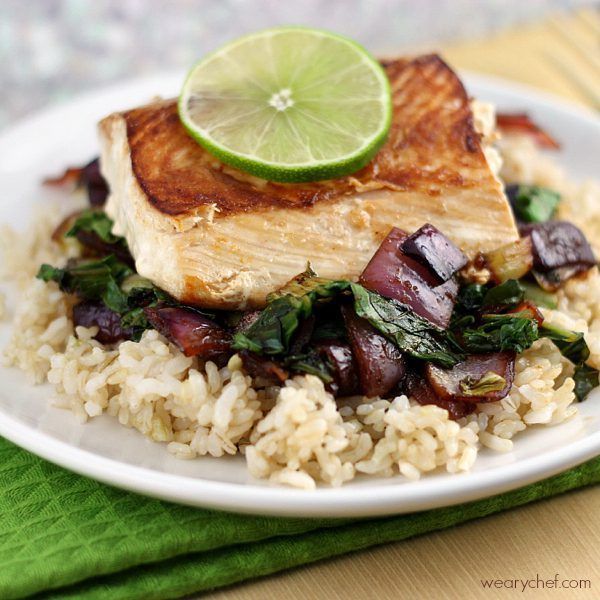 Print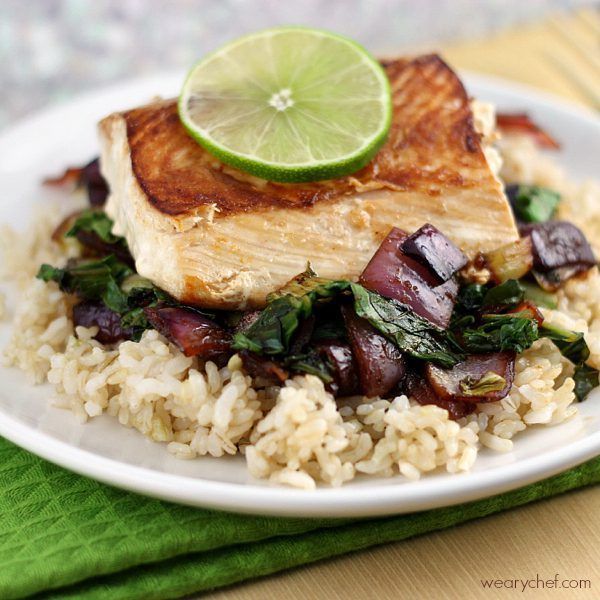 Asian Fish Rice Bowl Recipe with Bok Choy
This easy rice bowl recipe with fish and bok choy has been one of my very favorite meals to cook for years!
Total Time:

25 minutes

Yield:

2

1

x
Instructions
Cook rice in salted water.

While rice is cooking, mix 2 tbsp. soy sauce and fresh lemon juice in a medium bowl. Add salmon filets and toss to coat. Spray a large skillet with cooking spray and heat over medium-high heat. Place salmon fillets skin-side down in hot skillet, and cook 4-5 minutes. Flip fillets over, and carefully peel the cooked skin off with a spatula and discard. Cook an additional 4-5 minutes, or until salmon is cooked to desired level of doneness. Remove fish from skillet and set aside on paper towels.

In the same pan, heat sesame oil over medium-high heat. Add onion, garlic, bok choy stalks, 2 tbsp. soy sauce, and hot sauce. Saute for 4-5 minutes or until onions are tender. Add boy choy leaves and rice vinegar. Saute 2-3 more minutes or until bok choy is wilted.

To serve, place rice in the bottom of each bowl, cover with vegetables, then place salmon filet on top.
Here are some tools and ingredients that I used in this recipe: