Mexican food and burgers are two of my favorite things. Find out how to combine them into these fun and easy Grilled Black Bean Burger Quesadillas! Thank you to MorningStar Farms for sponsoring today's vegetarian recipe.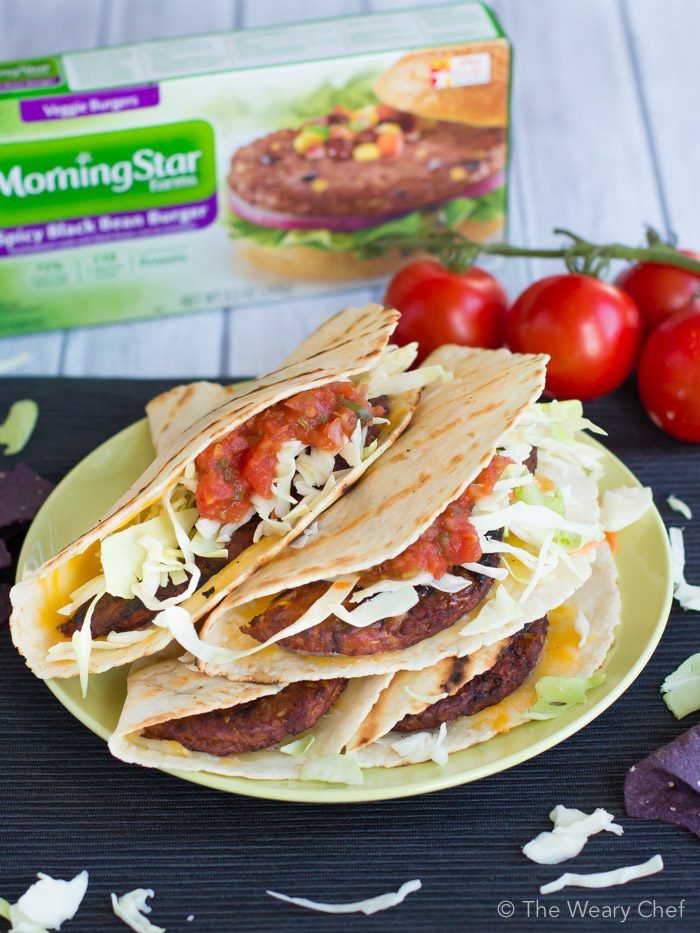 I think grilling is one of the easiest ways to cook for several different tastes and dietary needs. If I'm making something like lasagna and one guest hates tomato sauce and another family member is a vegetarian, then I have to make something entirely different to accommodate them. That's not a problem when you're grilling. It's so easy to just throw a few different things on the fire to please everyone!
Take last night for instance. I was in the mood for something new and exciting for dinner, and my boys are never in the mood for either of those words when it comes to food. I grilled them up some plain hot dogs, and then I turned my attention to these scrumptiously easy burger quesadillas!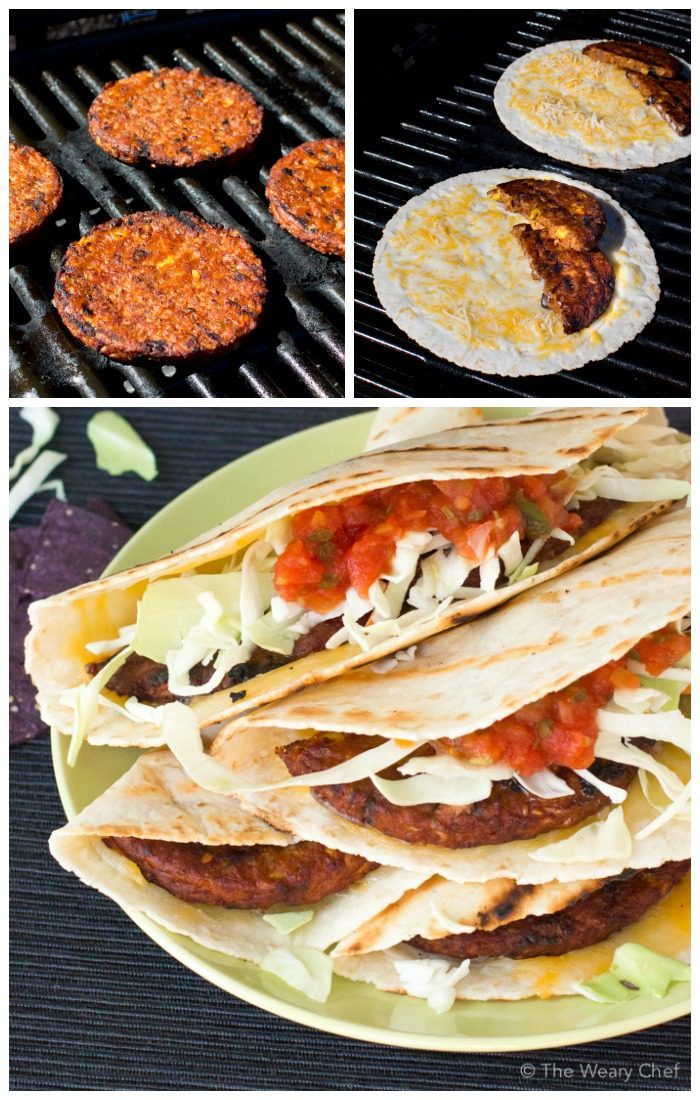 We are big time fans of MorningStar Farms in this house. I have probably eaten my weight in their breakfast patties over the years. We call them "soysauges," and they are my very favorite biscuit filling. I've enjoyed their veggie burgers too, but I hadn't had the Spicy Black Bean Burgers yet. I love black bean patties, and "spicy" is one of my favorite adjectives. Needless to say, I was excited to grab a box for this recipe.
Where to Find the Black Bean Burgers
It won't surprise you that I shopped at Target (my favorite place on Earth) for this recipe. I walked in there to do a couple returns, drop off a prescription, and leave with these ingredients plus a few other groceries. How is it that I walked out with a full cart? This always happens! It was mostly stuff that we needed anyway, and a lot of it was on sale through the Cartwheel app. Have you tried that out? You can get coupons on your phone just for Target, and you get a barcode to scan at checkout.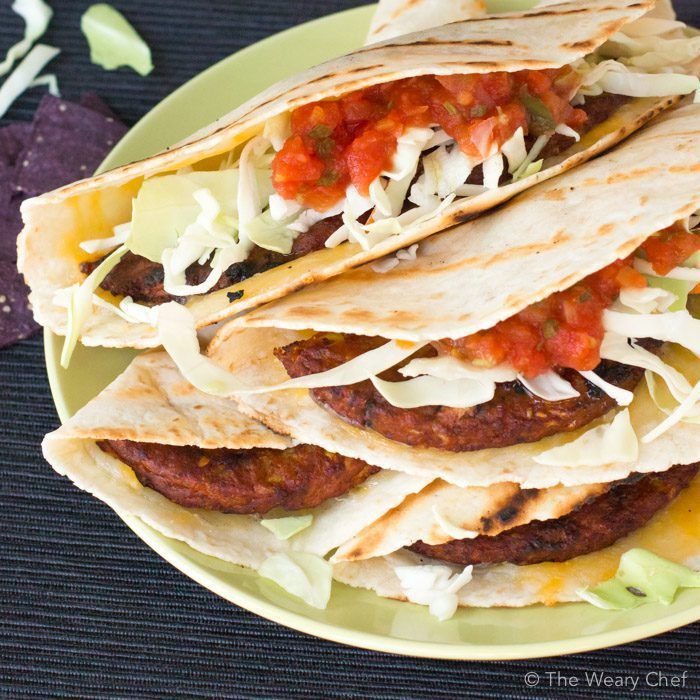 How to Make Burger Quesadillas
Sorry, I'm getting distracted. I'm here to talk about grilled quesadillas not profess my love for all things Target! This vegetarian meal is SO easy to make. Just grill up your Black Bean Burgers as instructed on the package, and keep them warm during the next step. (Of course, you could just grab some buns, lettuce, tomato, and guacamole and call it dinner at this point, but let's take those burgers to the next level!)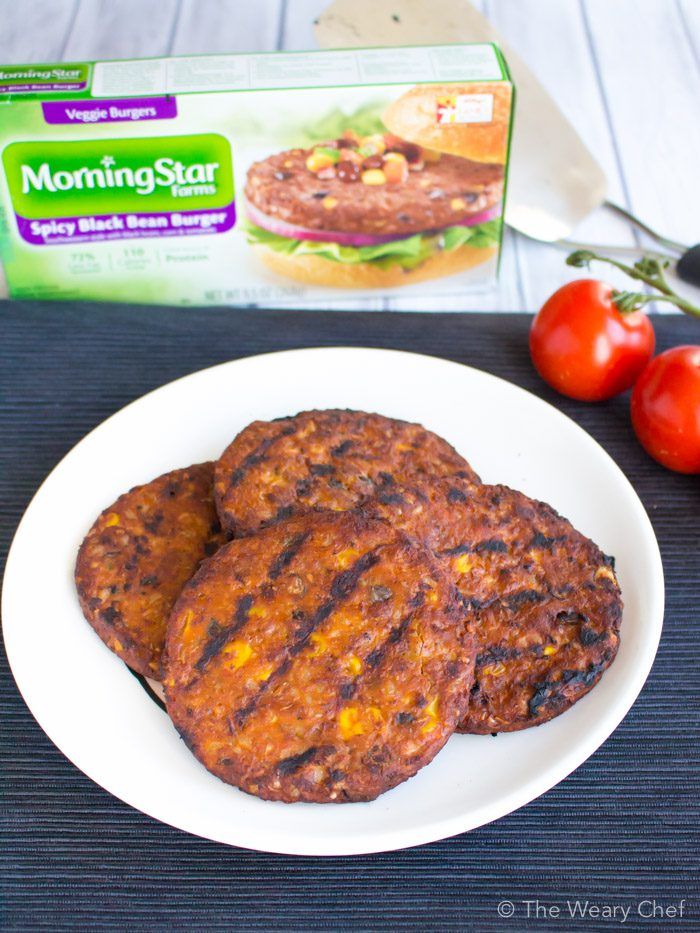 Once your burgers are done, turn the heat to medium-low (or do whatever you do to lower the heat on a charcoal grill), and place your tortillas directly on the grill. Spread about a half cup of cheese over each tortilla, and allow it to melt. Lay your burger patties over half the cheese, fold, and your black bean burger quesadillas are born!
Print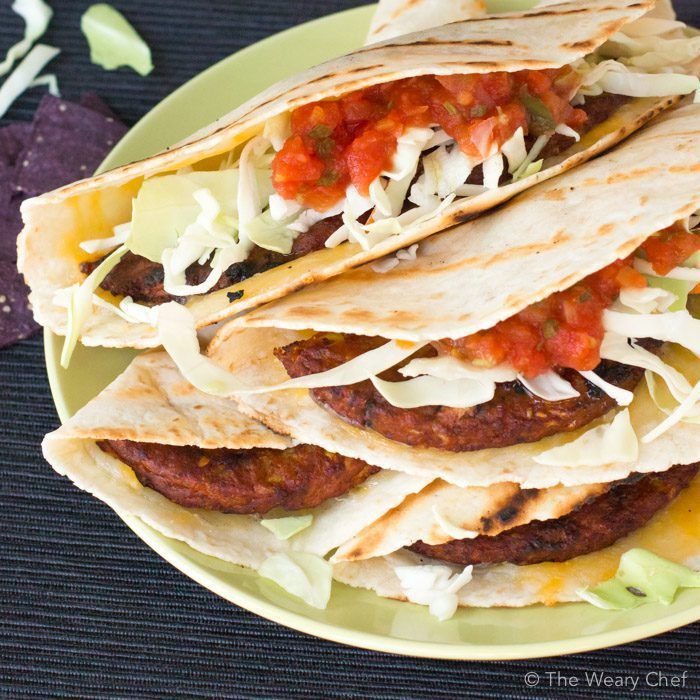 Grilled Black Bean Burger Quesadillas
Total Time:

15 minutes

Yield:

4

1

x
4

Morningstar Farms Spicy Black Bean Burgers

4

soft-taco sized tortillas

2

cups

Mexican blend shredded cheese divided
salsa (optional)
finely shredded cabbage (optional)
sour cream (optional)
Instructions
Heat grill to medium-high heat. Place frozen black bean patties on the hot grill, and cook until internal temperature reaches 165 degrees F (a few minutes per side).
Reduce grill heat to medium-low. Remove burgers to a clean place, cut each patty in half, and set aside.
Place tortillas on grill, and spread a half cup of cheese over each tortilla. Allow cheese to melt, and then place halved burger patties over half of each tortilla. Carefully fold the other cheesy half of the tortilla over the burger, and remove to a serving plate.
Serve with salsa, cabbage, sour cream, or your other favorite toppings if desired.
If you act fast after taking the burger quesadillas off the heat, you can still open them up to add lettuce, salsa, sour cream, or any other toppings you'd like. If the cheese sets up before you get a chance, you can just dip them in salsa and sour cream or pile toppings on top and eat the whole thing with a fork. These burgers are so good, you'll like them any way you can get them into your mouth.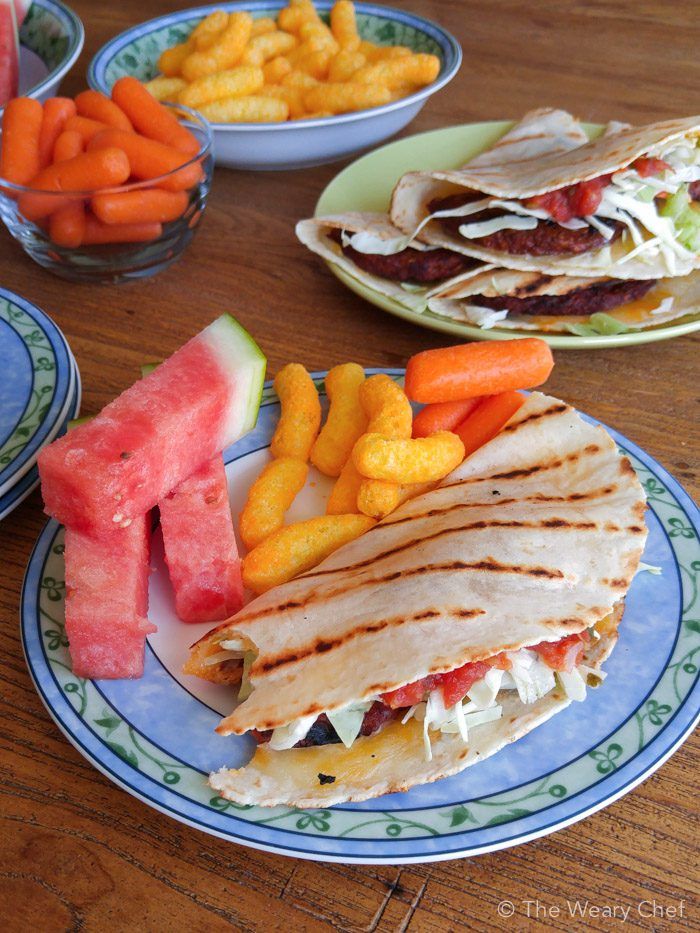 I loved these veggie burger quesadillas so much that I'm inspired to try eating meatless dinners more often. Do you have more great meatless meal ideas? Share them with me in the comments!