This week's menu features seven gluten-free dinner recipes the whole family will love!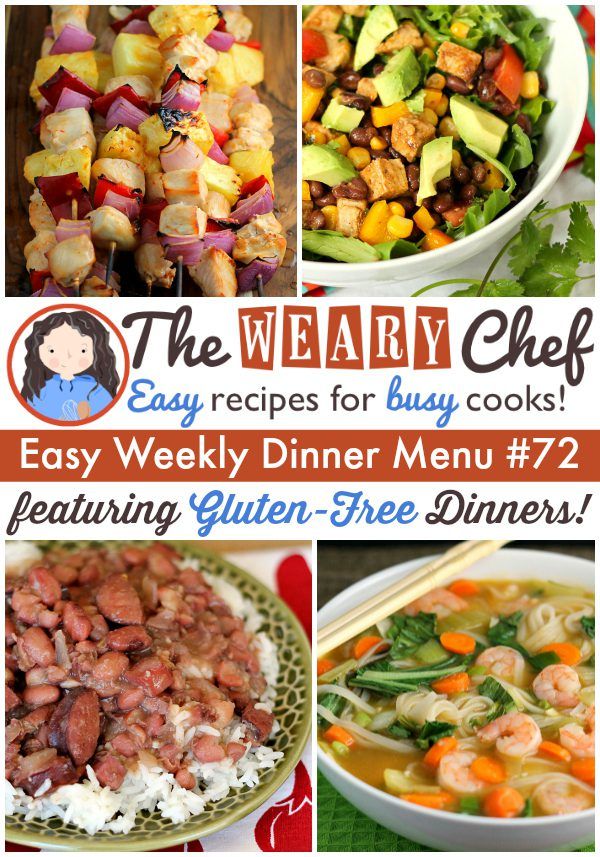 If you already read my Southwest Salad post earlier this week, you know that I'm doing a trial of a gluten-free diet right now. This hasn't changed how I cook too much because it's actually pretty easy to avoid gluten except when it comes to bread (and beer *sob*). The dinner recipes in this week's menu are all meals I would normally make anyway, so you don't need to have any food intolerances to enjoy them! I won't be turning The Weary Chef into a gluten-free blog, but I thought it would be fun to show off what a week of wheat-free dinners looks like.
June 2016 Update: The gluten-free diet really did fix up my GI problems, so I am still going strong without wheat in my diet. Gluten sensitivity can manifest in many different ways. Based on my experience, if you ever experience relentless heartburn and bloating, and you can't figure out what is causing it, try giving up wheat for a week or two. It has done wonders for me!!
Some of these dishes do need a couple of modifications to keep them friendly for a gluten-free diet. Check the labels for any broths to make sure they are gluten-free, use 100% corn tortillas for the carnitas, and use gluten-free flour to bread the cube steaks in recipe #6. Check your labels for all the ingredients, and you will be in good shape. Now, let's get to the food!
Looking for an easy low-carb, gluten-free lunch option too? Check out these Tuna Salad Lettuce Wraps!