This fluffy oatmeal soufflé is delicious for breakfast or brunch. Don't be intimidated by the name. It's easy to make, and your family and friends will love it!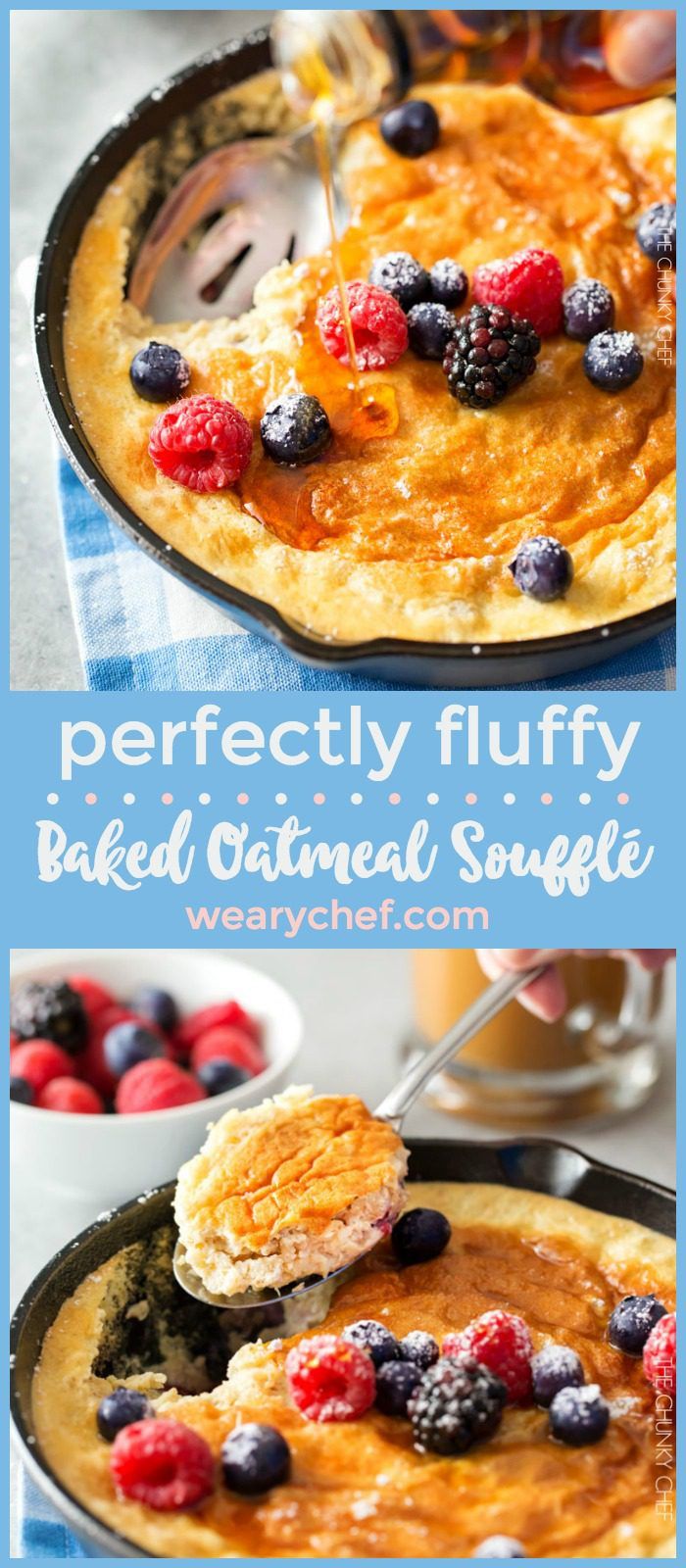 Hey everyone, it's Amanda, The Chunky Chef, bringing you a great breakfast, brunch, or anytime kind of recipe!
Have you ever baked oatmeal? It's a great way to enjoy a classic breakfast food, but this version is guaranteed to knock your socks off! Even though it's called a soufflé, don't be intimidated… it's SUPER easy!
The most complicated part of this recipe is whipping the egg whites to semi-stiff peaks, then folding them into the oatmeal. Other than that, you'll just be stirring oatmeal, milk, sugar and salt. You can totally handle that right?
I originally found this recipe in a March issue of Food & Wine magazine and fell in love. Even though it has mixed berries in it, you could totally customize this to any flavor combo you love. Pretty much whatever you'd put in regular oatmeal, you can put in this oatmeal soufflé!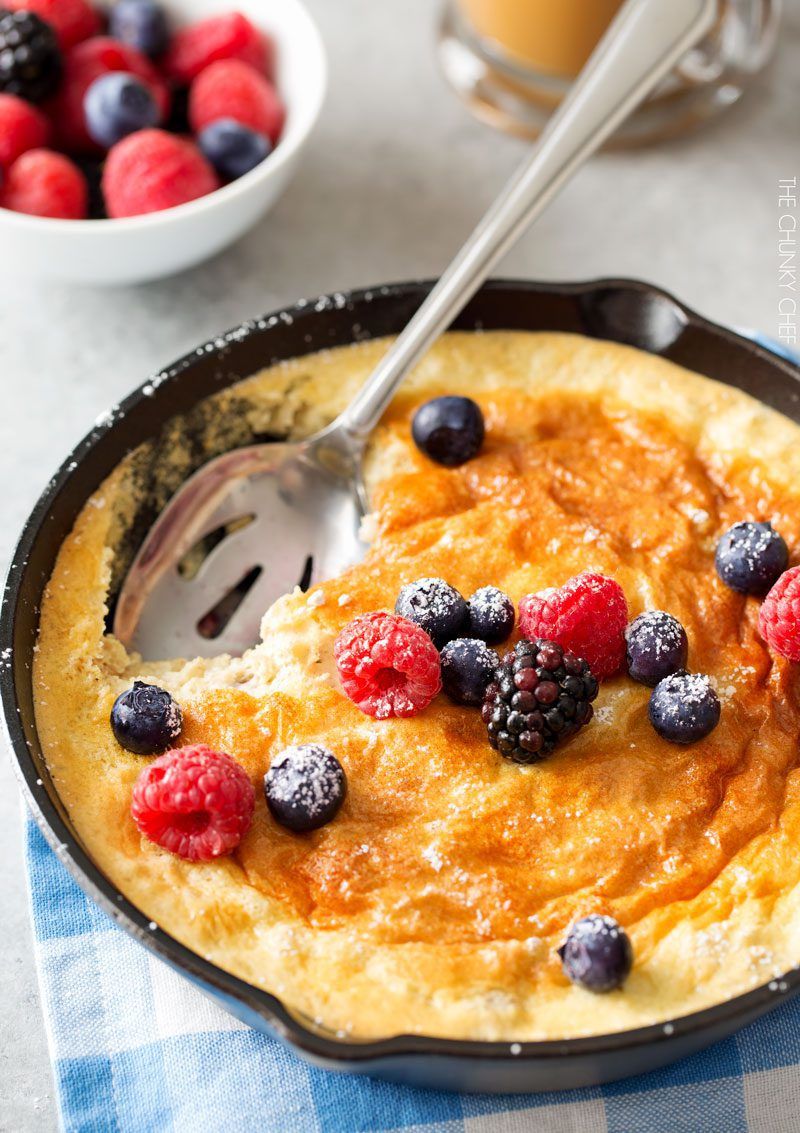 This soufflé isn't super sweet, so a light dusting of powdered sugar or a drizzle of maple syrup doesn't overpower your sweet tastebuds, but I'll leave that part up to you :)
I would probably serve this oatmeal soufflé with some fresh fruit and a few strips of thick cut bacon, but again, that's totally your call. Although, bacon does go with just about anything, right?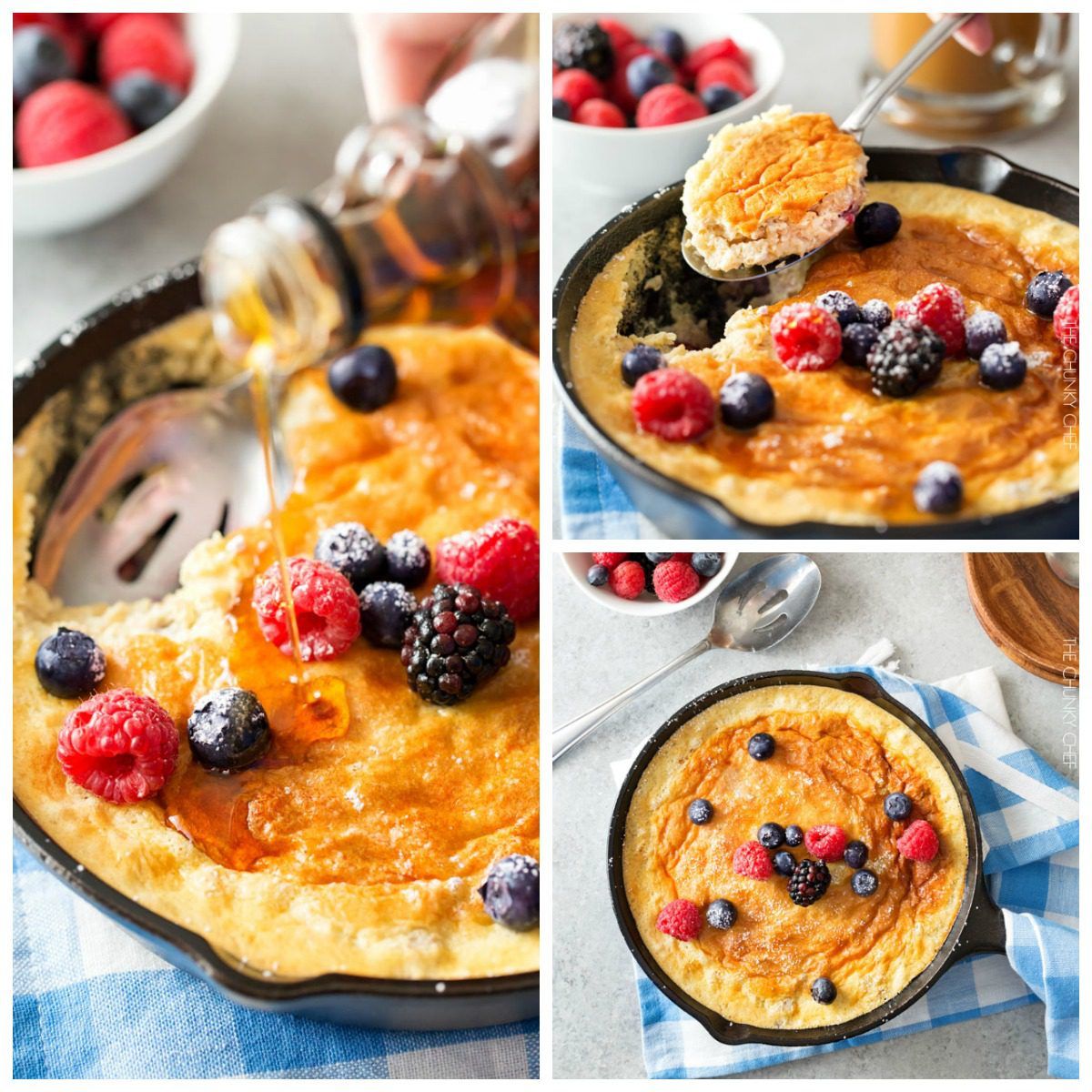 I really hope you all give this oatmeal soufflé a try. It's such a perfect recipe for a weekend breakfast (weekday if you make it ahead of time – see the recipe notes for those instructions)… or really, just about any meal (breakfast for dinner anyone?!).
Print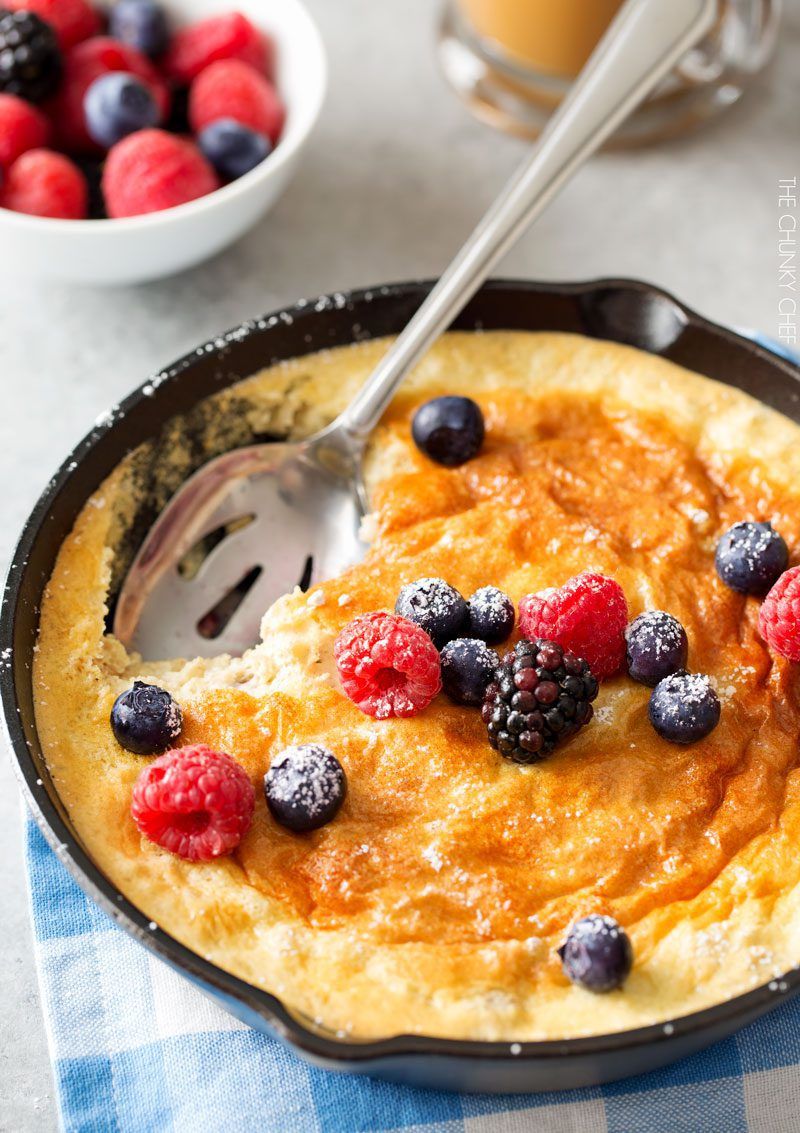 Fluffy Baked Oatmeal Souffle
Except one step of beating egg whites, this breakfast souffle is about as easy as making regular oatmeal. You will love it for breakfast or brunch!
Total Time:

1 hour 10 minutes

Yield:

4

1

x
1

cup

extra-thick rolled oats

3

cups

whole milk

4 tablespoons

granulated or turbinado sugar
pinch salt

3

large eggs separated

1 1/2

cups

mixed berries (I used raspberries, blueberries, and blackberries. Frozen, thawed berries are OK.)

1/2 teaspoon

lemon zest
powdered sugar for dusting optional
maple syrup optional
extra berries for garnish
Instructions
In a saucepan, add oats, milk, sugar and salt, and bring to a simmer over MED-HIGH heat. Once it's simmering, reduce heat to MED/MED-LOW and cook, stirring occasionally, until mixture is thickened to an oatmeal or porridge consistency. This should take about 15-20 minutes.
While cooking the oats, preheat oven to 350 degrees F. Butter a 2-quart baking dish or 9-10" cast iron skillet and set aside.
Remove oatmeal mixture from heat and let cool slightly.
Quickly stir the egg yolks and lemon zest into the oatmeal. Stir in the berries.
In a mixing bowl, add the egg whites and beat on MED speed with a hand mixer for about 3-5 minutes, or until semi-stiff peaks form.
Carefully and gently fold the egg whites into the oatmeal until just combined.
Transfer mixture to prepared baking dish/skillet and bake 30 minutes, until golden brown and puffed up.
Souffle will sink after pan is removed from the oven. It's okay :) It's supposed to do that.
If desired, sprinkle with powdered sugar, drizzle with maple syrup and garnish with additional berries.
Notes
MAKE AHEAD INSTRUCTIONS:
Go ahead and cook your oats, milk, sugar and salt to the oatmeal/porridge consistency, let cool, then refrigerate for up to 2-3 days.
When ready to bake, rewarm the oatmeal with a splash of milk to loosen the oatmeal a bit, then continue with the rest of the recipe.
Author:

Prep Time:

20

Cook Time:

50

Category:

Breakfast
More breakfast recipes you'll love: