Your weekend and holiday mornings just got even better thanks to this Sour Cream Cranberry French Toast Casserole!


Do you like talking on the phone? I can't really begin to tell you how much I hate it. It's funny because as a tween, I couldn't get enough time on the phone with my friends! I'm not sure when I started to loathe it so much, but I think it was when texting, email, and other electronic communication took off. Typing is SO much more convenient and efficient than a phone call if you ask me.
I'm so bad about avoiding phone calls that there are things in life I procrastinate or skip entirely if they require actually speaking to a human on the telephone. I'll put off cancelling accounts or making appointments, forgo ordering items, or even decline blog opportunities if a phone call is required to make it happen. It's bad, y'all.
Clearly, since I've chosen blogging for a job, I'm not the most extroverted person in the world. I would much prefer to be home alone or with my family than out with people. I would rather carefully compose and time my messages electronically instead of being put on the spot for an unknown amount of time on the telephone. I know I'm not alone in this because there are TONS of memes and jokes like the one above. Where do you fall in your love (or hate) of talking on the phone? Let's talk about it in the comments :)
What does all this have to do with this flippin' amazing Sour Cream Cranberry French Toast Casserole? Absolutely nothing. Sorry! I'll just say I'm happy that I can tell you about it in a blog post instead of having to call you about it!(^v^)
You may remember that I have another overnight french toast casserole recipe that I have made for years on Christmas morning. This cranberry version though… It might have upstaged the original! It is really so good, and you can even make it with gluten-free bread! I used a combo of spelt and gluten-free sandwich bread, but you could use one or the other or of course use normal wheat bread. It would be so good with a loaf of sour dough bread if you can eat that sort of thing. Enjoy an extra piece for me!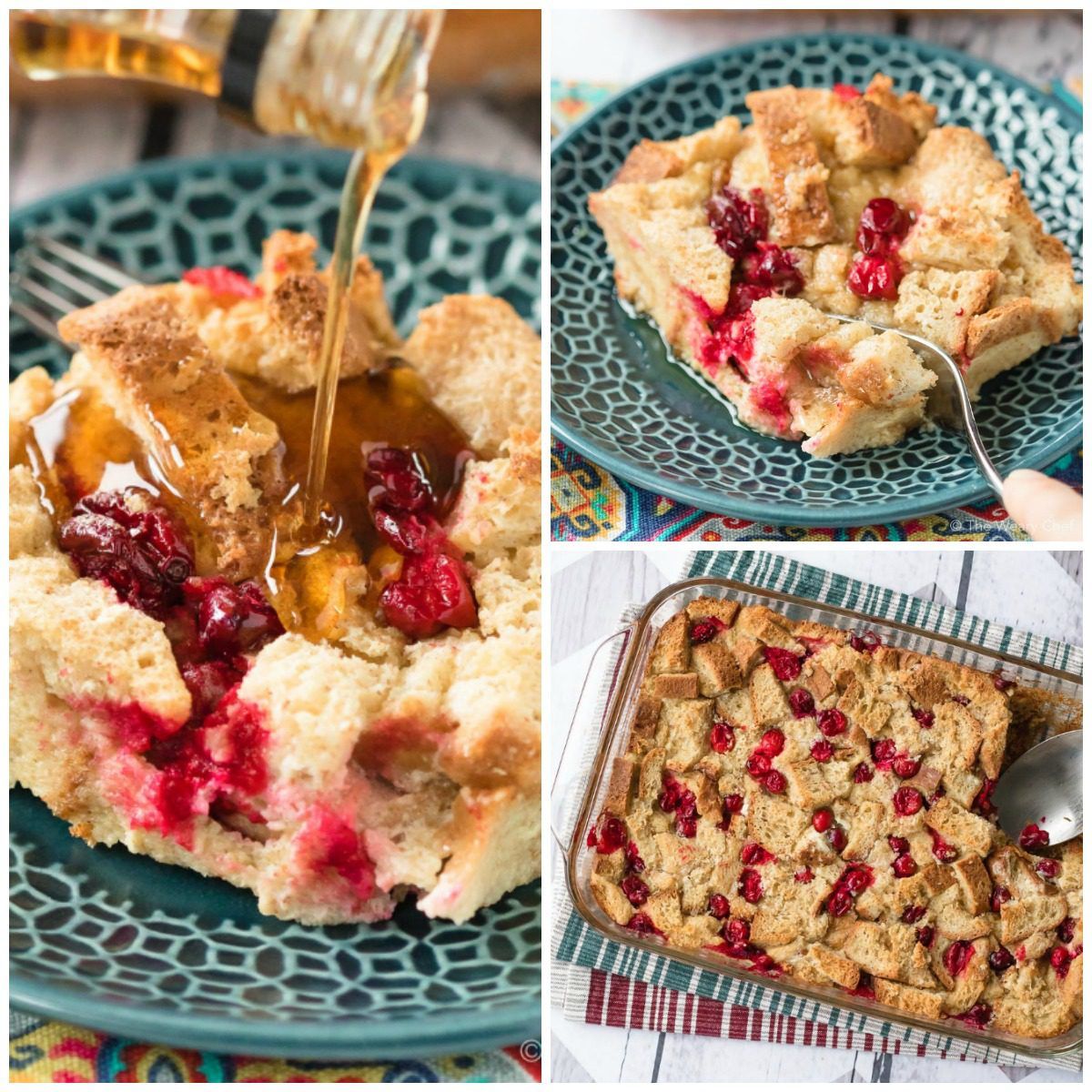 Cranberry recipes are usually reserved for the holiday season (boo), but you could make this any time of year with other fruits too! It would be the bomb diggity with blueberries or strawberries, maybe even diced peaches! I say the sky's the limit. Let me know how you make yours! xo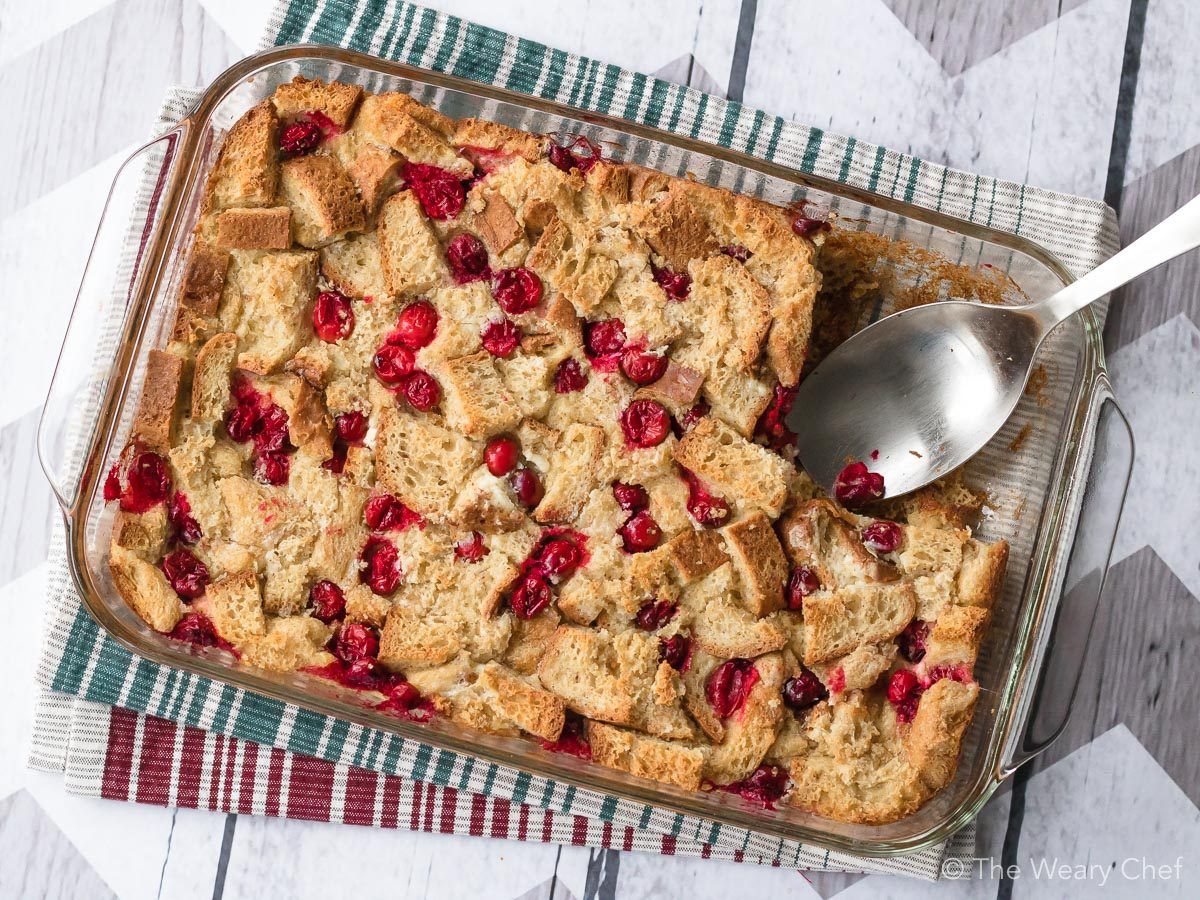 Print
Sour Cream Cranberry French Toast Casserole
Your weekend and holiday mornings just got even better thanks to this Sour Cream Cranberry French Toast Casserole! You can also try this breakfast recipe with blueberries, strawberries, or other fruits!
Total Time:

1 hour 10 minutes

Yield:

1

0

1

x
Instructions
Spray a 13 x 9″ baking dish with cooking spray. Spread bread evenly into the dish, and sprinkle cranberries evenly over that. Jiggle the pan a bit so some of the cranberries fall down between the bread.

In a microwave-safe mixing bowl, melt the butter in the microwave. Whisk the brown sugar, vanilla, and cinnamon into the melted butter.

Whisk the sour cream into the butter mixture. Next, whisk in the eggs, making sure all the yolks are blended in completely. Finally, whisk in the milk until evenly combined.

Evenly pour the egg mixture over the bread and cranberries. Use a spatula to press the bread down to soak up all the liquid.

Preheat the oven to 350 degrees F. While the oven is preheating, allow the prepared casserole to rest on the counter. (This step should take 10-15 minutes.)

Bake in preheated oven for about 45 minutes or until top is golden brown. Serve warm with maple syrup if desired.
Author:

Prep Time:

10

Passive:

15

Cook Time:

45
More recipes to love: