This quick recipe for beef and gravy over easy roasted potatoes and onions is perfect for Sunday dinner or busy weeknights!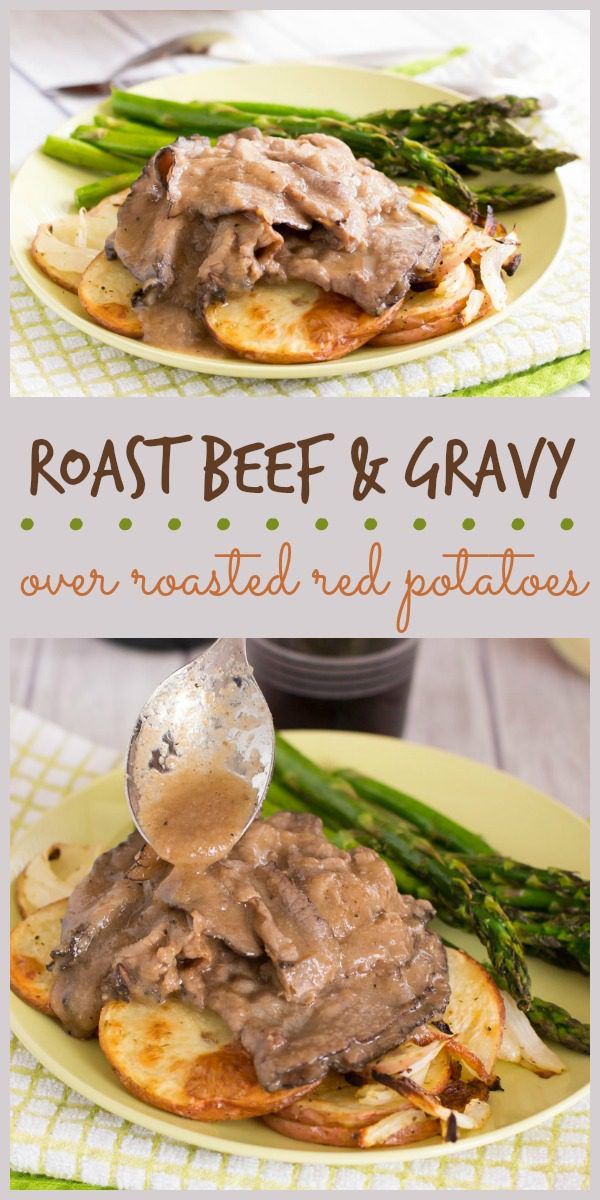 I have some fun news! Actually, after seeing at least three fellow bloggers announce their pregnancies in the last week or two, it might be a stretch to call this "news." I do have a new arrival to tell you about though: The Weary Chef Fish Tank!
I know. That's pretty anticlimactic, but it's big news around our house. We went to the pet store on Sunday just to wander around and look at the animals, with no intention of buying anything. Before I knew it, we were going home with a 5-gallon aquarium and a plan for fish and little turtles and shrimp and snails and all sorts of other cuteness. My oldest acted like he just won the lottery. He couldn't even believe I was actually on board with adding new animals to our house. That's what anxiety treatment does for you, folks. Six months ago, I was so overwhelmed with life that I couldn't bear the thought of caring for one more living thing. Now taking care of a little fish tank seems like no big deal.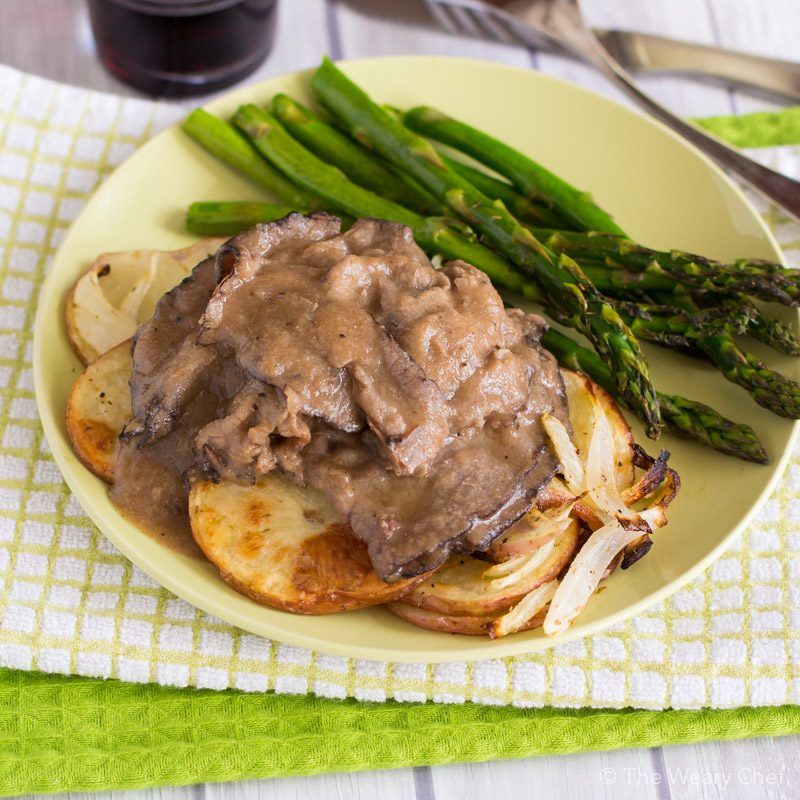 After we got the tank set up, I turned my attention to dinner. This hearty dinner to be exact. Who could resist beef, gravy, and potatoes?? This meal is super easy to throw together thanks to deli roast beef. You could also use this beef and gravy over rice or in open-faced sandwiches, but then you'd miss out on these perfectly roasted potatoes with onions. I wouldn't recommend skipping them.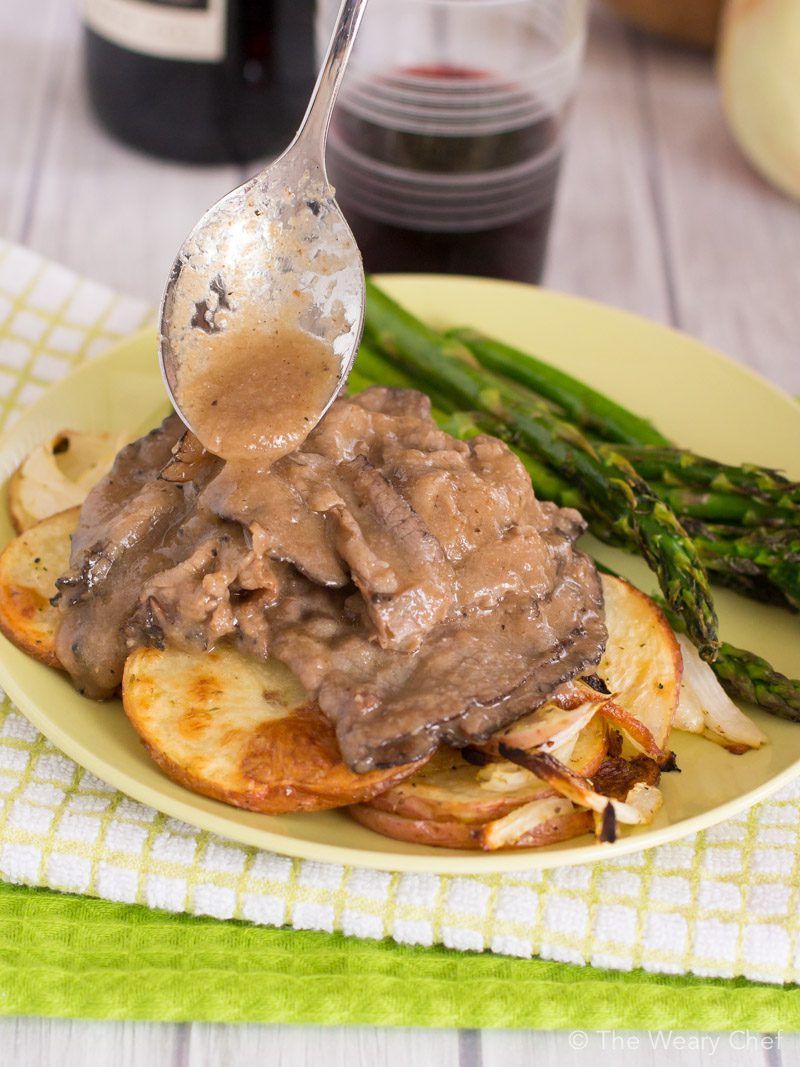 Before I get to the recipe, I need to tell you something super important: Use reduced-sodium broth, and don't add salt to the gravy! I did not follow either of those instructions the first time around, and the meat and gravy were seriously so salty we could barely eat it. (Don't worry. We managed.) I added a pinch of salt to the gravy without tasting it first, and I wasn't even thinking about how much sodium was already in the broth and meat. Luckily for you, you can learn from my mistake and have a perfect result the first time.
Keep this recipe for roasted potatoes and onion handy for a side with any dinner. They are great on their own too!
Print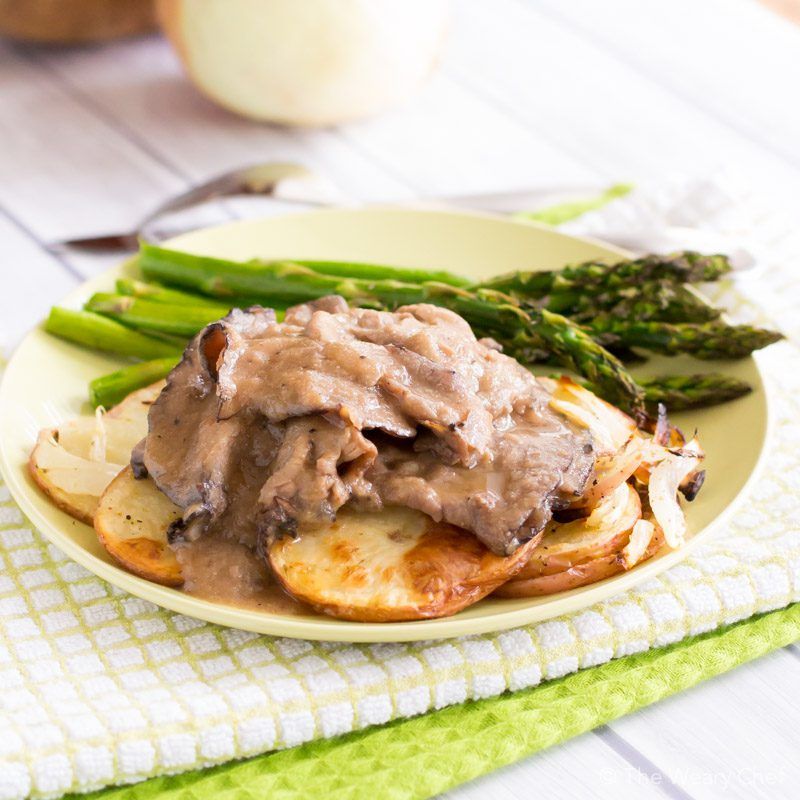 Beef and Gravy over Roasted Potatoes
This recipe is delicious as a whole, or just make the potatoes and onions on their own!
Total Time:

40 minutes

Yield:

4

1

x
Instructions
Preheat oven to 400 degrees F. Soak sliced potatoes in cold water for at least five minutes. Pat dry on kitchen towels.

In a medium bowl, swirl together oil, oregano, garlic powder, salt, and pepper. Toss potatoes and onions to coat. (I toss them around with my hands to make sure all sides of the potatoes are covered with seasoning.)

Spread potatoes and onions in an even layer on a baking sheet lined with a silicone mat or parchment paper. Bake in preheated oven for 20-30 minutes, until potatoes are bubbly and browned.

While potatoes cook, heat oil in a medium skillet. Whisk in flour until smooth. Whisk in broth a little at a time, making sure mixture is smooth before adding more liquid.

Add onion powder and garlic powder to gravy, and continue to simmer until thickened. Add sliced beef, and gently stir to cover. Serve beef and gravy over potatoes when done.
Author:

Prep Time:

10

Cook Time:

30
Want more meat and gravy goodness? I always do. Here are a couple recipes I know you'll love too!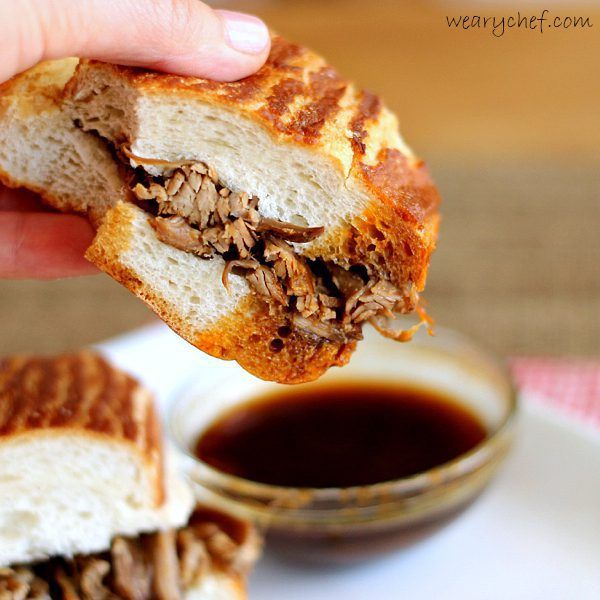 [wpurp-searchable-recipe]Beef and Gravy over Roasted Potatoes and Onions – This recipe is delicious as a whole, or just make the potatoes and onions on their own! – Potatoes and Onions: red potatoes (sliced into 1/4″ thick circles), sweet onion (sliced), olive oil, dried oregano, garlic powder, kosher salt, freshly ground black pepper (to taste), Beef and Gravy: olive oil, all purpose flour, reduced-sodium beef broth, garlic powder, onion powder, sliced deli roast beef, , Preheat oven to 400 degrees F. Soak sliced potatoes in cold water for at least five minutes. Pat dry on kitchen towels.; In a medium bowl, swirl together oil, oregano, garlic powder, salt, and pepper. Toss potatoes and onions to coat. (I toss them around with my hands to make sure all sides of the potatoes are covered with seasoning.); Spread potatoes and onions in an even layer on a baking sheet lined with a silicone mat or parchment paper. Bake in preheated oven for 20-30 minutes, until potatoes are bubbly and browned.; While potatoes cook, heat oil in a medium skillet. Whisk in flour until smooth. Whisk in broth a little at a time, making sure mixture is smooth before adding more liquid.; Add onion powder and garlic powder to gravy, and continue to simmer until thickened. Add sliced beef, and gently stir to cover. Serve beef and gravy over potatoes when done.; ; – – Dinner – Red Meat – beef – gravy – potatoes – Andi Gleeson – [/wpurp-searchable-recipe]