Don't give up your favorite Fall flavors if you need to cut back on sugar. These satisfying pumpkin cheesecake muffins have 75% less sugar but all the taste you love! Thanks so much to Truvia® brand for sponsoring today's recipe through SocialStars!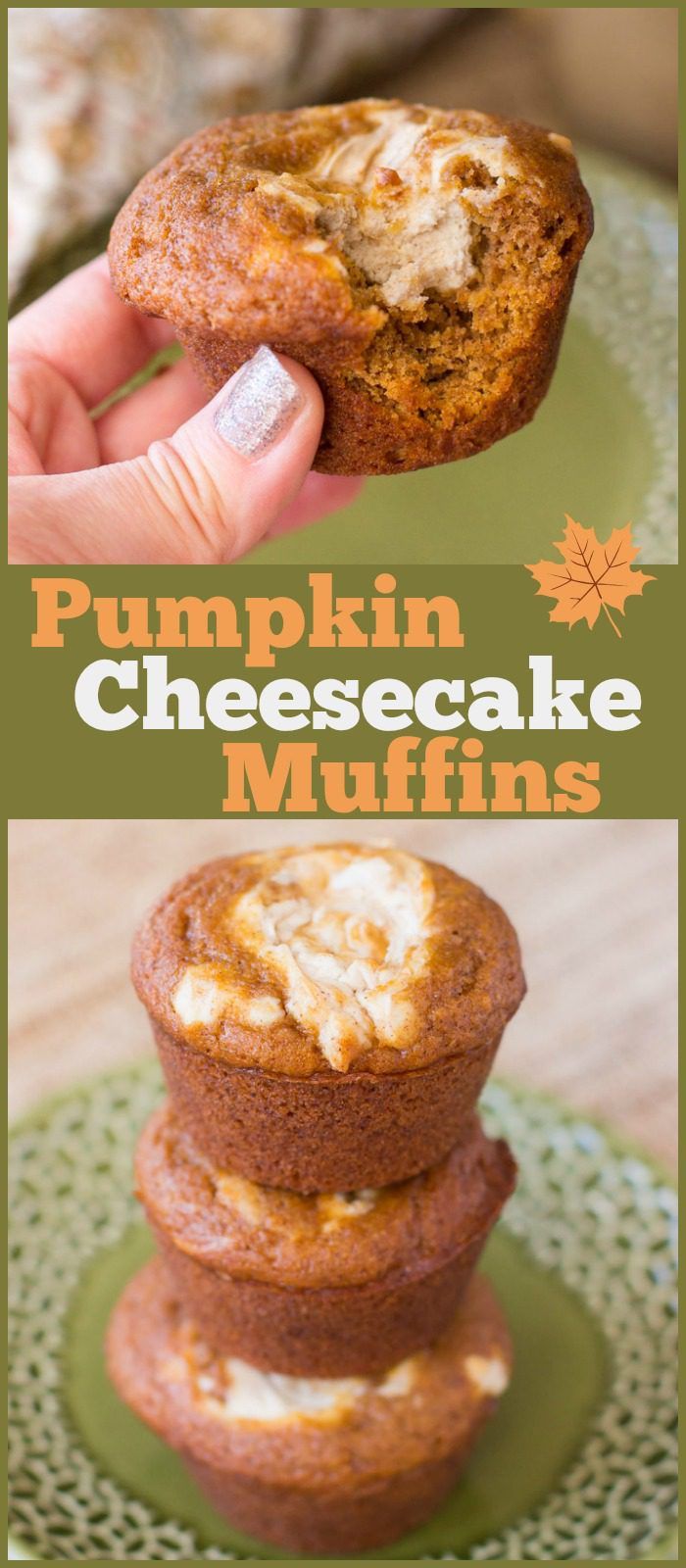 Are you going crazy for all things pumpkin lately? Me too! Except one problem: I can't eat most of them because they contain wheat. Thanks, stomach! Being in a coffee shop or bakery this time of year is pure torture. One menu item that I especially wish I could order with my coffee is the pumpkin cheesecake muffin. Pumpkin. Cheesecake. Muffin. Aren't those three of the most glorious words you know?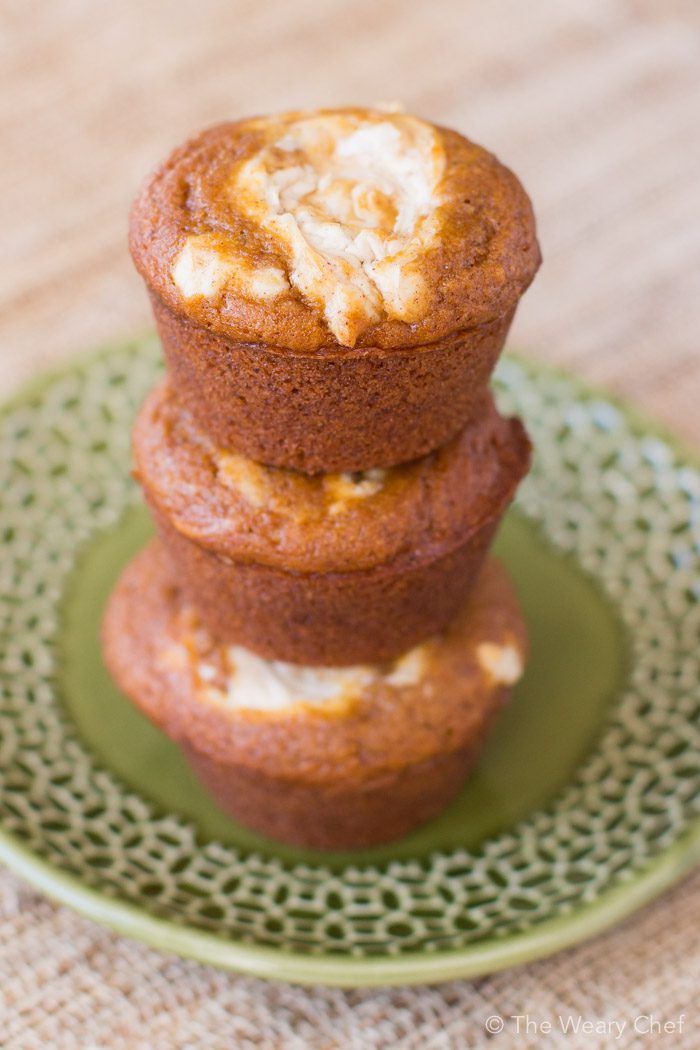 Luckily, it's easy enough to bake my own muffins at home, and I can even make them lower in sugar than their bakery counterparts too! I have switched to doing all my baking with Truvia® Baking Blend and Truvia® Brown Sugar Blend. They are made with a natural, zero-calorie sweetener called stevia but blended with a bit of real sugar to give you the taste and baking results you expect. I seriously love the stuff! It's great to know that all my baked goodies have less calories and sugar since making the switch to Truvia® sweeteners, but they are every bit as tasty and satisfying.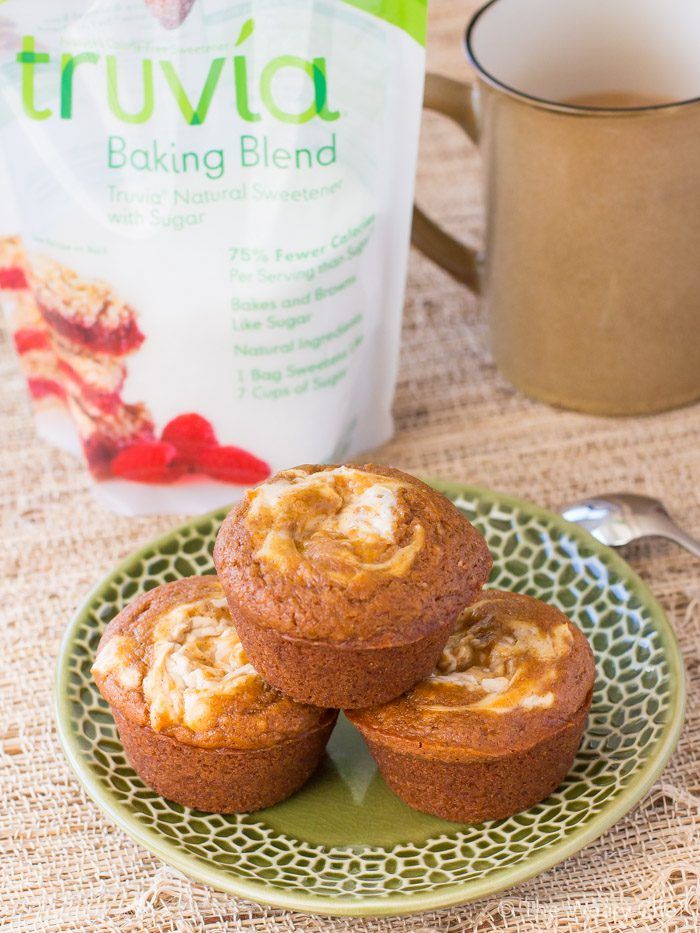 To make these easy cheesecake muffins, you can honestly start with whatever base muffin recipe you like. I used my own pumpkin muffin recipe and have also made them with pumpkin muffin mix when I'm in a hurry. You can't go wrong either way! You could also use the cheesecake part with another muffin base like blueberry, gingerbread, or lemon. You can never go wrong adding cream cheese to your morning pastry, am I right?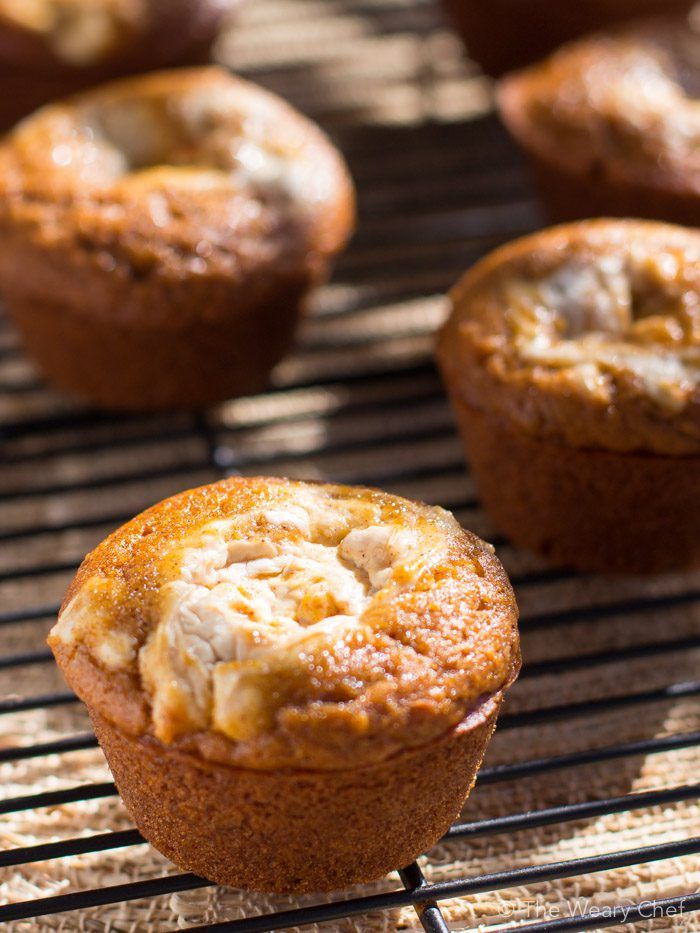 Whichever muffin recipe you choose, you won't regret substituting Truvia® Baking Blend for the sugar. You only need half the amount of Truvia® sweeteners as regular sugar, so be sure to make that adjustment in the recipe. (For example, if the original recipe calls for 1/2 cup of sugar, use 1/4 cup of Baking Blend.) Otherwise, you just make the recipe as usual and enjoy cutting the sugar calories in the final recipe by 75%! Love that! Let me know how you make yours, and why not post a photo of your muffins on my Facebook page or on Instagram and tag @wearychef. I'd love to see your own creations!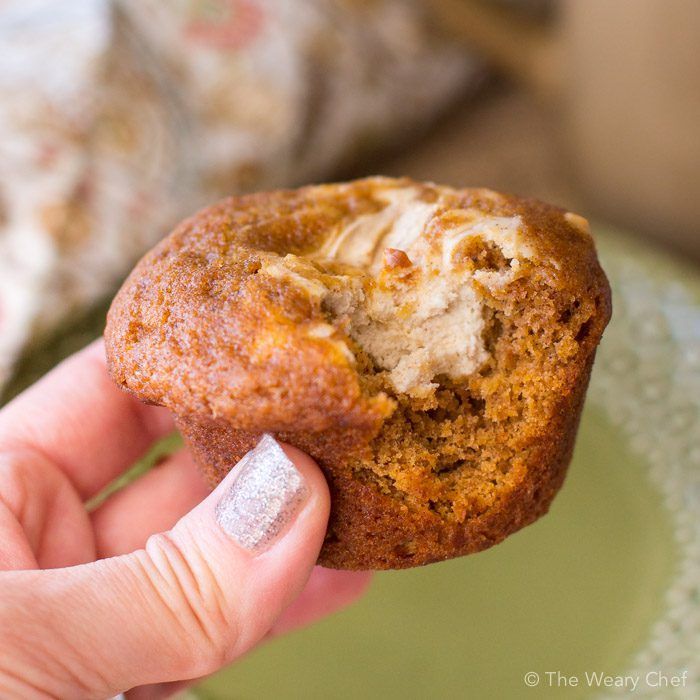 Print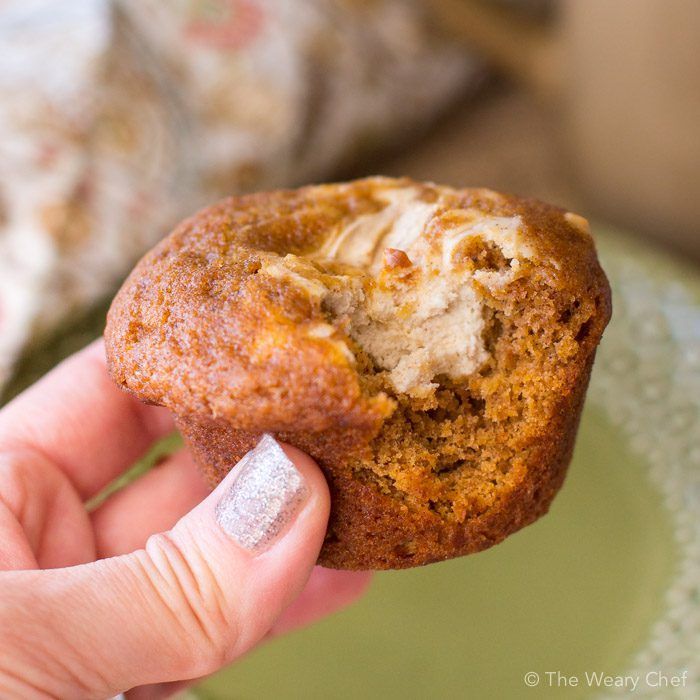 Low-Sugar Pumpkin Cheesecake Muffins
Don't give up your favorite Fall flavors if you need to cut back on sugar. These satisfying muffins have 75% less sugar but all the taste you love!
Total Time:

38 minutes

Yield:

1

2

1

x
Instructions
Preheat oven to 400 degrees F. Spray a muffin tin with cooking spray and set aside.

In a large mixing bowl, whisk together egg, oil, cinnamon, ginger, and cloves. Whisk in pumpkin and sugar until smooth. Add flour, baking powder, and salt. Stir just until dry ingredients are incorporated.

Using a spring-loaded disher or a 1/3 c. measuring cup, evenly divide the muffin dough into the muffin pan.

Using a stand or handheld electric mixer, blend cream cheese, brown sugar blend, and cinnamon until smooth.

Using a small cookie scoop or 1/2 tablespoon measuring spoon, drop a dollop of the cream cheese mixture into the center of each muffin. Use a butter knife to swirl the cream cheese through each muffin.

Bake in preheated oven for 15-18 minutes, or until toothpick inserted into the largest muffin comes out mostly clean. Transfer from muffin tin to wire rack to cool immediately.
Notes
You can substitute your favorite muffin recipe if you prefer. To use Truvia® Baking Blend in any recipe, use half the amount of regular sugar the recipe calls for.
Author:

Prep Time:

20

Cook Time:

18
Here are a few other Fall recipes you'll love!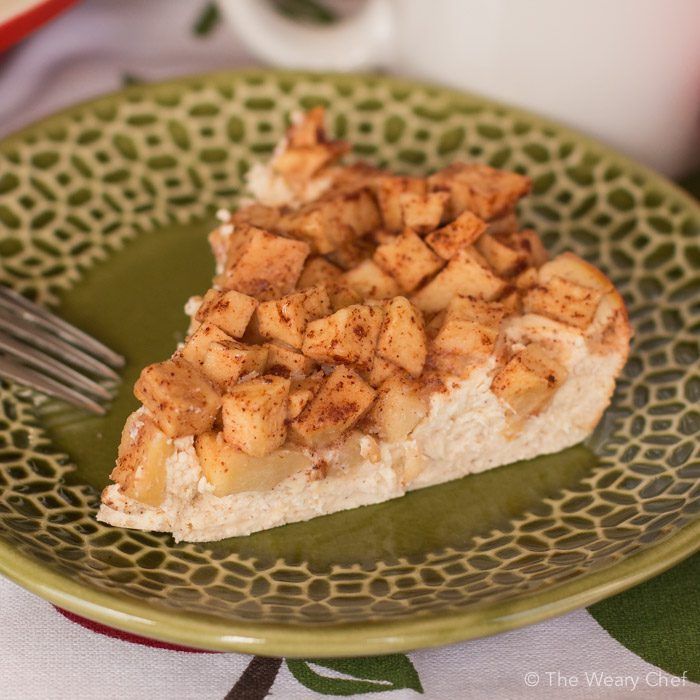 Thank you again to Truvia® Brand for sponsoring this post!