This homemade, from scratch chicken pot pie is actually super easy to make. One of our favorite meals, this easy chicken pot pie is comfort food at it's finest!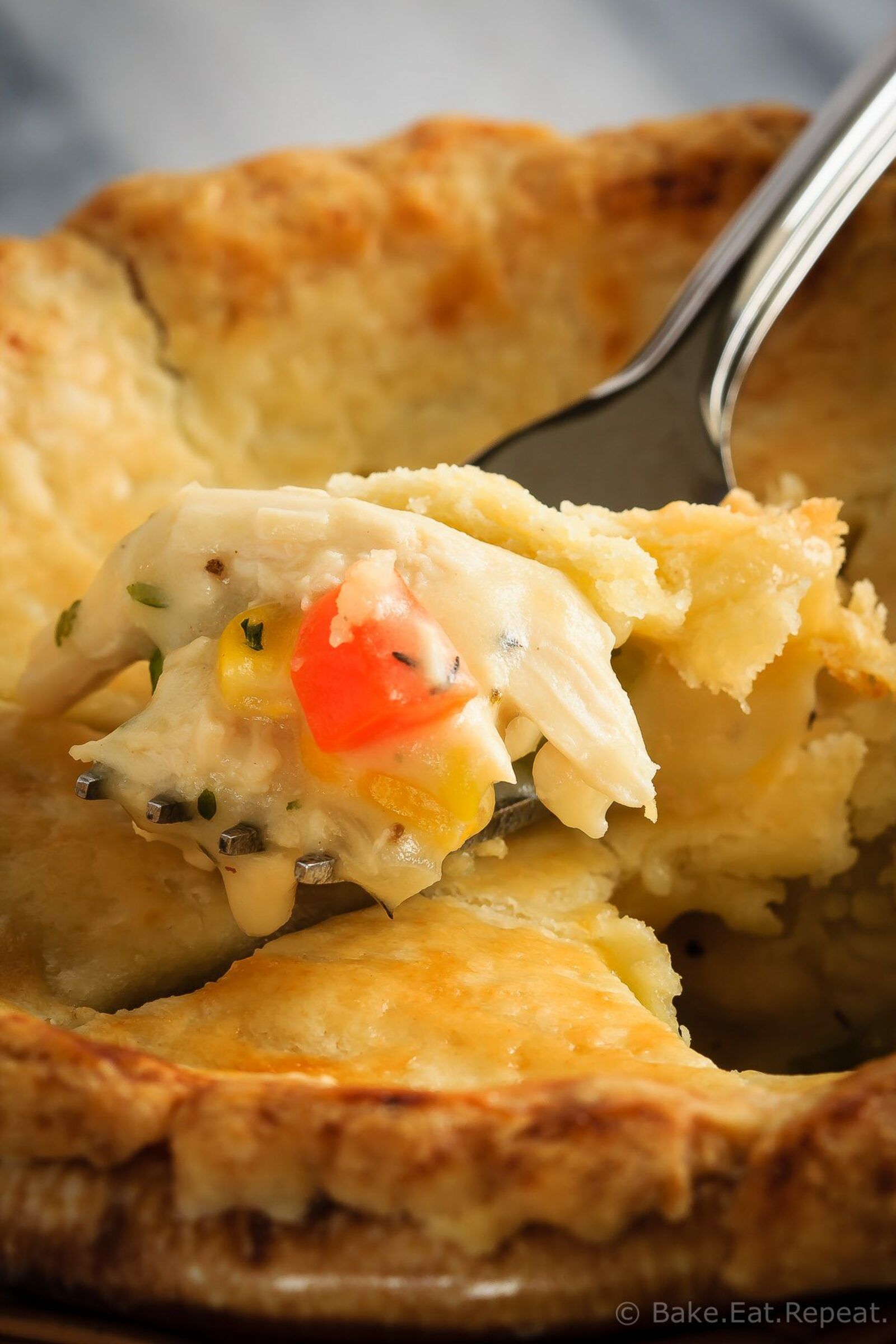 Homemade chicken pot pie. Is there anything better?
This right here is comfort food at it's finest I believe. A thick and creamy sauce filled with shredded chicken and vegetables and topped with a flaky, buttery crust. So good. I'm Stacey from Bake Eat Repeat, and I'm excited to show you how I make this recipe!
I like making this chicken pot pie as individual pies using soup bowls or ramekins. I usually use the larger soup bowls for 4 of us, and then a smaller ramekin for my youngest who doesn't love this meal quite as much as the rest of us do. He'll still eat it, which for my veggie hating child is real progress, but he won't eat a giant helping! The rest of us can easily devour a larger chicken pot pie made in these soup bowls.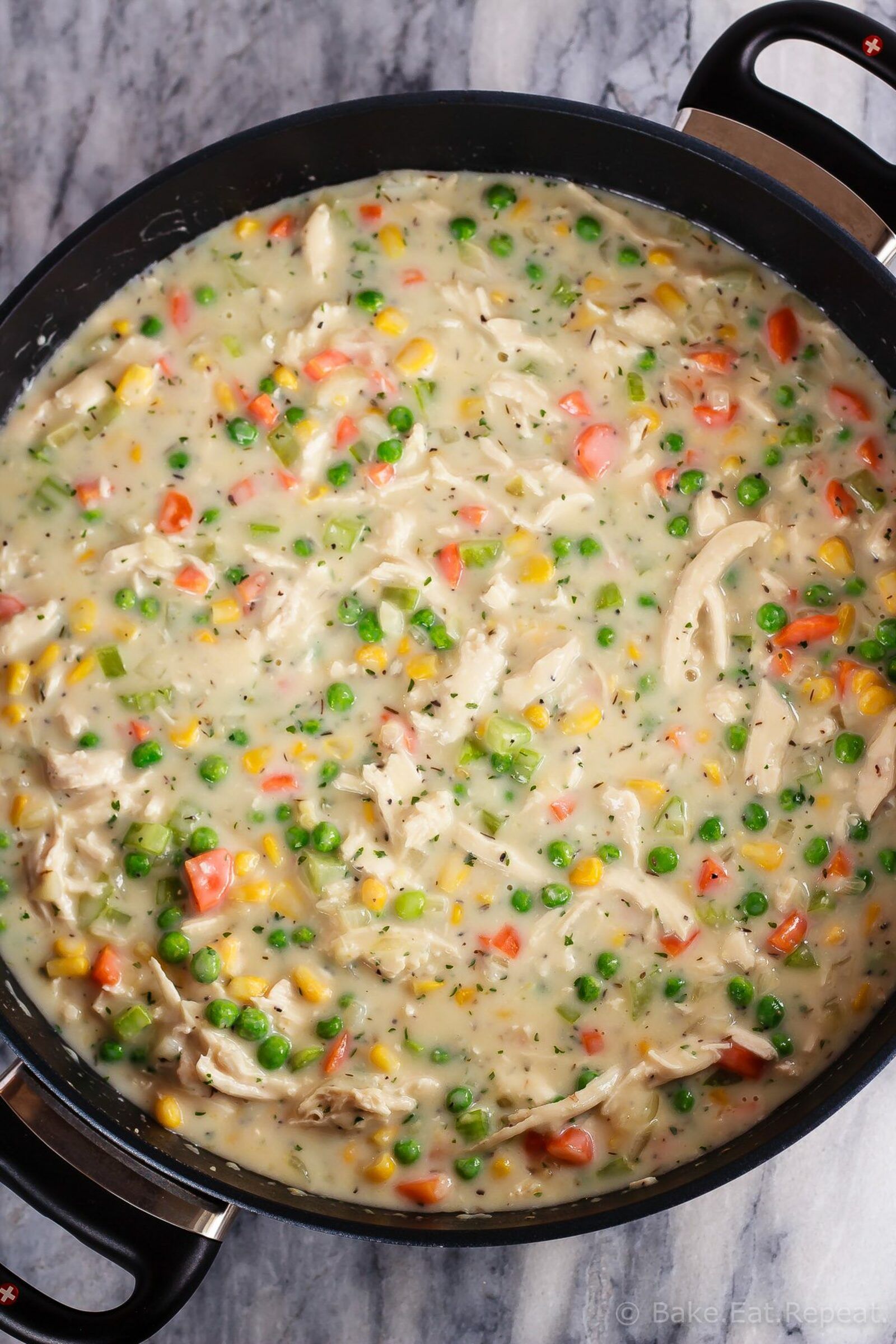 The other way you can make this recipe though, if you don't have bowls/ramekins that work, of if you just don't want to bother with rolling out individual crusts, is in a 9×13 inch baking dish. This is a super fast way to make this chicken pot pie – just pour the filling into the baking dish, top with the crust and bake. You can also make it ahead of time and refrigerate the filling and the pastry, and then just roll out the crust and top the filling with it right before baking.
This chicken pot pie is one of our favourite meals. There is buttery pastry involved, so I guess it's not the healthiest of meals, but it's so tasty that it's worth indulging in sometimes! Totally worth it.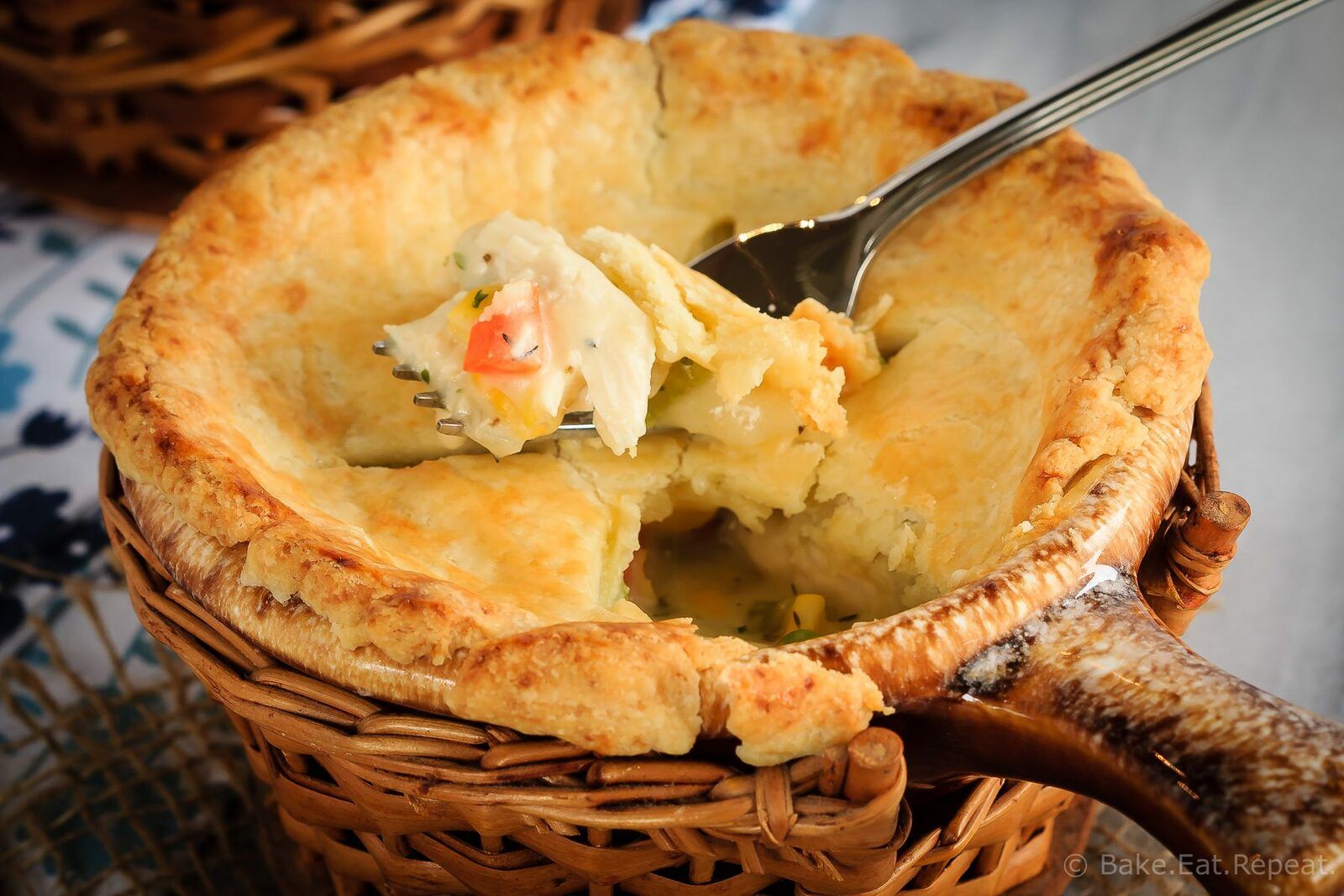 I have also used this Perfect Pastry Recipe instead – only half the recipe is needed for this pot pie, but the other half freezes well for later. There's enough pastry here for one double pie crust if you have a favourite recipe you prefer to use, or want to buy the pastry instead.
If you want to make this ahead of time, you can get the filling cooked and added to the dish(es) and the pastry made up, then just refrigerate it all until you're ready to bake the pie(s). At that point roll out the pastry and top the pie(s) and then bake. These also freeze well after they're baked.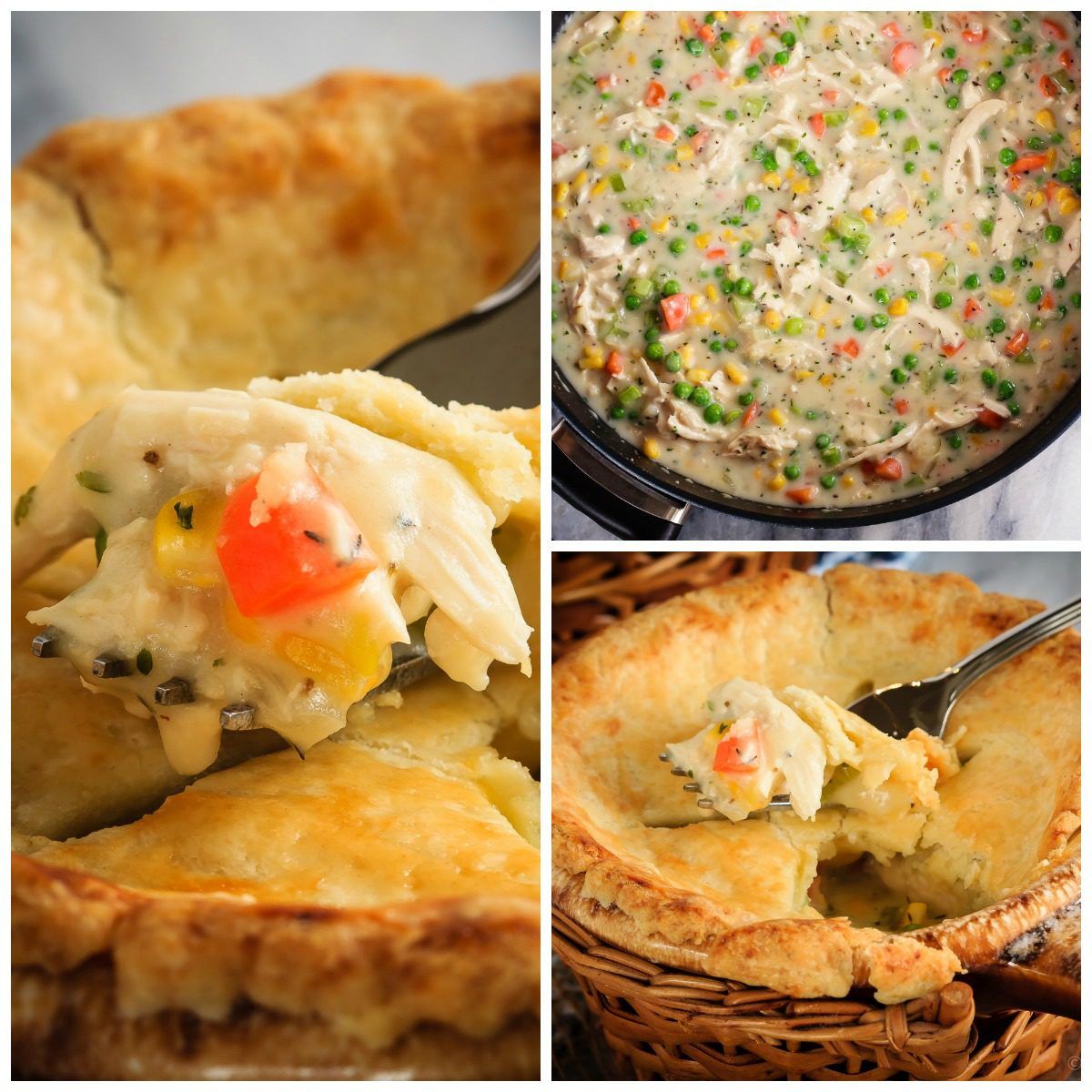 Print
Homemade Chicken Pot Pie
The perfect comfort food meal.  A rich and creamy filling topped with buttery pastry.  And you likely have everything you need for it already – so you should probably indulge.
Total Time:

1 hour 10 minutes

Yield:

4

1

x
Instructions
In the bowl of a food processor, mix together the flour, sugar and salt. Add the cold butter and shortening and pulse until the mixture resembles fine crumbs.

Pour in the cold water and mix just until it starts to come together. It will still look crumbly but should stick together if you squeeze some in you hand. (If it isn't coming together add more water, a tablespoon at a time, until it does.)

Remove the dough from the food processor and form it into a disc, then wrap it in plastic wrap and refrigerate.

Preheat the oven to 375 degrees F.

In a large skillet, melt the butter over medium heat. Add the onion, carrots, celery and garlic and cook, stirring, for 3-4 minutes, or until the onions are softened.

Add the flour and cook, stirring, for another 1-2 minutes until the flour is browned. Slowly pour in the chicken stock and milk while stirring.

Add the cooked chicken, thyme, parsley, salt and pepper, and bring the mixture to a high simmer. When you start to see small bubbles forming on the edges of the pan, reduce the heat to medium low and simmer for 8-10 minutes, stirring occasionally, until the mixture has thickened. Stir in the peas and corn, and cook for another minute to heat them through, then remove the pan from the heat.

Pour the filling into individual soup bowls or ramekins, or into a 9×13 inch baking dish.

On a lightly floured counter, or between two pieces of plastic wrap or wax paper, roll out your pastry to about 1/8" thick and place it on top of the filling, pressing the edges against the top of the dish to seal them. (If you're making individual pies, I find it easiest to divide the pastry into the 6 or 8 pieces you need and then roll them out individually, rather than all at once and then cutting it.) Cut some slits on top of the pastry to vent it, and brush it with the egg/water mixture.

Bake for 30-35 minutes, or until the pastry is browned and the filling is bubbling.
Notes
If you don't have cooked chicken on hand, just cook two chicken breasts, chopped into small pieces, in the pot on the stove with a little olive oil before continuing with the rest of the recipe for the filling.
Source:

 

Adapted from

The Family Calendar Cookbook

.
Author:

Prep Time:

40

Cook Time:

30
Don't miss these other comforting chicken dinners!