The Dutch Oven Roast Chicken seasoned with Ranch flavor is easy to prep AND clean up thanks to heatproof oven bags! Thanks so much to Reynolds for sponsoring today's recipe.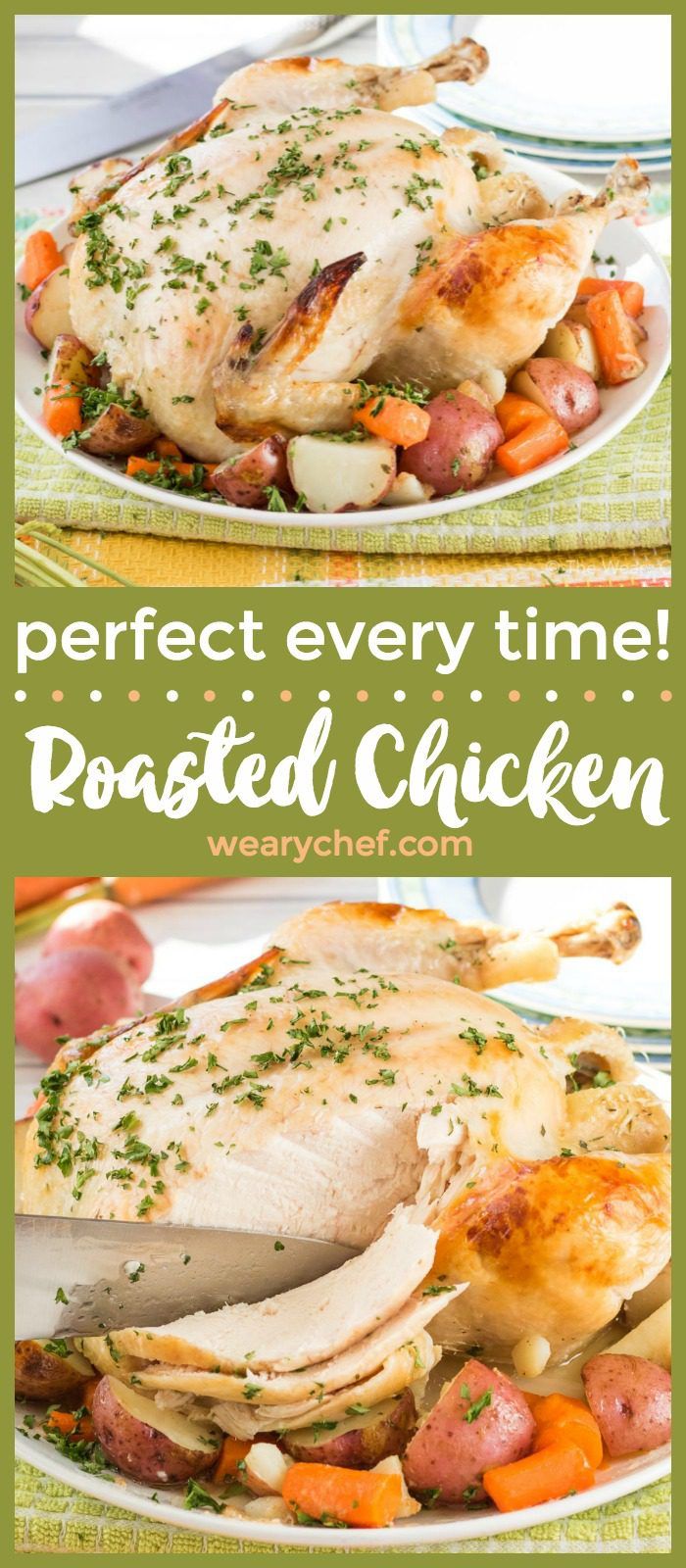 Are you gearing up for the big feast this week? I talked to a friend yesterday, and she is expecting 17 people at her house for Thanksgiving. That's a lot of people! I can only imagine the size of her turkey. I know you might have even more at your holiday gathering, but what if your crowd is much smaller, like only a few people?
If you don't need 20 pounds of poultry, you might like to try a roast chicken instead of turkey. This ranch roasted chicken recipe could be a small-scale holiday dinner, but it's so easy that it could also be an anytime meal!
When I was invited to share a recipe using Reynolds Oven Bags, I thought about showing you how to roast a turkey, but Reynolds has already done an amazing job of that. I didn't want to reinvent the wheel, so I decided to bring you an easy dinner recipe that you can enjoy any time instead of just once or twice a year.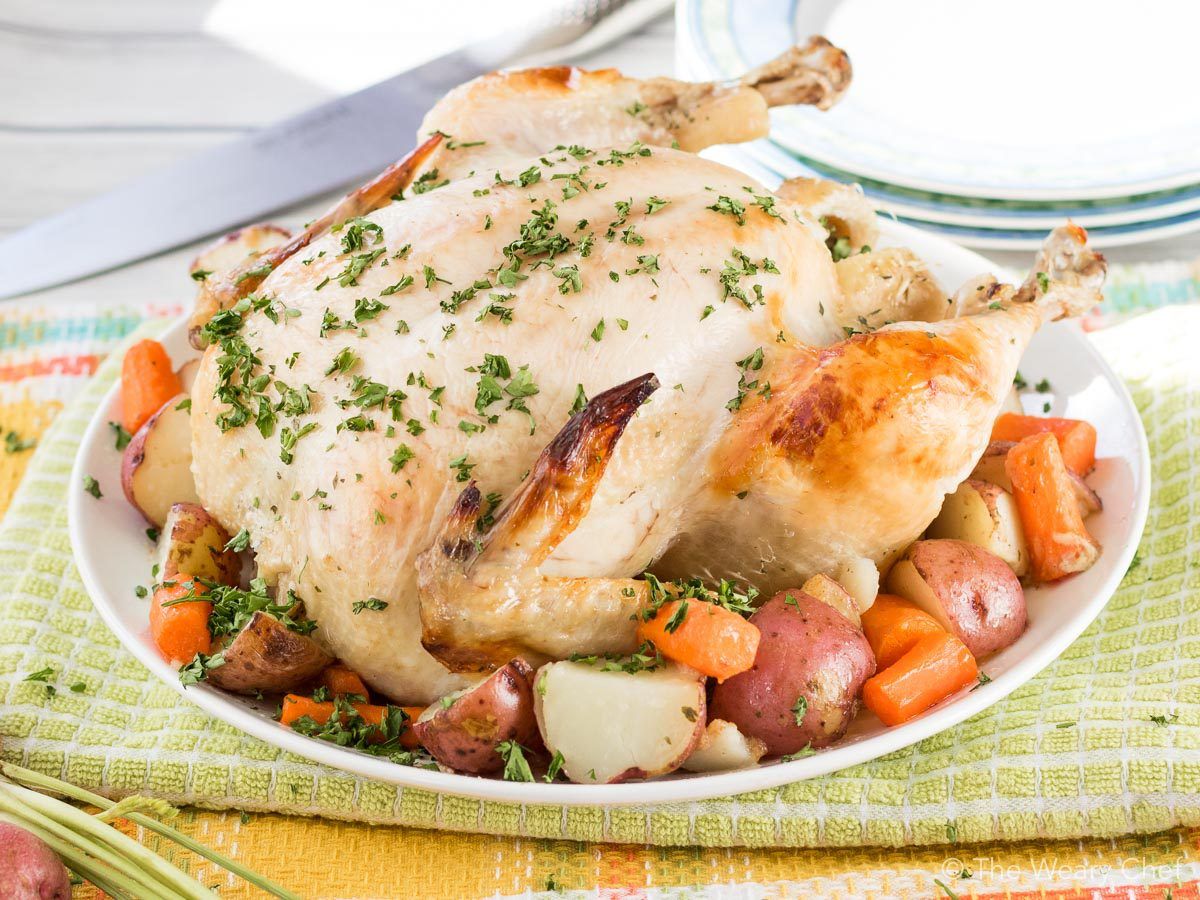 This dutch oven roast chicken recipe is fun and easy to cook and makes a perfect dinner for a weeknight (if you have time to bake it) or a special occasion! A whole chicken is marinated in milk and ranch seasoning, then baked with baby red potatoes and carrots. The cleanup is minimal thanks to Reynolds Oven Bags, plus baking the chicken in the heatproof, nylon bag makes for a perfectly moist bird!
I used my cast iron dutch oven for this recipe, but you could also use an enamel or stainless steel pot. My favorite gadget for roasting meat is a programmable probe thermometer (as seen in the video above). You poke the thermometer into the deepest part of the bird (or whatever cut of meat you are baking), and then set it to alarm when it reaches the desired temperature. No more guessing or missing the ideal temperature. The alarm tells you when it's time to pull your chicken out of the oven!
Reynolds BPA-free and FDA-approved oven bags lock in moisture while your food cooks to ensure a perfect result every time. I thought maybe the chicken would look kind of pale since it was roasting in the bag, but clearly I had no need to worry! The skin still browns nicely in the bag, and it couldn't have turned out any better. The ranch seasoning adds a nice zing to the chicken and vegetables, and I think this meal will be a hit with your family.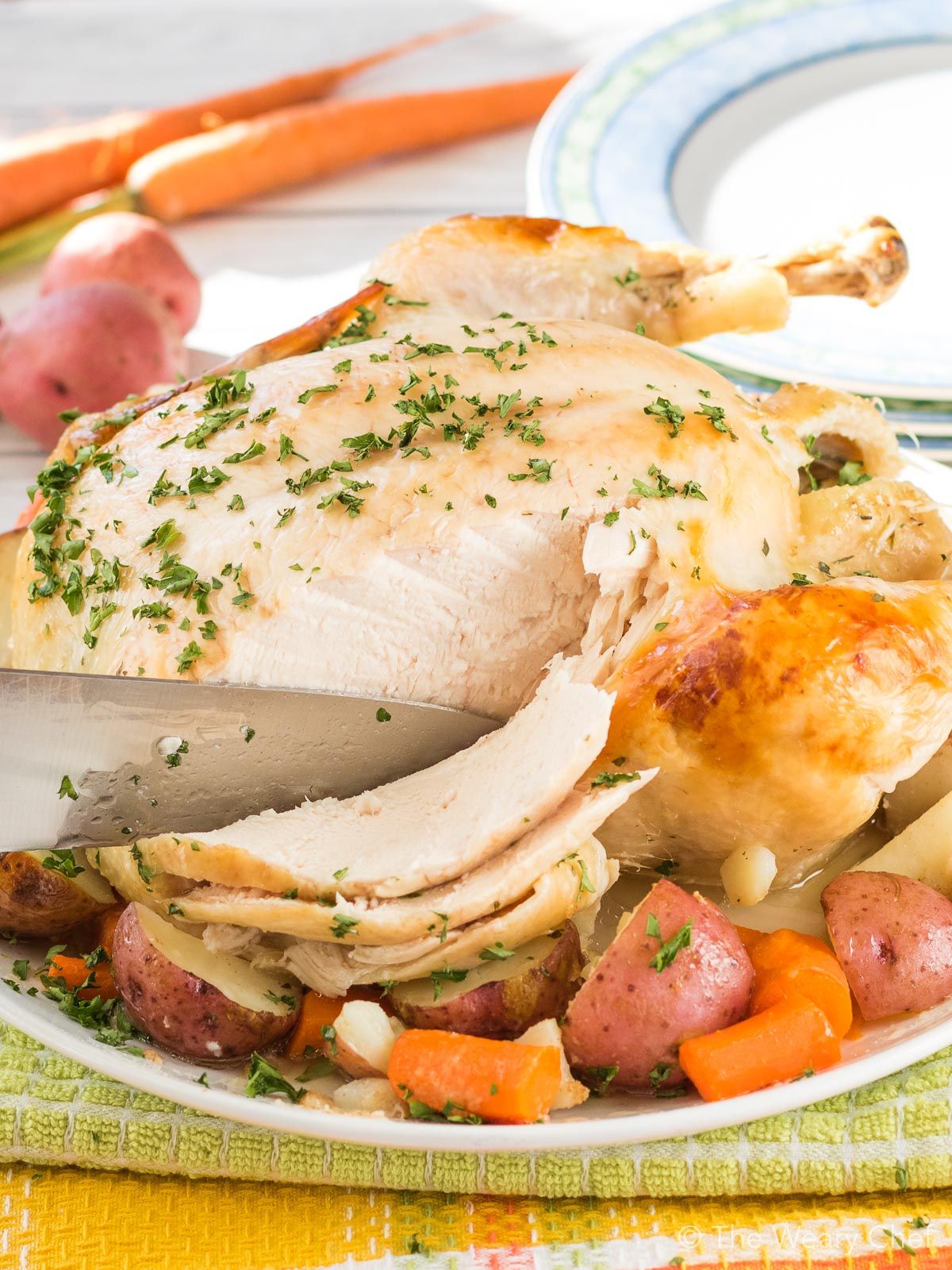 If you are looking for more perfectly easy and delicious recipes, head on over to Reynolds Kitchens' collection of Easy Family Meals made in their handy oven bags. They even have a pasta recipe that cooks right in your oven!! I'm going to try that one next. Which recipes look good to you?
Print
Ranch Dutch Oven Roast Chicken in Oven Bag
Baking your whole chicken in an oven bag keeps the meat moist and juicy and makes cleanup a snap!
2

cups

milk

2 tablespoons

powdered Ranch seasoning mix (plus an extra teaspoon)

1 teaspoon

salt

6

–

8

pounds

whole chicken

1 tablespoon

all purpose flour (OK to substitute gluten-free flour)

1

pound

baby red potatoes quartered

4

carrots peeled and cut into 1 1/2″ pieces

2 tablespoons

salted butter melted
Instructions
In a bowl large enough to hold the entire chicken, whisk together milk, two tablespoons ranch seasoning, and salt.
Rinse chicken, and submerge in the milk marinade. Try to get some of the milk inside the cavities of the chicken, and coat the bird completely. Lay bird breast-side down in the bowl, cover with plastic wrap, and place in refrigerator for 2-24 hours before baking.
Preheat oven to 375 degrees. Line a dutch oven with a Reynolds large size oven bag. Sprinkle flour over the bottom of the bag.
Pour vegetables into oven bag. Stir together melted butter and one teaspoon Ranch seasoning, and pour seasoned butter over the vegetables.
Lift chicken out of marinade, and allow it to drip mostly dry. Place it on top of the vegetables in the oven bag. Close bag with nylon tie provided. Use scissors or a knife to cut six 1/2″ slits in the bag to allow steam to escape.
If you have one, insert an oven-safe probe thermometer deep into the chicken thigh before placing the pot in the preheated oven. Cook until internal temperature has reached 165 degrees F.
Remove pot from oven, and allow to stand for 10 minutes before carefully cutting open the top of the bag. Remove the chicken and vegetables to a serving vessel, and carefully lift bag from dutch oven to discard.
Author:

Prep Time:

15

Passive Time:

120

Cook Time:

90
Here are some tools and ingredients I used in this recipe (affiliate links):
Don't miss this great appetizer recipe using Reynolds Slow Cooker Liners!
Thank you again to Reynolds for generously sponsoring this dutch oven roast chicken recipe.