This healthy chicken fried rice recipe is a sponsored post written by me on behalf of AllWhites Egg Whites for IZEA. All opinions are 100% mine.
Today I'm bringing you a healthy, colorful dinner full of protein, fiber, and flavor! You'll love this quick Chicken Fried Rice and will want to make it again and again. This Asian-inspired dinner is made with  AllWhites Egg Whites instead of whole eggs to keep it low in fat.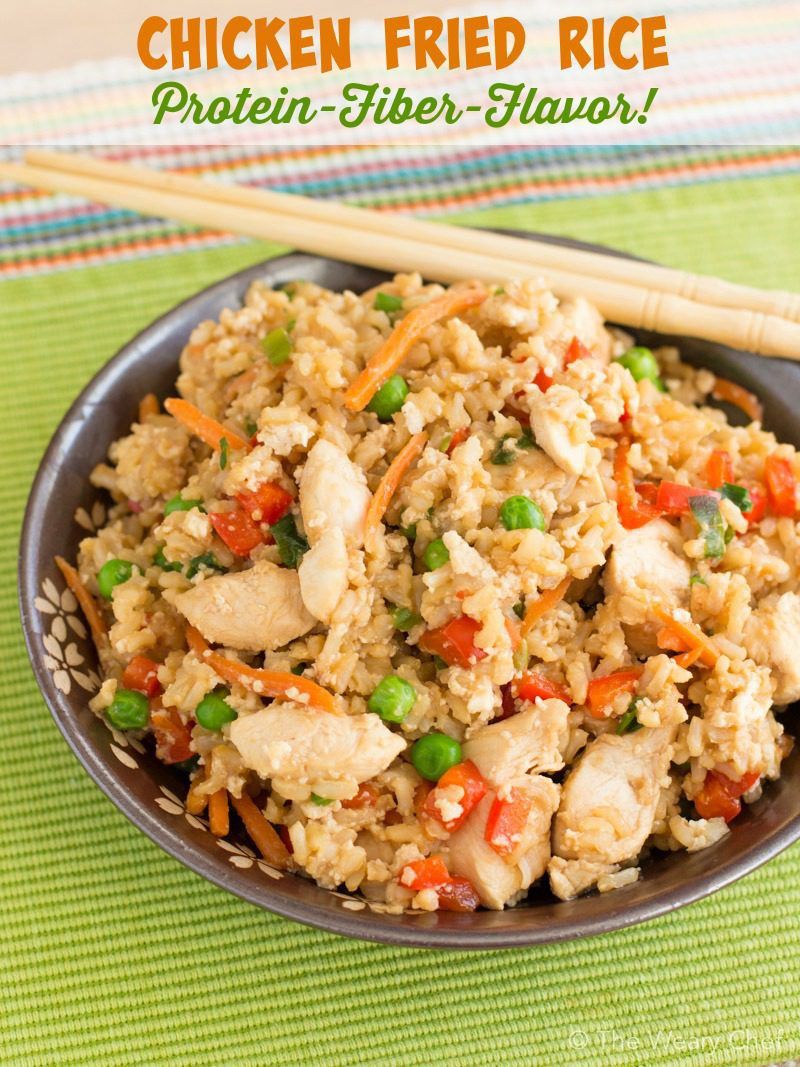 Besides the health benefits of eating All Whites instead of whole eggs, they are also much less wasteful than separating eggs yourself and discarding the yolks. I took a look at their website to make sure I wasn't making that theory up. I was happy to read that they give the yolks to other food processing services to make products like mayonnaise, and the shells are ground to use in animal feed. I love that they aren't wasting a thing!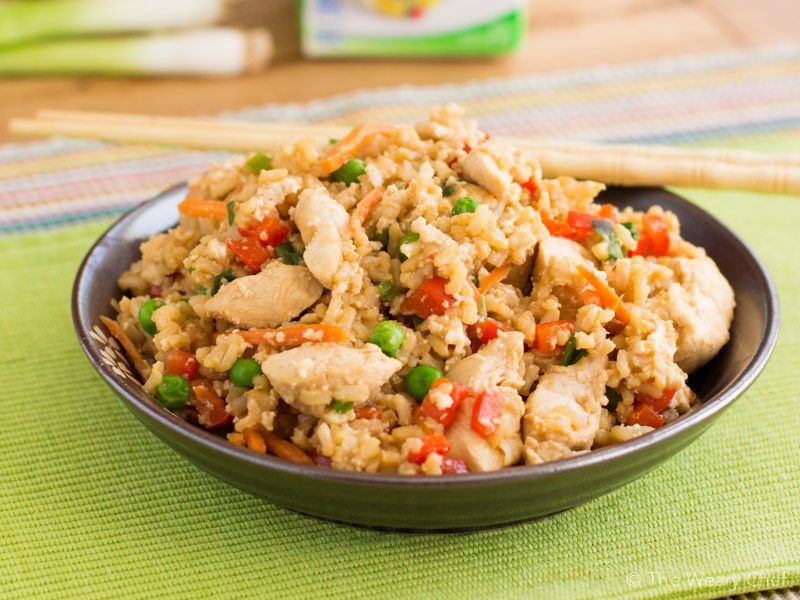 I made this easy chicken fried rice wish a shortcut: I used instant brown rice, which is ready in about 10 minutes. Using leftover rice would be great too. I don't mind making regular brown rice sometimes, but on most days it's hard to have 40 minutes to cook rice!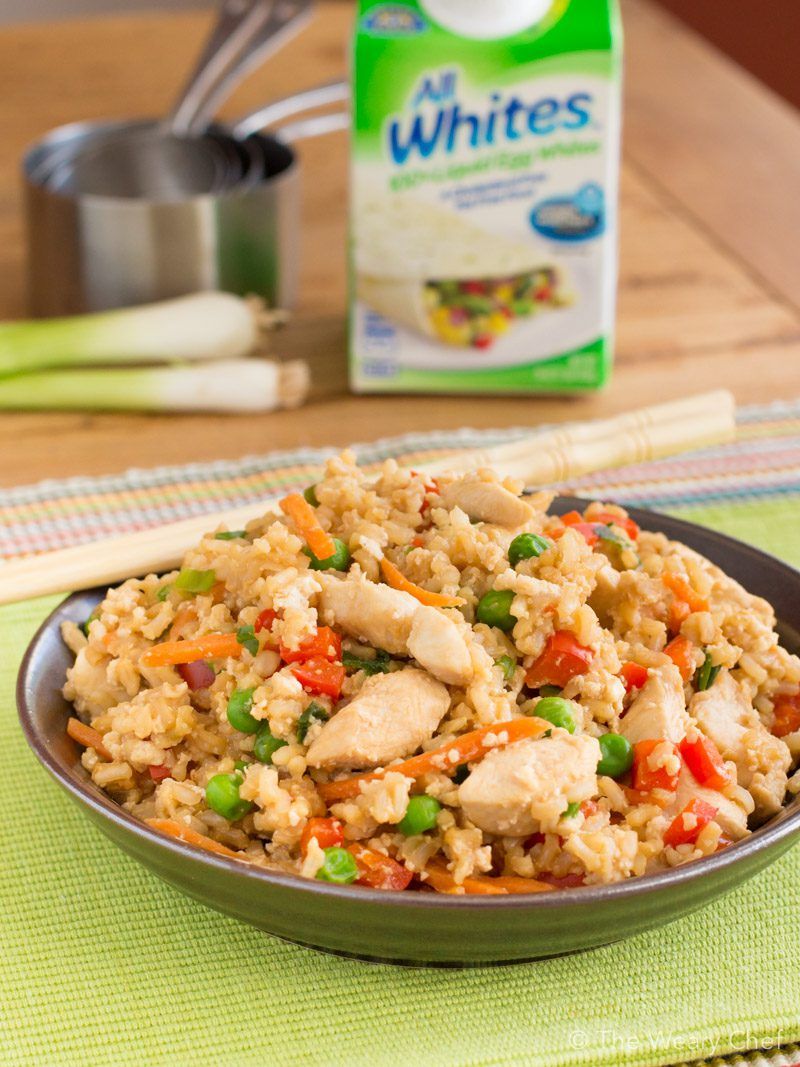 One quick tip before I get to the recipe: I was a little surprised at how long it took for the All Whites to start to cook. As the recipe instructs, I pushed the rice to the sides of the pan and created a little well in the center for my egg whites. I reduced the heat to low, poured in the All Whites, and it seemed like nothing happened for quite some time. I'd say it was a good five minutes before it started to set up, but then it happened pretty quickly. I just thought I'd pass that along in case you started to panic about having a pool of raw eggs in the middle of your lovely rice. Be patient, and it will all come together!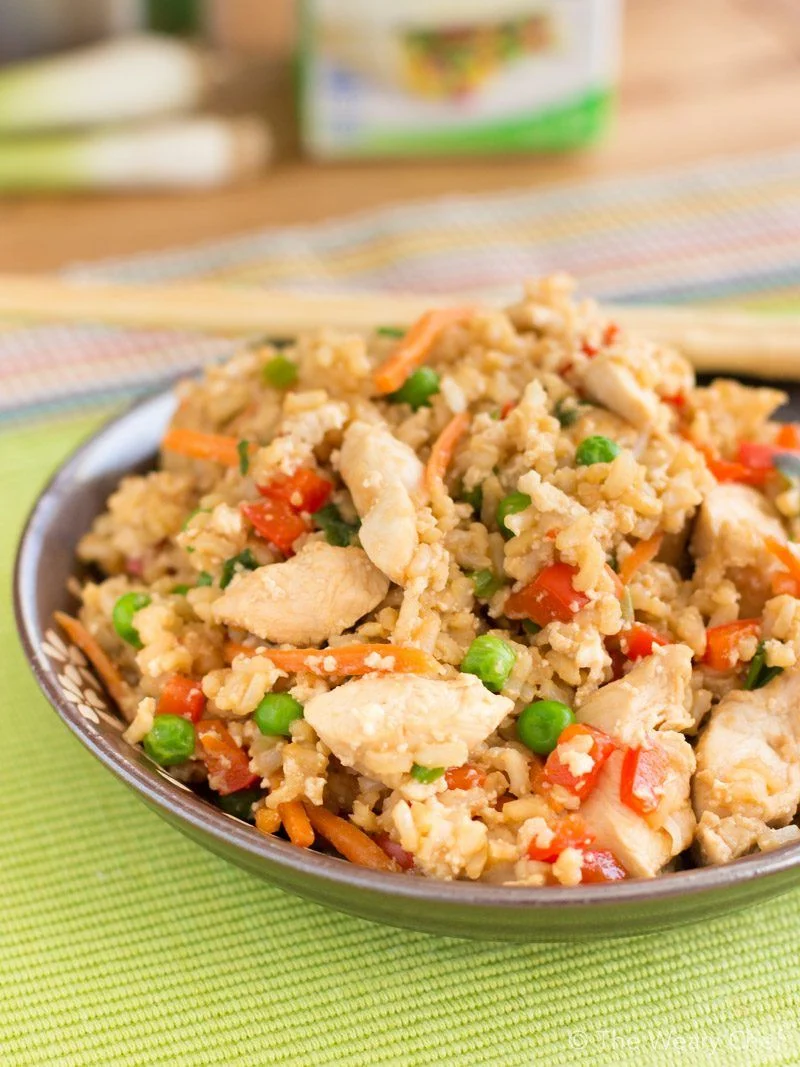 | | |
| --- | --- |
| | |
Heat oil in 12-inch nonstick skillet over medium-high heat. Add chicken and cook, stirring occasionally, until no longer pink. Add red bell pepper, carrots, and green onion. Cook, stirring constantly, for 3 to 4 minutes or until vegetables are tender.

Meanwhile, stir together soy sauce, sherry, and chili sauce in a small bowl and set aside.

Add cooked rice and thawed peas to the chicken and vegetables in the skillet. Continue to cook, stirring constantly, for 3 minutes.

Reduce heat to medium, and stir in soy sauce mixture. With wooden spoon, push rice mixture to sides of skillet, making a large hole in center of skillet for preparing egg.

Pour AllWhites egg whites into center of skillet. As egg starts to set (takes 4-5 minutes), use wooden spoon or spatula to slowly stir egg until eggs are cooked completely. Stir rice mixture into egg, and serve.
Recipe adapted from Chicken Fried Rice by AllWhites®.
I'm going to try these frittata bites from
AllWhites Egg Whites Favorites
next. Take a look at all their recipes to get some new ideas for low-fat, protein-rich meals and snacks. At just one Weight Watchers point and 25 calories per serving, they are a great way to add nutrition without any fat!
Find All Whites in the refrigerated dairy section of your grocery store, and keep up on their recipes, offers, and healthy tips here: AllWhites Egg Whites on Pinterest | AllWhites Egg Whites on Facebook