Grab a fork and dig into the taste of a classic sandwich with these easy Philly Cheesesteak Rice Bowls!
I love one-dish dinners, especially rice bowls. I love them so much that I have an entire category of recipes for rice bowls! Now that I think about it, it's a little funny that this is one of my favorite kinds of meals since all the ingredients are mixed together. I was one of those kids who didn't like my food to touch on my plate, and I would eat one thing at a time before starting the next one. Now I like to mix everything up and make sure I have a little of every ingredient in each bite. At least that gives me hope for my own picky kids!
Besides the fact that I love rice bowls, I also love finding ways to enjoy some of my favorite foods without wheat. This dinner is basically a philly cheesesteak sandwich with rice replacing the bread. You can't go wrong with that! I'm all for anything that involves steak and cheese.
Instead of telling you a little story today (because I don't really have a little story to tell), I'll just talk about how I made this dish and possible modifications. First of all, I wanted the meat to be fork tender, so I cooked it a really long time in a skillet, like a couple hours. If you don't mind using a knife and fork for your dinner, you could just do a quick stir fry and make this a 30-minute meal. Alternatively, you could also cook the meat in the slow cooker on low all day. If you do the slow cooking method, either in the skillet or crockpot, your meat will be tender but a little dry. That was OK with me since it was covered with cheese and vegetables. If you stir fry it, the meat will stay juicy but will be chewier.
You could slow cook the vegetables too, and everything would taste delicious, but the peppers and onions would be mushy and not bright and colorful as shown here. If you are going to take the time to make the rice before serving this meal anyway, I strongly recommend sautéing the veggies to be tender-crisp before serving them. You know I love spicy food, so I added pickled jalapeños to mine. Those are of course optional, but I loved the heat and tanginess they added. How will you make yours? Let me know in the comments!
Print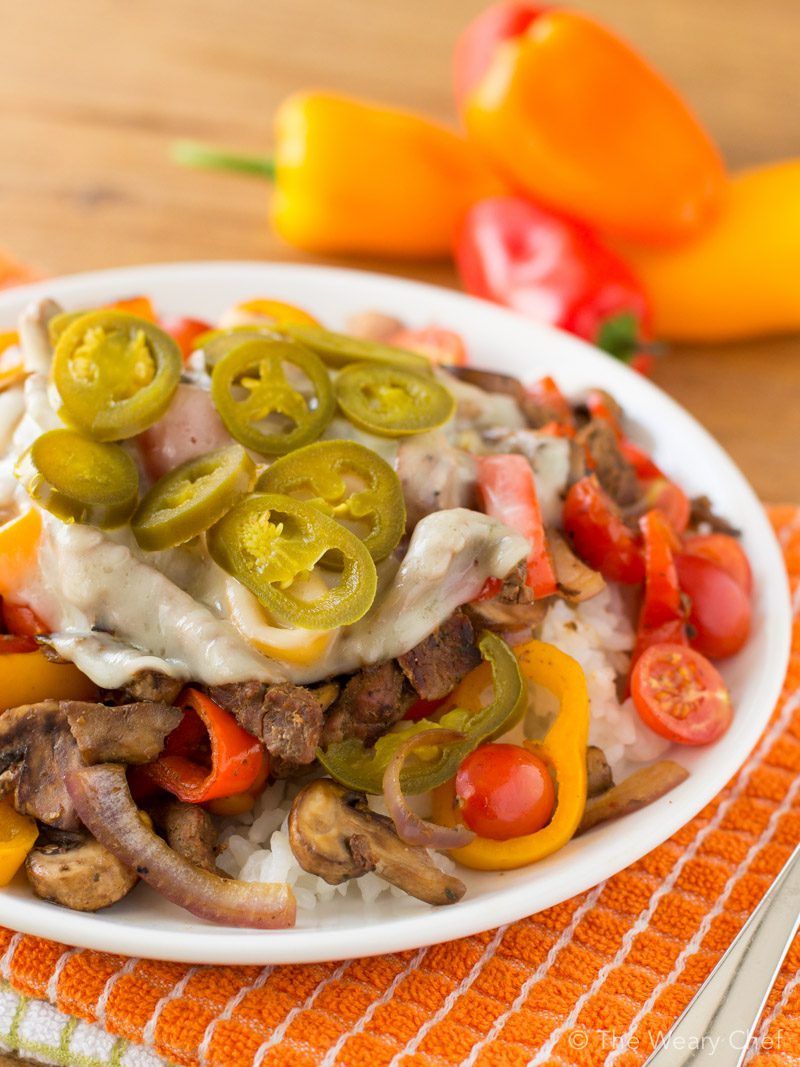 Philly Cheesesteak Rice Bowls
The classic sandwich just turned into a one-dish dinner!
Total Time:

30 minutes

Yield:

4

1

x
Instructions
Heat oil in a 10″ skillet over medium-high heat. Add steak strips, and sprinkle with about 1/2 teaspoon seasoned salt. Stir fry for 2-3 minutes just until outside is cooked. (If you are not slow cooking the meat, cook to desired doneness and skip step two.)

Pour beef broth over meat just to cover it. (You may not need the full amount). Bring to a simmer, reduce heat to medium-low and cover. Simmer for 1 1/2 to 2 hours until meat is fork tender. Check meat every half hour or so and add broth or water if it starts to dry out.

Cook rice according to package directions. Meanwhile, transfer meat and juices to a bowl, and cover with foil to keep warm.

Heat the same skillet over medium-high heat, and add sliced onions and bell peppers. Stir fry for about 5 minutes, and then add garlic and mushrooms. Sprinkle with about 1/2 teaspoon seasoned salt, and continue cooking and stirring until vegetables are tender.

Return meat to skillet, leaving most of the juices behind. Add tomatoes, and cook 1-2 minutes longer just to warm up meat. Turn off heat.

To serve, divide cooked rice between four bowls, and scoop meat and vegetables over the rice. Place a slice of cheese on top, with jalapeños on the cheese if desired. You can microwave each bowl for about 20 seconds to melt the cheese completely.
Notes
Passive Time – 120 minutes
Author:

Prep Time:

10

Cook Time:

20
If you like this meal, I picked out some others I think you'll love too!