This is the second chicken recipe I've made with Greek yogurt. Have you tried my homemade tandoori chicken yet? That's a good one too, but you do need to buy some special spices to make it. This greek yogurt chicken just uses a little salt and pepper and fresh herbs like dill and parsley. (I say "like" dill and parsley because you could use whichever herbs are most appealing to you!)
In today's easy dinner recipe, chicken breasts are marinated in Greek yogurt with herbs, then baked in a foil packet. Finish it off with melted cheese on top, and you have a juicy chicken dish to remember!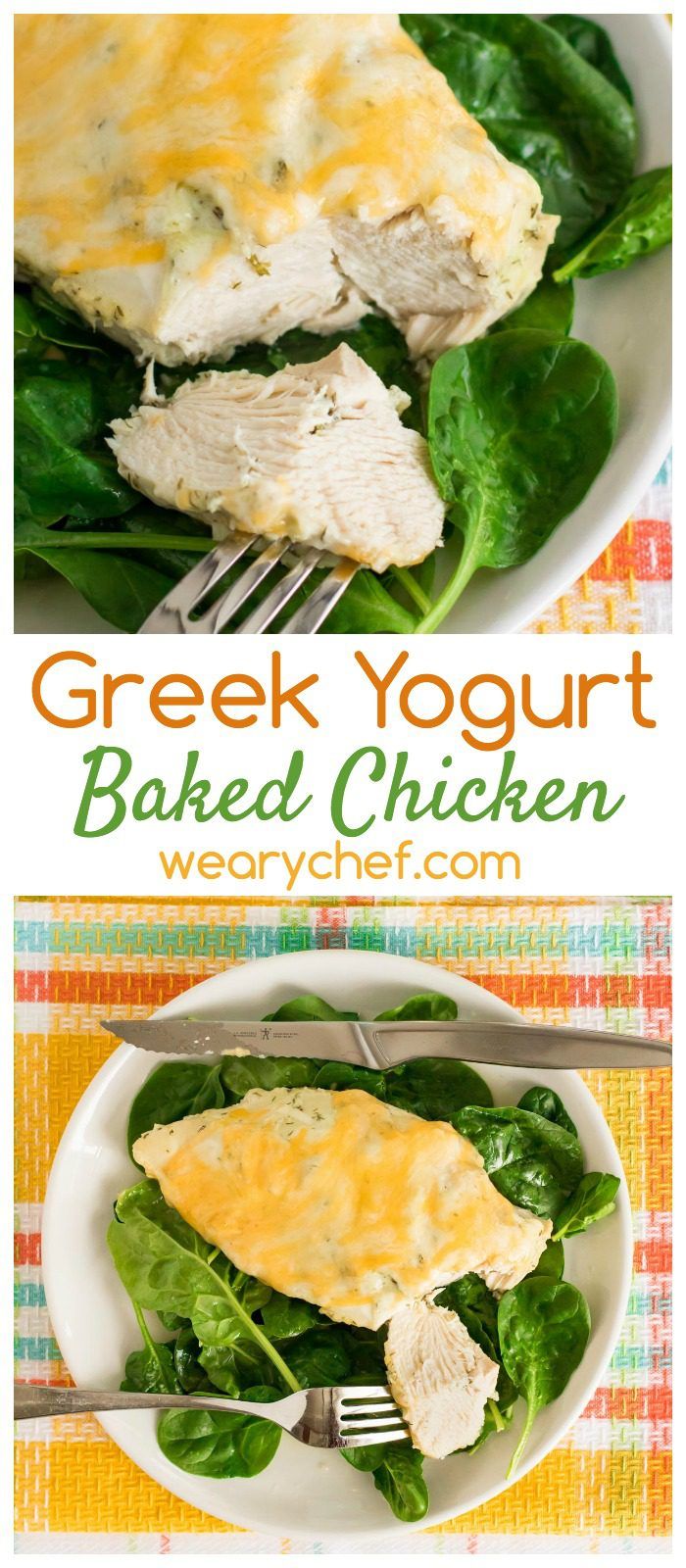 I first tried cooking this chicken in a skillet instead of baking it, but that didn't work too well. It tasted good, but the yogurt on the outside burned in the hot skillet by the time the chicken was cooked through. I have a feeling the same thing would happen on a grill. That's why I decided to make a baked version instead, and it turned out way better. The chicken cooks evenly, and you can use the juices from the chicken to make a dressing for your greens!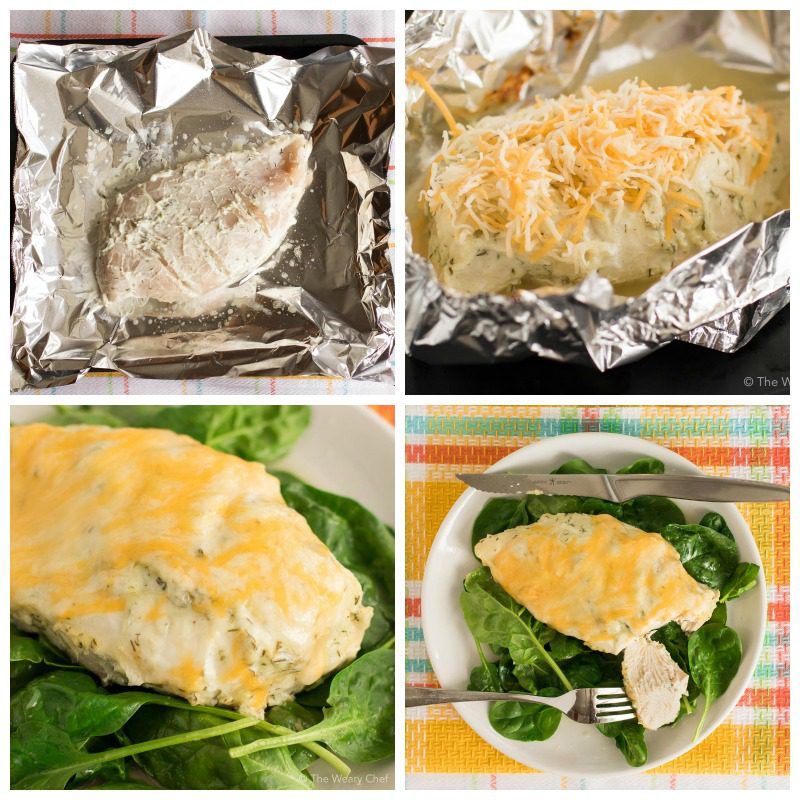 I cut slits in both sides of the chicken to allow the yogurt mixture to coat it inside and out. It's similar to how I cut my hasselback chicken, but you don't need to cut the slits quite so deep. Try to just cut about halfway through, especially since you'll be making slits on both sides. Cutting the chicken this way also helps thick chicken breasts cook more evenly.
If you'd like, you can use Gourmet Garden herbs in place of fresh herbs in this recipe. That's what I did. I had a chance to sample their lightly dried herbs and pastes recently, and I use them all the time now. It's like having an herb garden in my refrigerator! I like fresh herbs, but often times they go bad before I use them, or I only need a small amount but have to buy a big bunch. It's nice to have the almost fresh herb pastes on hand so I can just use as much as I need whenever I want.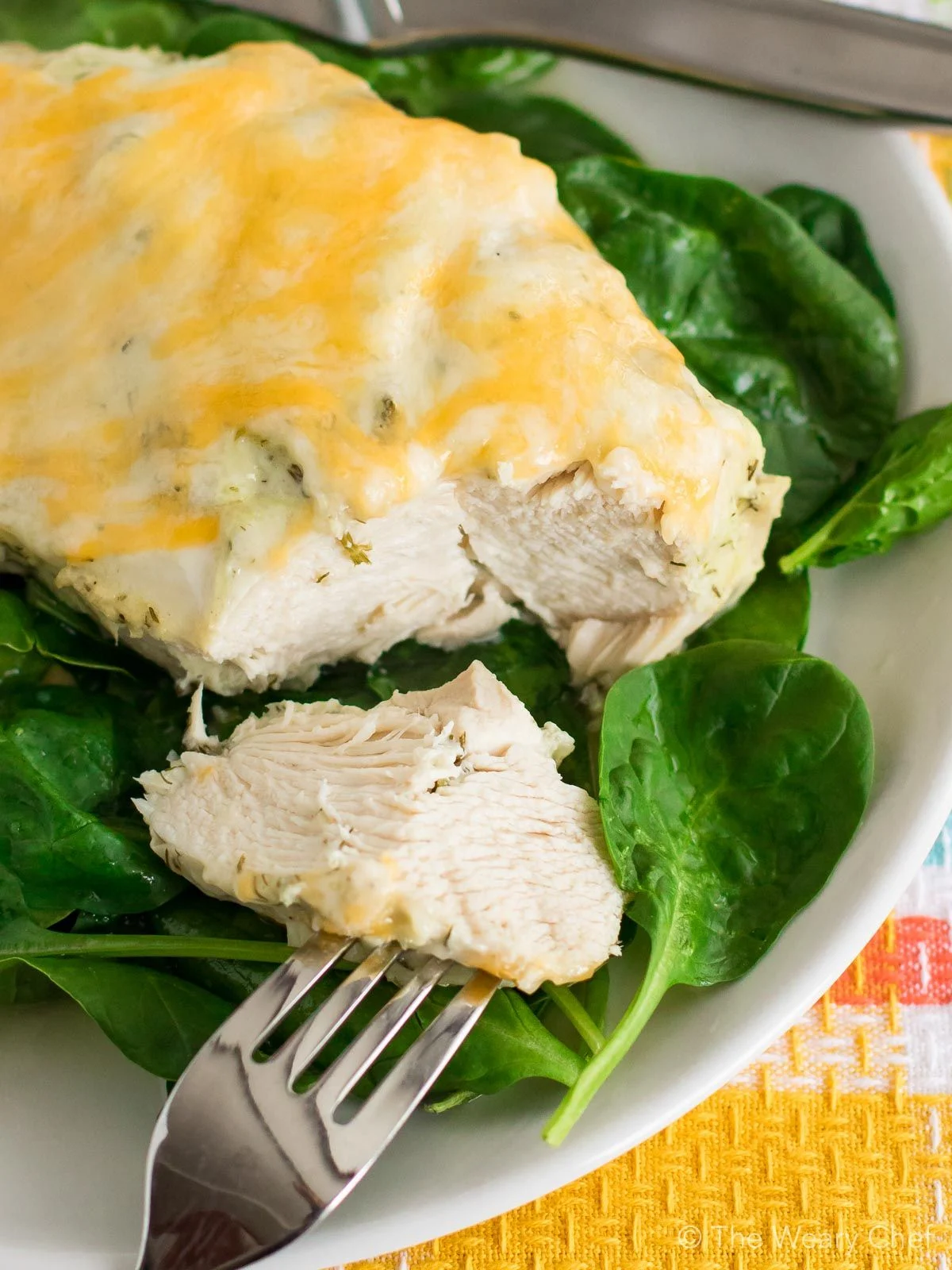 Try this easy chicken recipe with scalloped potatoes for a real treat. You can bake the potatoes and chicken at the same time! Even my kids enjoyed this yogurt chicken recipe, and I hope your family likes it too.
Print
Greek Yogurt Chicken with Herbs
This moist, baked yogurt chicken recipe is a perfect easy dinner recipe!
Total Time:

45 minutes

Yield:

4

1

x
4

boneless, skinless chicken breasts

1

cup

plain Greek yogurt

1/4

cup

chopped herbs of your choice (I chose dill and parsley.)

1/2 teaspoon

kosher salt
black pepper to taste

1

cup

shredded colby jack cheese

4

cups

baby spinach leaves (optional)
Instructions
Cut deep slits in both sides of each chicken breast, being careful not to cut all the way through the chicken.
In a medium bowl stir together yogurt, herbs, salt, and pepper. Mix chicken into the yogurt mixture, making sure yogurt completely coats each piece and gets into the slits. Allow to marinate for 2-24 hours.
Preheat oven to 350 degrees F. Cut four pieces of foil to about 18 inches long. Place a piece of chicken diagonally in the center of each piece of foil. Bring two corners to the center, and fold down. Fold and pinch other two corners to the middle to close and make a seal. (See image.)

How to wrap your yogurt chicken in foil to bake.

Place foil packets on a cookie sheet, and bake 20-30 minutes. (Very thick cuts of chicken will need the longer bake time.)
Carefully open the foil (watch out for steam!!), and fold down the sides to make a little boat. (You don't want to lose the juices inside.) Spread about 1/4 cup cheese over each piece of chicken, and return to the oven for about 5 minutes or until the cheese is melted.
To serve, place a bed of spinach leaves on a plate, and carefully pour the juices from a foil packet over the spinach. Then, transfer the hot, cheesy, greek yogurt chicken on top of the spinach leaves. Enjoy immediately.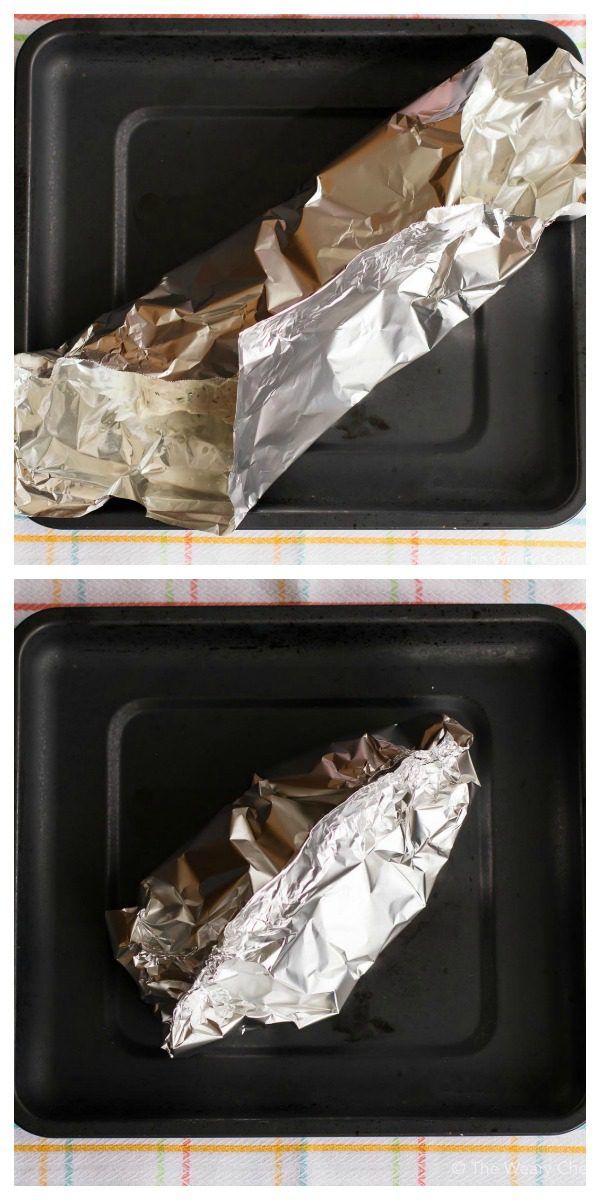 Notes
Serving the chicken over spinach is optional. It would also be great over rice!
Author:

Prep Time:

10

Cook Time:

35

Cuisine:

Greek
Keywords: Greek Yogurt Chicken, Greek Yogurt Chicken with Herbs