Get the energy boost you need with this deliciously easy Chocolate Cherry Almond Energy Balls Recipe! Thanks to Amanda from The Chunky Chef for bringing us this tasty treat :)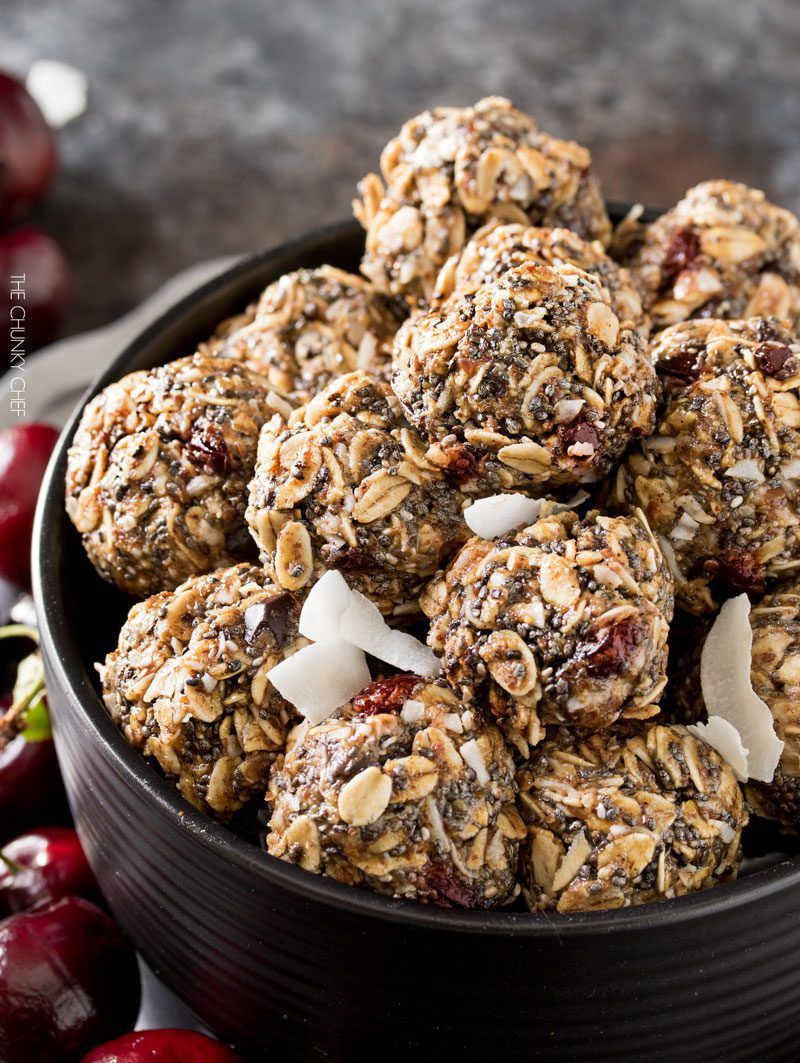 Picture this: You've been working hard since 7am, plugging along like a champ, until 2:30pm hits. All of a sudden, the exhaustion settles onto you like a dark, heavy blanket. A nap sounds like something you not only would like, but need. Except, you still have another 2 hours of work left, so unless you pull a Costanza and sleep under your desk, you're going to need some energy… and fast!
Sure, you could have yet ANOTHER cup of coffee, or one of those candy bars you have hidden in your desk drawer (shhh, I won't tell)… but why not try something different this time? Like these chocolate cherry almond energy balls!
Chewy, sweet, and deliciously satisfying… these little balls are PACKED full of energy providing ingredients… plus… rich, decadent dark chocolate.
These energy balls are great for more than that annoying mid-afternoon slump. Try a few for breakfast alongside some yogurt and your life will be changed. Easy, convenient, portable, and frankly… amazing!
There's one downside… the chia seeds can get stuck in your teeth (or at least, they tend to get stuck in mine), so just keep a little travel floss container in your purse and you're good to go ;)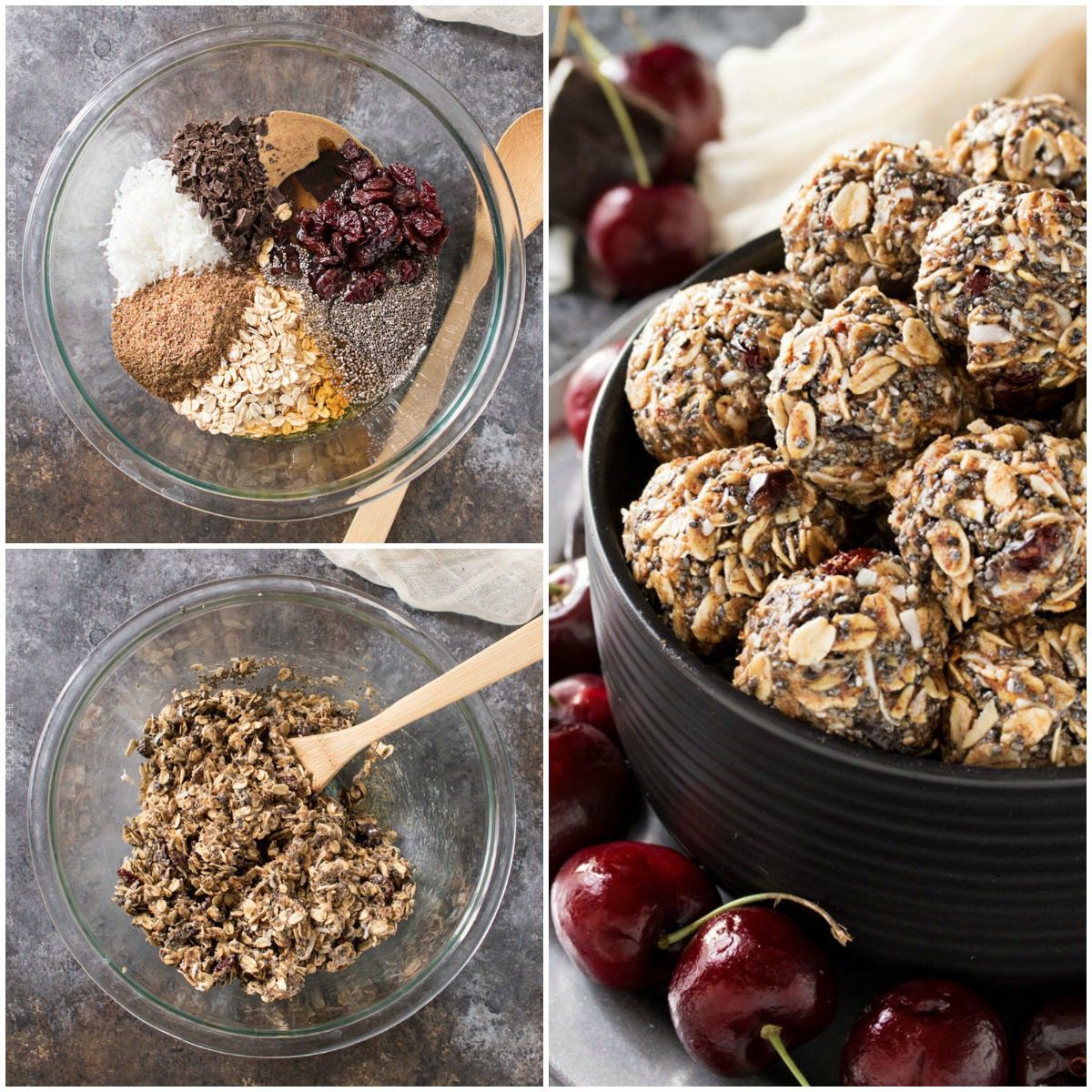 I made these energy balls with my favorite ingredients, but feel free to switch things up if you prefer a different dried fruit or nut butter. Cashew butter is phenomenal in these as well!
For some kids, these might even be considered kid-friendly… but my daughter said they looked "weird" and wouldn't try them… although she tends to say that about a LOT of things, so who knows.
Making these balls can be a little tricky, as they can stick to your hand. I really recommend using a small cookie scoop (mine is about a tablespoon size), that way they're nearly in ball shape before they even hit your hands. You can find a cookie scoop on Amazon here (affiliate link).
These energy balls store best in an airtight container in the refrigerator, but can also be frozen for a longer shelf-life. To play it safe, I only keep these balls in the refrigerator for a week, but they might last longer… mine just tend to be devoured well before the week is over.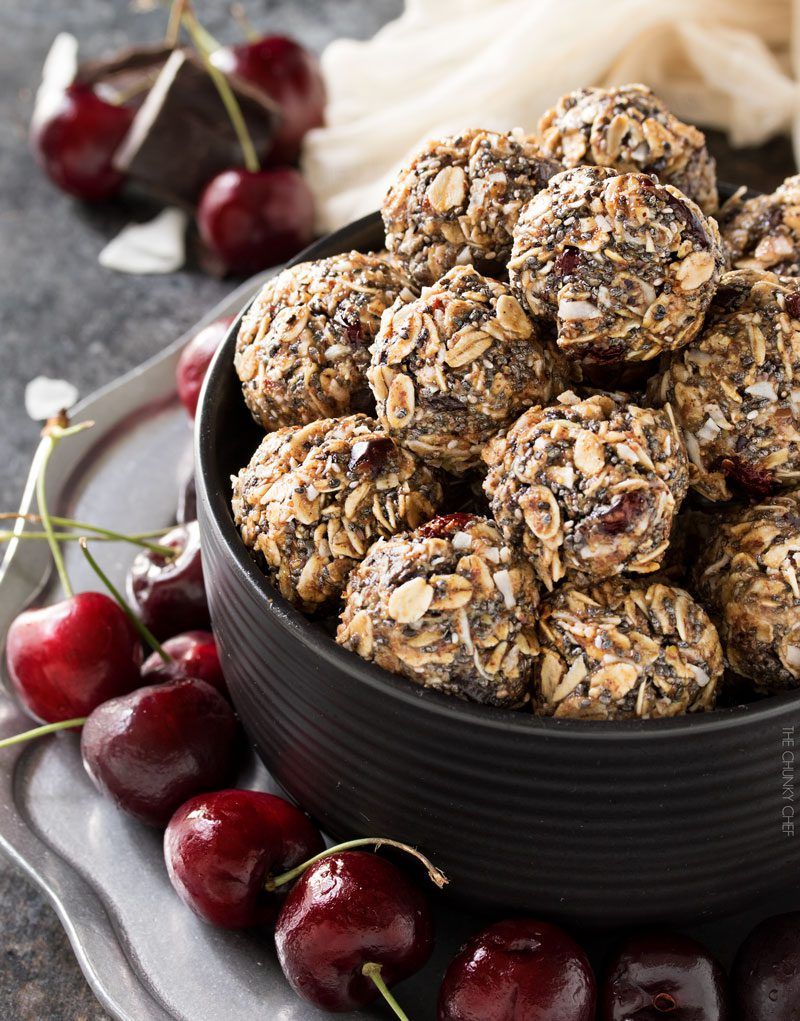 Have you tried energy balls before? Which is your favorite kind?
Print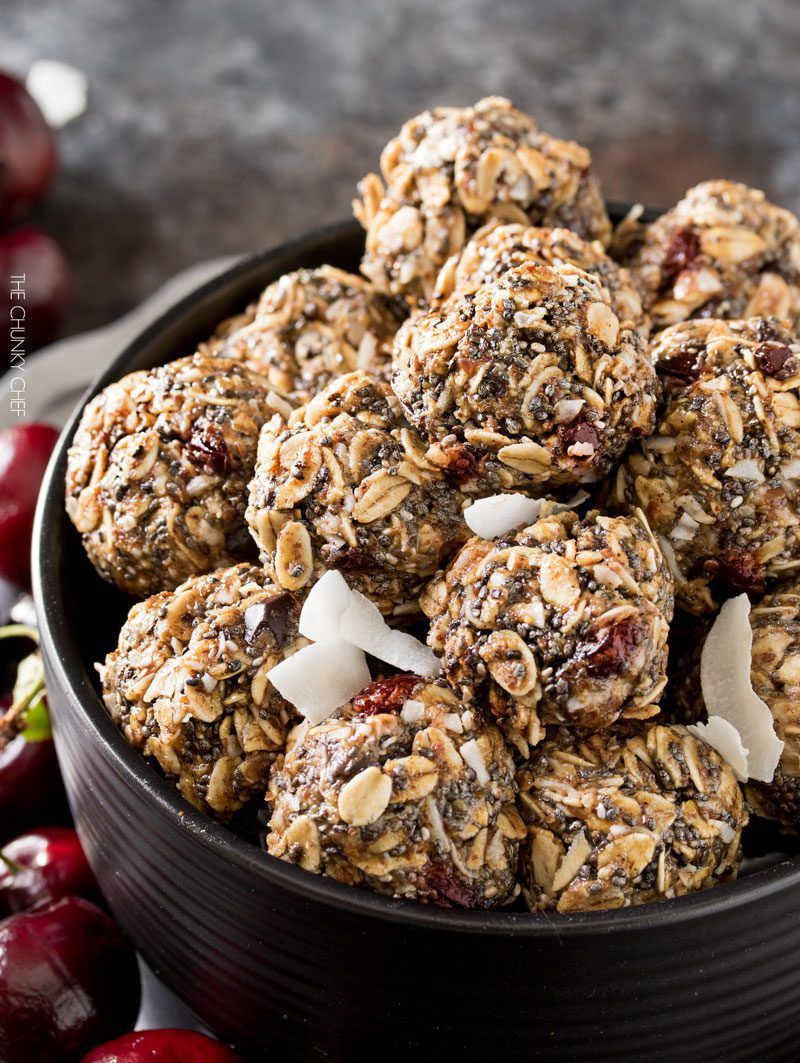 Cherry Chocolate Almond Energy Balls
Get the energy boost you need with these deliciously easy Chocolate Cherry Almond Energy Balls!
Total Time:

50 minutes

Yield:

4

1

x
Instructions
Combine all ingredients in mixing bowl and stir together until combined.

Cover with plastic wrap and place in refrigerator for 30 minutes – 1 hour.

Use a small cookie scoop (tablespoon size) to scoop the mixture into a rough ball shape, then use hands to form into round balls.

Store energy balls in an airtight container in the refrigerator, or freeze.
Author:

Prep Time:

20

Cook Time:

30
You may also enjoy…