This week's menu of easy dinner recipes features new favorites like Italian Roast Beef Sandwiches and Shrimp Pasta Salad. I also included some quick fix meals that don't even need a recipe. Read on to plan your dinners for the week!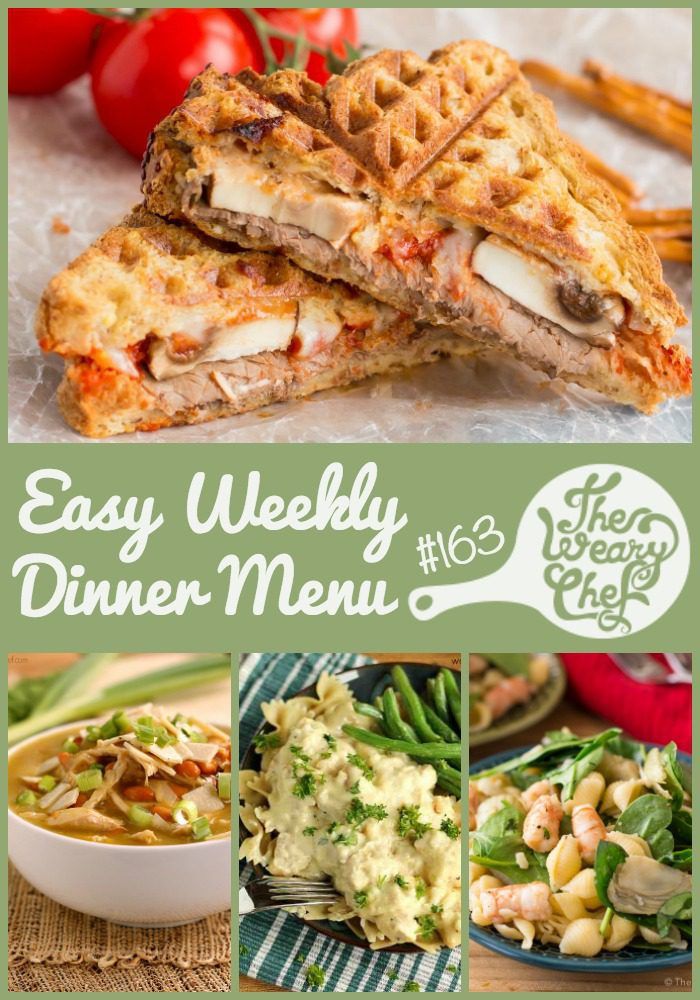 Hi! I've had my hands full the past couple days, and weariness is high right now! I only told my email subscribers exactly what's going on because it's kinda embarrassing, and I don't want it in the Internet archives forever more. That's why you should subscribe right now so you get all the deets in the future ;)
Speaking of being weary, I feel I should tell you that I don't actually make all seven recipes I share in my weekly menus. I do make dinner at home almost every night, although sometimes we get delivery once a week or so. Some of my meals just don't make it to the blog because they're too easy to even be called a recipe. I figured most of you have a couple extra easy nights each week too, so I figured I'd try adding those dinner ideas in here too. This week I have five easy recipes plus two "quick fix" meals that require minimal brainpower or energy. Let me know what you think about this in the comments!
NEW: Italian Roast Beef Sandwiches
NEW: Shrimp Pasta Salad with Spinach
Quick Fix: Easy Bean Tostadas – I almost always have everything on hand to make these, and they are really tasty! Just spread canned refried beans on corn tostadas, and sprinkle shredded Mexican cheese on top. Bake at 375 degrees for 8-10 minutes. Top with shredded cabbage or lettuce and salsa.
Slow Cooker Chicken Stroganoff
Quick Fix: Turkey Burgers with Fries – Buy the pre-made ground turkey burgers in the meat section, and season them with your favorite marinade or seasoning blend. (My favorites are Dale's marinade or Cajun seasoning.) Cook them in a hot iron skillet while baking frozen fries or tater tots for 25 minutes in a 450 degree oven. Top with all your favorites like lettuce, tomato, pickled jalapeños, whatever you like. Buns are optional.
Breakfast for Dinner Hashbrown Casserole
Green Chicken Enchilada Soup
What's for dessert? I'm sure you'll pick something with Cool Whip after you check out this roundup!