In the time it takes to cook the noodles, you can be enjoying this easy shrimp pasta in a pesto white wine sauce!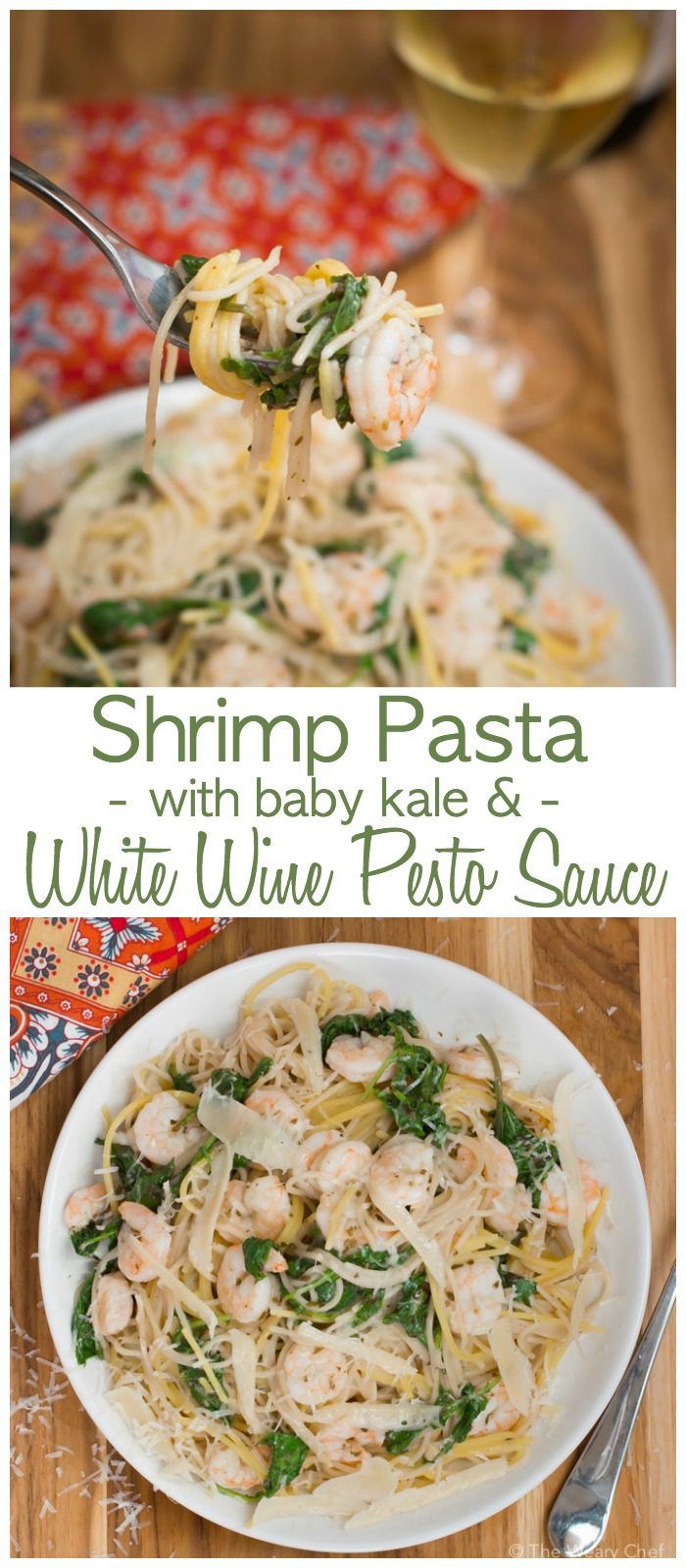 This is one of those meals that is fancy enough for guests but is secretly super easy. This is actually one of the quickest, easiest recipes I've shared in a while! In the time it takes to cook the pasta, you have a restaurant-quality shrimp pasta dish ready to serve.
I'd like to tell you an impressive story about my inspiration and research for developing this recipe, but it's really not impressive at all. We were at Trader Joe's last week, and I bought a bag of baby kale thinking I'd figure out some way to use it. Then it was Father's Day, and I needed to come up with a nice dinner. Put those together, and you have this meal! I bought some shrimp and had everything else on hand for this pesto white wine sauce.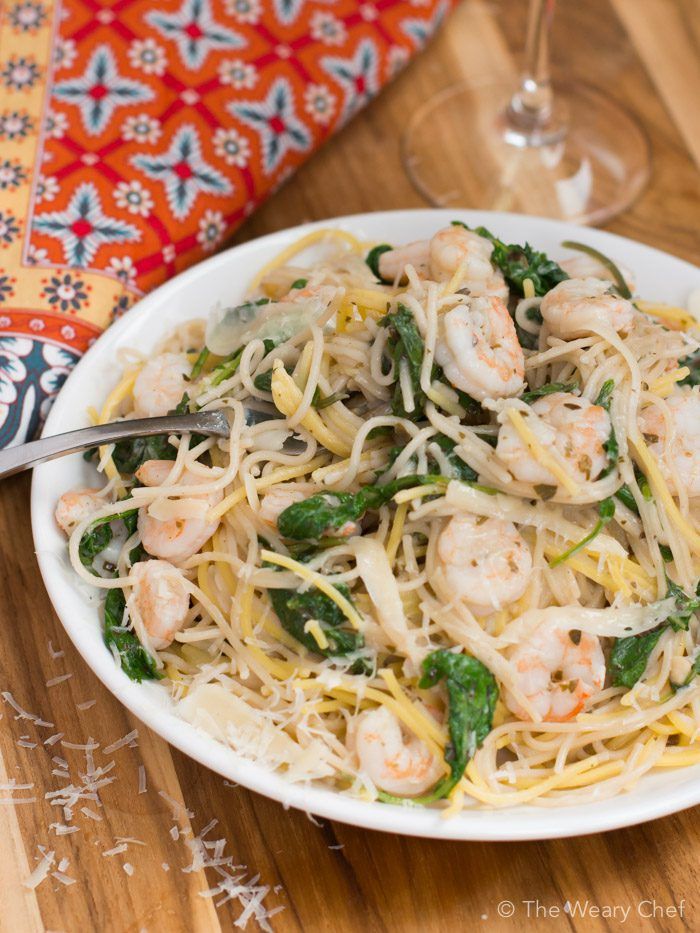 If you don't consume wine, I'm sorry. Just kidding! If you don't want to use the wine in this recipe, just use all chicken broth. The flavor will be a bit different but still delicious. If you are watching carbs, the shrimp and kale would be wonderful even without the pasta! Or, you could try it over spaghetti squash instead of pasta. Tailor this light and easy dish to your needs, and I know you will enjoy it.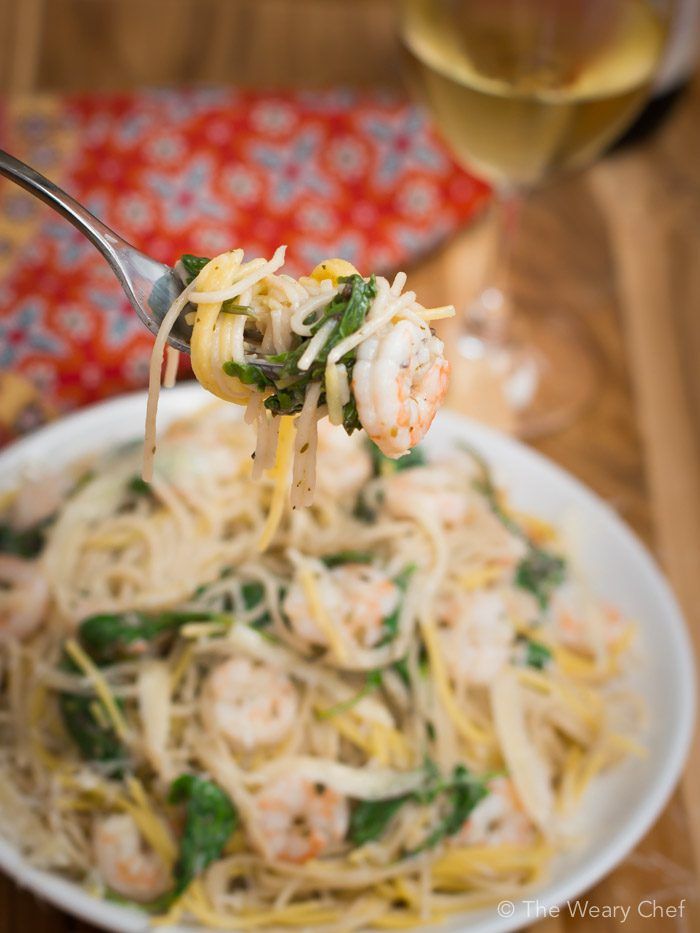 Print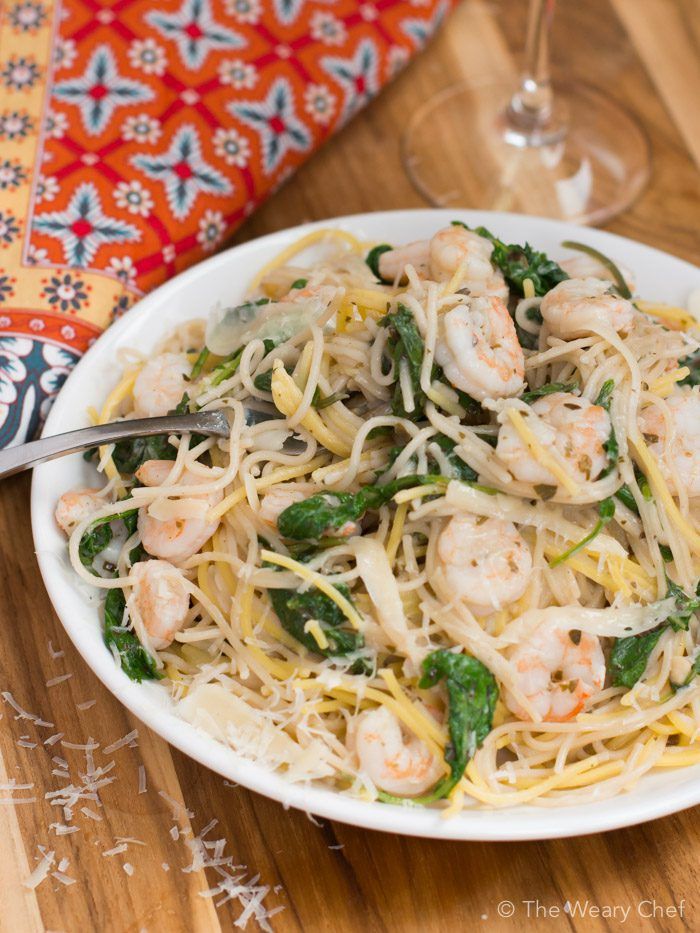 Shrimp Pasta with Pesto White Wine Sauce and Baby Kale
This light and delicious dinner is very quick to prepare but fancy enough for guests!
Total Time:

15 minutes

Yield:

6

1

x
Instructions
Bring a large pot of lightly salted water to a boil. (Cover pot to make it boil faster.) Cook pasta according to package instructions and drain.

While pasta cooks, add chicken broth, wine, and pesto to a 12″ skillet. Stir and bring to a simmer over medium-high heat. Simmer for 3-5 minutes to cook off the alcohol from the wine. Add red pepper flakes to taste if desired.

Add shrimp and kale, and gently stir often. (See note below regarding shrimp sizes.) Cook until shrimp are pink and kale is wilted, approximately three minutes. Turn off heat.

Stir in cooked pasta. Sprinkle individual servings with parmesan if desired.
Notes
I like using small, bite-sized shrimp for pasta recipes, like 71-80/pound. If you use larger shrimp, you should add them before the kale and cook them slightly longer. Shrimp are done with then they are uniformly pink and C-shaped.
You'll also enjoy this light shrimp scampi alfredo recipe!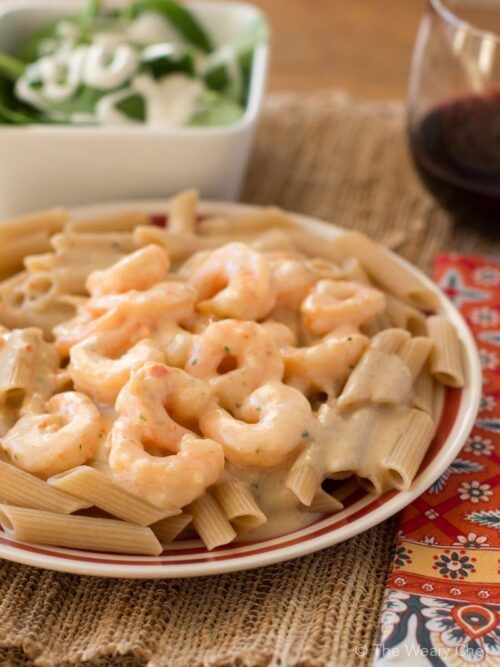 More recipes from my friends around the web:
Pesto Pasta with Grilled Chicken (Spiced Blog)
Kale Pesto Pasta (Kristine's Kitchen)