Hello! I have a fun and easy dinner recipe for you today called Cheeseburger Stuffed Baked Potatoes. It combines the taste of a cheeseburger and fries in one gluten-free recipe!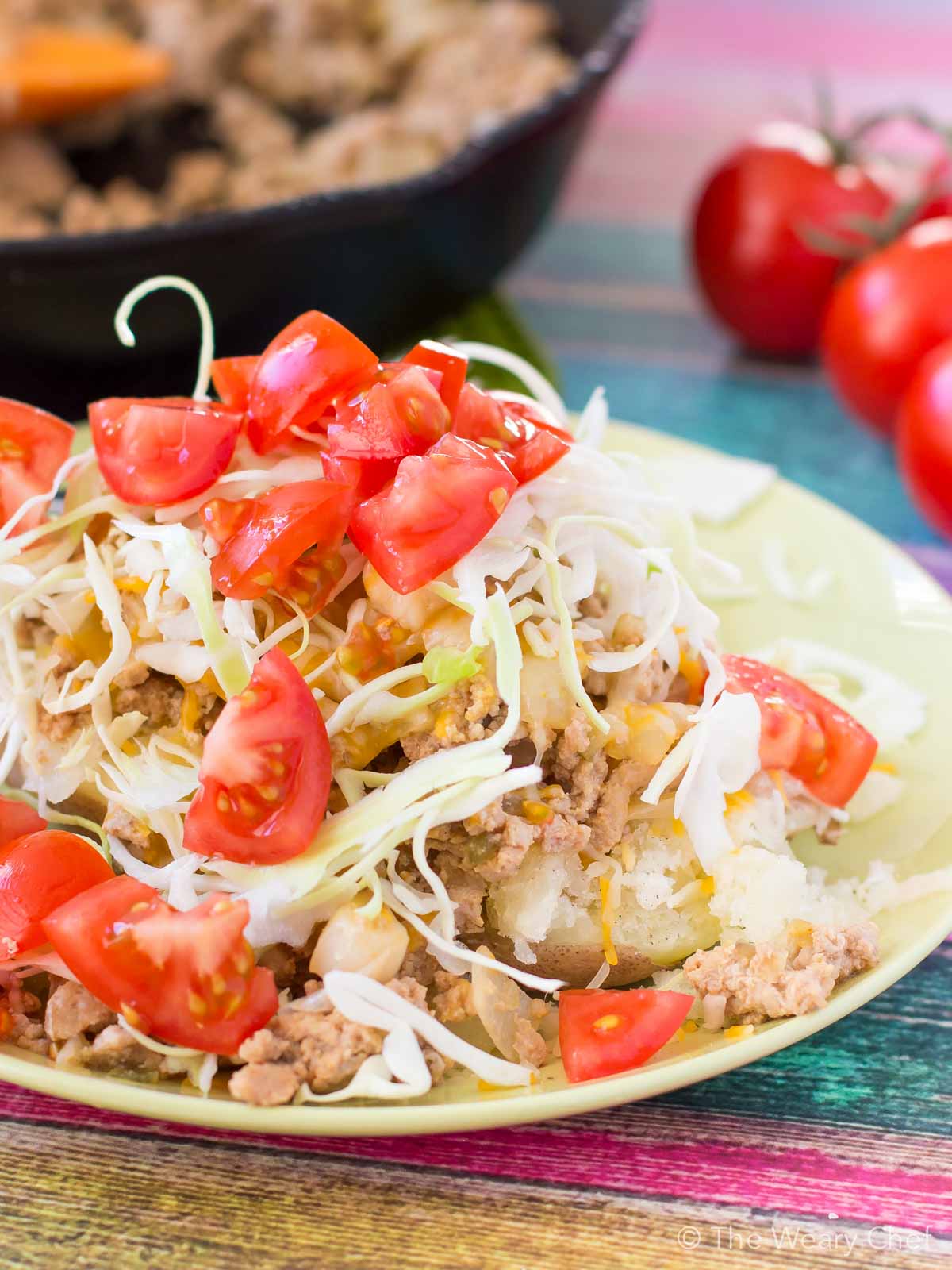 Before I get to the food, let me tell you a little story. I learned a lesson the hard way this weekend: Just because a road appears on Google Maps doesn't mean that's it paved or even driveable. Take a look at this route for example:
I thought it would be fun to try taking this back way to our house in the country. Maybe I should have taken the ETA of 48 minutes to drive 14 miles as a clue, but I thought this was an actual road that normal people could drive on. As it turns out, Google doesn't have an icon for "paved road ends here" or "huge muddy puddle covers the entire road" or "a tree fell in the road but no one moved it because no one actually drives this way." I drove this crazy route by myself, and I was honestly scared I wouldn't find my way out after about an hour on dirt roads deep in the foothills. Thankfully I did have Google Maps to show me where I was and keep me on the right "road," or else I probably never would have made it home. I was pretty sure I was going to get stranded and eaten by a bobcat or abducted by crazy mountain people for a while there, especially as it started getting close to sundown.
Fortunately, I did make it out alive. My car is COVERED in thick mud, and I think I knocked my wheels out of alignment. It was a bumpy ride home yesterday, but at least I can say I had an adventure. Now I'm back to reality in the city, and I cooked up a quick and easy dinner for you! These cheeseburger potatoes are so simple and fun to make (and eat). All you need is a baked potato, seasoned ground turkey or beef, and a few toppings. First bake your potatoes, slice them in half, and fluff the inside.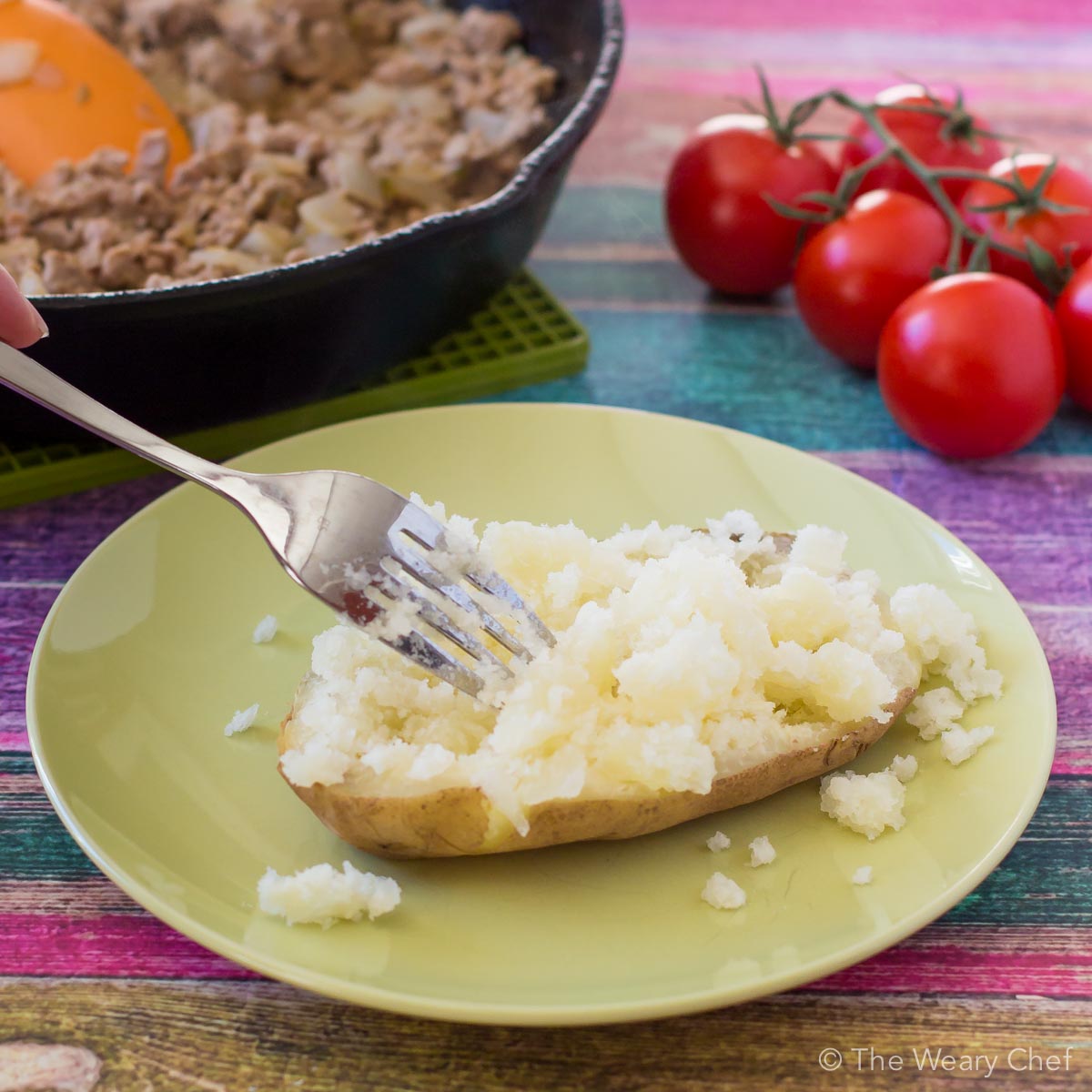 Next, I had a hard time deciding if I should put cheese under or on top of the meat, so the obvious choice was BOTH.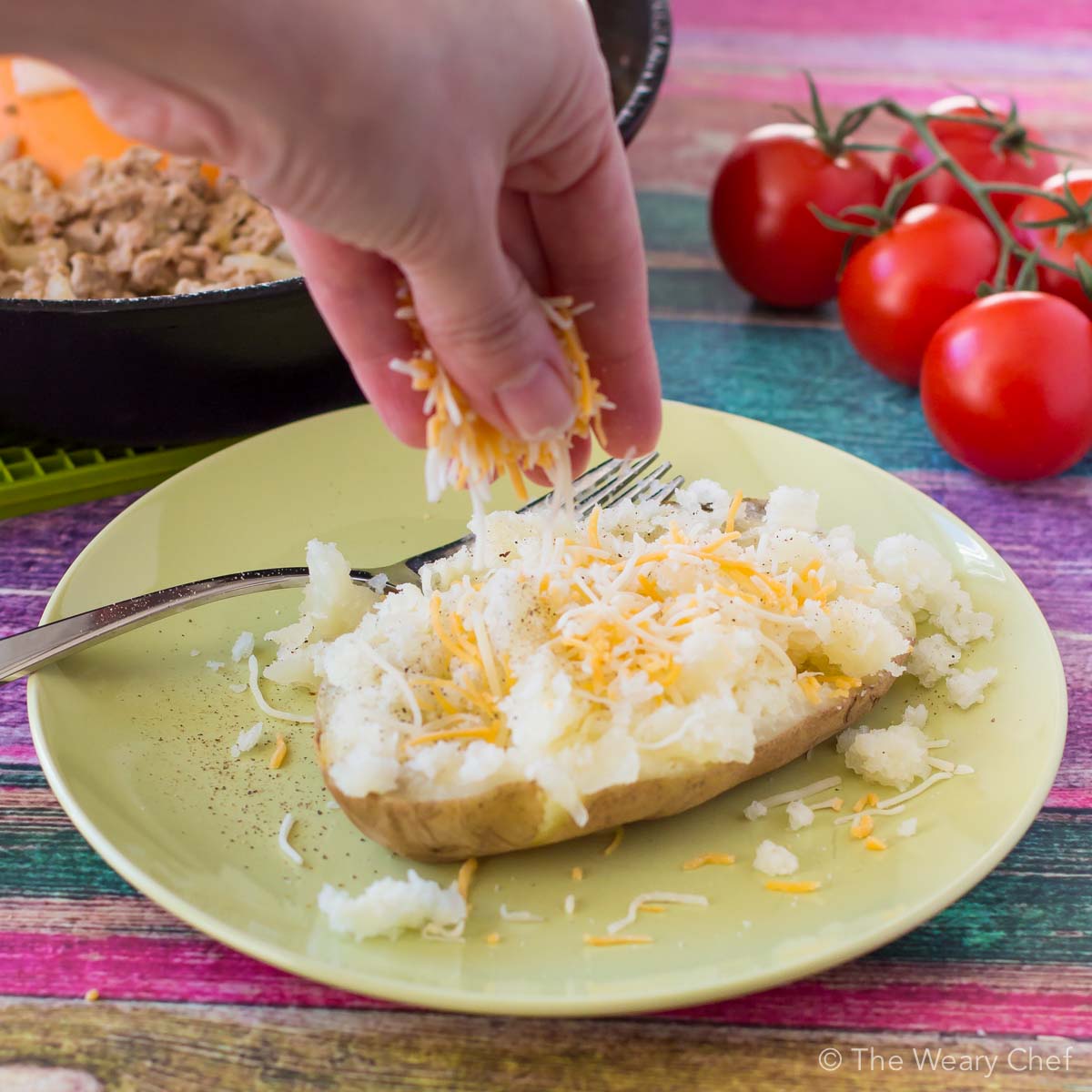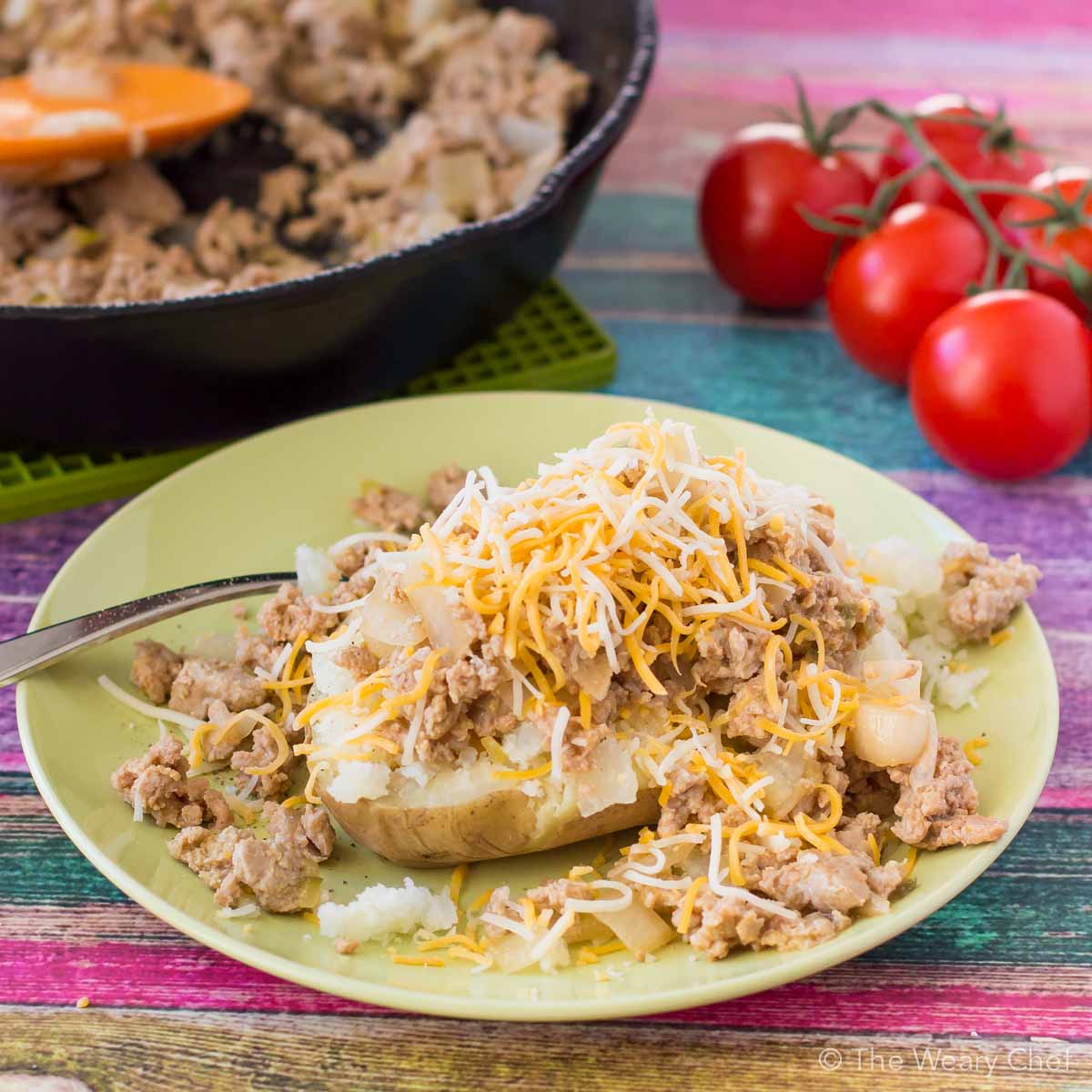 Finally, top it with shredded cabbage and chopped tomatoes. Of course, you could use shredded lettuce if you prefer, but I like to sub in cabbage when I can since it has extra vitamins. It also stays nice and crisp even when it's placed atop hot cheeseburger meat and potatoes.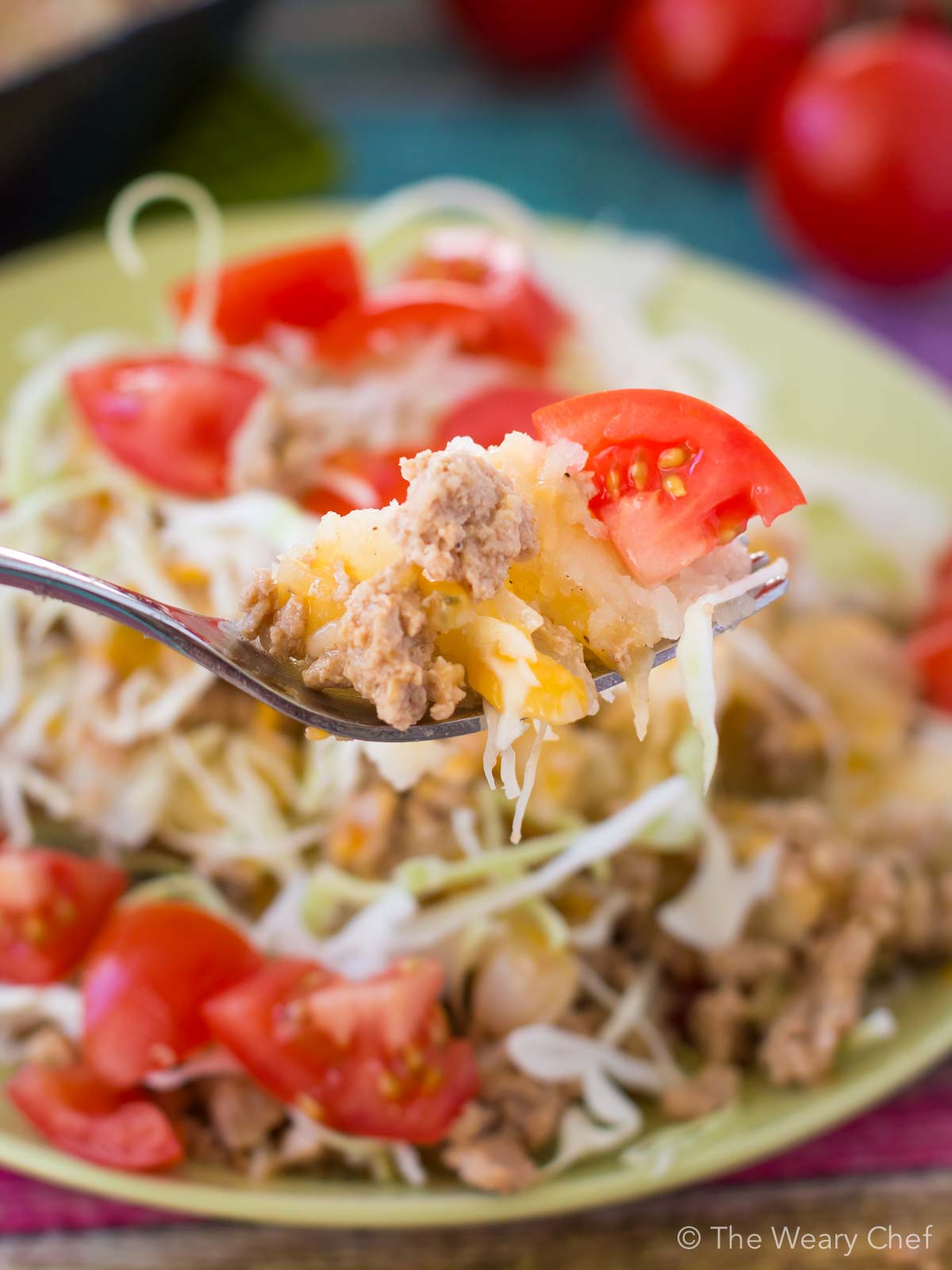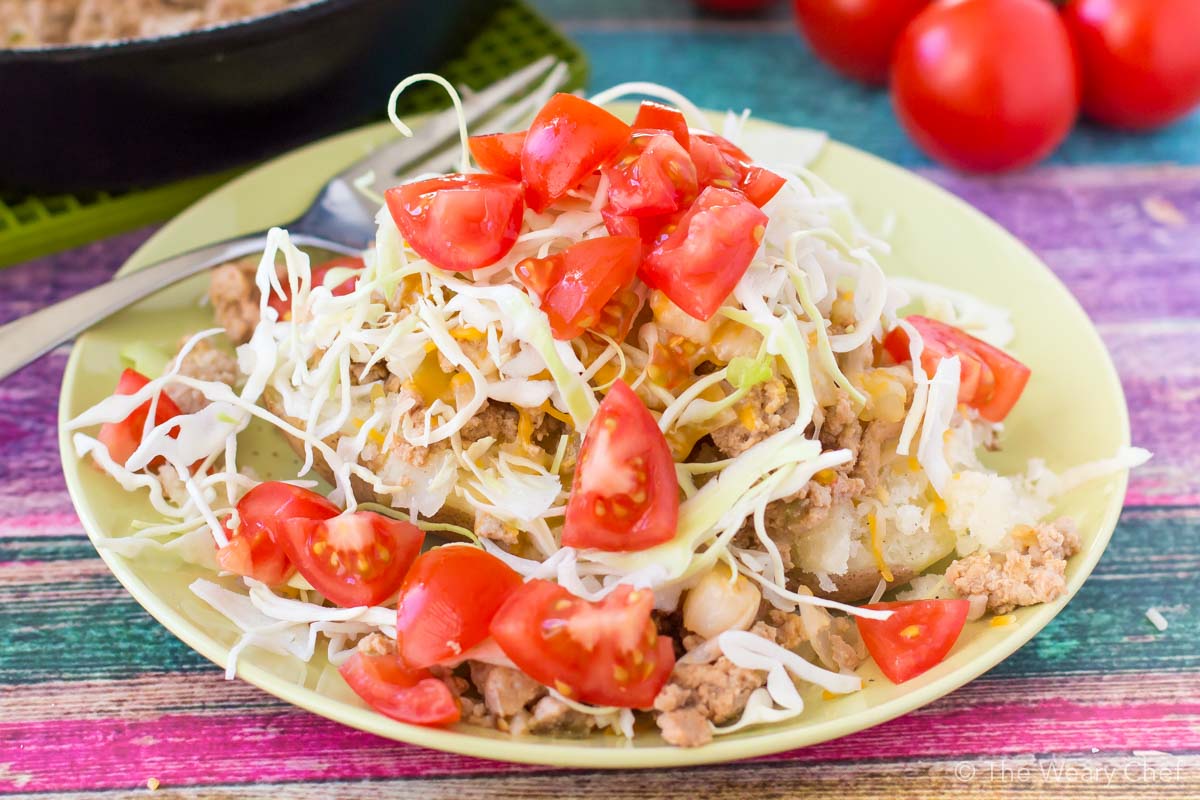 Print
Cheeseburger Stuffed Baked Potatoes
You are going to LOVE these quick and easy stuffed baked potatoes! Enjoy the flavor of a cheeseburger and fries in one gluten-free dish!
Total Time:

20 minutes

Yield:

4

1

x
Instructions
Scrub potatoes, and prick all over with a fork. Cook in microwave approximately 8 minutes, turning once. Potatoes are done when a fork can be poked to the center easily with very little resistance.

While potatoes cook, spray a skillet with cooking spray or add a little olive oil and heat over medium-high heat. Add onion to hot skillet, and cook until tender, approximately three minutes.

Add ground meat, ketchup, mustard, worcestershire sauce, and salt. Stir well, and cook and crumble the meat until cooked through.

Slice cooked potatoes in half lengthwise, and use a fork to fluff up the cooked potato, leaving the skin intact. Sprinkle with salt and pepper, and sprinkle a little cheese over the top. Spread a spoonful of meat over the potato, and sprinkle more cheese over the meat. Arrange cabbage and tomatoes over the potatoes, and serve.
Author:

Prep Time:

5

Cook Time:

15
If you have leftover meat or want a lower carb meal, try these cheeseburger salads!