This quick and easy teriyaki salmon recipe tastes like it came from your favorite Japanese restaurant! You'll love the snap peas with a simple lemon soy dressing on the side too.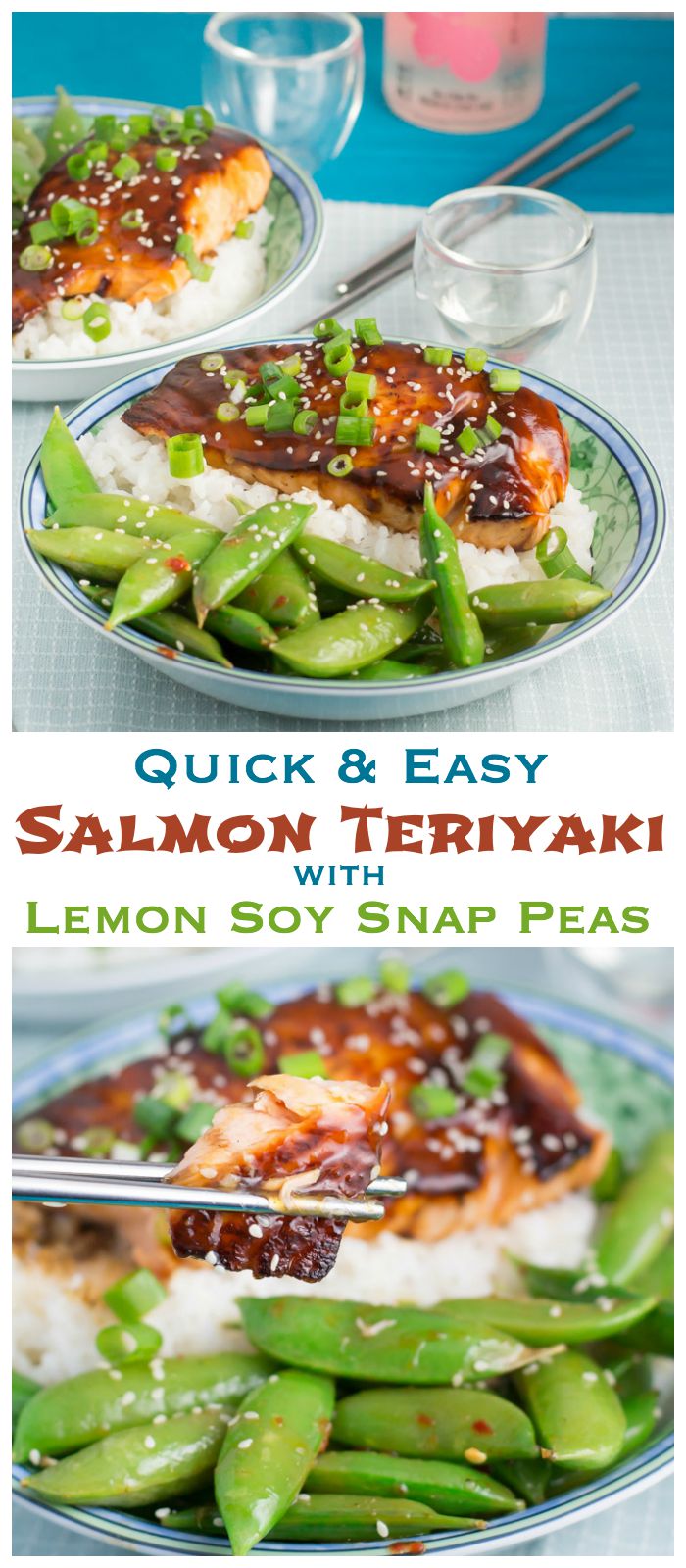 During the summer months, everyone is talking about no-bake recipes, but let's not forget another recipe hero for hot days: The microwave. That thing is not just for popcorn, people. Sure, it can't sear meat, and it turns pizza crust to rubber. Still, it has its place for melting chocolate, steaming veggies, or heating liquids. Today's dinner isn't entirely made in the microwave, but it does put it to good use to limit the amount of cooking you need to do on the stove. If you get frozen rice (which I love), that's another piece of this meal you could make in your microwave!t
While this recipe doesn't need much stove cooking, I'm going to be 100% honest and say the part that does need the stove is kinda messy. You are going to want to use a skillet with a lid or splatter guard to cook this teriyaki salmon because the sauce splatters and smokes like crazy. It's totally worth it though, believe me. I was so sad when my last bite of salmon was gone. This is honestly as good as salmon teriyaki I've had at any Japanese restaurant I've tried, and it's so easy to make!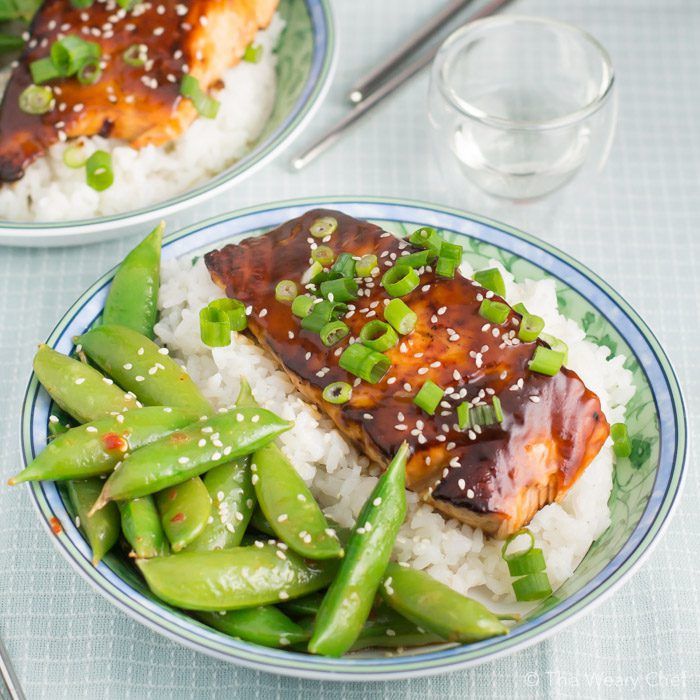 I told you that I made my own teriyaki sauce for the hot dog kebabs earlier this week, and I used what was left for this recipe. You can click here to see the recipe I used from Food.com. It's so good that it was my pleasure to eat teriyaki twice in a week! I mostly followed the sauce recipe exactly, but I reduced the sugar a little and made mine in the microwave instead of on the stovetop. So easy! Of course, it would be even easier to just use bottled teriyaki sauce if you prefer :)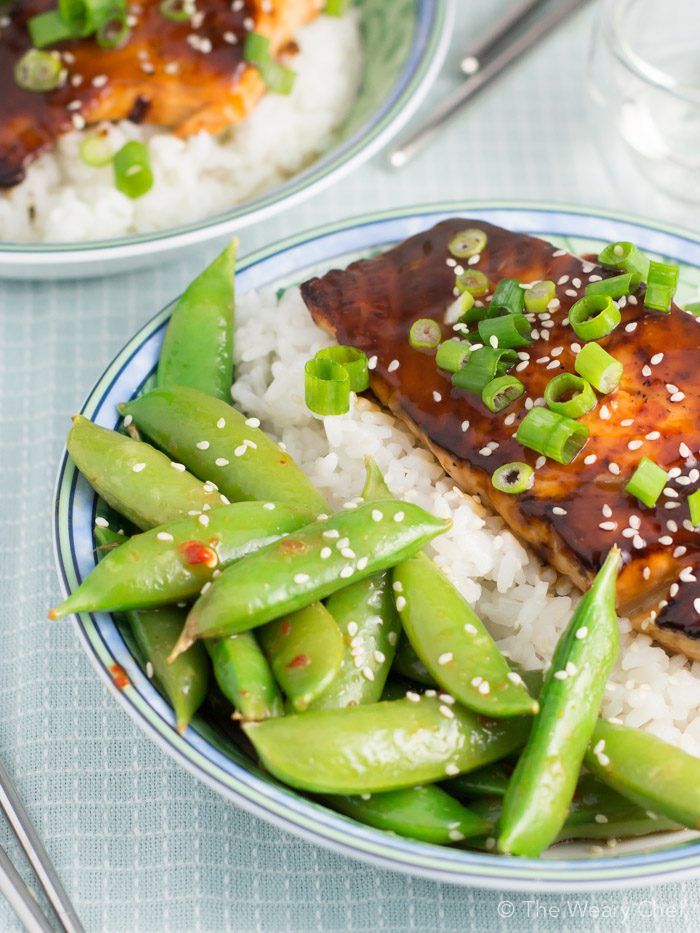 These snap peas are really simple to make. Stir together the sauce while the peas are steaming in the microwave, and then toss it all together. The tart and sweet snap peas were a nice contrast to the sweet, savory teriyaki salmon. We really loved this dinner all around, and I know you will too!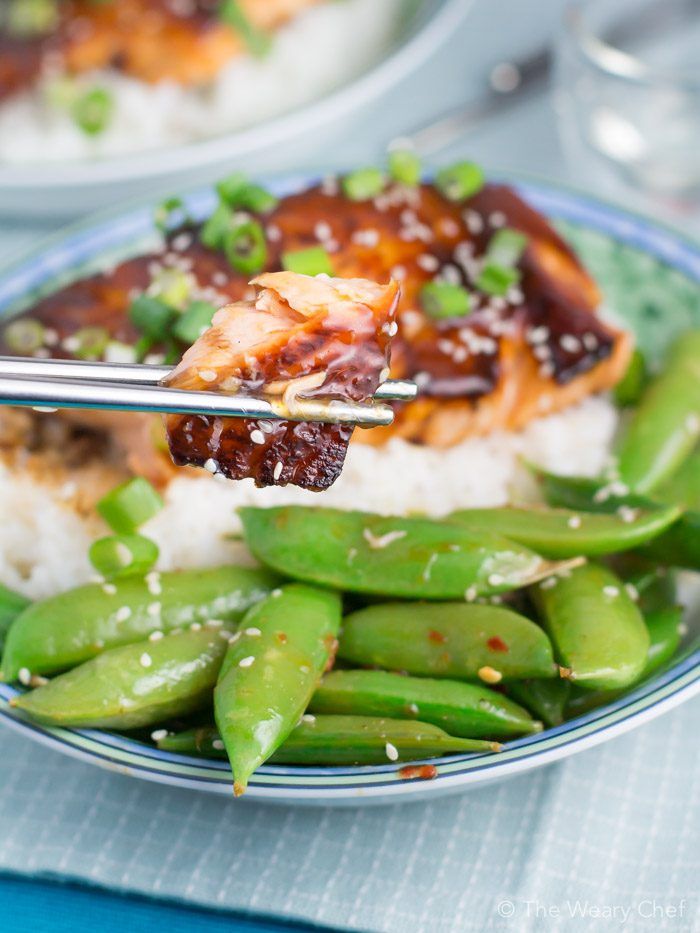 Print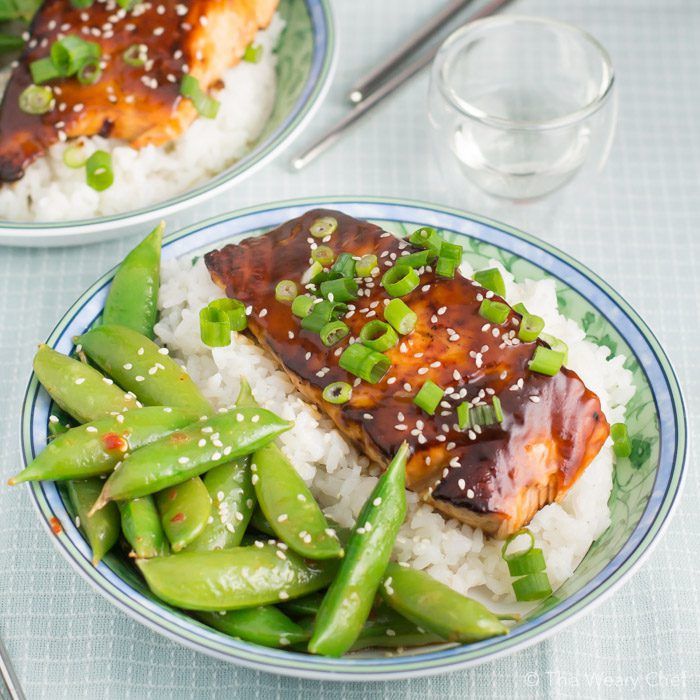 Teriyaki Salmon and Lemon Soy Snap Peas
This dinner tastes like it came from a restaurant, but it's so easy to make!
Instructions
Spray a skillet with cooking spray, and heat over medium-high heat. Place salmon fillets skin-side down in the hot skillet, and cook for approximately 3 minutes until the skin is well browned. Flip fillets over, and carefully remove skin by sliding spatula between skin and flesh, and peeling off. Discard skin.

With a spoon or basting brush, spread about a tablespoon of teriyaki sauce over the salmon. (Expect smoking and splattering, so be ready with the lid or splatter guard.) After cooking for about five minutes on this side, flip salmon again. Baste the top side with sauce, and cover. Cook about two minutes longer, turn off heat, and wait for splattering to stop. Remove lid, and baste a final time. Serve over hot rice.
Place snap peas in a microwave-safe bowl, drizzle with a couple tablespoons of water, and place a plate on top of the bowl. Microwave for two minutes, and allow to rest a few more minutes to continue steaming.

Meanwhile, stir together all dressing ingredients. Carefully remove plate from peas, and pour off excess water. Toss with dressing, and serve.
Here are some other easy Asian dinners you'll enjoy: