This loaded Mexican pizza is stuffed with beans and seasoned meat then topped with avocado, olives, and more!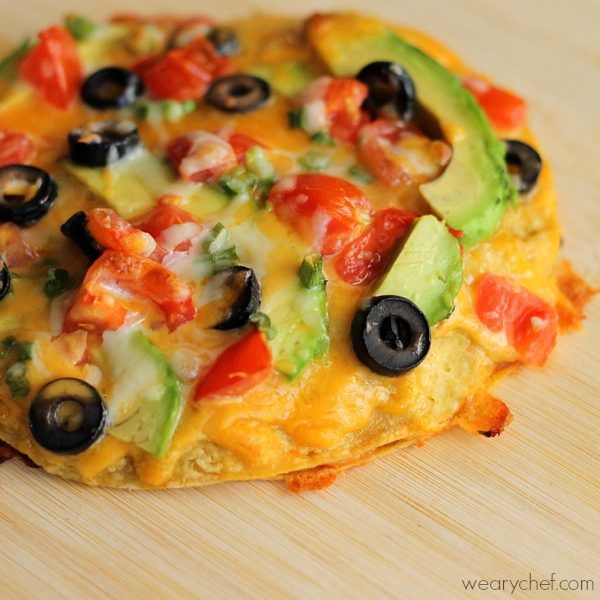 I should go ahead and apologize right now for the excessive photos of this easy Mexican dinner. You don't mind, right? It's so dang colorful and cheesy and delicious looking that the camera loved it. So did we!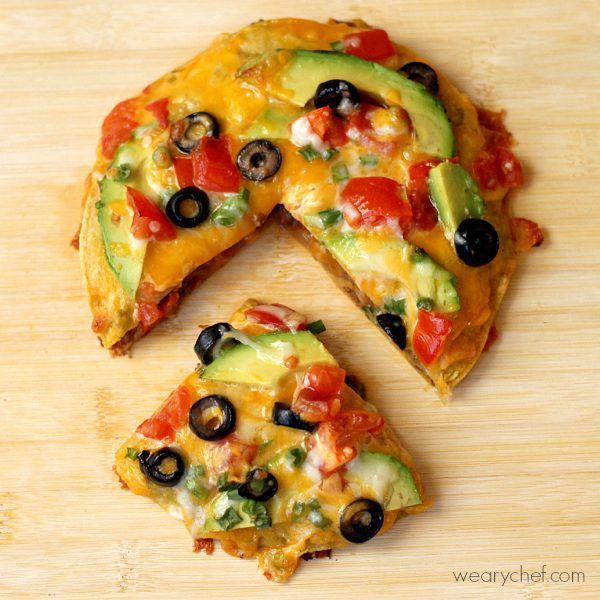 I remember getting Mexican pizzas at Taco Bell when I was a kid and thinking they were fast food rocket science. How clever to combine two of my favorite foods: tacos and pizza! I haven't had their version in many years, but I do still remember them fondly. This week I wanted to make a version of my own. It's not quite a copy-cat recipe since I would be basing it on a 25-year-old memory, but I do give good ol' Taco Bell credit for the idea.
This version uses corn tortillas, not crispy ones, so it is best eaten with a fork. I did manage to hold and eat one piece like a regular slice of pizza, but the rest were a bit too soft. These Mexican pizzas are very, very easy to make. Here, I'll show you:
| | |
| --- | --- |
| | Like this recipe? Click the stars to rate it! |
Servings

Prep Time

4

10

minutes
Servings

Prep Time

4

10

minutes
Servings

Prep Time

4

10

minutes
Servings

Prep Time

4

10

minutes
1

lb.

ground beef or turkey

or use all one kind of salsa if you prefer

3

c.

Mexican blend shredded cheese

1

small can sliced black olives
Preheat oven to 400 degrees F. Line a baking sheet with aluminum foil, and spray with cooking spray. (Seriously, or else your pizzas might stick.)

Heat a skillet over medium high heat and spray it with cooking spray. Add ground meat and spices, and brown and crumble until cooked through.

Spread ¼ c. refried beans evenly over four tortillas, and place them on the prepared baking sheet. Evenly spread meat over beans (you will probably have some leftover). Sprinkle ¼ c. cheese over the meat, and drizzle with 2 tbsp. red salsa.

Place another tortilla on top, and spread 2 tbsp. green salsa evenly over that one. Sprinkle ¼ c. cheese over the salsa, and arrange avocado, olives, tomatoes, and green onions over the cheese. Sprinkle ¼ c. cheese over the top of each pizza.

Bake in preheated oven for 8-12 minutes, until cheese is melted and bubbly. Carefully remove each pizza with a large spatula and serve.

© The Weary Chef 2013-2016
Click
Add to Shopping List
This recipe is in your Shopping List
to save these ingredients.
Click here to go to your grocery list!
Got leftover taco meat? Try using it in this Creamy Mexican Dip!