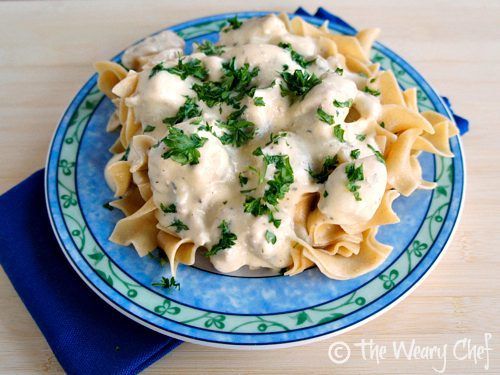 This flavorful slow cooker chicken stroganoff recipe is easy to make in the afternoon, so you don't have to rush to cook at the end of the day.  If you want to try making your own Italian dressing mix instead of using the packaged version, there is a great recipe here.  I've done that the last couple times with excellent results, plus it's way cheaper than buying the packets!
Adapted from Slow Cooker Chicken Stroganoff by Judi Ann at AllRecipes.com
Slow Cooker Chicken Stroganoff
This zesty chicken stroganoff only takes a couple hours to make in the slow cooker, and then dinner is ready to go!
Ingredients:
4 boneless, skinless chicken breasts, cut into bite-sized pieces
2 tbsp. butter
0.7-oz. Zesty Italian salad dressing mix packet (or 3 tablespoons of homemade mix)
4-oz. reduced-fat cream cheese
10.75-oz. can reduced-sodium cream of chicken soup
¼ c. sour cream (reduced fat or regular is fine)
bag of whole wheat egg noodles (12-16 ounces)
Instructions:
Place chicken, butter, and salad dressing mix into slow cooker. Cook on low 2-3 hours, until chicken is cooked through. Stir occasionally during cooking process if you are around.
Stir in soup and cream cheese. Cook on high for 30 minutes. Meanwhile, cook egg noodles according to package directions. Drain and set aside.
Add sour cream and stir stroganoff until evenly combined. Serve over warm egg noodles, or you can stir the noodles into the chicken mixture and serve it that way.
You might also like…
Related