These skillet Hawaiian BBQ Pork Chops with Pineapple are a delicious dinner you'll want to remember for busy nights!
I have to confess that I don't make pork chops that often. Usually, I'll make pork roast in the slow cooker, and then we'll have pulled pork sandwiches, carnitas, or even pork roast soup for leftovers. But those definitely fall and winter recipes, and since it's still warm out, I wanted to pan-fry the pork chops on the stove instead and add some magic pineapple to spice things up.
EASY AND QUICK HAWAIIAN RECIPE OF PINEAPPLE PORK
I should also confess that my kids are not that crazy about pork chops. Seriously, what's wrong with them, right?! Anyway, whenever I make something that my kids aren't crazy about, I usually add barbecue sauce. It's one of my secret weapons because those kiddos will eat just about anything if it has BBQ sauce. And if it has pineapple, even better!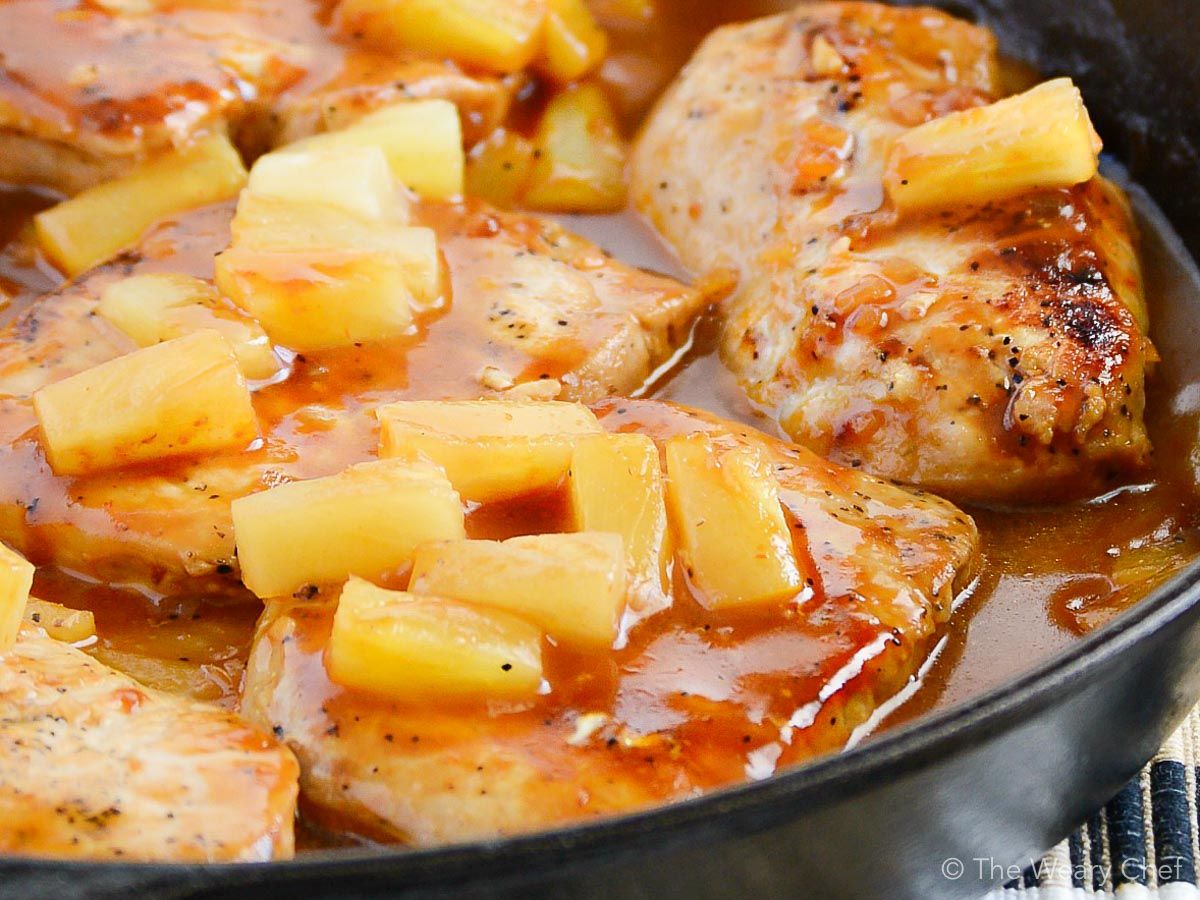 This is a super simple, quick, and easy Hawaiian recipe, and it comes together in less than 20 minutes. All you do is make the sauce, brown the chops, add the sauce to the pan, and let the chops simmer until done. I like to remove the pork from the pan and let the sauce boil and thicken before adding the meat back in, but I've also made it by just adding the sauce directly over the pork. It's really fine either way. Just do what you find easier.
Now personally, I like to cook the pork chops in a cast-iron skillet. It does an awesome job of browning the meat, and it holds heat well so the chops stay nice and warm. But any heavy skillet will work here. If you need an iron skillet, you can find one here on Amazon. 
I'm happy to say that my family loved these Hawaiian pineapple pork chops. I served them over couscous, but you can use rice, quinoa, or even mashed potatoes. Enjoy!
HOW TO MAKE HAWAIIAN PORK CHOPS WITH PINEAPPLE
| | |
| --- | --- |
| | |
Season pork chops on both sides with salt and pepper.

Mix the pineapple juice, barbecue sauce, brown sugar, sea salt, ginger, garlic powder and minced onions together until blended. Set aside.

Heat a large cast iron skillet over medium-high heat. Add olive oil and pork chops, and cook for about 2 minutes per side, or until golden brown.

Transfer chops to a platter, and cover with foil.

Add sauce to the skillet, and stir to release any brown bits from the pan. Bring to a boil, then reduce heat to medium.

Add pork chops back to skillet, and simmer in sauce for 8 to 10 minutes, or until internal temperature of meat is at least 145 degrees, according to meat thermometer.

Stir in reserved pineapple before serving.