These skillet BBQ Pork Chops with Pineapple are a delicious Hawaiian dinner you'll want to remember for busy nights!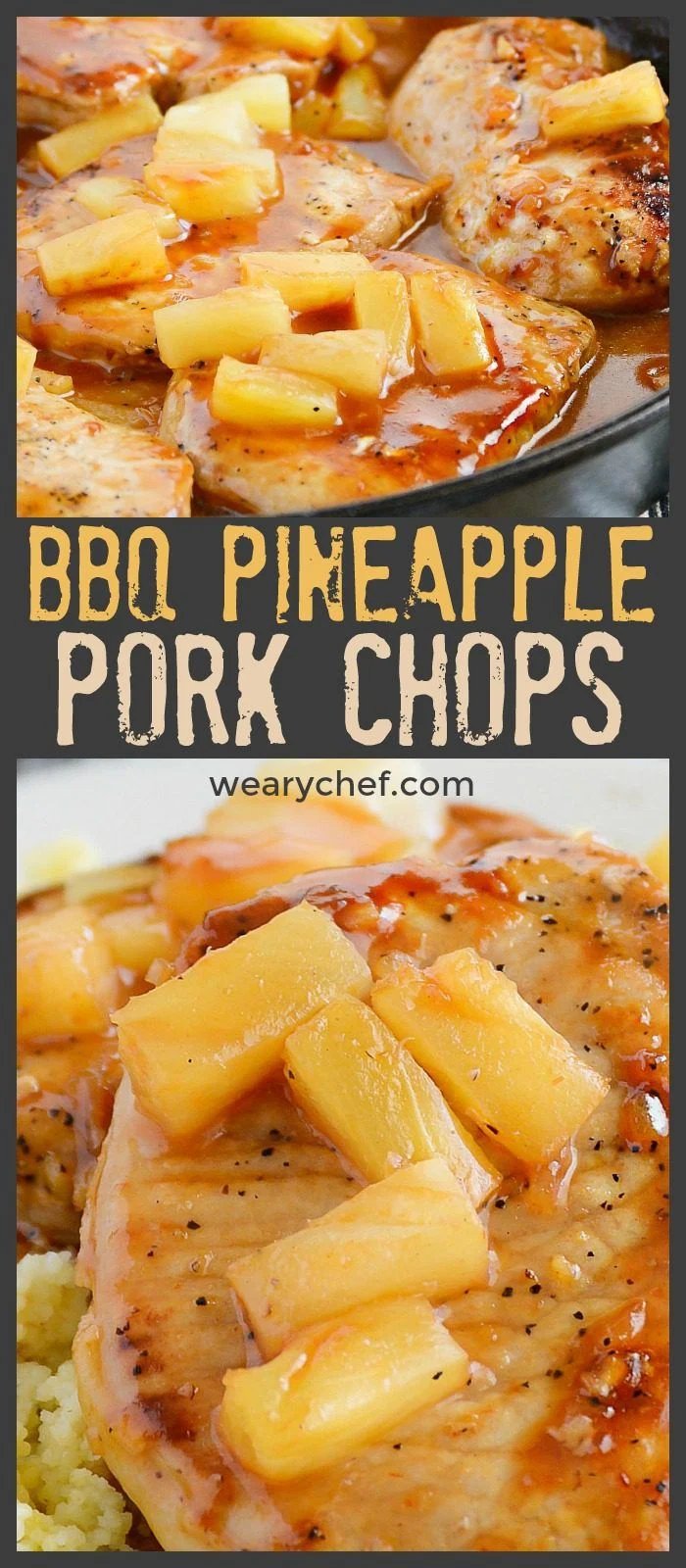 I have to confess that I don't make pork chops that often. Usually, I'll make pork roast in the slow cooker, and then we'll have pulled pork sandwiches, carnitas, or even pork roast soup for leftovers. But those definitely fall and winter recipes, and since it's still warm out, I wanted to pan-fry the pork chops on the stove instead and add some magic pineapple to spice things up.
Easy And Quick Recipe Of Pineapple BBQ Pork Chops
I should also confess that my kids are not that crazy about pork chops. Seriously, what's wrong with them, right?! Anyway, I usually add barbecue sauce whenever I make something that my kids aren't crazy about. It's one of my secret weapons because those kiddos will eat just about anything if it has BBQ sauce. And if it has pineapple, even better!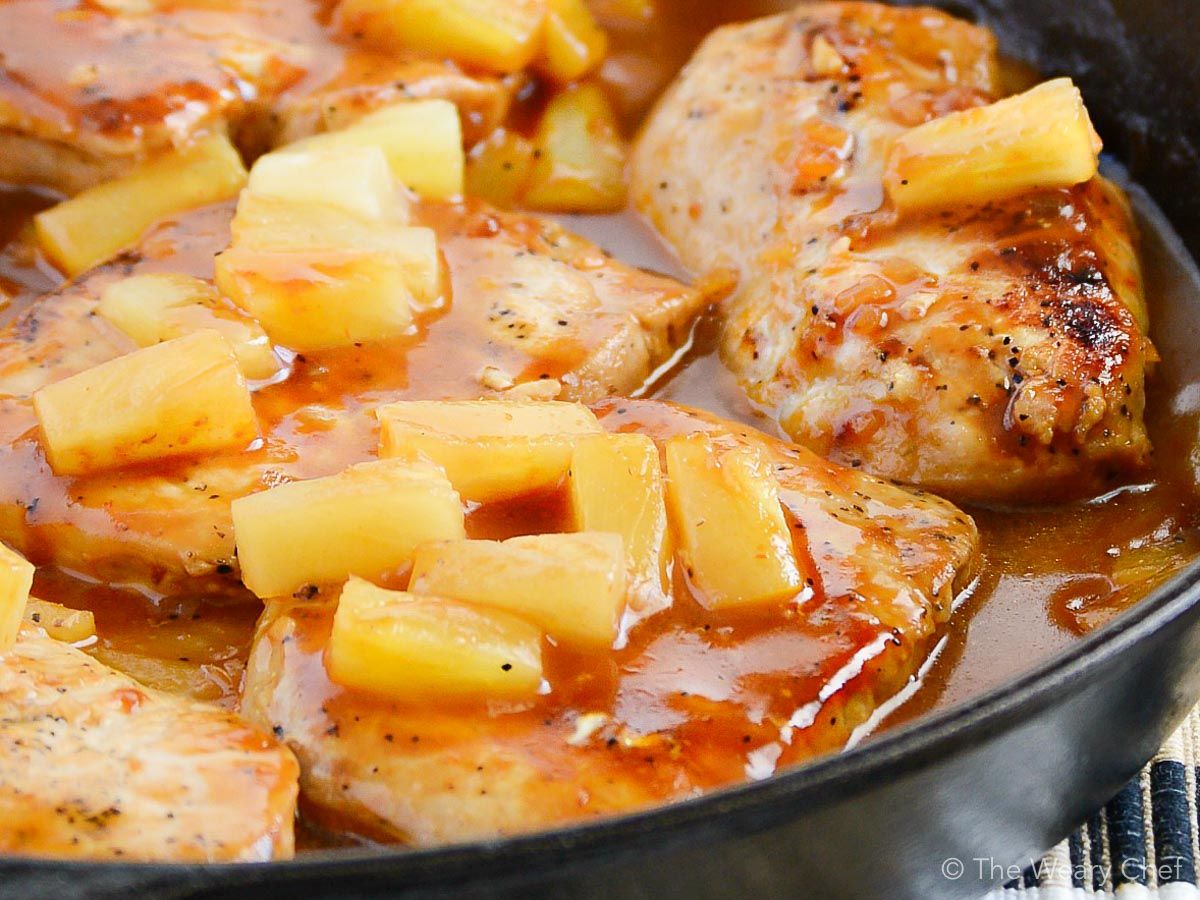 This is a super simple, quick, and easy Hawaiian recipe that comes together in less than 20 minutes. You make the sauce, brown the chops, add the sauce to the pan, and let the chops simmer until done. I like to remove the pork from the pan and let the sauce boil and thicken before adding the meat back in, but I've also made it by just adding the sauce directly over the pork. It's really fine either way. Just do what you find easier.
I like to cook the pork chops in a cast-iron skillet. It does an awesome job of browning the meat and holds heat well, so the chops stay nice and warm. But any heavy skillet will work here.
I'm happy to say that my family loved these Hawaiian pineapple pork chops. I served them over couscous, but you can use rice, quinoa, or even mashed potatoes. Enjoy!
Pork As A Favorite Meat
In the greatest variety of meats, pork is eaten worldwide. Pork chops are considered a Southern dish and an inherently American dish that kinda reminded of gatherings with family and tea parties. Pork chops, which are sliced from the pork loin. In the united states, the total consumption of pork is 10 %.
The shoulder of pork is a big source of these delicious chops. A delicious dinner that can be on the table in no time at all is pineapple BBQ pork chops, which are cooked to a delicious shape and then covered in a sweet and savory pineapple BBQ sauce.
Pork chops that are tender and juicy are cooked in cast iron pans that are affordable, non-stick, hold a high heat, are devoid of chemicals, add trace levels of iron to your meals, and last—well, forever. They are also topped with grilled pineapple. This deliciously sweet and savory dish is the ideal dinner for summer.
Ingredients
Pineapple juice: use pineapple juice to tenderize meat. It is a common base for drinks and cocktails. It has a wide range of antioxidants, vitamins, and minerals. it enhances the flavor and makes pork chops juicy and sweet.
Barbecue sauce: It is a delightful addition to your parties. barbecue sauce is used for marination, dipping, seasoning, or garnishing. such as pork or beef ribs and chicken, made in BBQ cooking style.
Brown sugar: White sugar contains a lot more calories than brown sugar. The body needs a variety of micronutrients, including iron, calcium, potassium, zinc, copper, phosphorus, and vitamin B-6, to function properly.
Sea salt: The cleanest and most natural salt is called sea salt, and it comes naturally from the sea waters. For people with arthritis, sea salt is a significant component in lowering inflammation and pain. Being a great source of sodium and potassium, sea salt is essential for preserving a regular heartbeat and improving heart health.
Ground ginger enhances your chop's taste and makes it more delicious Ginger is an anti-inflammatory, which reduces swelling. That may be especially helpful for treating symptoms of arthritis.
Pineapple tidbits: Pineapple is low in calories and rich in vitamins and minerals. The significant amount of fiber in pineapple is associated with improved digestion.
How To Make Hawaiian Pork Chops With Pineapple?
Print
Pineapple Pork Chops Recipe
Total Time:

20 minutes

Yield:

4

1

x
For the pork chops
6

boneless pork loin chops about

1

" thick
salt and pepper

1 tablespoon

olive oil
For the sauce
1

cup

pineapple juice (from can of titbits)

1/4

cup

barbecue sauce

1/4

cup

brown sugar

1 teaspoon

sea salt

1 teaspoon

ground ginger

1 teaspoon

garlic powder

1 teaspoon

dried minced onions

1

cup

pineapple tidbits
Instructions
Season pork chops on both sides with salt and pepper.
Mix the pineapple juice, barbecue sauce, brown sugar, sea salt, ginger, garlic powder and minced onions together until blended. Set aside.
Heat a large cast iron skillet over medium-high heat. Add olive oil and pork chops, and cook for about 2 minutes per side, or until golden brown.
Transfer chops to a platter, and cover with foil.
Add sauce to the skillet, and stir to release any brown bits from the pan. Bring to a boil, then reduce heat to medium.
Add pork chops back to skillet, and simmer in sauce for 8 to 10 minutes, or until internal temperature of meat is at least 145 degrees, according to meat thermometer.
Stir in reserved pineapple before serving.
Author:

Prep Time:

5

Cook Time:

15

Category:

Dinner, Red Meat
Nutritional Facts and Information Pineapple BBQ Pork Chops Recipe
Per serving
| | | | |
| --- | --- | --- | --- |
| Calories | 551kcal | Carbohydrates | 52g |
| Protein | 44 g | Fat | 17 g |
| Saturated Fat | 5 g | Potassium | 1095 mg |
| Iron | 1.9 mg | Sodium | 868 mg |
| Vitamin A | 110IU | Fiber | 2 g |
| Sugar | 46 g | Vitamin C | 20.5 mg |
| Cholesterol | 134 mg | Calcium | 65 mg |
Why This Pineapple BBQ Pork ChopsRecipe Works
It comes together quickly: Only 10 -20 minutes are needed for preparation are needed for grilling these boneless pork chops.
Easy BBQ sauce: This easy barbecue sauce is prepared on the stovetop using cupboard staples like ketchup.
Tender pork: Pork chops with a thick cut will cook up moist and tender.
Great BBQ flavor: While being grilled, brushing BBQ sauce on both sides of the pork chops seals in its mouthwatering flavor.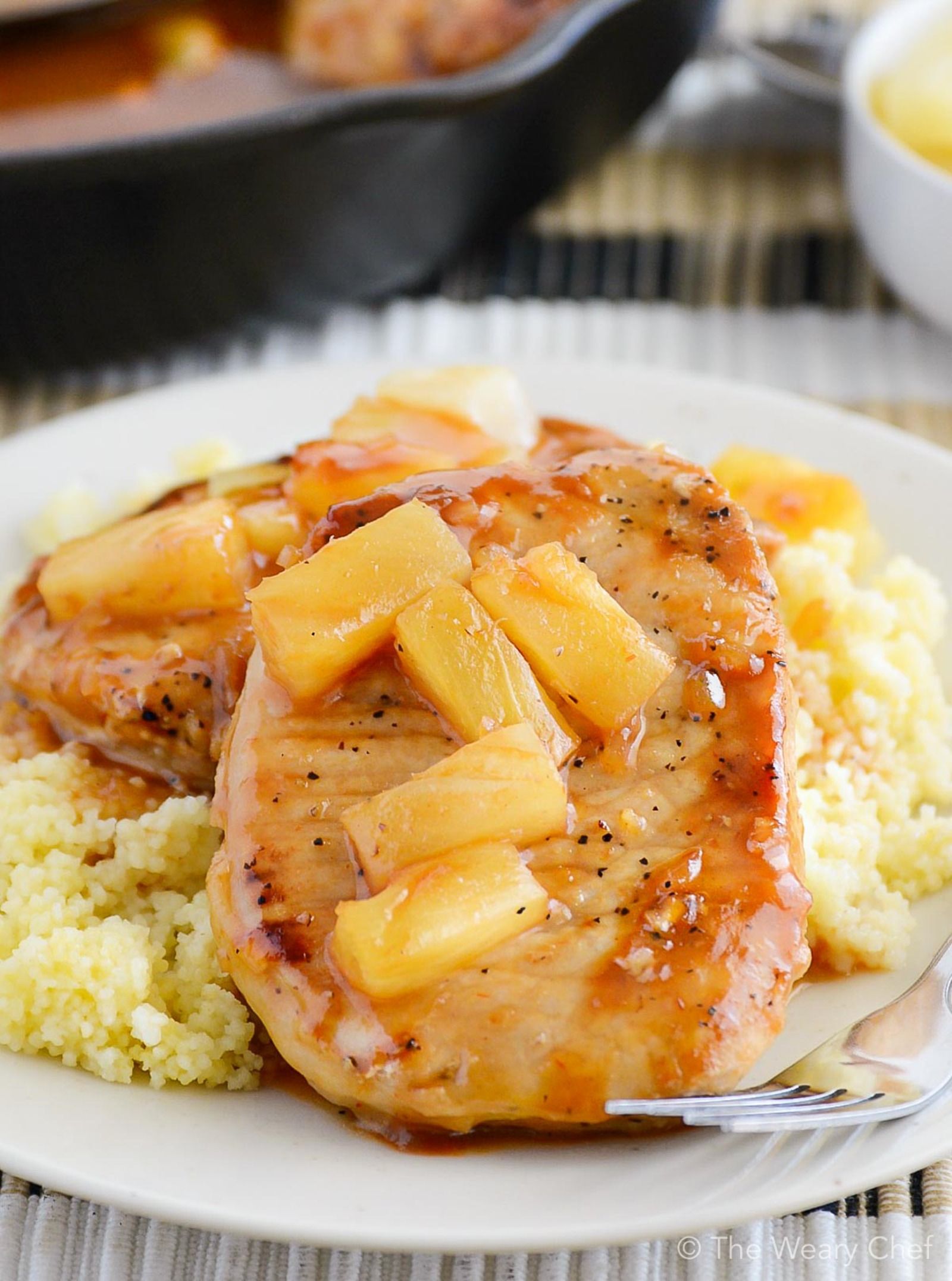 Why Are Pineapple Pork Chops So Good?
The flavors in this dish are so well-balanced that it's one of those dishes which is so yummiest.
Very simple to prepare
Full of tropical flavor
Juicy and delicious
No need to turn up the cooking heat
Sweet: This meal is slightly sweetened by brown sugar, fresh (or canned) pineapple chunks, and pineapple juice.
Tangy: The tangy, strong flavor is provided by soy sauce, red onion, and a sprinkle of red pepper flakes which also help to counteract the sweetness.
Hint: Since there are so few red pepper flakes in this recipe, they have no heat. If you want to turn the heat up a notch, you can add a couple more dashes.
Savory: This recipe has a savory element that neutralizes the sweet and sour flavors with the help of bell peppers, soy sauce, and chicken broth.
How to Store BBQ Pork Chops?
Store: Chops and pineapple sauce remains can be kept in the refrigerator for up to 4 days in separate containers.
Freeze: Pork chops that have been cooked and cooled can last up to a month in an airtight freezer-safe container. The pineapple salsa should hold well, though it might soften as it defrosts because we did not test it.
Reheat: Heat through chilled or frozen pork chops in the oven for one to two minutes (but not overcooked). Allow the pineapple salsa to warm up or serve it cold.