Cheesy Buffalo Chicken Stuffed Potatoes are a flavorful meal that comes together quickly. They are a perfect way to enjoy leftover or rotisserie chicken!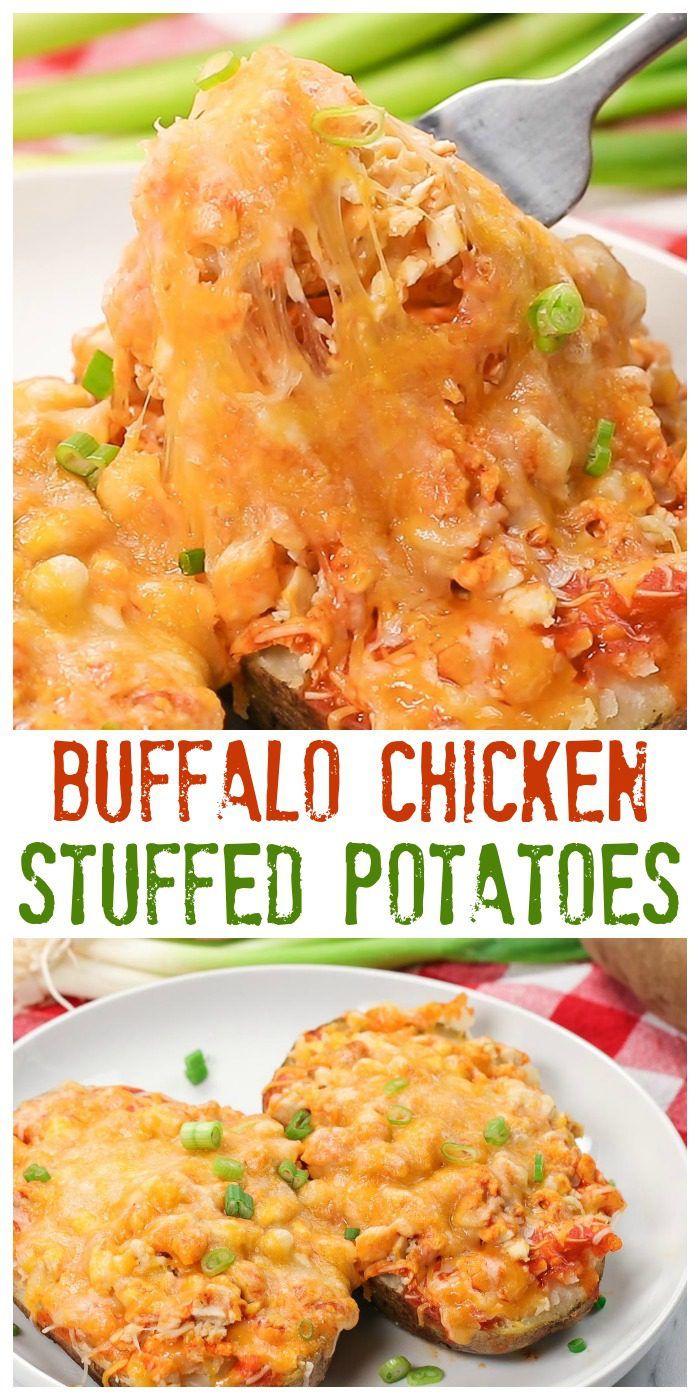 I've been doing some mall walking lately. Two friends and I are trying to get our 10,000 steps on our FitBits every day, so we meet up a couple times a week to walk together. If it's too cold, hot, or rainy outside, we take to the mall for an indoor stroll.
Our mall isn't very big, so we walk a lot of loops around. There are two floors, but one friend only likes to walk on the carpet upstairs instead of the tile downstairs. That makes it feel even smaller. The good thing about the mall walking days is that we get lunch at the food court after we've circled the place nearly a dozen times.
You'd think that since we're there for exercise I'd get a healthy meal for lunch. I usually try to make a reasonable choice, but the other day I went to a baked potato place where they have all sorts of different fillings. That's where this Buffalo Chicken Potato idea came from. I can't say that all the butter and cheese he loaded on my giant potato was healthy, but MAN was it delicious!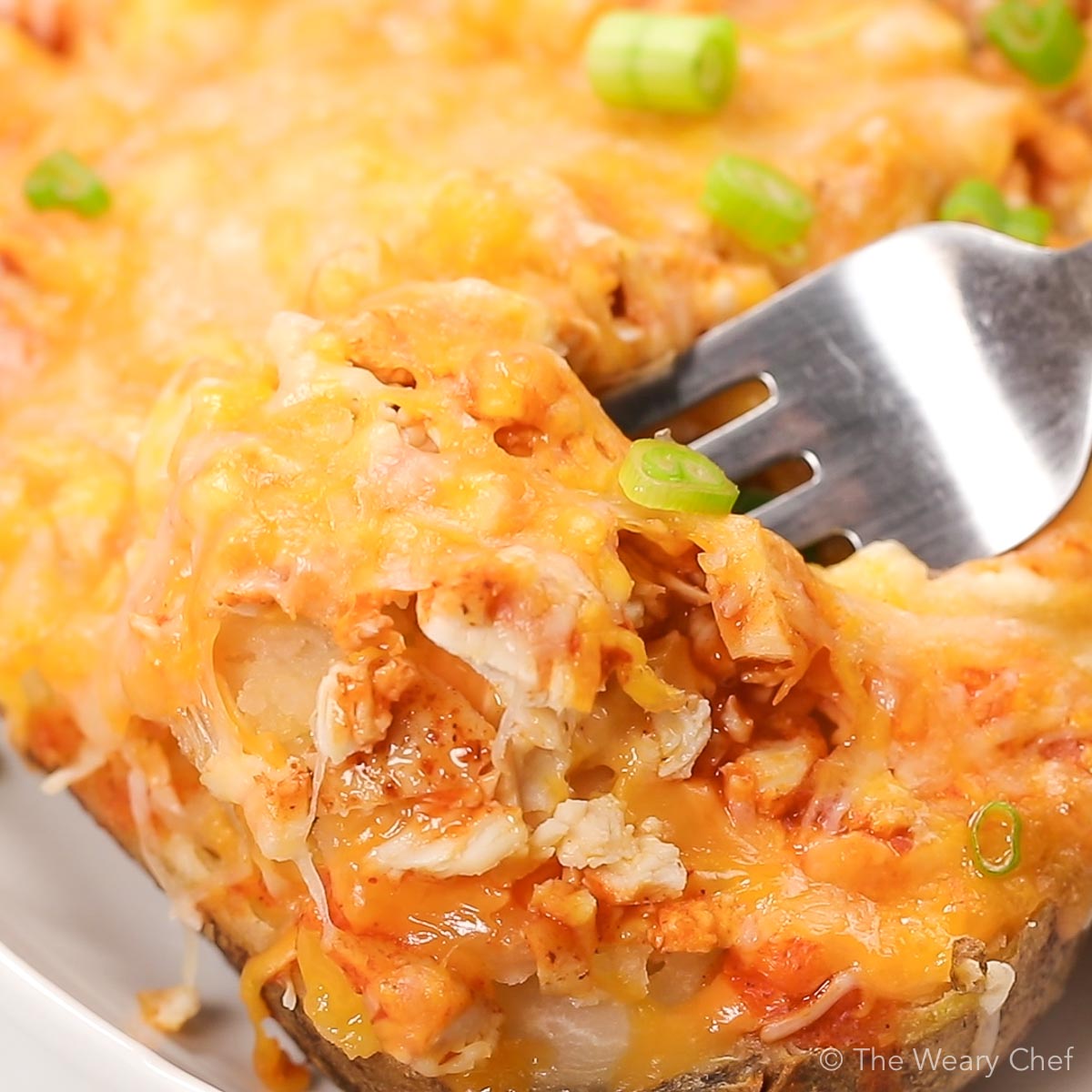 I decided you needed to know about these buffalo stuffed potatoes too because they are so easy to make and so tasty. All you need is a handful of ingredients and a big appetite. Make a simple salad to have on the side, and your dinner will be ready in no time!
This recipe is great for using leftover or rotisserie chicken. If you need to make chicken just for these potatoes, you can just season it with your favorite seasoned salt and cook it in a skillet or the oven. Dice it up to load onto your potato, and smother it in cheese and wing sauce. Then go for a walk to make up for it ;) Enjoy!
How To Make Buffalo Chicken Stuffed Potatoes
Print
Buffalo Chicken Stuffed Potatoes
Cheesy Buffalo Chicken Stuffed Potatoes are a flavorful meal that comes together quickly.
2

large baking potatoes

4 tablespoons

butter
salt and pepper

1

cup

shredded cheddar cheese

2

cups

diced, cooked chicken

1/2

cup

Buffalo wing sauce (like Frank's Red Hot)

1

cup

shredded monterey jack cheese

4

green onions sliced thin
Instructions
Preheat broiler. Line a broiler-safe cookie sheet or baking dish with foil and set aside. (Pyrex is not broiler safe!)
Bake potatoes using your favorite method. I like to prick mine all over with a fork and microwave 7-10 minutes, flipping them over halfway during cooking. Potatoes are done when a knife glides into the center with no resistance.
Carefully (they are hot!) slice potatoes lengthwise to make four potato "boats," and place them on the baking dish.
Put about a tablespoon of butter onto each potato, and fluff the butter and flesh of the potato together with a fork. Sprinkle with salt and pepper.
Spread about 1/4 cup of cheddar cheese over each potato. Arrange about 1/2 cup of chicken over each potato. Generously drizzle wing sauce over the chicken. (Adjust to taste.)
Sprinkle about 1/4 cup of monterey jack cheese over each potato. Place the potatoes under the broiler for about five minutes until hot and melty. (Keep an eye on them so the cheese doesn't get too brown.)
Sprinkle each potato with green onions and serve.
More Buffalo flavored quick meals: