Forget takeout when you can have this quick and easy Chinese shrimp and broccoli stir fry on the table with ease! Hi! I'm Sheila from Life, Love, and Good Food, and I'm excited to bring you this delicious stir-fry recipe today!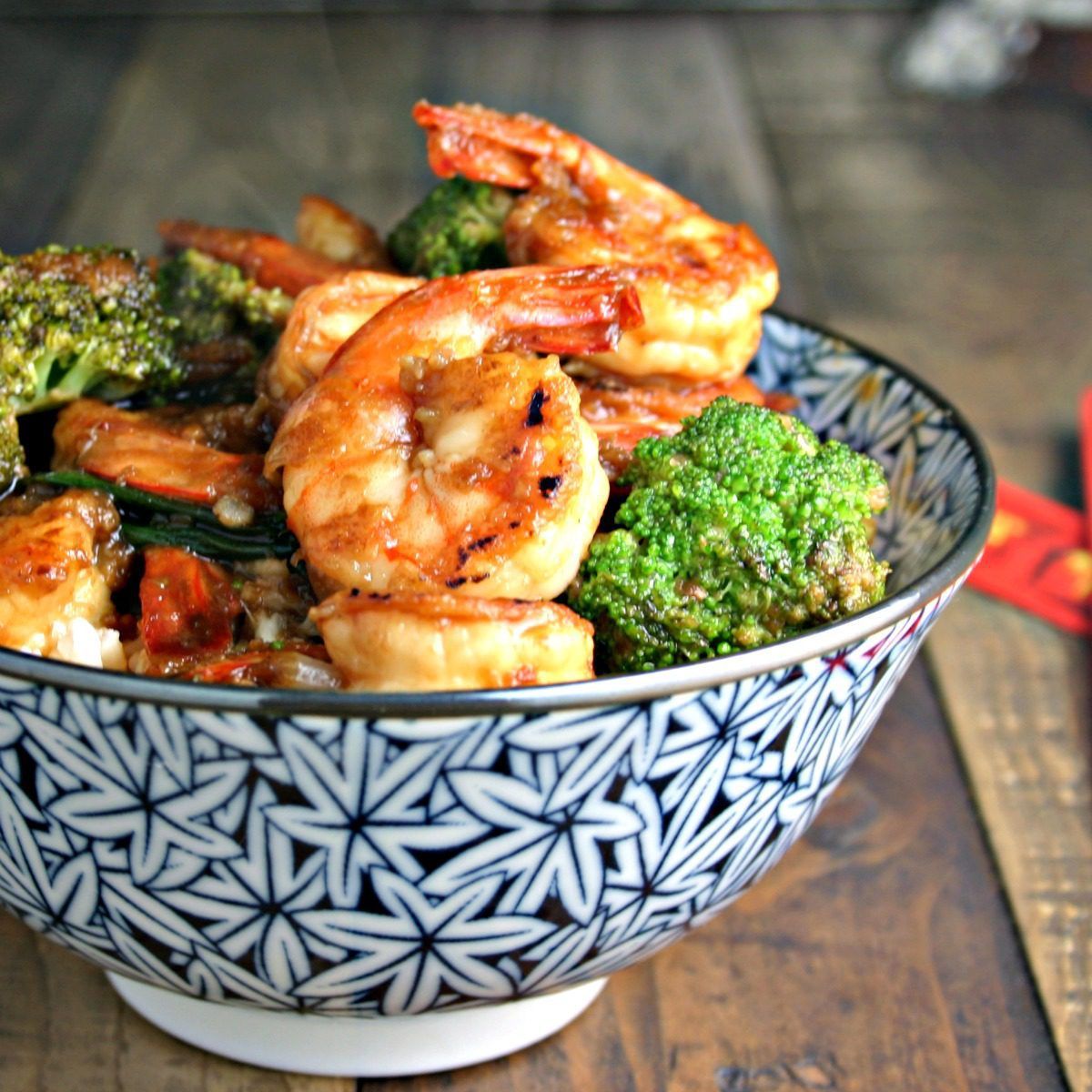 Forget Chinese takeout! Shrimp Broccoli Stir-Fry is so much more delicious and only takes 30 minutes or less to prepare! I know that planning and cooking dinner after a long day in the office can sometimes seem like a real chore for working moms and dads. Also, believe it or not, it is hard to even for a full-time career woman and part-time blogger like me! It's on those days that picking up something quick on the way home is so very tempting.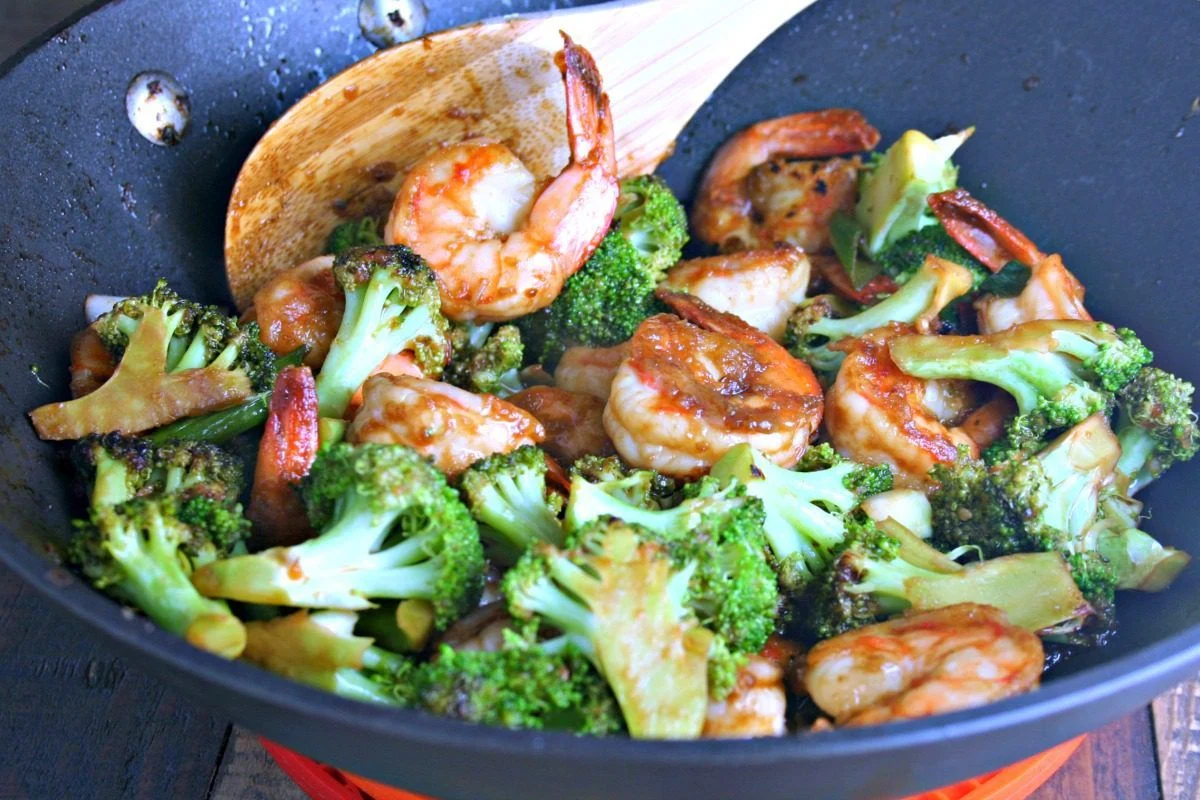 Chinese Shrimp and Broccoli | Tips & Tricks
Even when I feel exhausted from a long day, getting in the kitchen and doing a little cooking can actually be a little bit therapeutic, especially if it's as quick and easy as a stir-fry dinner. Unlike a lot of other stir-fry recipes, Shrimp Broccoli Stir-Fry actually requires very few basic ingredients — shrimp (feel free to use fresh or frozen), broccoli florets, green onions, garlic, and fresh ginger (or substitute ground ginger if you prefer).
The sauce is simply a mixture of soy sauce, rice vinegar, honey, and a few red pepper flakes, and at least at my house, all these ingredients are always readily available in my pantry.
We like our stir-fry served over brown rice for a healthier option (as opposed to white rice). I don't own a rice cooker, so I normally purchase the "quick" rice that cooks in just 5 minutes — again, quick and easy for weeknights!
Here are a few shortcuts for making this meal particularly easy and quick:
Buy shrimp that are already peeled and deveined (cut out that prep work!).
Use a bag of pre-cut broccoli florets.
Boil water for the rice first, and allow it to steam while you prepare the stir-fry.
Stage all the ingredients before you start to stir-fry so that once you get started you can quickly add the next ingredients.
Chinese Shrimp and Broccoli Stir Fry | Recipe
Well, the time to start preparing your Chinese Shrimp and Broccoli Stir Fry finally came! So, good luck and keep in mind to closely follow the steps and indications!
Also, if you are feeling inspired, you can adapt this recipe to your seafood passion, by using octopus, salmon, tuna, oysters, and even lobsters. However, different kind of seafood means different way of cooking it. So don't improvise if you don't know how to prepare another kind of seafood.
| | |
| --- | --- |
| | |
Blot shrimp with a paper towel to dry and place in a medium bowl with cornstarch. Toss to coat.

Heat a large wok or skillet over high heat. Add 1 tablespoon oil and shrimp to pan; stir-fry about 4 minutes, or until golden brown. Do not over cook.

Remove shrimp from pan. Add 1 1/2 teaspoons oil and stir-fry green onions, ginger, and garlic for 45 seconds. Remove from pan and add to the shrimp.

Add the remaining 1 tablespoon oil to pan and stir-fry broccoli for 1 1/2 minutes. Stir in shrimp and onion mixture to pan. Pour in soy sauce, rice vinegar, honey, and red pepper flakes and bring to a boil. Cook just 1 minute or until broccoli is crisp-tender.

Serve immediately over rice.
Adapted from Cooking Light, JUNE 2013
Final Thoughts
All in all, that is the recipe and all you need to know about the Chinese Shrimp and Broccoli recipe. So, now, it's your turn to share your taught and advice on this in the comment section below.
Tell us everything: How was the final result of this Chinese recipe? Did your family enjoy it? (Also, keep in mind that I appreciate the negative feedback too). Did you need to improvise when it came to the ingredients list? If so, what did you replace and with what? In addition, please, don't hesitate to ask any further questions in the comment section too. I am here for you!
Last but not least, you'll enjoy these quick and easy dinner ideas too! So, give them all a try and let me know what you think!