This Applesauce Donut Recipe is low in fat and big in flavor. Treat yourself to these easy doughnuts for breakfast!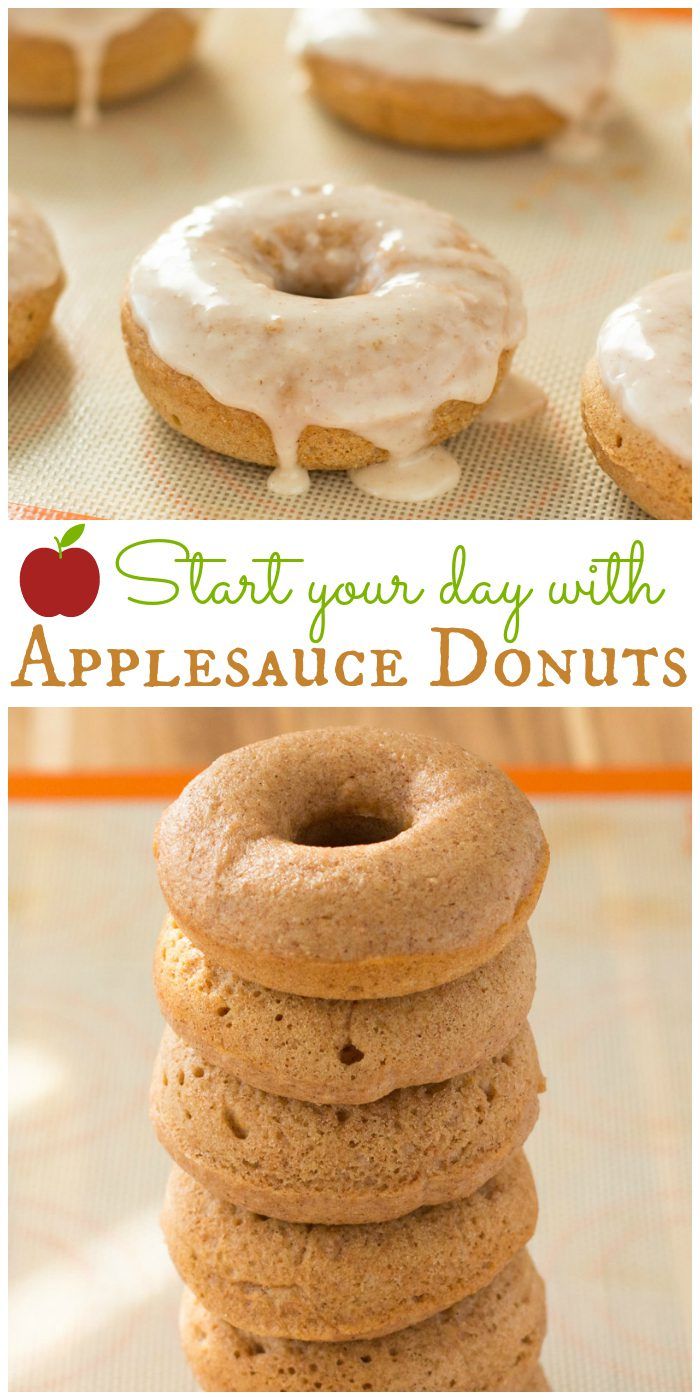 Have you been to a wedding or party lately with one of those photo booths? They usually have costume pieces and props so you can take fun pictures to commemorate the occasion. Here's an example from a wedding Matt and I attended a couple years ago: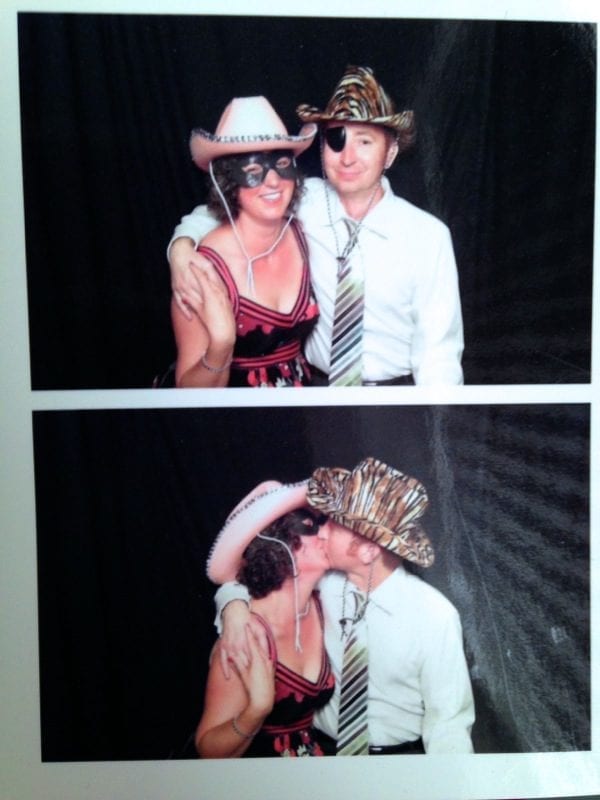 Sometimes taking food photos for my blog reminds me of those photo booths. Instead of just taking a picture of the food I want to show you, I try to gussy it up with props and stuff to make it prettier. Do you think I really stack linens and use garnishes and have ingredients and kitchen tools lying around while I cook and eat? No way! I am very simple when it comes to food. I just want it to taste good, and I don't care that much about how it looks on the plate. I try my best to make my dishes look good for you here, but it's against my nature to get too fancy.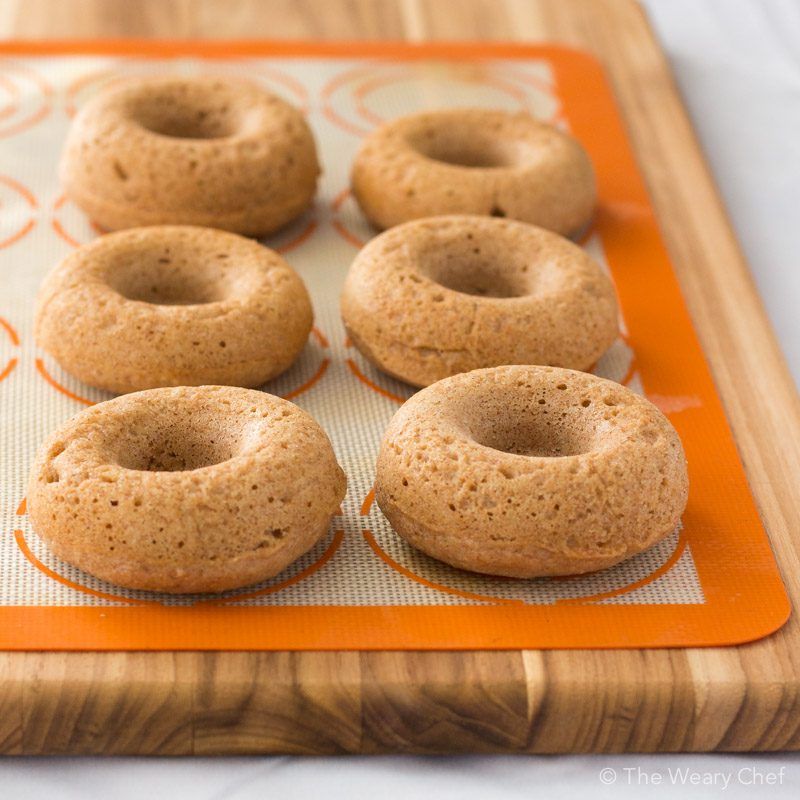 For these tasty applesauce donuts, I didn't have time to even make my usual lame attempt at getting fancy. I made them on Sunday morning and glazed half of them for us to eat right away. By the time I got a chance to glaze and photograph the rest, it was 4:30 in the afternoon. I had to make a casserole to deliver and take pictures of these tasty donuts in a hurry, so that's why there aren't any cute napkins or carefully placed spoonfuls of cinnamon or anything else in these photos. Just donuts!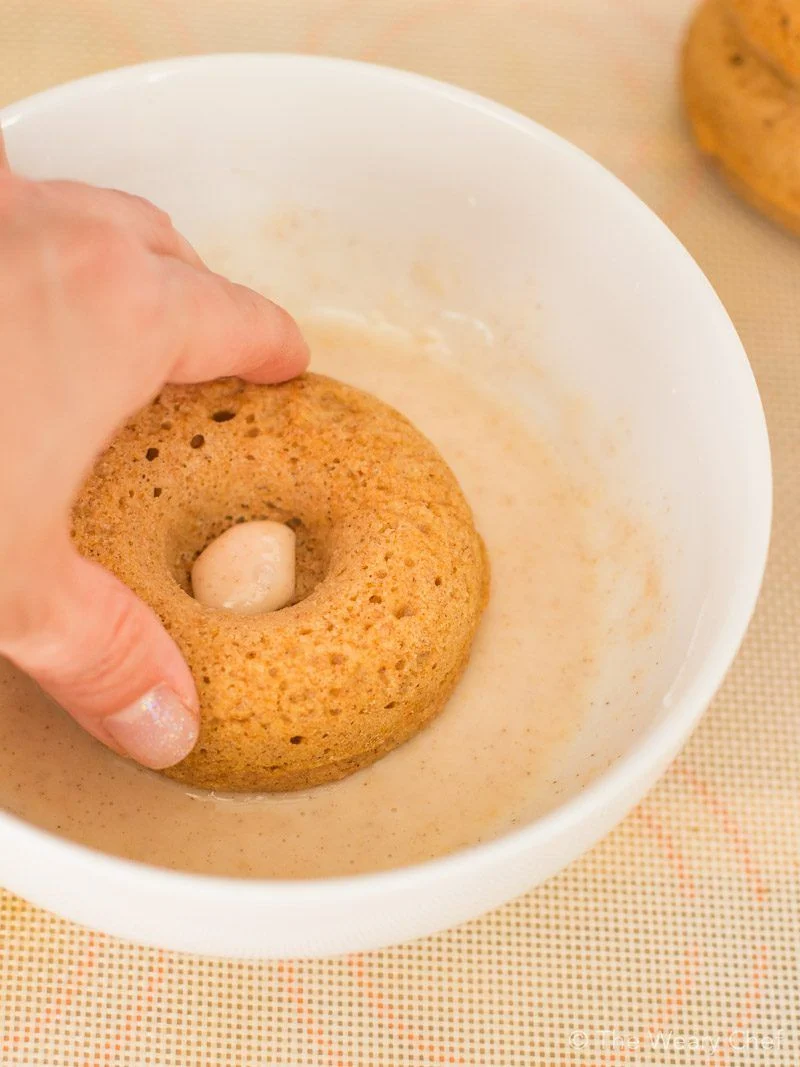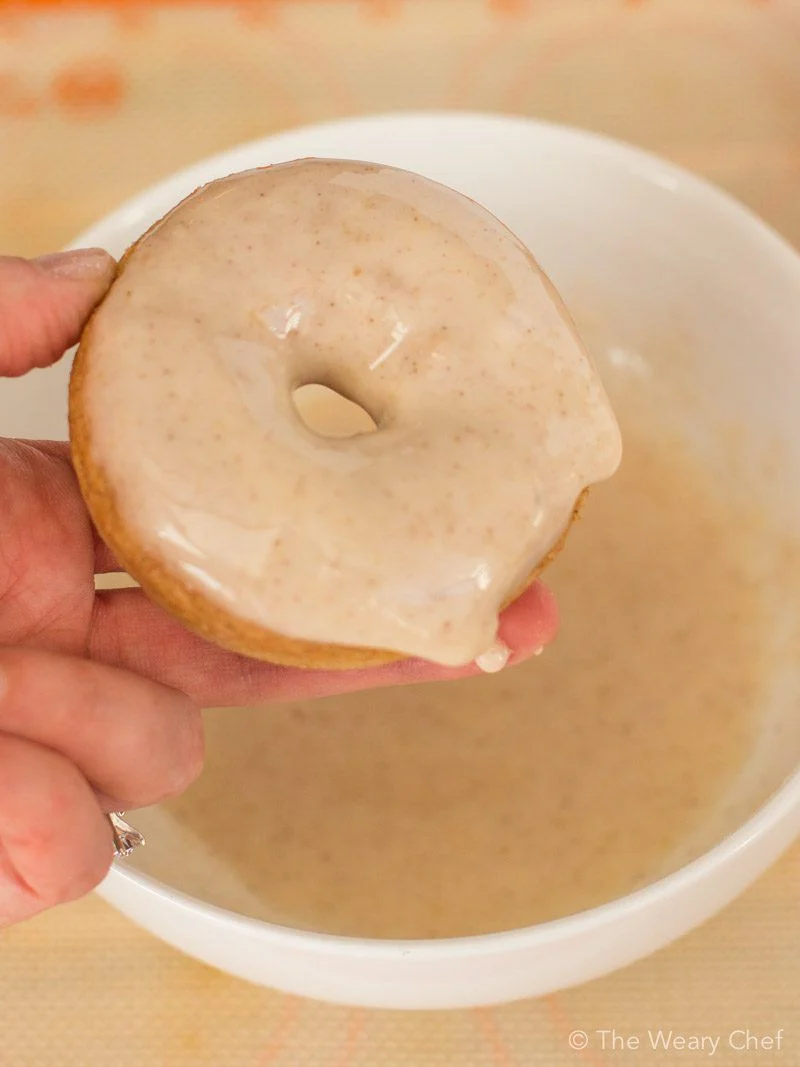 I hope these little O's of sweet, cinnamon goodness speak for themselves and you try them soon! If you don't already have a donut pan, visit Amazon to see the one I used. I need to buy another to make all 12 at once. (This is an affiliate link.)
Print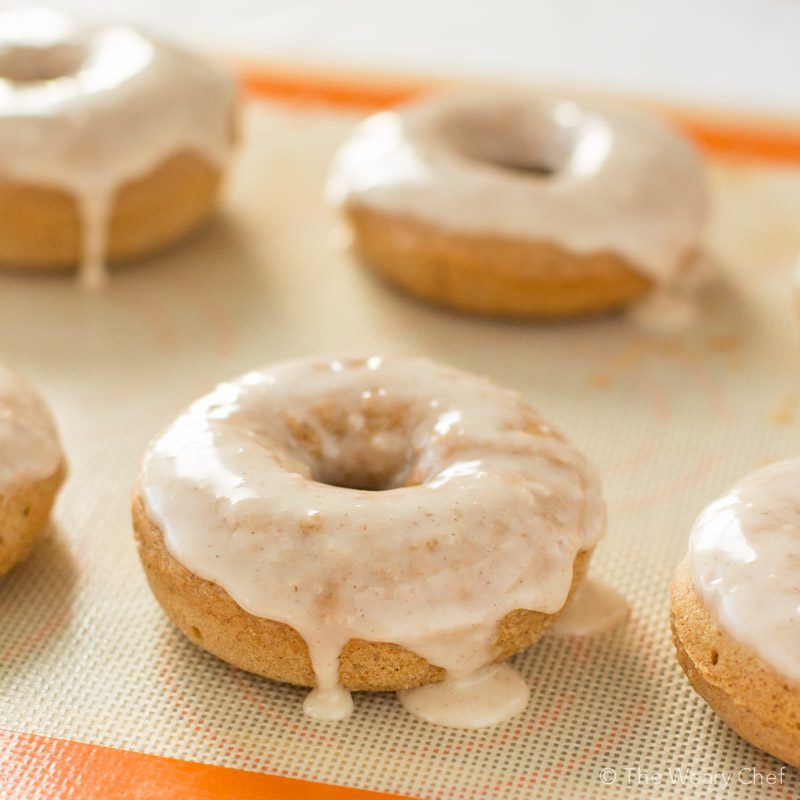 Glazed Applesauce Donuts
This Applesauce Donut Recipe is low in fat and big in flavor. Treat yourself to these easy doughnuts for breakfast!
Total Time:

25 minutes

Yield:

1

2

1

x
1

egg

1

cup

milk

1/2

cup

unsweetened applesauce

2/3

cup

sugar

1 teaspoon

vanilla extract

2

cups

all purpose flour (I used spelt)

2 teaspoons

baking powder

1 teaspoon

ground cinnamon

1/2 teaspoon

kosher salt
Cinnamon Applesauce Glaze

1

cup

powdered sugar

1/2 teaspoon

ground cinnamon

2 teaspoons

unsweetened applesauce

4 teaspoons

water (added

one

at a time as detailed in instructions)
Instructions
Preheat oven to 350 degrees F. Spray donut pan(s) with cooking spray.
Whisk together egg, milk, applesauce, sugar, and vanilla. Add flour, baking powder, 1 tsp. cinnamon, and salt. Whisk until smooth.
Spoon batter into prepared baking pan. Each donut opening should be filled almost to the top. Bake in preheated oven for 12-15 minutes or until toothpick inserted comes out clean. (If you only have one donut pan, you will need to repeat this step when the first six are done.)
Allow donuts to cool in pan for a few minutes, and then transfer to a baking sheet lined with parchment, wax paper, or a silicone mat. (This lining will help in the next step.)
When donuts have cooled completely, whisk together powdered sugar, 1/2 tsp. cinnamon, applesauce, and ONE teaspoon water. If mixture is too dry to mix in all the sugar, continue adding water ONE teaspoon at a time just until a thick glaze forms. (If you make the glaze too thin, it will just soak into the donuts.)
Dip the top of each donut into the glaze, and twist back and forth a couple times to get a good coating. Lift the donut straight up and let the excess drip off, then place the donuts glaze-side up on the lined baking sheet. Allow to rest about 15 minutes to let the glaze set before serving. Best eaten within a few hours.
Notes
Adapted from Ina Garten's Cinnamon Baked Doughnuts.
I know this recipe looks long, but it really is easy! I just wanted the instructions to be clear and detailed so they would be easy to follow.
Author:

Prep Time:

10

10:

Cook Time:

15

Category:

Breakfast
If you love apple cinnamon, you'll also love these recipes!