These fun Halloween Marshmallow Pops are perfect for fall parties. These marshmallow pops are so easy and fun to make. They are a great project to do with kids! Just melt your green candy melts, and then dip your pretzel sticks in most of the way. You can leave the end you are holding uncoated since you're sticking them into the marshmallows. Once the green chocolate has hardened up (I usually speed this process up by sticking them in the freezer for 10 minutes), they're ready for the marshmallows!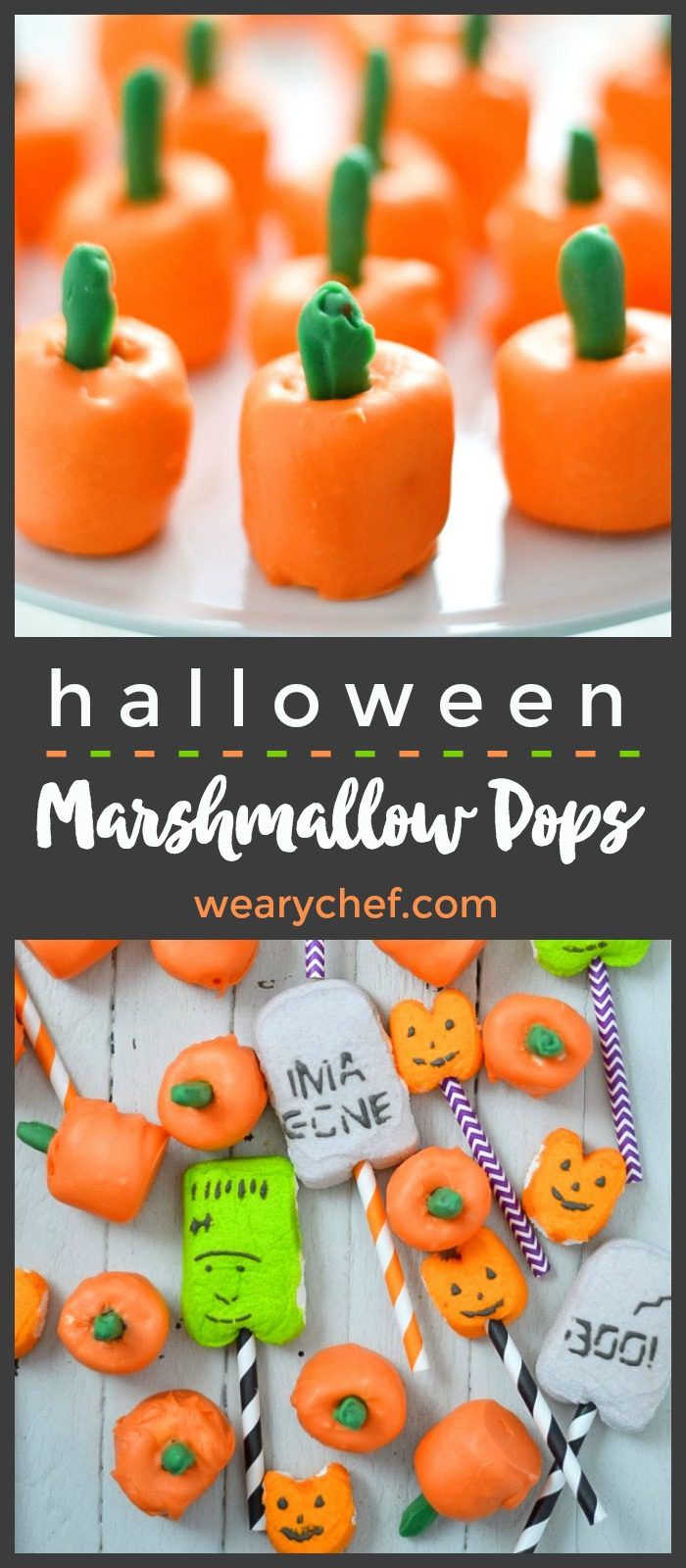 Hi! It's Sharon from What the Fork, and I'm here to show you a fun and adorable Halloween treat. Seriously, how cute are these pumpkin marshmallow pops?? They're sure to be the hit of any fall festival or Halloween party you throw. Not only are they cute, but they're pretty easy to make. It just takes a bit of time for dipping and chilling, but they only require three ingredients: Marshmallows, pretzel sticks, and colored candy melts. That's it!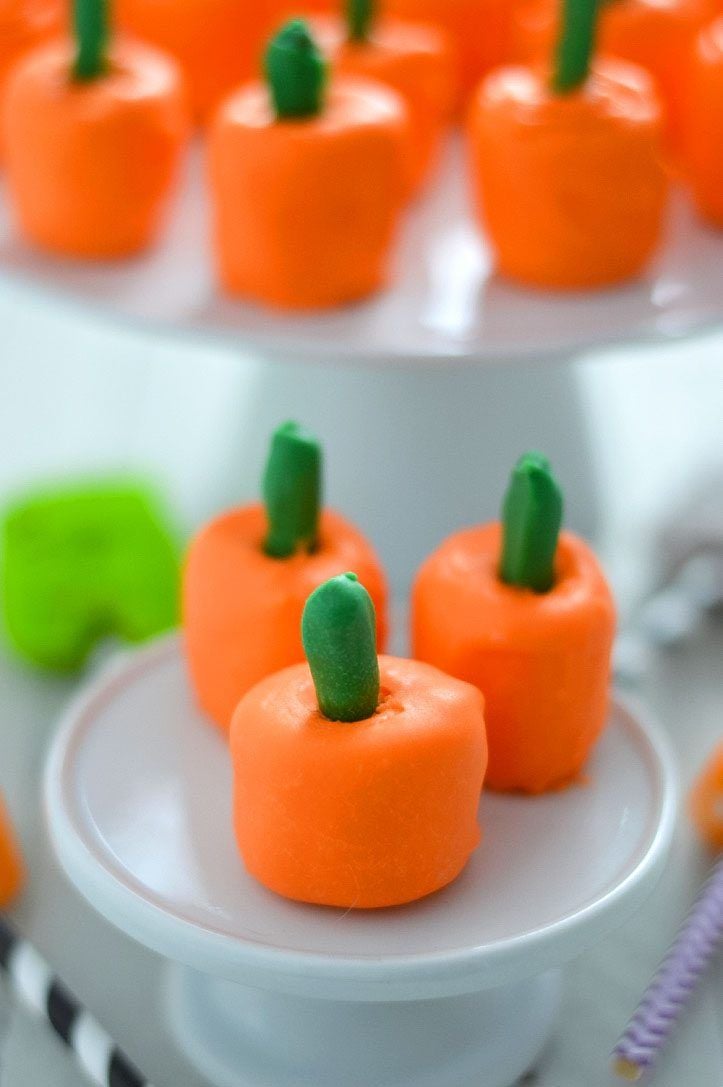 I experimented dipping these marshmallow pops a couple of ways. First, I tried adding the "stem" and then dipping into the orange candy melts. That worked ok but was a little sloppy. I had to use a spoon to help coat the top, so it did give a nice bumpy little texture to the pumpkin. What I found to work the best was using lollipop sticks (that I usually use for homemade chocolate pops, cake pops, etc.).
I dipped the sticks into the orange candy melts first, then stuck them into the marshmallows. This way worked well because the excess orange chocolate on the lollipop stick was forced back out of the top, which helped coat the top of the marshmallow. The coating on the stick also made it easier to remove the stick from the marshmallow. It acted as a buffer from the marshmallow stickiness, so I was able to use a second lollipop stick to help slide it off without an issue. Trust me, it sounds much more complicated than it is. :)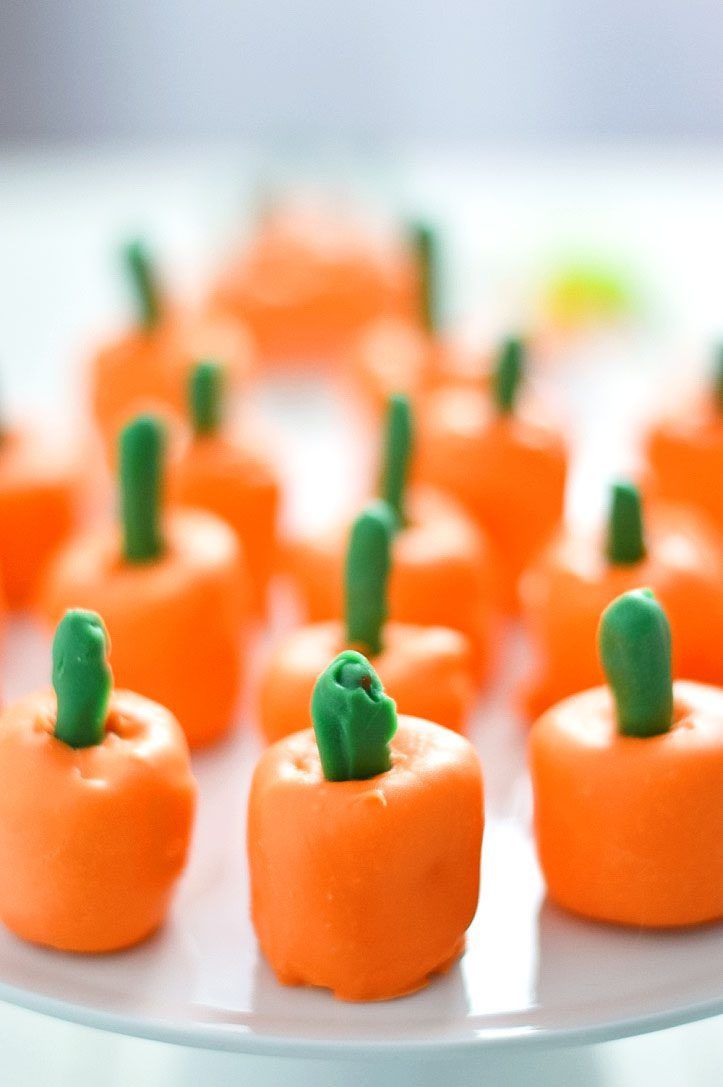 If you want to add sprinkles or sugar, do that immediately after dipping before the candy coating starts to harden. Act fast because once the chocolate sets, toppings won't stick. The dipped marshmallows will start to set quicker than you think! By the time you're done dipping, the ones you dipped first will already be set. Once the pumpkins are dipped, you can easily pull out the sticks and push the green pretzel stems in. If you want shorter stems, just break the pretzel to the desired height.
While I was browsing at Target, aka my happy place, I came across some Halloween Peeps. I thought it would be fun to turn a few of those into pops to serve with my homemade pumpkin marshmallow pops. Of course, my kids went for the green Frankenstein's, which took no work to make…ugh.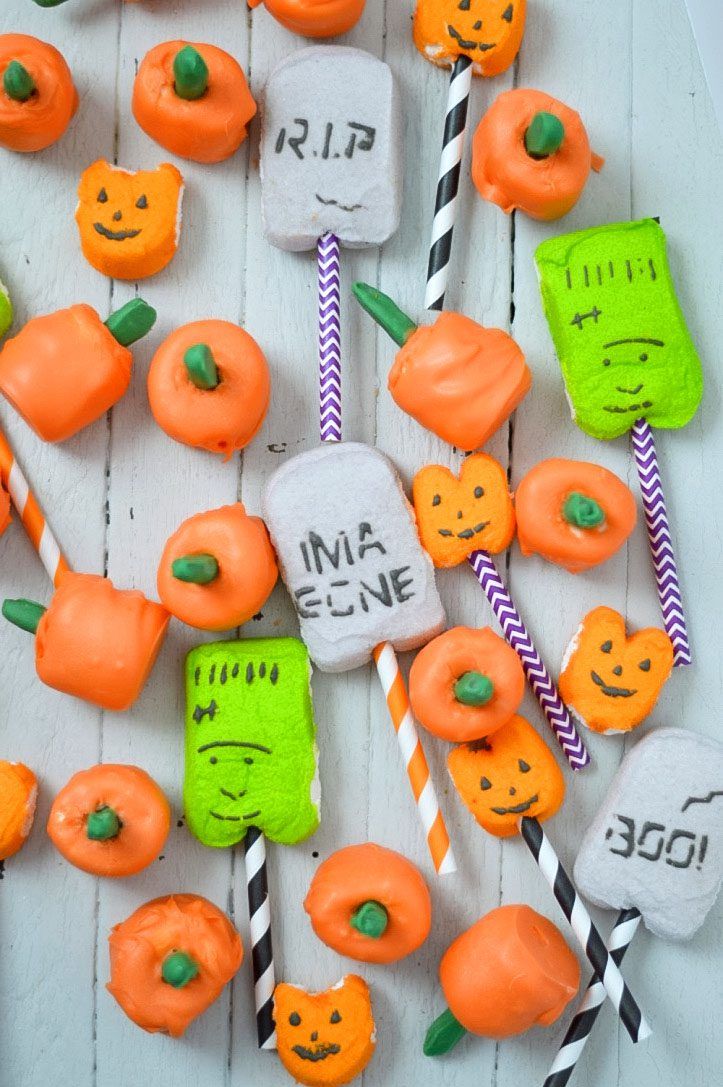 I however, prefer my cute little pumpkins. They have that delicious salty sweet combo from the chocolate, marshmallows, and pretzels, so they are way tastier! They're pretty much addicting. Picking these cuties up by their little stem and popping them into your mouth will happen way more often than you'd care to admit. Enjoy!
Print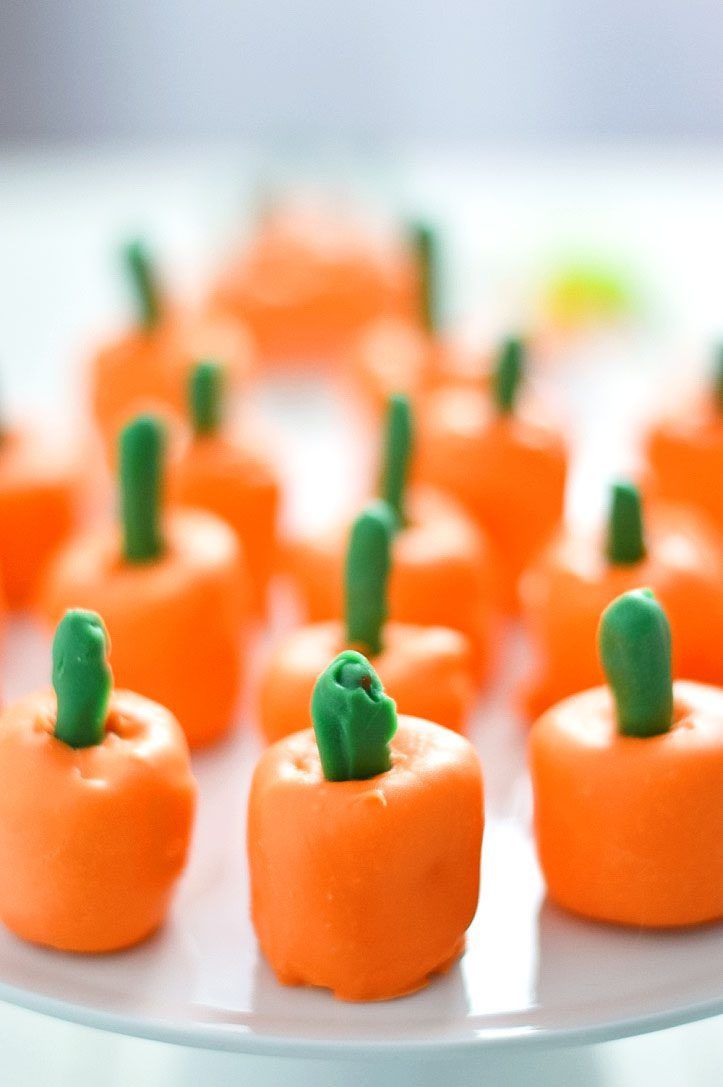 Halloween Marshmallow Pops
These fun Halloween Marshmallow Pops are perfect for fall parties. They're cute, festive, and easy to make!
Total Time:

45 minutes

Yield:

3

6

1

x
1

cup

green candy melts

36

pretzel sticks

36

marshmallows

12

ounces

orange candy melts
Instructions
Line a baking sheet with wax paper and set aside. Add the green candy melts to a microwave safe bowl and melt according to package directions.
Dip each pretzel stick in the melted green chocolate, you don't have to dip the entire thing. Place each dipped pretzel stick on the prepared baking sheet. (To speed up the hardening, place in the refrigerator or freezer until firm, about 10 minutes.)
When the pretzels have hardened, cover a baking sheet with wax paper and then melt the orange candy melts in a microwave safe bowl.
Dip a lollipop stick (or an extra pretzel stick) into the orange candy melts (coat it with a decent amount of chocolate) and stick it into a marshmallow. Use the stick to dip the marshmallow in the orange chocolate and cover it completely (use a spoon to help coat the top if necessary).
Use a second stick to help slide the marshmallow off onto the wax paper, then stick one green chocolate coated pretzel stick into the marshmallow so it looks like a pumpkin. Repeat for all remaining marshmallows.
Refrigerate until the chocolate is completely set. Can be stored in the refrigerator or at room temperature.
You'll also love these fun Halloween recipes!