This beautifully layered Pistachio Pudding Dessert will be the star of any potluck or party! It's simple to make and tastes incredible!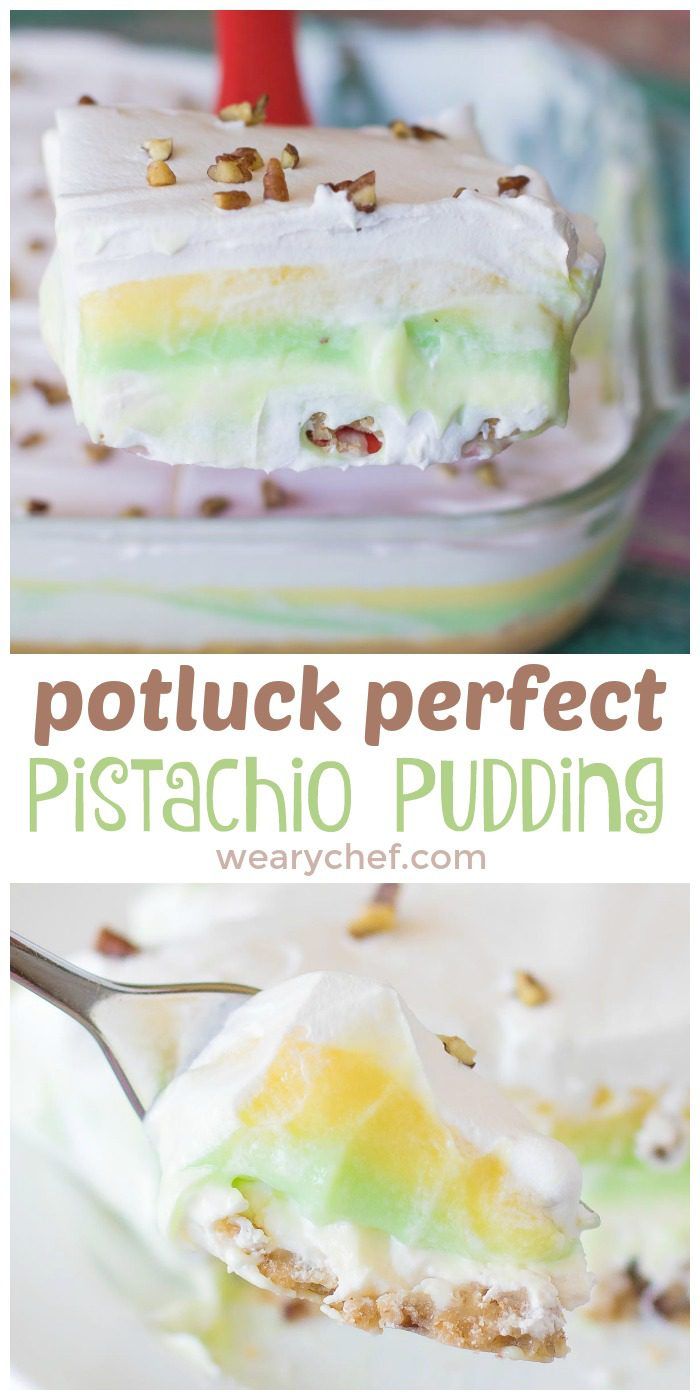 I'm so excited to bring you a new reader recipe today! (Click here to find out how you can submit your own recipe to be featured.) This wonderful pistachio pudding dessert recipe comes from Ariane Lanzdorf of Streetsboro, OH. She calls it Mennonite Pudding:
This is my mom's recipe that she's made for years, and it's my absolute favorite. I now make it the same way she does, and it reminds me of my childhood!
My boys absolutely FLIPPED for this dessert! My youngest said this should be our new family recipe, and we should make it for every holiday. I told him it's actually Ariane's family recipe, but she was nice enough to share it with us :)
I felt so happy and proud every time I served a piece of this tasty pudding dessert. The layers are so pretty, and it looks really fancy and elaborate! It couldn't be easier to make though, so you don't need to be a wizard in the kitchen to make this pretty masterpiece.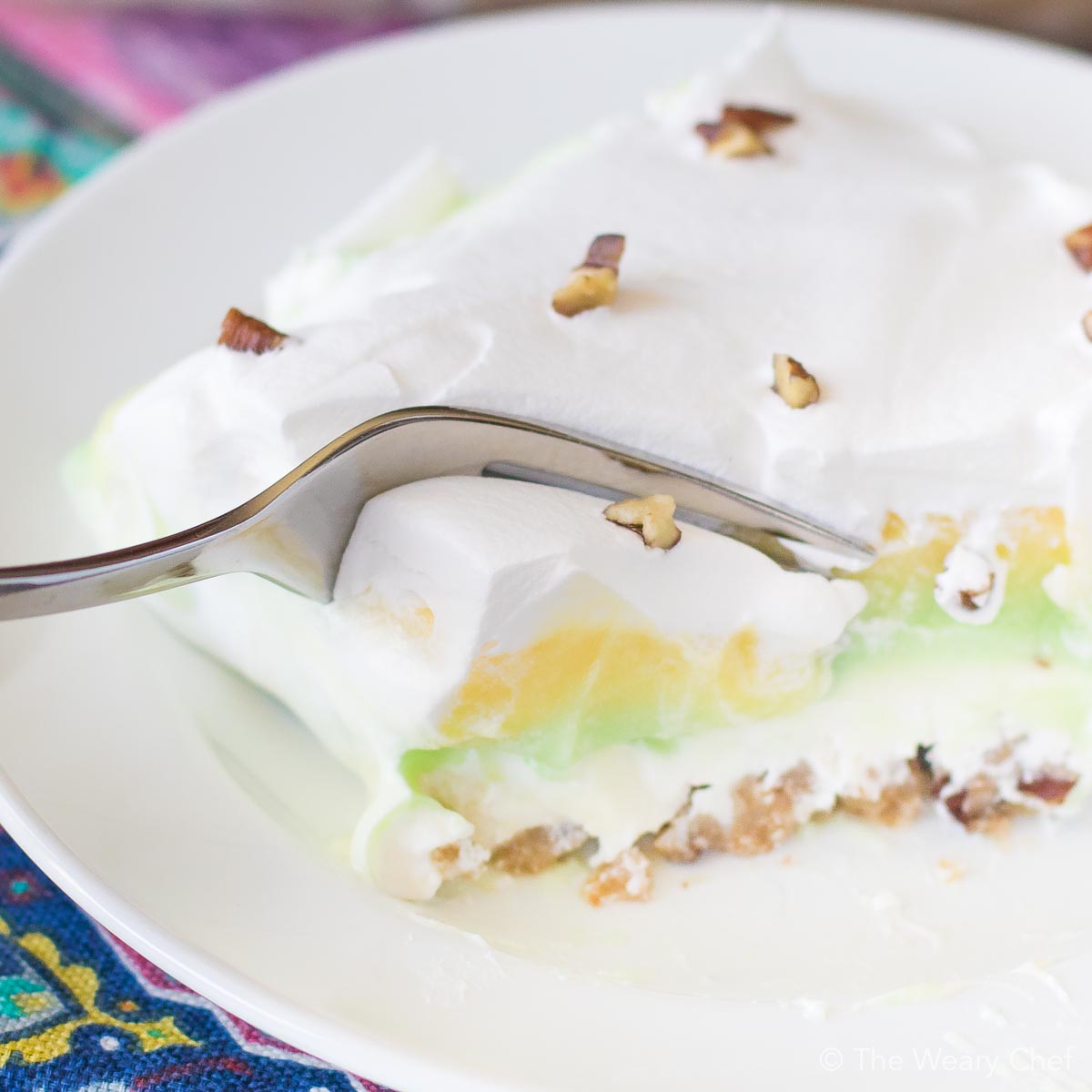 The baked crust layer only calls for three ingredients: Butter, flour, and pecans. Next, there is a layer of cool whip and and cream cheese. Top the luscious cream cheese layer with a layer of pistachio pudding, then vanilla pudding, and finally more cool whip with a sprinkling of pecans. I had (almost) as much fun making it as I did eating it!
Ariane told me that this dessert will keep in the fridge for a week, and I can confirm that :) It's pretty sweet and rich, so a small piece goes a long way. We enjoyed it for dessert for several days, and it still tasted as good and looked as pretty on the last day as the first.
Not only did I love this pistachio version, I'm also dreaming up a chocolate pudding version for next time! You could even make it strawberries and cream, with a layer of fresh berries. (You'd need to eat it a lot faster if you add fresh fruit though.) There are so many possibilities! Thank you so much again to Ariane for sharing it with all of us!
Click play to watch how tempting this dessert is!
Want YOUR recipe featured on The Weary Chef?
 Click here to send it to me! If I choose your recipe to be featured, I'll thank you with $20 :)
| | |
| --- | --- |
| | |
Preheat oven to 350 F. Spray a 13 x 9" baking dish with cooking spray or grease with shortening.

Combine flour, chopped pecans and butter in a medium bowl until combined. (Use a stand mixer to make this easier.)

Press flour mixture into the prepared baking dish, just covering the bottom. Bake for 15 minutes in preheated oven. Let cool completely.

Combine the cream cheese, half the Cool Whip, and powdered sugar together in another medium bowl until completely combined. (Mix by hand or with electric mixer.) Spread cream cheese mixture carefully over cooled crust.

Make pistachio flavor pudding according to package instructions, and spread over the cream cheese layer. Place in refrigerator for 5-10 minutes to let pudding firm up before going to next step.

Make vanilla pudding according to package instructions, and spread that over the pistachio layer. Again, place it in the refrigerator for 5- 10 minutes to allow the pudding to set.

Once your final pudding layer has finished setting up, top with the final container of Cool Whip. Garnish with chopped pecans if desired.
Keep refrigerated. Will keep for one week!
Ariane's tip: To make it easier to spread the cream cheese mixture, dip your spoon in hot water as you go along.
Want more fluffy, easy dessert recipes? Try these!