Dig into this hearty Crock Pot Beef Roast with a sweet and tangy sauce. It's quick to throw together and perfect to come home to after a long day!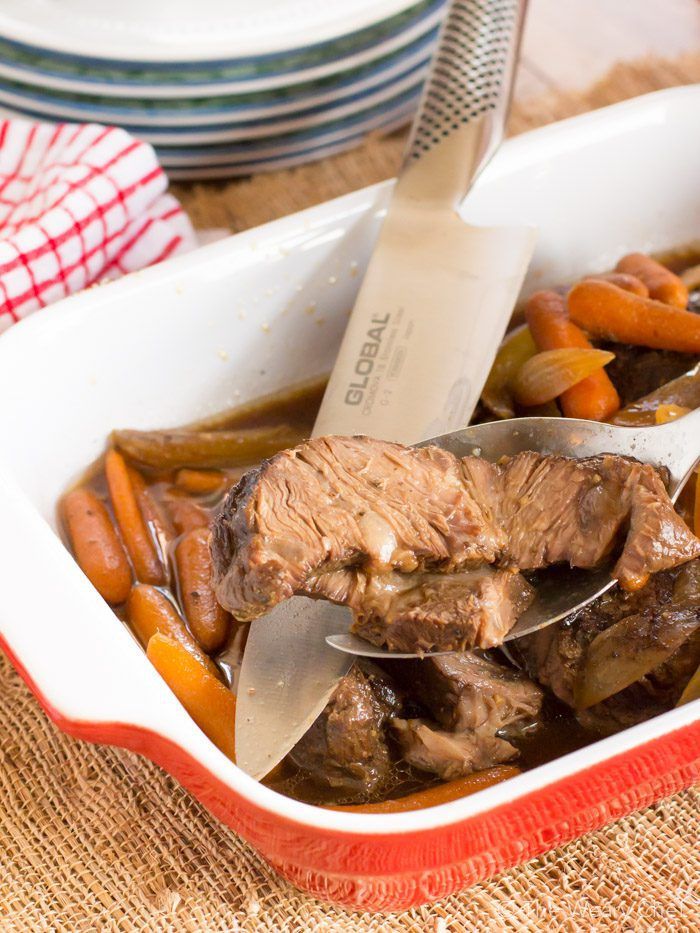 You know I love beef and my slow cooker, so you probably aren't surprised to see another crock pot roast recipe from me! This beef roast recipe isn't like the Chinese kind of sweet and sour but the sauce is a little sweet and a little tangy. It reminds me a lot of the Campbell's simmer sauce I reviewed a couple years ago because it was a little tart too. This flavor is not how I grew up eating pot roast, but I know balsamic roast recipes are popular, so it's definitely a thing. How do you like your crock pot beef roast?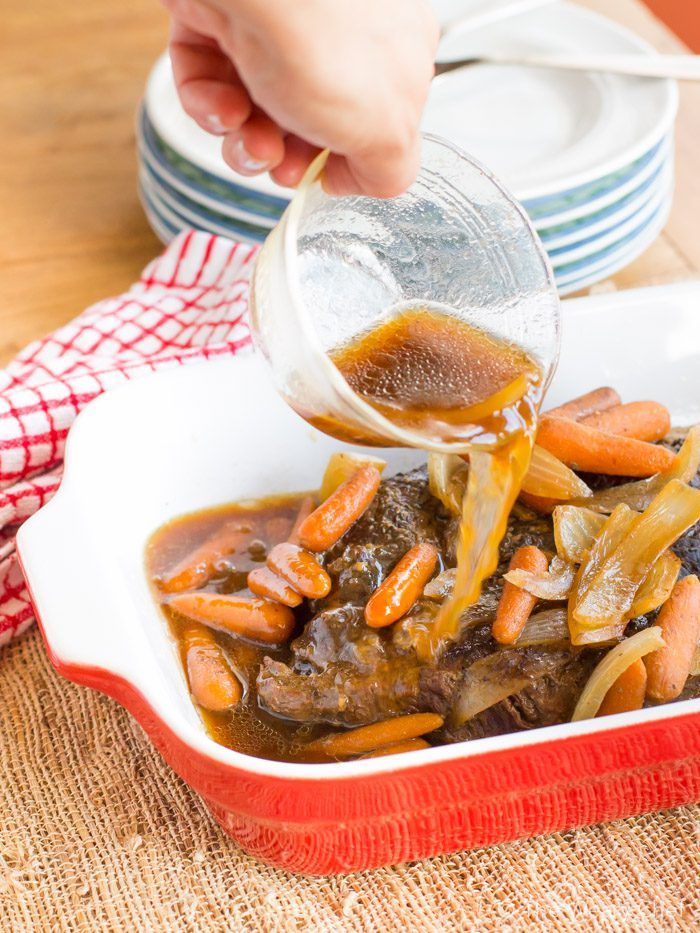 I grew up enjoying slow cooker roast made with canned cream of mushroom and golden mushroom soups. Truth be told, that is still my favorite because it tastes like home. It's probably my favorite thing my mom cooks! It's so salty and creamy, but I'm always trying new ways of making crock pot beef from scratch. Sometimes I can't resist the convenience of canned soup or seasoning packets, but I feel like my food is more wholesome when I use real ingredients. Take this easy roast recipe for example. I raided my pantry to come up with the recipe, and I had all these ingredients on hand. Chances are you do too!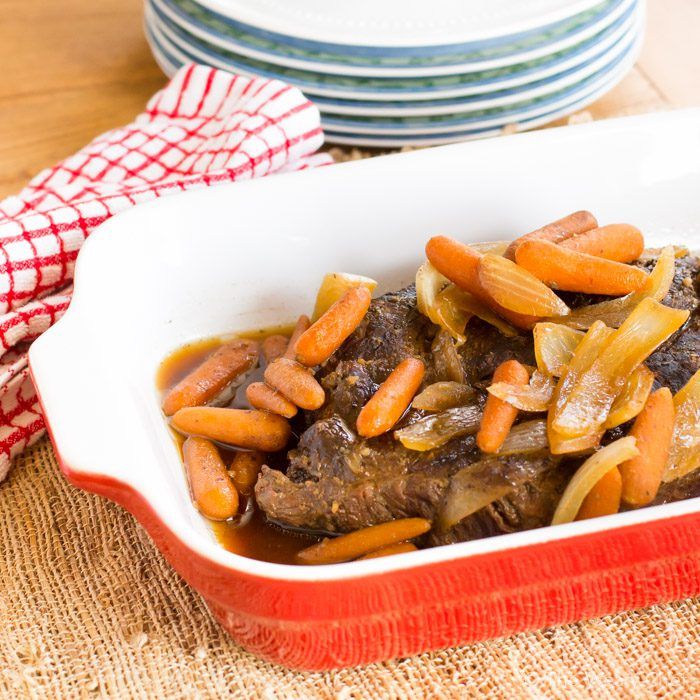 If you don't have molasses, well, you should. I love it on pancakes and in gingerbread. I even use it in a chicken recipe. If you don't want to buy a whole bottle to use a tablespoon though, you could try substituting honey. If you don't have red wine vinegar, well, you should. I'm kidding! If you don't have it, just use balsamic or white wine vinegar if you have one of those.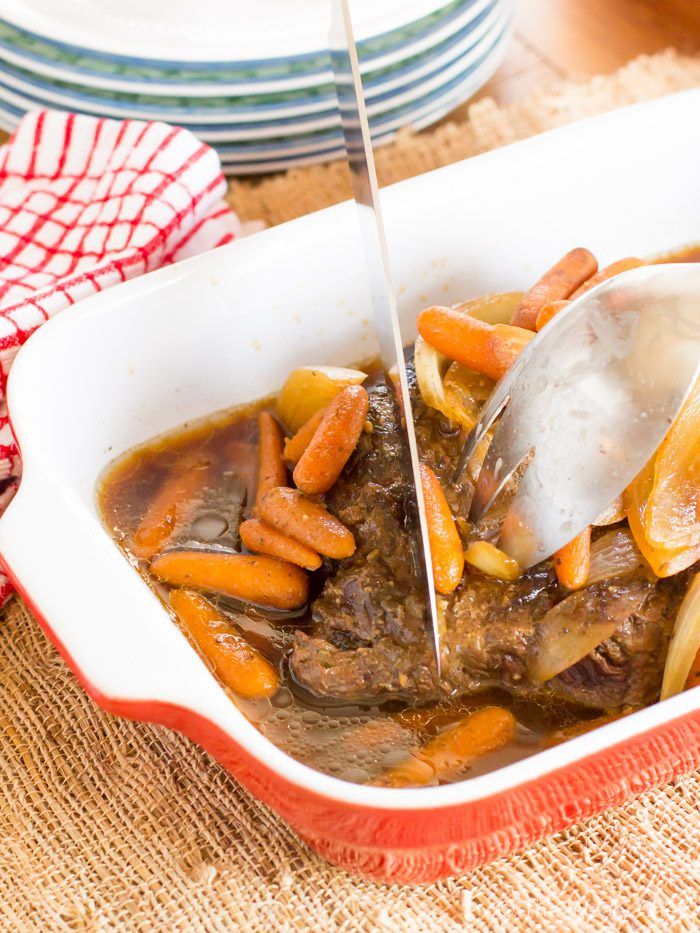 The salt in this crock pot beef roast recipe is a bit conservative. Since I just told you that I'm accustomed to eating roast and gravy made from canned soups, I like mine pretty salty. Just taste the gravy before serving and add salt to your liking. Same goes for pepper if you want it spicier. Let me know how you make your perfect version in the comments below!
Print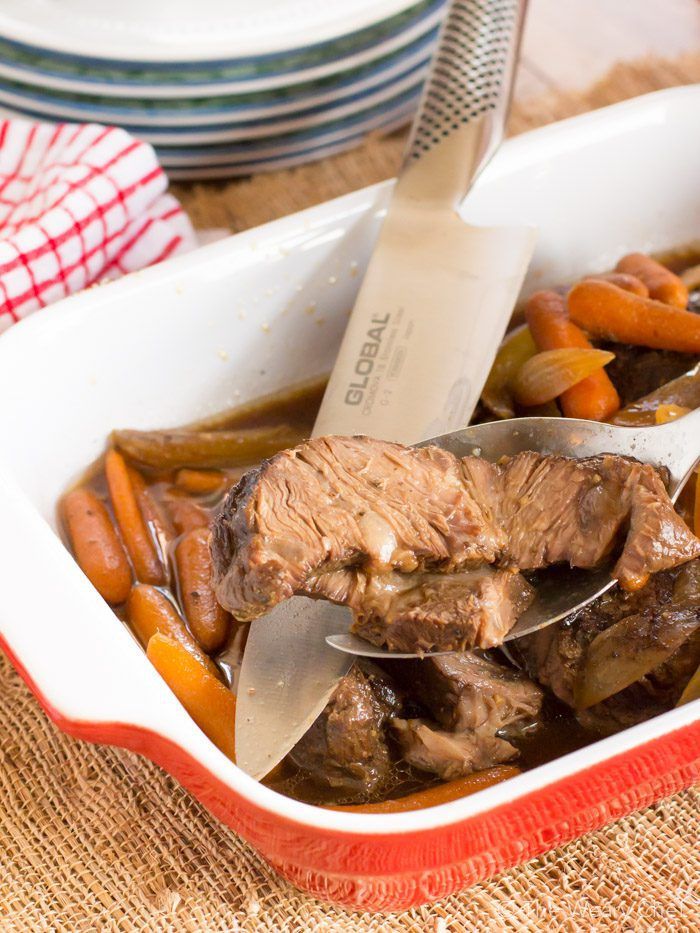 Sweet and Sour Crock Pot Beef Roast
Instructions
In the crock of your slow cooker, whisk together vinegar, molasses, Italian seasoning, salt, worcestershire sauce, and cayenne.

Stab both sides of the roast several times with a sharp knife, and then place it in the molasses mixture. Turn to coat.

Add carrots, mushrooms, and onions, and pour broth over the top. Cover and cook on low 8 hours.

Before serving, remove beef to slice or shred depending on your preference. Add yogurt to the sauce in the crockpot, and whisk to mix in. Return beef to sauce, and continue cooking on low until hot. (I do this step while the rice cooks.)

Serve over rice or mashed potatoes.
Notes
Mushrooms are not shown in these photos, but I added them for the last couple hours of cooking (when I remembered I had them). Cauliflower florets would be another nice addition to this recipe.
If you like this recipe, I feel sure you'll want to see these too!