This easy pizza sauce recipe only takes two ingredients and about two minutes to make!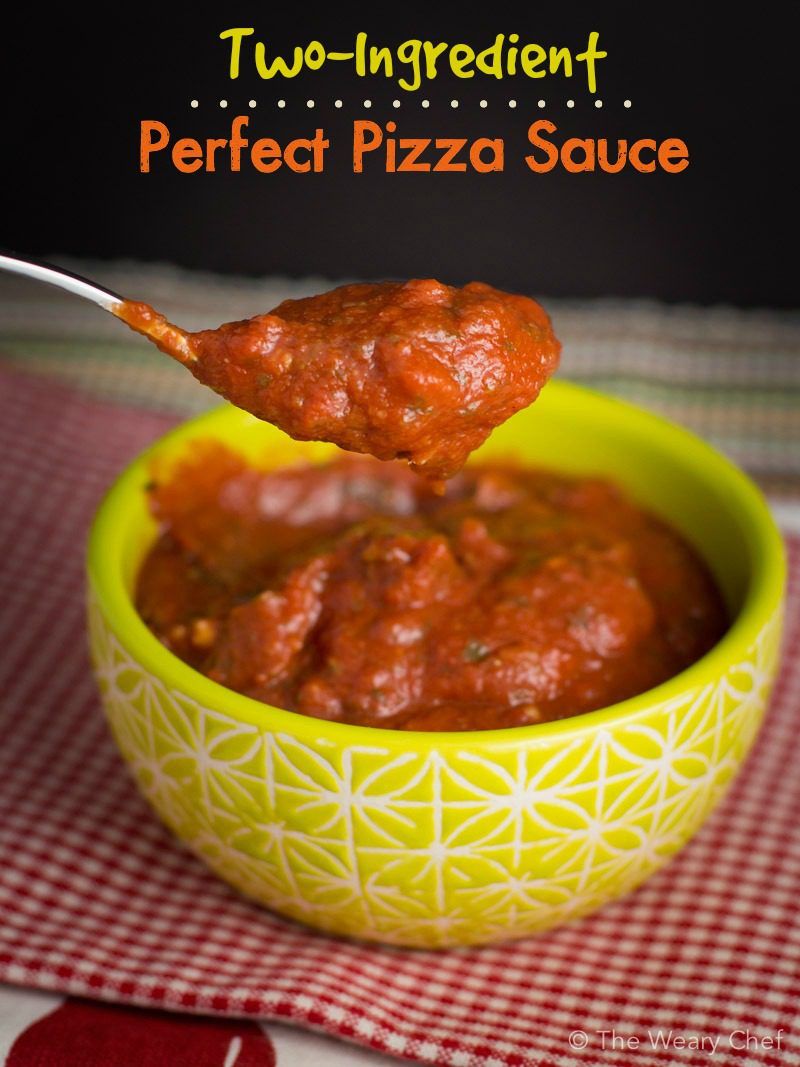 I've been holding out on you a little because I didn't tell you we went home to Mississippi over Spring Break at the beginning of the month. Normally I tell you what's going on with me, but announcing, "Hey, Internet! Our house is going to be empty for the next week!" seemed like a bad idea. Now we're home, so I can tell you that we were away visiting family, going to the beach, riding horses and 4-wheelers, and eating lots of fresh seafood and other Southern food.
While we had plenty of good food to eat, there were some limitations. I can't eat wheat; Matt's dad can't eat cheese or nuts; Matt still can't eat very chewy foods; and my kids are just picky. Given how difficult we are, I'm surprised we managed to eat at all! One thing we didn't have for sure was pizza, and I had a major hankering the day we came home.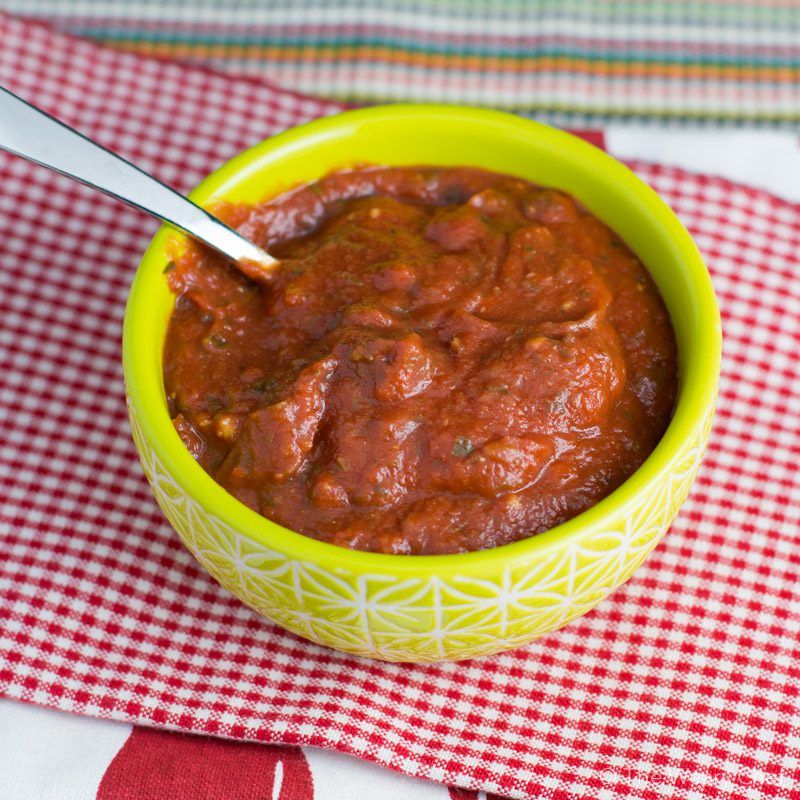 I LOVE pizza, but it's a little more challenging to have since I had to go gluten free. There are two places that deliver GF pizza to our house. One is my favorite pizza place, but the crust is just OK. The other has a better crust, but the pizza is always cold when it arrives. We still end up ordering delivery sometimes, but I'm usually happier with homemade pizza nowadays. It's easy to find gluten-free pizza crust mixes or frozen crusts, and then it's just a matter of coming up with toppings.
I already have an easy pizza sauce recipe I love (click here to see it), but after traveling all day, I was looking for something even easier. That's where this pesto pizza sauce comes in. It literally takes two minutes to make and only needs two ingredients (plus water): tomato paste and prepared pesto. If you like a sweeter sauce, you can stir in a little sugar (which would make three ingredients, but that's still not very many).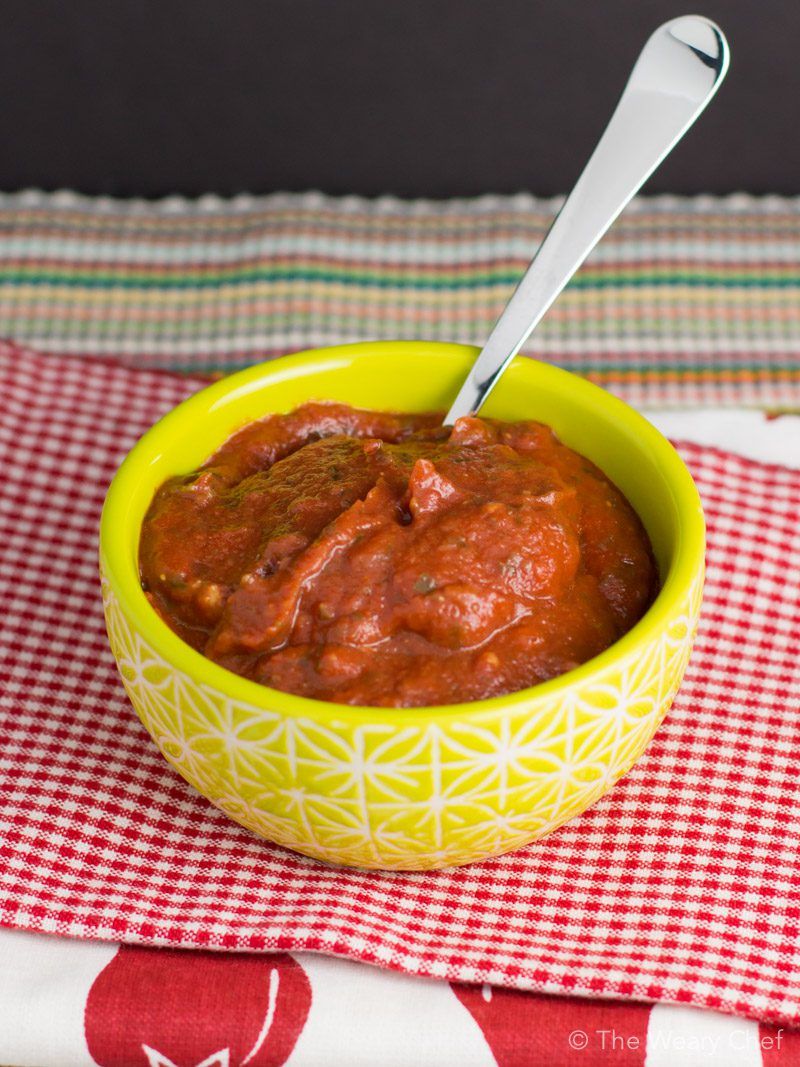 Now you might be saying to yourself that you could just buy a jar of pizza sauce instead of buying pesto, which is true. However, a jar of pesto costs about the same as a jar of (good) sauce, and then you can make lots of pizza sauce or use it in other recipes too! I always have a jar of pesto in my fridge, and I definitely feel like I get my money's worth out of it since a little goes a long way. In fact, I'm going to show you some of my favorite pesto recipes right below this easy pizza sauce recipe. Which one is your favorite?
Print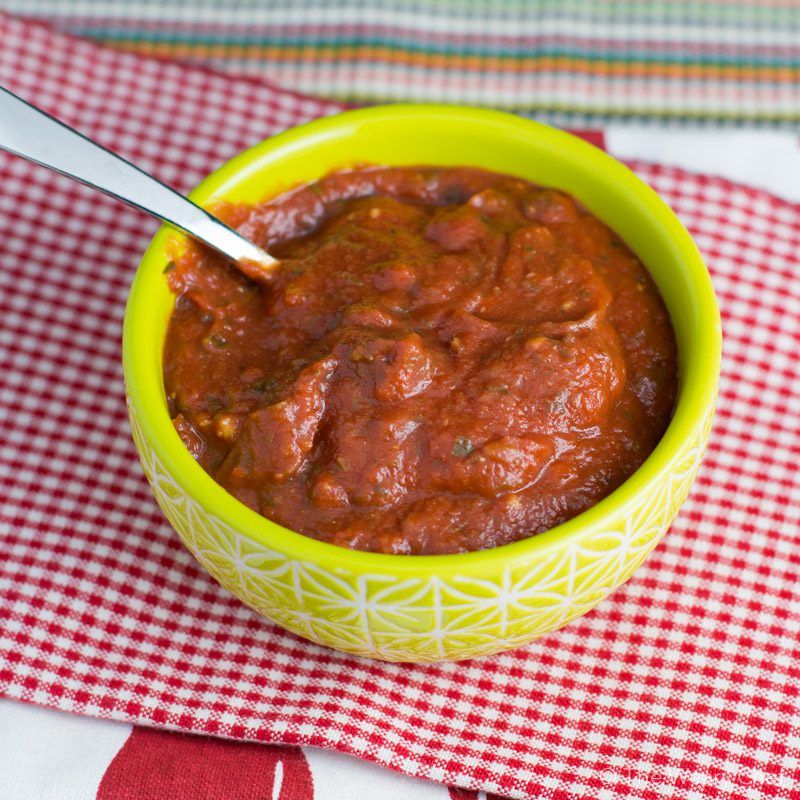 Two-Ingredient Pizza Sauce
This easy pizza sauce recipe only takes two ingredients and about two minutes to make!
Total Time:

2 minutes

Yield:

2

1

x
Instructions
Stir all ingredients together until smooth.
Notes
Taste sauce. Add 1-2 teaspoons of sugar if you prefer a sweeter sauce. You can also add hot sauce or red pepper flakes to make it spicy.
Here's what you can do with the rest of that jar of pesto!