This Baked Egg over Roasted Potatoes and Sausage makes a perfect meal any time of day!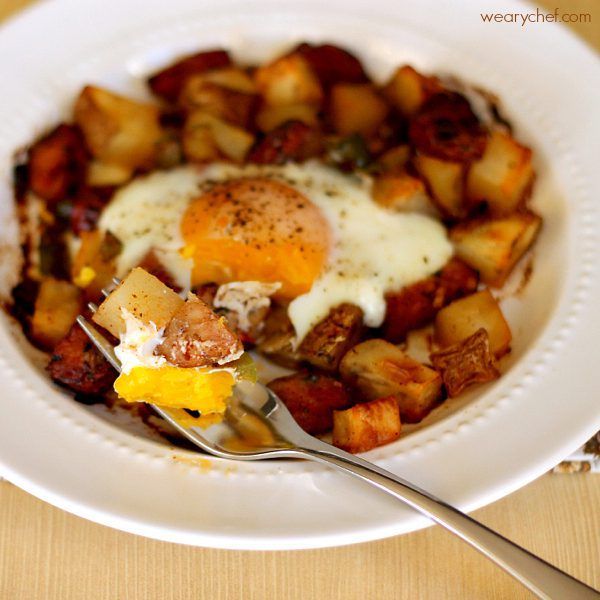 What do you think of when you think of eggs? Is it breakfast? I would normally answer yes, but believe it or not, it wasn't until I sat down to eat this tasty baked egg dish for dinner that I realized it would be probably be considered a breakfast recipe. Eggs aren't just for breakfast anymore, friends! This was my first time baking eggs. They cooked up great, but it's a bit difficult to tell when they are done just by looking. You will want to check them with a little fork poke after 10 minutes to see if they are cooked to your liking. They don't brown or anything, so they still look a bit undercooked even when they aren't.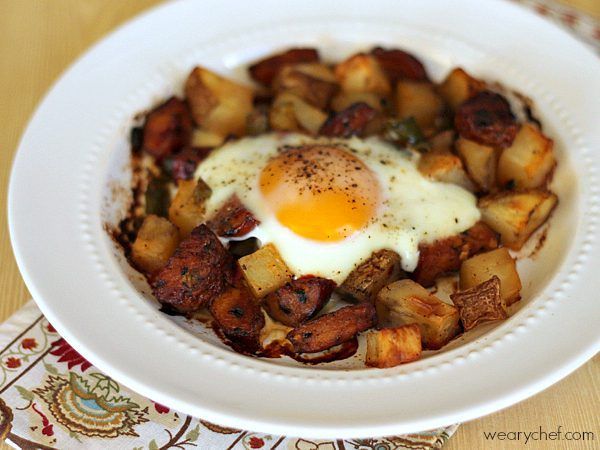 This baked egg recipe is A-OK for any meal of the day if you ask me. It is so easy to throw together, and you can customize it with different types of sausage or vegetables to make it just the way you like it. I hope you enjoy it whatever time of day you give this tasty recipe a try!
| | |
| --- | --- |
| | Like this recipe? Click the stars to rate it! |
Servings

Prep Time

4

10

minutes
Servings

Prep Time

4

10

minutes
Servings

Prep Time

4

10

minutes
Servings

Prep Time

4

10

minutes
4

c.

diced, unpeeled russet potatoes

12

oz.

fully cooked sausage

sliced into 1/4" half circles

(1-2 per person depending on preference)

freshly ground black pepper
Preheat oven to 400 degrees F.

Soak potatoes in water for 5 to 15 minutes, then drain and dry on paper towels. (I soak the potatoes while I do the rest of the chopping.)

In a large bowl, toss together potatoes, bell pepper, sausage, olive oil, 1/2 tsp. salt, chili powder, and onion powder.

Spray either 4 shallow bowls or a 13 x 9" baking dish with cooking spray, and evenly spread potato mixture into your chosen dish(es). Bake uncovered in preheated oven for 30 minutes.

Carefully remove from oven, and reduce heat to 350 degrees F. Crack eggs over the potatoes. Sprinkle a small pinch of kosher salt and black pepper over each egg. Return to hot oven, and bake for an additional 10-15 minutes, until yolk is cooked to desired doneness.

© The Weary Chef 2013-2016
Click
Add to Shopping List
This recipe is in your Shopping List
to save these ingredients.
Click here to go to your grocery list!
 Want more fab egg recipes? Take a look at these!