Being on a gluten-free diet doesn't need to make you sacrifice your favorites on Thanksgiving. Try this Gluten-Free Dressing made with Southern cornbread in your slow cooker, and you won't miss a thing!
If there is one dish that says, "Thanksgiving" to me, it's cornbread dressing. This has always been my very favorite part of the meal. I grew up near lots of family on my mom's side, and we had big Thanksgiving dinners at my grandma's house with I think over 30 people. Some would sit at the dining table, but since there were so many of us, folks would grab a plate and eat in the living room or at the kitchen counter or wherever they could find a spot. My grandma would always make two giant pans of dressing, one hot with lots of cayenne and one mild. I always went for a heaping helping of the hot. My mom is pretty good at making that family favorite dish too, and she taught me how. I have been practicing my cornbread dressing since I moved to California almost 15 years ago because most years I've cooked Thanksgiving dinner at our house. I miss those big gatherings, but now everyone has spread out, my grandma passed away, and travelling at the holidays is hectic and expensive.
Since cornbread dressing is my favorite part of the holiday, imagine my dismay whenI realized that not being able to eat wheat anymore would make the bread part of cornbread a problem. I considered just throwing caution (and my digestive tract) to the wind for this one day of the year, eating whatever I wanted, and dealing with a week of feeling sick afterward. Then, I decided there must be a better way. Cornbread is mostly cornmeal, which is A-OK. I was taught to use day-old canned biscuits for the other part of the bread, so I really just needed to substitute that. This version uses gluten-free sandwich bread instead, and it turned out great!
I am willing to say this slow cooker cornbread dressing is just about as good as the version I grew up with. It's extra convenient too since it's made in the slow cooker and doesn't take up precious oven space on Thanksgiving. If you can't eat wheat, this is the dressing for you!
This cornbread dressing has all the flavor and texture you love with none of the wheat!
© The Weary Chef 2013-2016
Click here to see your meal plan and grocery list!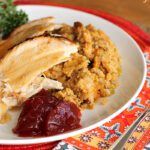 This cornbread dressing has all the flavor and texture you love with none of the wheat!

© The Weary Chef 2013-2016

Click here to see your meal plan and grocery list!
1

medium-sized white onion

,

diced

1

green bell pepper

,

diced

1/2

tsp.

poultry seasoning

1

pan

Southern cornbread (link below)

,

substitute rice flour or all-purpose GF flour for the wheat flourthe recipe

6

slices

gluten-free sandwich bread

,

cut into 1" squares (I used Udi's Flax and Fiber bread)

cayenne pepper to taste

,

optional
Melt butter in a skillet over medium-high heat. Add onion, bell pepper, and celery, and saute for 10-15 minutes until vegetables are very tender. Stir in salt and poultry seasoning, and turn off heat.

Crumble cornbread into a large mixing bowl, and add cubed sandwich bread. Stir in butter and vegetables.

Add two cups of broth, and stir well.

Whisk egg and half and half together in a measuring cup (plus cayenne pepper if desired), and stir into cornbread.

Spray crock of slow cooker VERY well with cooking spray, and pour in cornbread mixture. Cook on low for 6-8 hours or high for 3-4 hours.
Click here to get my recipe for Southern cornbread!
 Looking for more recipes for your Thanksgiving table? Try these!