This mojito with dark rum is a refreshing sipping drink, great served with fish tacos or chips and guacamole.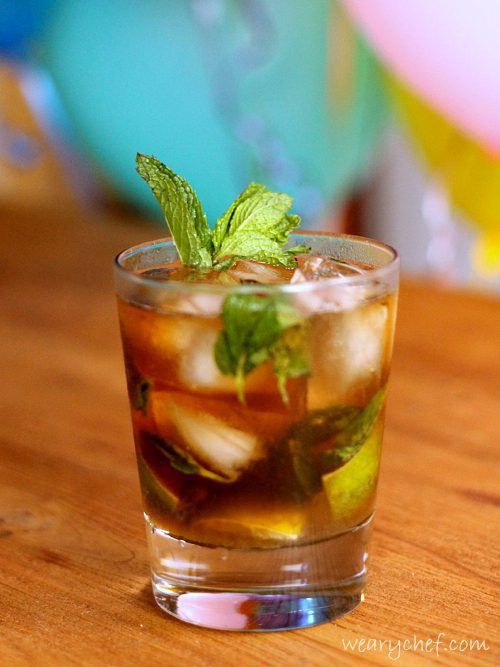 I hear that mojitos should never be ordered in a bar, possibly never consumed at all. Rubbish I say, or at least that's what I would say if I was British and dignified. The fact is, I'm sadly un-British and undignified, and I make cocktails myself, spending my evenings relaxing at home and not annoying bartenders with my drink order. As home bartenders, we can make drinks with as much vegetation as we dang well please, so I bring you the mojito.
| | |
| --- | --- |
| | Like this recipe? Click the stars to rate it! |
Servings

Prep Time

1

5

minutes
Servings

Prep Time

1

5

minutes
Servings

Prep Time

1

5

minutes
Servings

Prep Time

1

5

minutes
2

teaspoons

turbinado sugar

(White rum is traditional, and if you don't like dark rum's spicy flavor, by all means use white.)

club soda or seltzer water
Muddle mint, sugar, and lime in the bottom of a tall, sturdy glass, just until mint is bruised and limes have been mostly juiced. (If you over muddle, you will pulverize the mint, which is not what you want.) If you don't have a muddler, use the end of a heavy wooden spoon instead.

Add rum, and muddle a tiny bit more to mix.

Fill glass with ice, then top with club soda. Serve with cocktail straws if you have them.

© The Weary Chef 2013-2016
Click
Add to Shopping List
This recipe is in your Shopping List
to save these ingredients.
Click here to go to your grocery list!