This healthy sausage and kale soup is also loaded with carrots, tomatoes, and lentils. It's a deliciously good-for-you dinner to warm up with on a cool evening!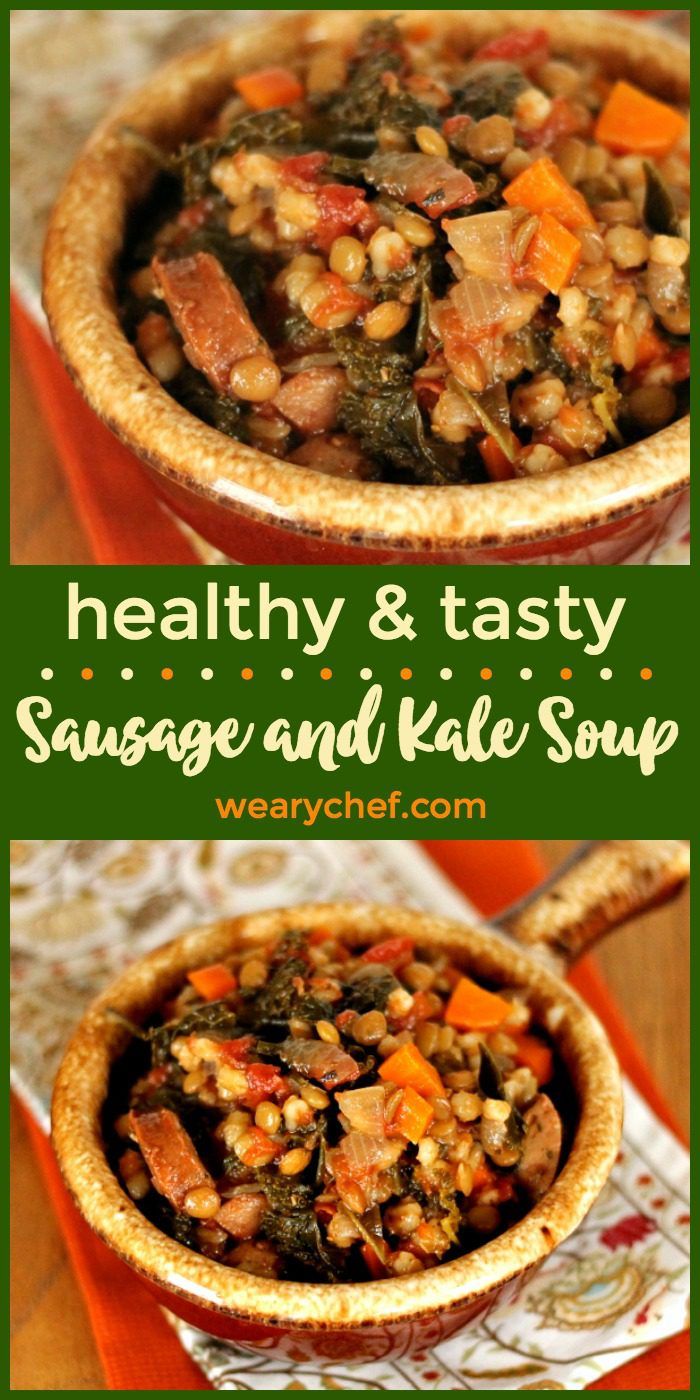 This weekend I brought you an Alfredo pizza, and I've got a something else cheesy planned for Thursday. In an effort to make up for all that cheese, I'm bringing you what may be the healthiest recipe I've ever written. I mean, it has kale AND barley AND lentils! I don't know how I could have packed much more fiber or vitamins into one bowl.
Am I the only one who kind of dreads healthy dinners until I'm actually eating them? When I know a healthy sausage and kale soup or salad or anything that isn't smothered in cheese is on the menu for dinner, I have a ho-hum attitude about it. I'm sure it won't be delicious or think I'll go hungry or something, but then I'm always happy after the first bite.
I wish I could make myself remember that healthy doesn't mean boring or flavorless! Maybe I'll remember now that I'm writing it all out. This soup is loaded with texture from the slightly chewy sausage, al dente carrots, and tender greens and lentils. The tomatoes add a nice tangy flavor, and it's all swimming in a savory broth. What's not to like??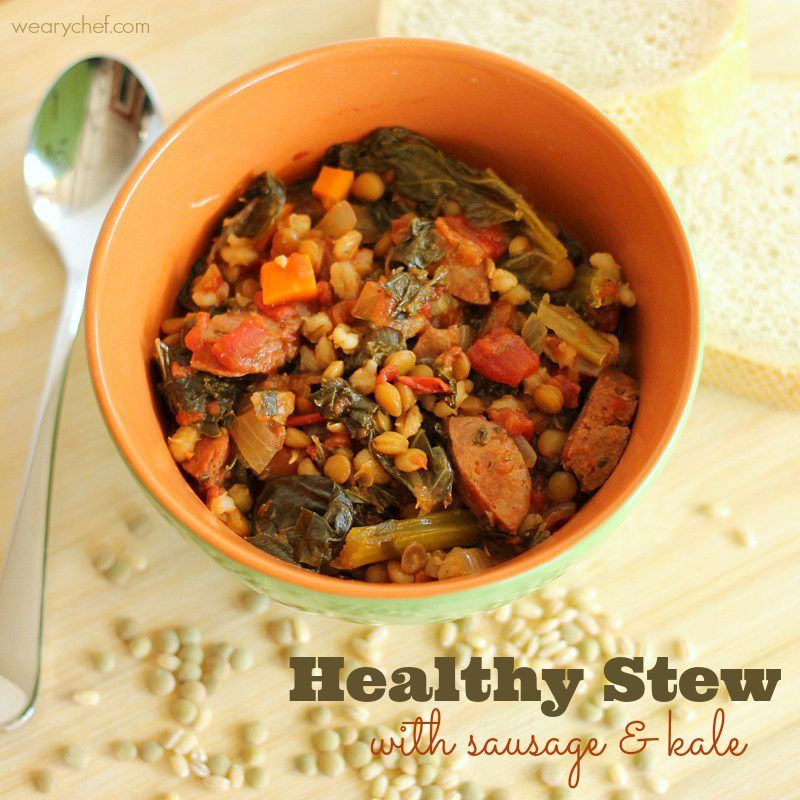 This is one of those dishes that is hard to name since it has a lot going on. Kale and Sausage Stew with Barley and Lentils and Tomatoes and Carrots doesn't really roll off the tongue, so let's call it Healthy Sausage and Kale Soup for (kinda) short. You'll just have to remember all the other goodness is in there. I hope you enjoy this hearty dinner on a cool evening very soon!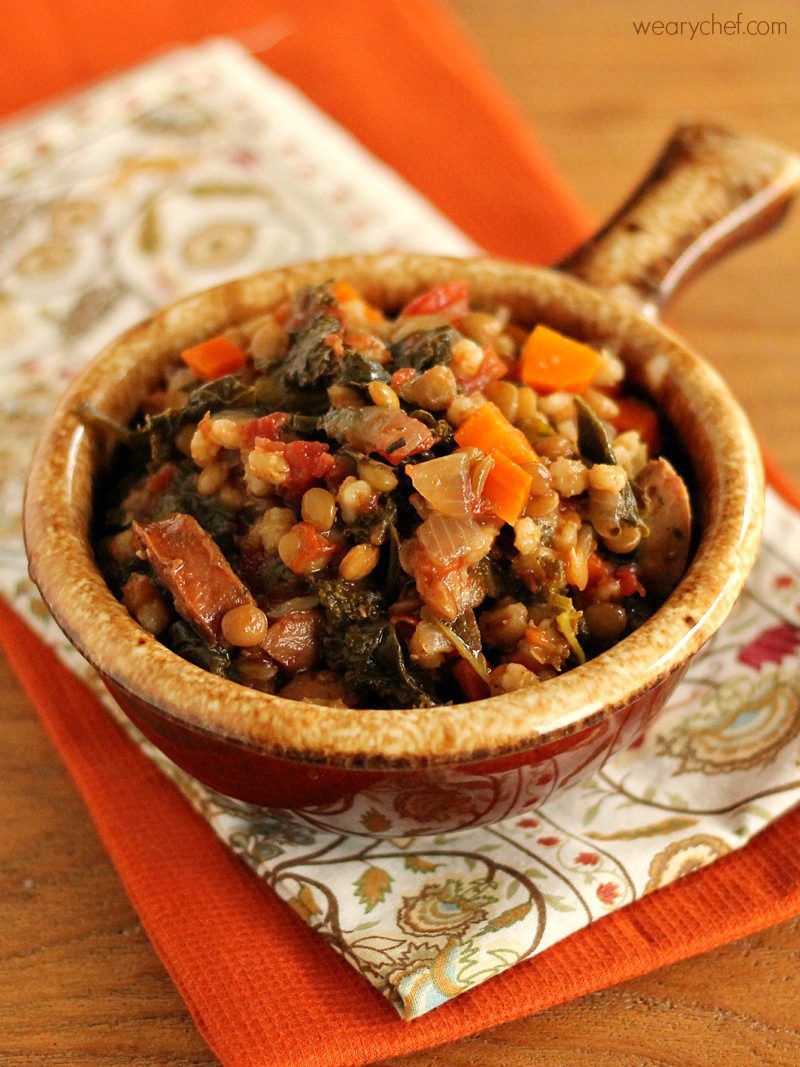 Print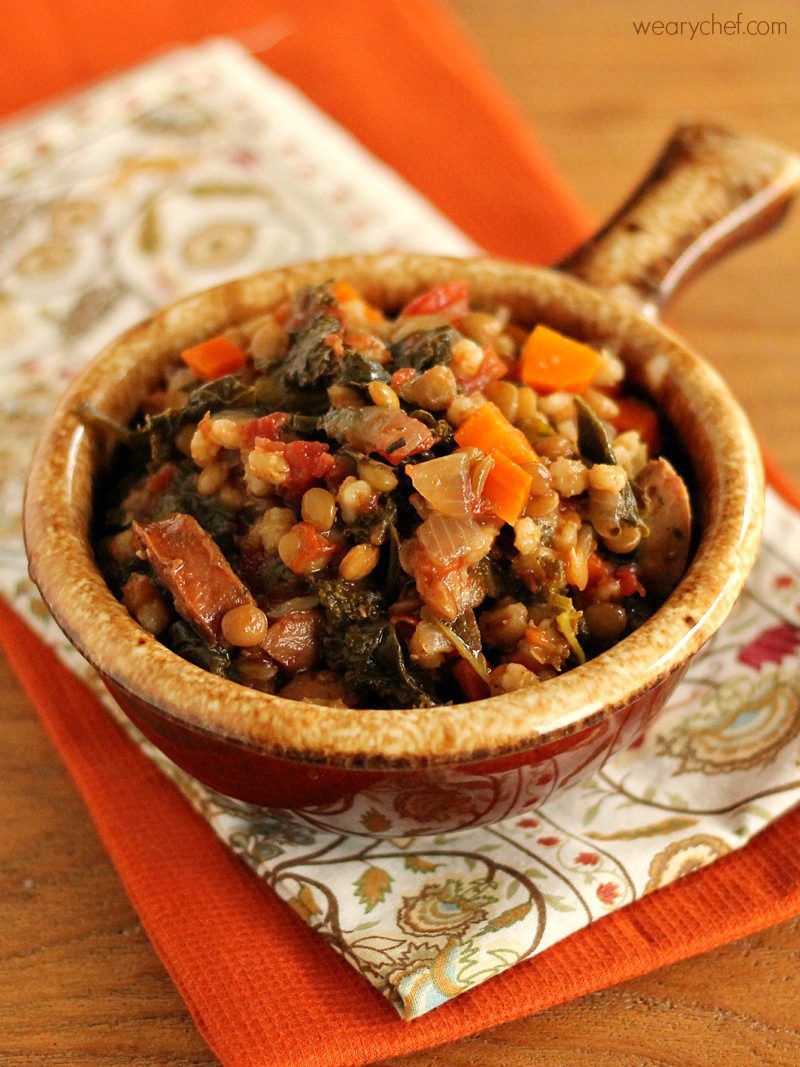 Healthy Sausage and Kale Soup
This hearty stew is loaded with sausage, kale, carrots, tomatoes, and lentils. It's a deliciously good-for-you dinner to warm up with on a cool evening!
Total Time:

1 hour 10 minutes

Yield:

4

1

x
Instructions
Heat olive oil in a large pot over medium-high heat. Add onion, carrots, and sausage, and saute until onion is translucent. Stir in garlic, and cook for 1-2 minutes longer.

Add tomatoes, chicken broth, oregano, basil, chili powder, and salt to the pot. Stir and bring to a simmer. Stir in barley, lentils, and half of kale. When kale has wilted a bit, add the remaining kale, stir to combine, and return to a simmer.

Reduce heat to medium-low, cover, and simmer for 45 minutes. Halfway through cooking time, stir and add up to 1 cup water if stew is thicker than you'd like.

Serve and add hot sauce to individual portions if desired. Great served with crusty bread on a cool night!
Author:

Prep Time:

10

Cook Time:

60
Try these other healthy, hearty dinner recipes!