This easy weekly dinner menu features Chicken Soup Casserole, Slow Cooker Enchilada Soup, Tilapia Sandwiches, Cheesy Chicken Spaghetti, and lots more!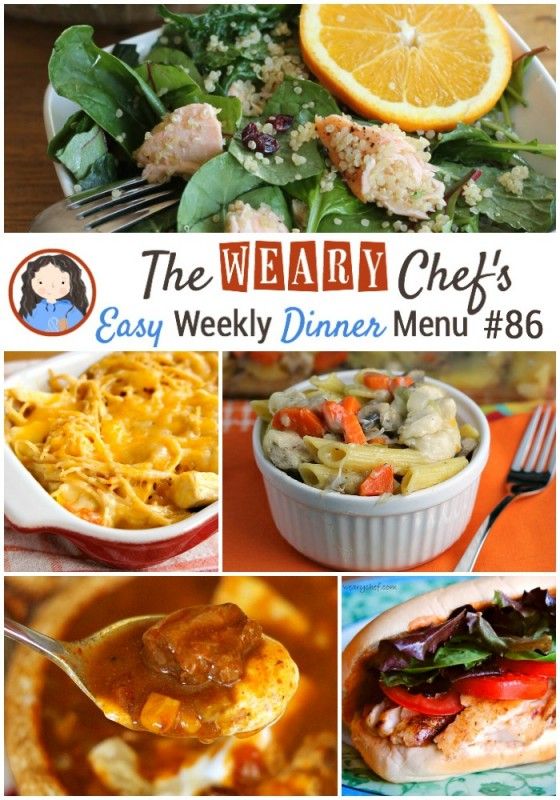 Hello there! After a couple weeks of whining about how busy I have been, I'm happy to say that things are finally getting under control around here! The big PTA project I was working on is stable now, and we're getting a handle on my oldest's struggles with bedtime. I even managed to relax in the evenings for the past few days, which has been pretty unheard of. Matt and I have spent our time after dinner playing a fun cooperative video game where we run around saving people and ridding the world of evil. I play a barbarian named Grunhelda, and I have put a lot of zombies, witches, and tree monsters in their place. #nerdalert
It has been a nice change to actually do something with my husband at night instead of just staring at my computer, and I think it's worth it to be running a bit behind with your dinner menu today. It's ready now though! I'm bringing you some new dishes and old favorites. Whether it's cooling off or warming up where you live, I think you'll find a dinner idea that's just right for you!
Looking for more Quick and Easy Dinner Ideas? Follow my Pinterest board full of recipes from loads of talented bloggers!
Follow The Weary Chef's board Quick and Easy Dinner Ideas on Pinterest.